ith 2010 now part of history, we ask you our readers, given our past, where will be we a decade hence? For the optimists amongst us, the signs are obvious: the gigantic shopping malls, the high-rise condos, the internet cafes, everyone walking around with the latest mobile phone. The PH—the country's new initials—is sprinting towards economic development. Optimists see the glass as half full.
At the other end of the spectrum are those like us who see polluted rivers and streams, traffic-clogged thoroughfares,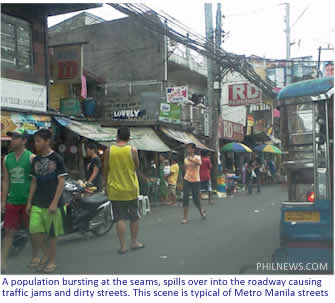 a population bursting at the seams, growing scarcity of resources, rising numbers of uneducated youth, and a population that already lacks the skills necessary to go head-to-head with many of their Asian counterparts. We pessimists see the the PH falling further and further behind. The glass to us is definitely half empty.
But unlike true pessimists, we see a silverlining or at least a shot at redemption if only we can change a few things in our society. Here are five things to get us started .
1. End religion as we now know it. The Philippines has been stuck in the Dark Ages since 1521 AD when Ferdinand Magellan inadvertently landed in Mactan. Since then Filipinos gave up control of their own destiny, attributing all their triumphs as well as failures to Providence and Divine Intervention. Through the centuries, they surrendered their fate to divine providence and now seem incapable of taking matters into their own hands.
2. Halt the population explosion. Do what the Chinese are doing and institute a strict one-child policy nationwide. The country's natural resources is rapidly being depleted. And for every step forward the country takes—be it in improved farming methods or a cleaner environment—the exploding population instead pushes it two or three steps backwards. The Philippine's relatively small land mass and limited economic resources will soon be unable to sustain its ever-increasing population without turning into a Somalia or a Rwanda or even worse.
3. Be deadly serious about education. The only way the Philippines can extricate itself from its problems is if the Filipinos of tomorrow are smart enough to make the right choices. Past and present generations have obviously failed the country, so let us make sure we equip tomorrow's Filipinos with everything they need succeed where we didn't.
4. Stop putting up with mediocrity. We need to start expecting nothing but the very best. In the past and up to the present, the word "local" stood for poor quality, a cheap imitation, an embarrassment; "imported" on the other hand stood for great quality, an expensive original, something you boasted to your friends about. For the most part, we never put too much stock in what we made. We didn't trust the skill or workmanship of our local products and for the most part our fellow countrymen obliged by indeed cranking out shoddy products that had to be discarded soon after they were purchased.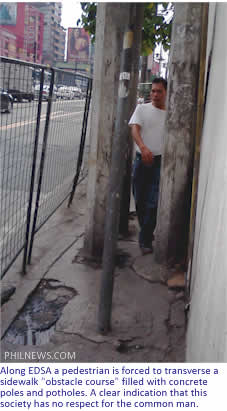 That has to change. Everything we do has to be 'world class" or it should not be done at all.
5. Start respecting one another. Closely tied to number four above, respect for one another is alarmingly absent in present-day Philippine society. Ferdinand Marcos got it wrong when his Martial Law regime coined the phrase "sa ikauunlad ng bayan, disiplina ang kailangan" (for the country to progress, discipline is needed). What we as a society need more than discipline, is respect. But since Marcos turned out to be a despot, it is understandable why he chose discipline . This should be taught in schools from day one. And by "respect" we don't mean just the superficial gestures like the "mano po" that children give to adults, or adding the words "po" and "ho" in every sentence. We are talking here about true respect, where we look up to every other Filipino, young or old, rich or poor, morena or white, good-looking or otherwise. In the past, we Filipinos have been the first to put one-another down, that must end and be replaced with respect.
If we can at least get the above changes implemented it would be a start. But if we keep things just as they are, the Philippines could be in for another four hundred years of stagnation. Now tell us what you think. We'd like to hear what you have to say.

Saved Comments from Our Readers
Name: Ron
City/State/Country: williams,az,usa
IP Address: 68.28.42.229

Comments
Separate the church from the state. The country cant support the sheer amount of people, birth control should be encouraged. (i joke? about vasectomy clinics being a potential growth industry) respect for the land and its resources and each other. Create jobs and move ahead as other Asian countries have.
---
Name: Bearvarine
City/State/Country: Seattle, WA
IP Address: 66.233.36.198

Comments
The country is still ruled by wealthy elites, determined to not allow the status quo to be disturbed. Consequently all the PI's best and brightest emigrate elsewhere in search of genuine opportunity. Had they not have been able to leave, true revolution might have occurred by now. Level the playing field by breaking up monopolistic companies and enormous land ownership by the 1% rich and politically connected, and you will make a start.
---
Name: deo
City/State/Country: flour city
IP Address: 67.240.217.75

Comments
The population makes a lot of difference how the economy of any country bode well under pressure to produce more food to feed the multitude. The increasing number of Pinoys may not be controlled until the appetite for sex of modern Pinoys is reined in; that is of male and female, particularly the female. It was once said that "women "complained" that during sex their function is only for reproduction; that they are not supposed to enjoy sex and just be passive in the process". But women have gone a long way! Women coming from poor and rich, educated and less educated levels of society are demanding and enjoying sex more; especially the poor and less educated (it is their means of "recreation"). The results are devastating to the economy of the country. In this case Pinas.
---
Name: Ichabod Craig
City/State/Country: USA
IP Address: 24.8.248.6

Comments
How right you are !! Every time I visit the wonderful people of the Philippines, my heart is broken to see them sink deeper and deeper into what seems a hopeless situation of overpopulation, shrinking resources and corruption. And you are so correct that the blame must lay flat at the feet of the catholic church and it's more than antiquated view of humanity. How I would love to see the Pilipino people rise up and take responsibility for their lives... they are the sweetest people on earth and if they can mature and yet keep that sweetness ... wouldn't that be something !! kindly, Ichabod Craig IV
---
Name: Ray Sunga
City/State/Country: Anchorage Ak
IP Address: 158.145.240.100

Comments
Population growth and the diminishing standards of Education. Filipinos are well known for our work ethics and adaptability for every obstacle. My observation is the young generations, our novice labor exports are very poorly educated and their language skills are a shame. Even China is hiring Filipino teachers to teach English, while our own countrymen is suffering from this handicap.
---
Name: ian
City/State/Country: cebu city
IP Address: 110.44.111.66

Comments
We need to have respect to put an end to that belief that Filipinos are the best example of crab mentality. encourage birth control to lessen the number of Filipinos that suffer from poverty because of so many children to feed. "kung sino pa ang walang trabaho ay sya pang maraming anak". Plus, add to that the corrupt government that we have.
---
Name: Jun Umali
City/State/Country: Illinois,USA
IP Address: 24.12.15.82

Comments
The main root of our problem is basically very simple, we totally forget, ignore, placed no value in the existence of our being. The crucial question is Do we know who we are. We need education on this matter. and when we discover WHO WE ARE and believe what we are here for, dramatic change will occur.
---
Name: mockingmaya
City/State/Country: taft avenue, manila
IP Address: 98.224.12.187

Comments
Equal access to quality education may be a great equalizer between the rich & less-fortunate, or the poor Filipino students. But the truth is often avoided, that public schools are below standard in age of technology, information, & globalization. Some corrupt politicians will never appeal to the reality: one of the objectives of education is to make free minds & statesmen, not to create serfs & slaves for banana republic.
---
Name: Clark S
City/State/Country: Sent via email

Comments
As a friend of the Philippines and Filipino people I read the editorial advising steps the country needs to take for a better future with great excitement. Not for me, an outsider, to tell Filipinos what to do, but I was so glad to see you point out the hard choices that need to be made. I hope Filipinos are ready to begin embracing those big changes.
---
Name: WDC
City/State/Country: California
IP Address: 63.193.188.81

Comments
Philippines has a pervasive corruptions claimed by the US think tank? Not only pervasive, I would say Philippines is 100% covered of corruption. Look at those people who head the barangays, from rags to riches. Whose fault is it if the Filipino people are always living impoverished? Themselves, they allow these corruption as part of their cultures.
---
Name: George
City/State/Country: UK
IP Address: 92.15.77.222

Comments
I found your article very honest. I am married to a Filipina for 26 years and I first visited in 1985. Although the gap between rich and poor remains vast, I have seen Manila getting better in infrastructure, yet it has never managed to create the hub for foreign manufacture, this has gone to Malaysia. Success stories like 'Shoe Mart' are very few in the Philippines. The lack of environmental respect: The illegal logging - Over-fishing of the seas - coral destroyed by dynamite - tax evasion by the rich – corrupt politicians and those in power stealing from ALL Filipinos. The thing that makes me sad is that when I look at other Asian counties who have invested in tourism, education and wonder what could have been. Its not too late but the rich and greedy need to have a conscience.
---
Name: Bob Frantz
City/State/Country: Branson, Mo. U.S.A.
IP Address: 173.218.42.89

Comments
I love the Philippines and it's people, been there to visit several times. the idea on controlling birth rate won't work. how would u enforce it? Put mothers, fathers in prison? And no, it didn't work in China, all girl babies were killed in flavor of boys who grow up to help the family, besides, that's a dictatorship, do u really want to go in that direction? What u need is education. Many families don't have the money to send their kids to school..for books, supplies etc. grades 1 thru 12 must be 100% free for every child. but I wish u luck and hope things turn around very soon...
---
Name: Jeric Leviste
City/State/Country: Los Angeles, CA
IP Address: 64.60.205.235

Comments
You hit the spots why our country is like it is right now, and issues that we need to address and challenge. I do hope so that President Aquino will do what he needs to do to make our country stand out, prosperous and gain the love back of Filipinos for their own country. Loving your own country makes a big difference but ONLY if the government shows the same to the people.
---
Name: wilmer
City/State/Country: usa
IP Address: 99.22.245.225

Comments
Corruption is ingrained in the culture of the Philippines so that has to change. We need a Marshall plan for the country like Singapore, as well as borrowing concepts from successful economies today like China, Brazil, and India. Turning the country Green from energy independence to pollution control is good for the country and Tourism. Expansion and better management of Overseas Workers is a quick fix to unemployment since the country cannot create enough jobs and yes, assign the Catholic Church to be in charge and accountable for population control with a quota.
---
Name: alaskancadillac
City/State/Country: Gunsan, South Korea
IP Address: 218.151.0.130

Comments
I see no Identity problem with the Philippine people. It's the deployment of cheap labor, It's the abandonment of the Philippines to keep Their Resources in country to build a proper infrastructure to bring Philippines out of the dark ages. The catholic church for failing the Philippine people on educating them on birth control to curb booming populations. The fathers of children that have been abandoned for another and so on and so on. Philippine people are for the most part an "Honest People". But in the last 4 years, I have heard nothing but scams, internet scandals and such. I love the Philippines as I am Half Filipino, I am saddened by what I see. It's time the Politicians there put aside "Personal Gain" and really started working for the people that have elected them.
---