or
over a hundred years, generations of Filipinos have looked up to Americans. They were like father figures; wise, benevolent, cultured, yet modern and progressive.
It is thus troubling for us to witness the precipitous decline in American political discourse over the past several years. Gone is the civility of decades past; in its place is hate-filled rhetoric meant to demonize the other side.
Sadly, January eighth's shooting in Tucson may have been a result of this demonization. It would not be a stretch to conclude that hate-filled speech may have contributed to that shooting rampage.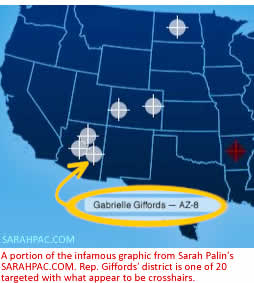 Heightened tensions along with easy access to high-powered guns and ammunition exploded in tragedy taking the lives of six people and seriously wounding Congresswoman Gabrielle Giffords—the apparent target.
Americans needs to ratchet-down their divisive rhetoric as well as end their fascination with high-powered, assault-type weapons. The stakes for the global community are too high to have an America torn by internal strife. If Americans can take a step back, calm down, and speak with one clear voice, they can lead the world as they have in the past. And should that come to pass, not just Filipinos but everyone else will again have wise and benevolent Americans to look up to.

Saved Comments from Our Readers
Name: Isabelo S. Alcordo, PhD
City/State/Country: Valencia City
IP Address: 203.177.74.144

Comments
I am a dual citizen - FIL-AM. I lived in the US, in Florida, for 22 years before retiring here in Bukidnon. What I saw there over the years was an increasing dislike, bordering on hatred, by Republicans of illegal immigrants, especially from impoverished countries like Mexico, whom the Democrats try to accommodate with its social agenda of looking after the poor which the Republicans branded SOCIALISM. This difference in attitude between Republicans and Democrats over this issue is being reflected in the very uncivil political discourse and intensifying during the two-year period of Obama's presidency.
---
Name: Jun Canlas
City/State/Country: Manila/Victoria
IP Address: 69.176.162.133

Comments
America today has the highest murder rate among the industrialized countries in the world. The reasons are mainly due to Americans' continuing love affair with handguns and easy access to them in USA! In many instances, the guns that families keep in their homes supposedly to keep the bad guys out are the same guns that kill family members during heated disputes. For as long as Americans don't change their Wild West mindset that it is their inalienable right to own a gun, they can always look forward to more shooting incidents of Americans murdering their own at a regular rate.
---
Name: Doug Macdonald
City/State/Country: Hamilton, New York
IP Address: 24.59.7.152

Comments
As an American, I agree that our political discourse has become very coarse indeed. But it most likely had nothing to do with this shooting. The shooter was a deeply disturbed young man and heavy drug user. There is no evidence he was politically motivated at all. He was acting so weirdly he lost all his friends, got thrown out of college, and lost his job. His parents had stopped talking to him. I went to his web site. Just incoherent gibberish on it. He is not representative of America or anything else except extreme mental illness. That he got access to a gun is a disgrace.
---
Name: JRH
City/State/Country: mtl can
IP Address: 173.178.226.139

Comments
The American constitution enables its people to carry firearms. The rise of new groups (inc. Tea party, etc.) who hate politicians, etc. can't be denied. Likewise, anti-Semites, U.S. Nazis, supremacists, skinheads, KKK, anti-blacks, anti-Muslims also demand the same condemnation. Most of them from concepts of moral superiority based on race, color or belief. Young minds are the most affected. They gripe against society & take it out on others often with deadly force. In America to hate is easy & the availability of handguns & high-power rifles is not illegal. The result is toxic & deadly.
---
Name: 1 UP
City/State/Country: GOTHAM CITY
IP Address: 74.66.135.64

Comments
The Arizona incident that caused the lives of some and injuries to many could be the result of the environment that Arizona created. Anger, economics, access to guns, second amendment rights, stupidity, etc. drove this guy to commit a heinous crime. Insanity is always used as a defense to cover the root cause(s) of this senseless shooting in Tucson.
---
Name: Manuel C. Diaz
City/State/Country: Montclair CA
IP Address: 76.174.219.92

Comments
You cannot fault the Americans from their love of Guns Second Amendment rights. America a nation created by civilians owning guns the militia that defeated the British. Superior fire power repeating guns won the west from the Indian nation. America invaded Mexico resulting the in treaty of Guadalupe annexing Texas, Arizona New Mexico and California. In the Star Spangled Banner it say "ROCKETS RED GLARE" because most Americans believed that those who convert their guns or swords into plows will soon be plowing for those who kept their guns. America will not hesitate to use the Nuclear arms remember the Russian confrontation in Cuba the Russian turned tails.
---
Name: WDC
City/State/Country: California
IP Address: 75.38.74.70

Comments
PNL is asking where the Americans we used to know. Americans still the same-kind, loving and believed in freedom. However, she is being cheated and not appreciated by some countries like the Philippines even though she is pouring millions of American money to the Philippines to be pocketed by those Philippine corrupt politicians, judges and senior military officers.
---
Name: Dukling
City/State/Country: Sacramento, CA
IP Address: 169.2.97.3

Comments
I thought I was seeing double while reading your editorials. Americans, like your commentaries have gone bonkers for blaming political rhetorics on the carnage that had happened in Arizona. Vitriolics on both political sides of the fence have nothing to do with this case. The guy is simply nuts and for you to not see the difference as clear as night and day, to me, is so befuddling.
---
Name: Edward
City/State/Country: Las Vegas
IP Address: 98.160.174.84

Comments
People in the US are afraid to tell the truth. Who commits most of the crimes in America. Black and Hispanic, look at FBI statistics. Who's having all of these unwanted children, Blacks and Hispanics. There are only limited number of Blacks and Hispanics that are doctors, teachers, people who are professionals. Who fights in America's armed forces, how many Black or Hispanic fighter pilots are there, next to none. 90% of Blacks who are young males believe they're going to be a professional basketball player and Hispanics--who know what they think, they are still not able to speak English after being in the country for years. I can go on and on. The point is America is afraid to talk about this problem and would not know how to correct it anyway.
---
Name: 1 UP
City/State/Country: GOTHAM CITY
IP Address: 74.66.135.64

Comments
If you analyze the culture of USA, Americans love to hold a Bible on one hand and powerful ammunition on the other (just look at the American eagle holding some arrows and the phrase "in God we trust." Estimates of gun ownership in the USA is as many as its population (1 out of 4 owns a firearm and an average American owns 4 guns). Add to this the high capacity clips. You could even own a machine gun if you want if you meet the licensing requirements. Tell me how you control violence and some nut from discharging recklessly his gun(s) in public.
---
Name: JRH
City/State/Country: mtl can
IP Address: 173.178.226.139

Comments
Jared Lougner is a loner & a loser. In his blogs, he whines, blame others, & exaggerate problems. In short, he has developed feelings of helplessness & hopelessness. It's clear that he did have a social network of support..not from his parents, friends, or schoolmates. He's a total disconnect & clueless about what to do. His obsession for handguns made him feel superior, powerful, strong & dominant. Result: 6 dead & countless wounded victims.
---
Name: 1 UP
City/State/Country: GOTHAM CITY
IP Address: 74.66.135.64

Comments
Here are some stark statistics about firearm homicides: nearly half of civilian gun deaths around the world occurred in the US. In the US, mortality from gunshots ranks 15. In 2006 30,896 deaths were recorded from firearms and 16,883 from suicides (suicide is even higher than Japan). Every year gun sales/ownership rises at 4.5 million a year in the US. Americans are just fascinated with guns. They bring their piece even in public rallies in Arizona. Should I bring mine in this forum (II amendment rights)? Gunshot deaths in the PH are but a blip in the radar screen but some Pinoys want to over magnify them.
---
Name: The Canuck
City/State/Country: Canada
IP Address: 159.18.94.65

Comments
There are psychos everywhere. In the U.S., there are more of these explosive stories. They happen everywhere and not just in the U.S. In the Philippines, there are lots of stories of people killing others too. Rapes, murders, etc. The only difference is that in the U.S., life is much easier and they have welfare and social assistance. In the Philippines, if you are poor and struggling, it's a miracle that you don't become like a psycho and kill people. People just need to have control of the stress of daily life and deal with their current situation in a logical manner. Life is hard and it's difficult to keep one's sanity if you encounter hardships and problems.
---
Name: Isabelo S Alcordo, PhD
City/State/Country: Valencia City
IP Address: 120.28.225.124

Comments
The Republicans brand the social programs of the Democrats like Social Security, Medicare, and Medicade to help the poor as "SOCIALISTIC." This difference in attitude between Republicans and Democrats over the issue of looking after the poor is being reflected in the very uncivil political discourse which intensified during the two-year period of Obama's presidency. Just very recently, Rep. Michele Bachman (R) of Minnesota and head of the Tea Party Caucus called the Obama Health Care the "CROWN JEWEL OF SOCIALISM." Thus the Republicans' frenzy to have it repealed! The irony is that most Republican voters consider themselves CONSERVATIVE CHRISTIANS!
---
Name: Steve R
City/State/Country: California
IP Address: 71.198.150.211

Comments
In fairness, may I state that PNL is printing both sides of the "isle" pro & con to their editorial and in fairness again, PNL should have mentioned the other side of crosshairs by Ms. Palin that include bull's-eye (target) by Mr. Falleson a Dems Chair, the recent comparison of GOP's push to repeal health care to the Nazis (holocaust) by Mr. Cohen, accusation by Dem Grayson that GOP want people to "die quickly" and Mr. Obama's comment that if GOP want to join the Dems, "they gotta sit back" similar to words that made Ms. Parks famous when she refused to sit in the back of the bus. Minimum, PNL should re-write the current topic & include bull's-eye, (cont.)
---
Name: The Canadian
City/State/Country: Canada
IP Address: 159.18.103.65

Comments
Although I admit that there are a lot of people who own firearms in the U.S.A. and that a lot of them on average own 4 firearms, Filipinos should not try to hide the fact that the Philippines is also a very violent country. In the U.S., I could walk to a McDonald's or a mall but I will not see Armed security people there. In the Phils, everywhere I went, all the security personnel were armed. In Canada, banks don't even have UNARMED security. I can walk to a mall and most security you will see are ones with walkie-talkies, and handcuffs. No guns. In the Phils, I've see a lot of people carry guns even without licenses. That's frightening.
---
Name: JRH
City/State/Country: mtl can
IP Address: 173.178.226.139

Comments
Nut or not, Jared Lee Loughner must face justice. The American justice system will allow him to enter his pleas at a court in Phoenix. he could ultimately face the death penalty. We'll soon see if his lawyers will enter an insanity option. The 6 people who died included a 9-year old & a federal judge. Now he must shed light about his motives for this horrific attack. He could be possibly tried in another state (ex. California) & have a fair trial. Mr. Balderama, pleasse don't use cheap shots just to be noticed. Everybody is entitled to express an opinion on the current topic.
---
Name: Frank
City/State/Country: daly city, ca
IP Address: 67.188.233.99

Comments
PHOENIX – The suspect in the shooting of Rep. Gabrielle Giffords smiled and nodded but didn't speak as he appeared in court Monday and his lawyer provided the 22-year-old's first response to the charges: a plea of not guilty. In the two weeks since the deadly attack that killed six outside a Tucson grocery store, Jared Loughner's hair — shaved in the mug shot that's become an enduring image. The Tucson resident wore an orange prison jumpsuit and glasses, and his wrists were cuffed to a chain around his waist as eight U.S. Marshals kept watch in the packed Phoenix courtroom.
---
Name: 1 UP
City/State/Country: GOTHAM CITY
IP Address: 74.66.135.64

Comments
The history of the second amendment to my recollection was deeply rooted in the hearts and the minds of the framers of the constitution. At that time, King George III attempted to disarm the colonies in 1760 and 1770. Americans strongly believe that as Englishmen they had the right to keep arms. The forbearers (founding fathers) cemented this belief with the Bill of Rights. From the state's rights to bear arms it now progressed to include individual rights (14th amendment during the 39th Congress- fifth year of Lincoln's presidency).
---
Name: GFJBHEDF
City/State/Country: Hercules
IP Address: 76.103.7.246

Comments
Where are the benevolent Americans we used to know? USA is everywhere, "as always," protecting the peace, liberty and democracy we enjoy, and take for granted, even in the Philippines, inspite of the fact Fmr president Cory Aquino and the Philippine senate booted US out of the country in 1992. Still, USA is pro pinoy peace and democracy always. That has not changed, committed, as long as the Philippines is pro democracy. As far a as the nostalgia of US benevolence in the Philippines, please understand, Uncle Sam is no longer paying rent, having been booted out of his apartment in the Philippines during the "Cory Aquino" administration in 1992. Most of the Subic and Clark equipment were removed to Singapore, and Singapore, as we know, is #1 economy in ASEAN today.
---
Name: Gagamba7
City/State/Country: Sin City
IP Address: 68.108.13.18

Comments
We all live in an increasingly evil world. There will be more violence, chaos, and sufferings coming. Only the prepared will survive. Only ONE is in control.
---
Name: Ginoong Gago
City/State/Country: Ilongo
IP Address: 68.107.51.175

Comments
The seeming dissolution of the contemporary American political and social cultures should not be an across-the-board indictment of the country's prestige or status. The Arizona killing doesn't reflect American value and character, nor it's a sign of national decadence equal to the Roman Empire. On the contrary, Americans are still the last best hope in a hopeless world of , injustice, and poverty. These evils are being checked in Middle East, Asia, and South America by Americans. So America and Americans are a country and nations where solid democracy is alive and well.
---
Name: John W. Messer
City/State/Country: Virginia, USA
IP Address: 108.4.187.172

Comments
Having been long fascinated by the relationship between the Philippines & the U.S., I think I can shed light on the questions this writer exposes. Truth is that rather than the Philippines becoming like the U.S., in it's more righteous state. The U.S. has become more like the Philippines of today. Corruption here has reached critical mass, and the one thing that once defined the best of America (the middle class) no longer exist. Now we have 10% of the population here, in control of 80% of the wealth. My greatest fear now is that the government will begin to allow corporations and super wealthy to form their own private armies, just as Arroyo did with the Ampatuans. A nation cannot thrive without social, environmental and economic justice for all!
---
Name: mockingmaya
City/State/Country: taft avenue, manila
IP Address: 67.187.216.8

Comments
1UP: "The right to bear arms" is subject to different interpretations, & you can't interpret it literally. You may be a gun lover who loves to hunt wild ducks, buro, wild horses, and so fort, but the right to bear arm is not an absolute right. Of course, the American Founders were revolutionaries, & they recognized the essence of the Second Amendment to protect an individual right (take note that in the 18th-century, the militia was composed of the entire free White male population bearing their own arms.) Moreover, the American Revolution solidified the traditional concept of standing armies & reinforced the view that the militias or armed citizenry were the best way to guarantee liberty & security.
---
Name: Freedom
City/State/Country: everplace USA
IP Address: 174.56.14.62

Comments
Why should America "lead the world" anymore? We are sick of helping people and then having the same people kick us in the teeth. Point: Afghanistan when invaded by the Russians, we helped then the same people we helped flew planes into are buildings. Why should we "calm down" and "get along", would you do the same when dealing with the devil? I know that most Philippine people remember the good things of America, we here know that. We just hope you do not judge us by our media which is not representative of "We the people."
---
Name: francos
City/State/Country: daly city, ca
IP Address: 67.188.233.99

Comments
Where are the Americans we all used to know... These Americans are all still here... but they can not be seen by people who are indeed blind to the truth. Widen up your view finder and mental focus so that you will all see them alive and well, still enjoying freedom and the American dream!
---
Name: Robert United States Marine Corps
City/State/Country: Camp Pendleton,U.S.A
IP Address: 144.147.1.66

Comments
Your opinion is so misplaced. Before you talk about what may or may not be the issue in the Shooting in AZ. Let look at the Philippines a corrupt gov't, Police, Military. The killing of an American Naval Officer and stealing his money. The untrained police force killing the China tourist. Human Right violations killing journalists, Former Pres. stealing from the people. Before you start talking what America should or should not do. Be Men and Woman and stop what the corrupt Philippines. In Short Stand Up or Shut up
---
Name: Mang Tuko
City/State/Country: mariveles, bataan
IP Address: 67.212.12.157

Comments
Do you guys from the US know that there are more crimes of all sort committed in the US of A than in the Philippines? Forget what you guys know about "the right to bear arms," second amendment, blah, blah. The bottom line is, there is a lot of criminals in the US, in Detroit alone the number of crimes committed there last year surpasses the crimes committed in the whole island of Luzon.
---
Name: mockingmaya
City/State/Country: taft avenue, manila
IP Address: 67.187.216.8

Comments
"It is thus troubling...to witness the precipitous decline in American political discourse...(PNL)" Some well-respected American scholars would agree with the decline of political discourse (see Book Review: The Closing of the American Mind or A Half-Open Mind, American Spectator, A Minute of Hatred, Crisis In American Institutions, and so forth. But according to a scholar, majority of Americans have an impressive character of a true public servant who doesn't hold his/her view on the basis of self-interest or political expediency: force of argument, evidence, & genuine regard for the common good.
---
Name: GFJBHEDF
City/State/Country: Hercules
IP Address: 76.103.7.246

Comments
As far as US politics goes, nothing much have changed really. The demonizing hateful rhetoric the editorial speaks of has always existed even beyond the assassination of Abraham Lincoln to the present. What has changed is news travelled much slower then. Today's news is instantaneous with the advent of the computer and the internet. Thus it seems US politics is more vicious.
---