he events currently unfolding in Egypt, and Tunisia before it, should take Filipinos back a quarter century to 1986 when millions took to the streets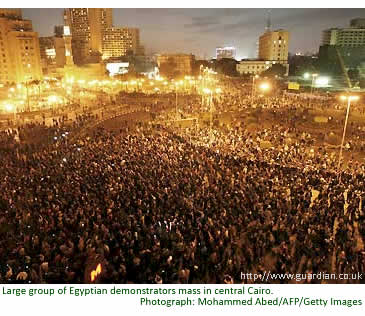 and risked their lives to rid the country of a corrupt and aging dictator who had long overstayed his nation's welcome.
Filipinos today take the People Power revolution for granted. Its significance seems to have gradually faded even for those who took part in it, while younger generations don't appear to truly grasp or appreciate what happened then. It takes an event half a world away to bring back into focus what those who amassed along EDSA (Epifanio de los Santos Avenue) in front of Camps Crame and Aguinaldo did those four days in late February—when Jaime Cardinal Sin, in a radio broadcast over Radio Veritas urged all who were listening to come to the aid of the rebels who had decided to defy the dictator Ferdinand Marcos.
Although the People Power revolution turned out to be bloodless as revolutions go—in part due to Marcos's reluctance to use force—those who trooped to EDSA did not know that.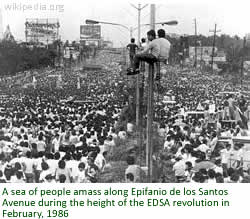 Like the brave Egyptians now demonstrating in the streets of Cairo, Filipinos then were willing to face down the tanks and the troops and stand their ground. It was People Power against a dictator's military might...and it was the dictator's forces that would eventually fold and retreat.
Later this month, Filipinos will commemorate the twenty-fifth anniversary of that revolution. While some may argue that the Philippines, has failed to move ahead, and that the People Power revolution has not delivered on its promise, we nonetheless need to take pause and salute all those who participated in it. What they did then makes them heroes in our eyes and in the eyes of succeeding generations of Filipinos for centuries to come.
Postcript
On February 11, 2011, President Hosni Mubarak acceded to the demonstrator's demands and stepped down as president of Egypt.

Saved Comments from Our Readers
Name: Phil Researcher
City/State/Country: LA County USA
IP Address: 76.174.19.149

Comments
RE-- Your new topic the turmoil in Egypt and the comparisons... to EDSA I 1986..... The 1986 EDSA I was a direct result of the insistence of FM to continue when all indications told him that he had lost the election with Cory Aquino..But Ramos and Enrile before deciding to unite against FM were already briefed by operatives of the USA that they are not supporting FM..I was already here in Los Angeles 3 years before when Ninoy was assassinated. Your statement: "Although the people power turned out to be bloodless.." I beg to disagree. Filipino blood already flowed as early as the declaration of Martial Law..people were disappearing in the middle of the night..during those times
---
Name: deo
City/State/Country: flour city
IP Address: 67.240.217.75

Comments
PNL: It was not "due in part of Marcos' reluctance to use force" that the EDSA I was a "bloodless revolution". It was rather, the crowd had the sense of NOT to "ginalit" the soldiers, particularly the tank crews. Check this out: The AFP were ready to shoot-it-out. ordered or no order. Thank Deo, nobody in the crowd tried to roast (you know, molotov cocktails) the crew in their tanks. The reaction would have been "save yourself!" in the part of the crew and start blazing their guns! Imagine pacifists Gandhi, Martin Luther King, Jr. and the late Pope Paul III as crew; then the crowd torched their tank; what do you think they will do? It's always been the case of a "peaceful demonstration". Keep track of this Egypt crisis. You will understand what I mean.
---
Name: Edward
City/State/Country: Las Vegas
IP Address: 98.160.174.84

Comments
What happened 25 years ago was a great accomplishment as far as getting rid of Marcos, but what really happened. You replaced a crook and his thief of a wife with hundred of more crooks. Remember Marcos and maybe 10 others were stealing money from the government now like I said there are thousands, maybe 10s of thousands. SO in truth the problems only got worse for the PI.
---
Name: As I See It
City/State/Country: SanDiego,CA/CebuCity
IP Address: 173.128.46.36

Comments
People's disillusionment of the pretenses & promises of what 'people power' is supposedly all about is getting deeper and deeper in the consciousness of concerned citizens as they are witnessing the reality of the times wherein those who succeeded after Marcos one after another were as corrupt as the dictator, at the very least their respective stints in Malacañang were saddled with big time anomalous transactions, nepotism, abuse of public trust, human rights issues, lack of transparency, & stealing here, there, everywhere! Aside from being inept and faltering!
---
Name: 1 UP
City/State/Country: GOTHAM CITY
IP Address: 74.66.135.64

Comments
As I have posted earlier, what is unfolding in Cairo today is reminiscent of EDSA revolution. The only difference however, is that no blood was spilled on EDSA (and no camels and horses). The purpose is still the same with both revolutions: it was socio-political revolution (turning the country around). Both revolutions are getting rid of a leader of a country who wants to perpetuate himself in power. Evidently, the EDSA I and II revolutions did not bring about drastic changes as everyone wanted in terms of economic reforms but presidents are more cautious and walk in trepidation not to violate the people's trust. Erap served as a good reminder.
---
Name: noypi
City/State/Country: Virginia USA
IP Address: 70.160.213.1

Comments
Although I was already working overseas those years, yup I still remember that day when the people of the Philippines forced Marcos to step down, I think not because they wanted to but because the Church intervened. Anyway, did the actions of those you call heroes change anything? ... I guess not, because more people got poorer and poorer, more graft and corruption occurred in the government. How many Presidents did the country have, but nothing changed. The problem is, most politicians are just good in talking, but no action. On the other hand, people need to start respecting each other, be more vigilant, follow the law of the land. Something must be done, and it's up to the people, to start.. Like you've said, people power can make a difference... God bless....
---
Name: Lord Gago
City/State/Country: Oswego
IP Address: 68.107.51.175

Comments
Pinas and Egypt are twin political systems where nearly every adult vote or revolt but unsure who really governs when conditions of wealth, knowledge, and other resources are unequally shared. Is it the permanent over-class of the economically powerful, or party leaders who ruled for life, or some self-made bureaucratic masters? In both countries, all of the above do. And usually the leaders are elected by and sanctioned to rule with abusive impunity by the people. When discontent boils over, a mob rule takes over via anarchy violence that may result in removing one dictator only to be replaced with another dictator. Egypt and Pinas must learn from history.
---
Name: As I See It
City/State/Country: SanDiego,CA/CebuCity
IP Address: 184.234.164.213

Comments
Together with well-meaning citizens this the first time PNoy will be commemorating 'EDSA People Power' as the sitting president. I am not inclined to believe that his administration is going to spend some money just to entice or "hakot" people of all walks of life to attend the proceedings, much less from their Hacienda. As I see it, year after year the number of people attending is diminishing, even the so-called major players like Honasan, Enrile, except for FVR who one time complained about this 'less & less people' bother to come. He knows the reason! In fact, himself is one of them.
---
Name: JRH
City/State/Country: mtl can
IP Address: 173.178.226.139

Comments
The bottom line of the current unrest in Egypt: 40% of family budget goes to buy food. It's 11% in North America. No wonder Egyptians et al are fed up. The rash of catastrophic weather; U.S. snowstorm, cyclone in Australia, etc. bring high global food prices. It toppled Tunisia's president that spilled over Egypt & Jordan. If people don't have enough to eat they have 3 options: they can revolt (it's happening now), they can migrate (Egyptian OFWs), or they can die (hope not). At this point, Pres. Mubarak's gov't will struggle to regain control of a nation angry about poverty, recession, & continuous political repression. Now, journalists were intimidated & detained so that Mubarak's goon squads will assault the protesters with impunity. What a shame.
---
Name: 1 UP
City/State/Country: GOTHAM CITY
IP Address: 74.66.135.64

Comments
Many here do not understand that the longer the demonstration drags, the greater is the chance of violent confrontation. EDSA I and II did not last for days. Marcos packed his bags quickly and left. Erap used Pasig River as his escape route to reach San Juan before protestors reach Malacañang. You don't have to wait and watch, events and outcomes are so predictable.
---
Name: Vanessa Lee
City/State/Country: Kuwait
IP Address: 62.215.228.249

Comments
People change, time change and patience diminished. It is high time for President H. Mubarak to leave his post - 30 years iron fist ruling in Egypt is more than enough. He should leave now and give chance to civilians who have been deprived of their rights for such a long time. Give chance to some other potential president who can successfully transform Egypt. At any rate the president's duty is to exercise peace and make the country's progressive nothing more. President H. Mubarak's self complacency, corrupt administration, power & wealth hunger is no difference to our country's former president Marcos.
---
Name: WJGBalderama
City/State/Country: Oceanside, CA
IP Address: 76.216.170.128

Comments
I am glad you did not make the mistake of comparing Egypt of today with the Philippines of 1986. Egyptians do not have a heroic figure around which to rally. In the Philippines we had the person of none other than Corazon Aquino to lead the call for democratic reforms. The Egyptian people's position is rather weak -- and getting weaker each day Pres. Mubarak hangs on to power and refuses to leave.
---
Name: mockingmaya
City/State/Country: taft avenue, manila
IP Address: 67.187.216.8

Comments
The Egyptian Revolution is a reminder that the future needs not be as monstrous & catastrophic as the reforms of Mao, Stalin, & Hitler. The young Egyptian generation has every right to restore their own politics, economics, & social system in their rightful places. The Philippine People Power bears multiple democratic aspirations, but it failed to construct a more humane & more democratic social institutions. The essence of People Power is freedom. And the young Filipino generation & intellectuals are the architects of their own destiny. Educate the less fortunate Filipino people, & they will "pay attention to democracy."
---
Name: salve regina
City/State/Country: u.s.a.
IP Address: 63.224.203.228

Comments
Edsa 1 was a miracle because Filipinos are Christians. What happened 25 years ago was God's Power and People Power that Filipinos have faith and trust God. What's happening in Egypt right now is very different. It's political powers struggling to get control in Egypt and the middle east. These groups from the hardcore socialist left and extreme Islam will work together to overturn stability in the world.
---
Name: 1 UP
City/State/Country: GOTHAM CITY
IP Address: 74.66.135.64

Comments
By Feb 22, the EDSA Revolution would have been 24 years years ahead of the Tahrir Square demonstrations in Cairo, Egypt. It could be said that it was the forerunner of today's non-violent demonstration. In contrast with Cairo, there was Cory Aquino to whom people would rally behind in EDSA I but none in Cairo. The Tahrir Square demonstration was high tech; EDSA was low tech relying mainly on the radio and the voices of Cardinal Sin and June Keithley. In both events the military remained loyal to the constitution much to the dismay of the dictators. Marcos was forced to flee than face the music. Because Egyptians are different from Pinoys (and more respectful of their presidents), they may allow Hosni ( a true nationalist) to die in his country of birth. As-Salamu Alaykum among Arab speakers.
---
Name: Phil Researcher
City/State/Country: LA County, USA
IP Address: 76.174.19.149

Comments
RE: Mubarak's End... The catalyst was the demonstrations in Tunisia where another Dictator was ousted. The error of Mubarak was to continue to rule as a dictator.. With present day communications one cannot just stay in power without giving people a choice. If this kind of media was present in Sept. 21, 1972 in Ph, Marcos would not have stayed 20 years.. In the 21st century abusive leaders will be kicked out of power.. I hope that the Egyptians don't make the mistake of the Filipinos.. We still have an Oligarchy.. The gap between the rich and the poor is so wide Filipinos who have a little talent just pack their bags and emigrate to USA , Canada Australia etc.
---
Name: ed Vitug
City/State/Country: Dubai-Abu Dhabi, UAE
IP Address: 86.96.226.20

Comments
The Filipino's People Power; It is felt with high esteem that modern "Revolutions" originated in the Philippines. Many countries are being liberated with the same approach which effectively removes and replaces current leaders without blood-letting. But the irony is that the Filipinos are hardly standing for what we fought for. Our Legislators are just riding for scopes and popularity and afterwards everything is gone with the wind. Legislators do not know how to apply the term "In Aid of Legislation". Corruption is everywhere – yet the solution to eliminate the cause of corruption is not address rightly. No Public Official should amazed wealth more than what he had before he assumed office. Remove pork-barrel of all Legislators and they should subject for "Auditing" as well.
---