t is ironic that as we approach this twenty-fifth anniversary of the 1986 People Power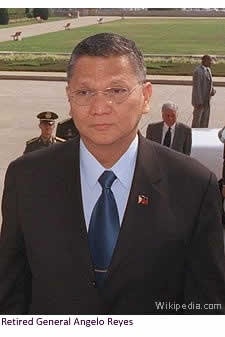 revolution—with Egyptian demonstrators reminding us of the euphoria we Filipinos felt when we toppled our own over-staying tyrant—those celebrations will have to be dampened by the passing of an honorable man who saw death as his only way out of the corruption-ridden system that surrounded him. Retired General Angelo Reyes, who took his own life on February 7, was an officer and a gentleman...and a deeply troubled public servant.
With each passing year it is becoming abundantly clear that the 1986 revolution—popularly known as EDSA I—was for the most part, a failure. Although Ferdinand Marcos was toppled from power, the changes people hoped would flourish never took root. Today, corruption is just as widespread, if not more so; bribery is commonplace; nepotism is thriving; a handful of families still control most of the country's wealth; and a growing number of Filipinos live on less than eight dollars a day.
Amidst this grinding poverty, the rich flaunt their riches and further sow seeds of corruption as the less fortunate quickly realize that a quick way to attain that kind of wealth is to engage in illicit activities on the side. For low-level public officials this can mean receiving a 'tip' from transactions that cross their desk each day. For mid-level government workers it can mean favoring contractors who give kickbacks.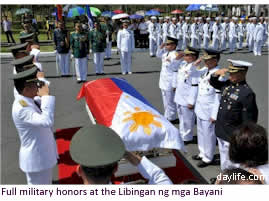 For judges, it can mean rendering decisions based on who can pay them the most; and those lucky enough to be in the top rungs of government, the sky's the limit as to what they can do and the piles of cash they can make.
Thus corruption in the Philippines has gotten so pervasive that public officials from the very top down to the Barangay Tanods can be in on the take. Numerous foreign businessmen and even diplomats have raised their concerns, the most recent being the country's Australian ambassador.
But corruption exists only because it is tolerated. Corruption has become a fact of life in the today's Philippines. This is the world Angelo Reyes and every other Filipino now lives in. We accept it, we tolerate it, we look the other way, we pretend it is not there, and sometimes we even benefit from it.
So if we are to be completely honest with ourselves, we know who really killed Angelo Reyes...we look at that person every day in the mirror!

Saved Comments from Our Readers
Name: william d'count
City/State/Country: Harrisburg,PA
IP Address: 72.95.48.30

Comments
The suicide of Angelo Reyes was in no way an act of patriotism nor meant to protect the AFP. It was something personal to Angelo. He killed himself to shield his family from further humiliation and prevent the investigation from linking his former Boss. Remember, his former Boss called him up a day before that fateful day. It is rather sad that Angelo missed that golden opportunity to help the country fight corruption and vindicate his name. His death was meaningless and in vain - an act of cowardice. Sorry Angel.
---
Name: Phil Researcher
City/State/Country: LA County, USA
IP Address: 76.174.19.149

Comments
RE: Your topic Who killed Angelo Reyes... The PCDA What is that? Provisions for Command Directed Activities.. When FM declared Martial Law in 1972.. He closed Congress.. it was not until 1978 when the Batasan was started.. This was the Rubber stamp congress... In the five years that there was no congress it was the Military that FM relied upon .. So he had to give them incentives to be loyal to him. I believe this was the start of the PCDA..As long as you are loyal nothing would happen to you..
---
Name: Manila
City/State/Country: California, USA
IP Address: 71.165.146.92

Comments
Angelo Reyes killed himself because he was so ashamed of himself. he was offered so much money by Arroyo that he did not care if he turned his back on Estrada. He was given so many positions by Arroyo for his loyalty to protect Arroyo. Young Estrada was only doing his job to question him and he ran out of words how he could protect himself and his families to the media and public. he could not get Arroyo to help him because this is now under Aquino's administration. Imagine, so much money, when there are so many poor people who cannot have descent homes, food on the table because they (the generals) are so greedy. May he rest in peace and may his family live in peace. I hope they continue the investigations and catch all the greedy ones.
---
Name: docmacky
City/State/Country: antipolo
IP Address: 112.204.187.123

Comments
Now is the chance to go deeper and ferret out the roots of corruption. Yes, let's start with the AFP and then Customs, BIR and the rest of the heavily infested agencies...We owe it to those who fought for good governance in EDSA 1 and 2. Those who stood up and never expected any payback except a fair shake in life and a government that is transparent and accountable.
---
Name: Steve R
City/State/Country: California
IP Address: 71.198.150.211

Comments
At first, I asked my myself, who me? Then after widening my search, widened the question, my mind accepted that my answer is - yes, collectively, all Filipinos played a part no matter how small by not doing enough to stop or reduce corruption among elected officials & personnel in the military. Looking back, I'm sure that I could have done more. However, if the blame game is to be equally distributed, my answer is to largely blame those who voted for any CORRUPT political candidate, from the barangay level to the presidency.
---
Name: magracielle gorospe
City/State/Country: antipolo city
IP Address: 61.9.70.5

Comments
I see remorse in Angelo Reyes's suicidal act. Having been raised by parents who were teachers, he must have felt that he failed as a son, a father and more so, a public servant whom people had trusted to promote (if not to instill) honesty, integrity and to uphold every citizen's right to have a graft and corruption-free country. He allowed the system to victimize him. He knew that he had his faults and a true man like him admitted quietly by committing suicide. He knew he failed but redeemed himself through his chosen way. It may not parallel with what we know as "should have been" but it's his style. For that he should be respected.
---
Name: MartinCelemin
City/State/Country: Las Vegas, Nevada
IP Address: 205.159.86.10

Comments
General Angelo Reyes killed himself because he could not admit publicly that he was a corrupt official. His death in itself is an admission of his guilt. He spared himself the consequence if he were to live. He would have found guilty and face shame of himself and his loved ones. He could not see himself and his family suffer because of his corruptions. He was a courageous and brave man but corrupt just the same..
---
Name: cena
City/State/Country: minneapolis
IP Address: 68.227.12.45

Comments
A very well said article about how corrupt the Philippines is. Politicians serving the government never learn from the mistakes of their predecessors. Indeed, they are hungry for power and money. Angelo Reyes was killed by his conscience. It so sad to think that he was so coward to face his guilt.
---
Name: NORA
City/State/Country: Australia
IP Address: 123.243.127.68

Comments
Thank God! We are getting somewhere. Thanks for all those brave people, Rabusa, Trillanes and Mendoza. It's about time these Crooks are punished. Too bad if one took his life. It's no one's fault for that.
---
Name: JRH
City/State/Country: mtl can
IP Address: 173.178.226.139

Comments
The explosive revelations of abuse by Col. Rabusa & Hedi Mendoza of scandal, influence-peddling & outright corruption in the AFP must be made public. It's time to put the cards on the table & act with more transparency given the serious questions that exist. Since the time of Pres. Marcos most records are off-limits to the public & the media. Everything is hyper-controlled by the AFP comptrollers. Where were the internal auditors to check everything? Or an independent agency free from outside pressure & a free hand to check that spending rules are respected. Today, Filipinos are cynical & disillusioned with this corrupt system in the govt. It might take years to solve this. Something drastic must be done.
---
Name: JuanaPilipina
City/State/Country: Houston, Texas
IP Address: 24.238.139.8

Comments
ANGELO REYES ET AL did not just walk into corruption, he danced, sang, walked out in silence and more pathetic, died under the cloud of corruption. Unless there is a new definition of dignity and gentleman, please don't consider this general a "bayani." It's not heroic to silence yourself when you have the opportunity to show your loyalty to God and country.
---
Name: pinoy 2428
City/State/Country: honolulu,hawaii
IP Address: 70.167.171.162

Comments
Reyes by committing suicide admitted his guilt but he got no choice but to do it so everything will go down with him... I think he did it to save his family for what ever may happen during the senate investigation
---
Name: Todo
City/State/Country: Lanao
IP Address: 58.71.45.66

Comments
The death of Angelo Reyes should not bar the investigation on how his family allegedly amassed wealth way beyond their means. The Filipino people deserve to know, and if warranted, to require the Family of Reyes to return what belongs to the people by way of a forfeiture proceedings.
---
Name: Ramon C. Balde
City/State/Country: Oxford, Michigan
IP Address: 76.238.195.8

Comments
Who caused corruption? You and me. Who let corruptors rule? You and me. Who let corruptors prosecute corruptors? You and me. Who killed General Reyes? You and me. And only you and me can undo corruption. But you and me will only lay back to see the greed of present corruptors and the breeding of future ones until hell freezes over. Because that is you and me - no balls!
---
Name: Roland Olarte
City/State/Country: Bury St. Edmunds
IP Address: 194.176.105.45

Comments
Mr. Reyes was an achiever, PMA graduate meaning physically and mentally tough, lots of connections, he knows the system of Philippine Government so well, in short he is not ordinary person. Why did he commit suicide? Kung ang dahilan lang ay nakapa simple accuse of corruption not even proven. The real cause of his death is bigger than what we know....they mention that big persons/politicians turn him down and that is the cause of his depression....why did they turn him down? Why suddenly the flow of current turn onto other side? Because the real issue is that the amount of money they got from the government is not only millioms....but billions and that not only generals benefited but also the past administration.
---
Name: booby
City/State/Country: timbukto
IP Address: 99.227.171.113

Comments
Well, its been a long time practice that Angie embraced. Phil gov't law doesn't have enough teeth to get over this practice. Simple question is how would they explain wealth accumulated throughout their tenure in consideration of their salary?
---
Name: GFJBHEDF
City/State/Country: Hercules
IP Address: 76.103.7.246

Comments
He could not live with himself. He could not bear taking down his family name. He could not bear dishonoring the general staff of the AFP. He was on the verge of spilling the whole kit-and-caboodle, but that would blow the lid wide open, taking down with him his comrades and many top Gov't officials. So, b4 the grave of his parents, a shot was heard. When his in cahoots heard his demise, they exhaled a sigh of relief.
---
Name: andrew
City/State/Country: brunei
IP Address: 202.93.215.106

Comments
Gen. Reyes for what he did in my understanding he did it for his family, to protect them. But for da country he failed to do. He should have told the truth to the people. It is not only him, it's so sad really. We work hard for our country and family abroad but the people whom we think are there to protect as are the one pulling as down. I believe this crisis and poverty in our country is mainly caused by corrupt politicians and the people who allow it to happen. I pray to our kababayan don't vote to those people who you know run for office for their personal purposes only. You can observe that when a politician buys your vote, don't expect he will not steal the money that should be for the people. When you accept and vote for corrupt people, blame yourself as to why our country is like this today. God Bless Us All
---
Name: Toto
City/State/Country: Quezon City
IP Address: 99.245.51.104

Comments
Angelo Reyes set an example for those corrupt people to end their life instead of living without honor. I would also want to see Joseph Estrada, Mike and Gloria Arroyo, Carlos Garcia, Ben Abalos and many others to do the same. Also the Marcoses to add to the list.
---
Name: 1 UP
City/State/Country: GOTHAM CITY
IP Address: 74.66.135.64

Comments
Those who join the PMA are not the sons or daughters of middle class families. Sons or daughters from these families would rather see their offspring work in corporations or as migrant workers. When these PMA graduates become generals or provincial commanders, they begin to understand the real meaning of power and economic dignity. THEY ALL WALK IN THE CORRIDORS OF CORRUPTION. Morality in office and character building principles learned in military school begin to dissipate fast. To earn the leaf and the first star, one needs a "padrino". Reyes owed Gloria. Gloria owned Reyes.
---
Name: GFJBHEDF
City/State/Country: Hercules
IP Address: 76.103.7.246

Comments
Fmr AFP chief Angelo Reyes was given a burial with full military honor in the cemetery of Pinoy heroes, by his comrades in high crime. By shutting his mouth for good, he spared these high officials from disgrace, and the AFP general staff from further dishonor. But to no avail. It's already out, denials notwithstanding, and more forthcoming.
---
Name: Dennis Caisido
City/State/Country: Dubai
IP Address: 86.96.226.84

Comments
Words of insult and allegations can inflict damage to a man's reputation. BUT WORDS CANNOT KILL A MAN. Angelo Reyes, an intelligent dignified general who can manage a country's campaign against insurgency surely will not easily succumb to mere allegations. Unless he felt cornered and has no other means of redemption. In my opinion; he took his life to save his loved ones from the inevitable batter they'll get from the senators investigating these allegations. To me, it was an admission of guilt. It is really sad to know that even wise and strong charactered generals can give in to our country's culture of corruption.
---
Name: Tom
City/State/Country: FL
IP Address: 97.188.156.88

Comments
What's the big deal. We Filipinos have known for years that these military men were stealing money, so is our presidents and all people in government, the police, in every walk of life if someone has a chance to steal from his neighbor he will. Just hope and pray that your able to leave the country.
---
Name: Jade
City/State/Country: Arizona
IP Address: 75.164.66.18

Comments
Gen. Reyes had a guilty conscience which made him ashamed of his greed. I don't consider him a hero at all. Heroes die for their beliefs and they are selfless, not greedy and selfish like Reyes had become. Arroyo, Estrada, Marcos-they spread the roots of corruption in the Philippines and they are the ones who should be thrown in the gallows. Reyes is collateral damage of these greedy people's actions-stealing from the people. About time to strip them of all their trappings stolen from the people.
---
Name: GPA
City/State/Country: Philippines
IP Address: 202.128.54.94

Comments
Strong words from some of us who post comments. Others blame others, others blame none. Others are angered, many are hurt. One thing is clear: Graft and corruption in Philippine society is intensive and extensive. Writing and talking about it do some good. But, I encourage everyone to fight it, with DEEDS. I, in my own little way, have launched a continuing battle against it already. Please do what you can, with action.
---
Name: Karatig
City/State/Country: Transient Yokota AB
IP Address: 203.105.88.97

Comments
General Angelo Reyes took his own life because he lost his honor. He stole and received taxpayers money in the millions of pesos. Rear Admiral Boorda (U.S. Navy) took his own life because he lost his honor too. The only difference was: Boorda did not steal tons of money, he just wore a ribbon in his uniform that he did not earn or was entitled to wear.
---
Name: Toto
City/State/Country: Quezon City
IP Address: 99.245.51.104

Comments
Gen. Reyes killed himself rather than return the money. That is the power of money. We should not allow his family to enjoy the money that their father died for. The wife should be investigated too. Maybe she is the reason for all of this tragedy.
---
Name: LPiF
City/State/Country: Los Angeles, CA
IP Address: 76.166.197.27

Comments
Your editorial is trying to cloud the cause of Gen. Reyes death. Come on, someone wants him dead...did any forensic evidence proved he committed suicide? Filipinos are not dumb to believe that story. He is not a PMA graduate for nothing...dah! Who in the right mind would believe that he did this to protect his fellow "mandarambongs?" Our justice system is bad enough to find criminals not guilty because someone screwed up the investigation, burned and or contaminated the evidence. We should fire our prosecutors and the justices because they are wasting our time and money. They are all incompetent and corrupt!
---
Name: alex
City/State/Country: manila
IP Address: 71.189.213.23

Comments
Oh really? Is that soooo.... he killed himself, right? We are given the choice and it is called our well...come on don't pass the buck!
---
Name: mockingmaya
City/State/Country: taft avenue, manila
IP Address: 67.187.216.8

Comments
General Reyes betrayed his moral conscience, "the judge inside", which resulted in guilt. He made a choice to put on the "mask" ("liberated from shame & self-consciousness") to avoid ethical imperatives: justice, integrity, courage, honor, honesty and so forth. He was no different from corrupt politicians & justices who refuse to eliminate their guilt & take off their masks. Of course, compromise is essential in public service, but without morality or ethical imperatives, justice or law is rendered ineffective.
---
Name: RayOfCavity
City/State/Country: Manila, Phil
IP Address: 69.229.210.106

Comments
What the hell r u talking about that I killed Reyes?. He joined those idiots stealing gov't. money so he can be buried at the heroes cemetery at the expense of those real heroes
---
Name: Horace
City/State/Country: London, UK
IP Address: 71.138.49.145

Comments
Many Filipinos believe they are honest but they are not aware that they are vital keys to the system of corruption. Corruption in the Philippines is so ingrained in the culture, many don't even know some of their normal and casual ways of doing things are helping in the proliferation of bigger corruption. How serious are you really about eradicating corruption? Is it somebody else's job?
---
Name: toto
City/State/Country: Quezon City
IP Address: 99.245.51.104

Comments
What happened to our justice system? Name me one prosecutor who in one time or another had not done any thing to blemish the system. Drugs and other crimes will not prosper this much if they only do their job and not be blinded by money.
---
Name: latepoca
City/State/Country: somewhere in time
IP Address: 121.1.30.222

Comments
We hope that the death of Angie Reyes will unearth the truth and will send those corrupt officials to JAIL and will penalized by DEATH if they cannot do what Angie did to himself. We also hope that the SENATE is NOT just doing for POGI POINTS but to warm those will be corrupt that their numbers are dwelling.
---
Name: Tom
City/State/Country: FL
IP Address: 97.3.97.117

Comments
For someone to say that they know nothing about the thieves in the Philippines are liars or fools. Our armed forces and police and people in every position where they have access to monies will steal. To: WDC and a few others who tell the truth on this site, good for you and to you others who continue to fool yourselves, I'm here to tell you that our country is a terrible place to live. Dishonest people everywhere.
---
Name: WDC
City/State/Country: California
IP Address: 75.38.76.185

Comments
R-E-M-O-R-S-E. This is the six letter word that killed Gen Reyes. He is a true Filipino; he took his life because of these six words. I wish many of us Filipinos believed these words with full hearts, Philippines may not be like what it is now.
---
Name: Herc G Enriquez
City/State/Country: Orlando, FL, USA
IP Address: 64.31.173.170

Comments
I feel sorry for Mr Angelo Reyes. He took his own life to escape from the horrible shame he has to deal with the Philippine public because of his corrupt practices while in public service, but painted a stinking mud on the face of the members of his family. He could have revealed to the country all the big fishes involved in corrupt practices such as Fidel Ramos, Joseph Estrada, Gloria Macapal Arroyo & others before killing himself. He could have done a great service to his land of birth!
---
Name: maxfabella
City/State/Country: orange park, florida
IP Address: 74.174.234.66

Comments
Angelo Reyes, of the PHILIPPINE MILLIONAIRE'S ACADEMY has redeemed himself by committing hara kiri. Japanese samurai's never understood why the US and Phil generals in Bataan did not commit suicide. They feel, it is their lack of the spirit. On April 1942, we were in Pinamalyan Mindoro Oriental, we could hear it there.
---
Name: ronie
City/State/Country: bicol
IP Address: 203.161.153.90

Comments
This article is a lot of bullocks! he killed himself out of shame. he created an illusionary image before the public as honest but deep inside he & his family have been part of corruption that brings poverty to the rest of Filipinos. his suicide did not justify anything but instead it is indicative of his admission of guilt and coward act to get away with shame. if he have been an honorable man, he could have face his detractors and prove them otherwise. he shouldn't be buried in Libingan ng mga Bayani just because it was a tradition...
---