or those who want the late President Ferdinand Marcos buried at the Libingan Ng Mga Bayani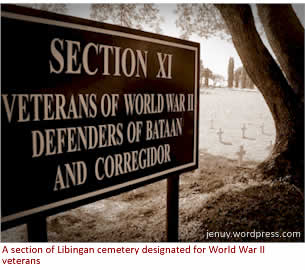 (resting place of heroes) cemetery, the rationale for doing so is straightforward: Marcos was former soldier, a guerilla fighter during World War II, and a president of the republic. Any one of those three reasons entitle him to a Libingan burial.

Those who feel he shouldn't be buried there argue that because of what he did in office, Marcos lost any claim to a hero's burial. They argue that he headed a brutal regime that clung to power through deceit and intimidation. They argue that he trampled on the rights of millions of Filipinos when he suspended the Writ of Habeas Corpus, declared Martial Law, and abolished the constitution to set himself up as ruler for life.

Just as the state can revoke any citizen's right to freedom and send a person to jail if he or she is found guilty of a crime.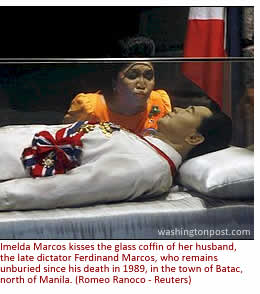 So too they argue that Marcos lost his right to a Libingan burial.

Filipinos tend to easily forgive and forget and the atrocities committed during the the Martial Law years are no exception. Today the late dictator's wife, Imelda and two of his three children hold public office. But although the Marcos family has had moderate success in rehabilitating his image inside the Philippines, outside the country, Ferdinand Marcos is still reviled and lumped together with other infamous dictators such as Uganda's Idi Amin or Chile's Augusto Pinochet.

And although the majority of today's Filipinos were born after Marcos was deposed, there is a large segment of Philippine society that will never forgive nor forget and thus will never allow Ferdinand Marcos to be buried in the hallowed grounds of the Libingan ng mga Bayani. Participate in our survey, click here.
Saved Comments from Our Readers
Name: slbejar
City/State/Country: chicago
IP Address: 99.105.68.41

Comments
This is an appeal to all those brainless lawmakers in the Philippine congress who signed the resolution of burying Marcos in the Libingan Ng Mga Bayani to please withdraw their support on the matter. Just because Marcos was a decorated soldier does not mean that he is a hero and deserves to be buried in that hallowed ground. Marcos was a crook, plain and simple. He did nothing but abuse his power instead of advancing the country towards economic progress like its Asian neighbors did during those years. To all honest and righteous Pinoys all over the world, please let us all speak in one loud voice to stop these brainless lawmakers in the congress and to stop the initiative.
---
Name: Kanada
City/State/Country: Kanada
IP Address: 159.18.94.65

Comments
The Marcos Dictatorship is just like World War II but instead of the Nazi's we have the Marcos Regime and his dictatorship. He was brutal and ruthless and his wife and kids are just the same. Remember the apple does not fall far from it's own tree. They had people killed and the Military and Police were his tools (just like the Gestapo) to pursue his own personal enrichment and agenda. And just like the JEWS, we never forget. We never forgive someone who brutalized us. The same as the Jews never forgave Hitler and his Nazi army. The Jews even hunted Nazi officers in South America to bring them to justice.
---
Name: As I See It
City/State/Country: SanDiego,CA/CebuCity
IP Address: 184.195.60.220

Comments
Boy Vegas of LV whose anger probably reached to high heavens when he learned that Congress has approved Marcos burial at LNMB said, "FM's remains should be fed to the sharks...the world can't comprehend how Imelda, Bongbong, & Imee were voted back in power and are now enjoying a lifestyle off of their ill-gotten wealth while OFWs have to leave their loved ones to suffer loneliness in a strange land just to earn a meager dollar...some even die." From Boy's sad narrative I could see that the 3 drug mules who have just been executed and 70+ others hanging on death row are the end-results of Macoy's legacy of raping the Philippines as it was probably the dictator who pushed Boy to immigrate to Vegas, suffer loneliness just to earn a meager dollar. Maybe?
---
Name: mockingmaya
City/State/Country: taft avenue, manila
IP Address: 67.187.216.8

Comments
Marcos was a miscreant politician & a natural despot. Whatever route President Aquino or the Congress would take to let Marcos remains be buried at heroes cemetery, the fact remains, Marcos was a common criminal, not a WW2 hero or a statesman.
---
Name: raffy magsaya
City/State/Country: san jose,california
IP Address: 98.207.81.240

Comments
Walang problema, kung gusto nilang ilagak ang mga labi ni Ferdinand Marcos sa libingan ng mga bayani basta ba isama na rin nila si Imelda Marcos sa paglibing.
---
Name: MARNY V
City/State/Country: RP/Africa/Europe
IP Address: 69.141.41.243

Comments
There is nothing wrong if Marcos will be buried at Libingan Ng Mga Bayani. As long as all the crooks, corrupts, thieves, carnapers, killers, rapists & etc., are also buried there, para sama-sama silang lahat doon. Just make sure, the real heroes are relocated to "Libingan Ng Mga Tunay At Tutoong Bayani" !
---
Name: Horace
City/State/Country: UK
IP Address: 71.138.53.55

Comments
Who said one has to forgive in order to forget? Let us forgive those who are deserving and truly contrite but we should never forget the wrongdoings of those who committed them. Only evildoers would like us to forgive and easily forget in order for them to be able to commit the same mistakes again. Those who easily forget are often the useful idiots and the enablers necessary for evil to succeed and prosper.
---
Name: Luis
City/State/Country: Cavite, Philippines
IP Address: 71.132.201.217

Comments
"Bayani" is an honorable term used for heroes. There's nothing heroic about a brutal dictator. Let's not make it worse by letting him join our true heroes.
---
Name: Rene
City/State/Country: Saudi Arabia
IP Address: 198.36.39.1

Comments
BIG NO! Ipinakulong niya ang tatay at kapatid ko ng walang kasalanan. May hinanap na tao ang mga sundalo sa bahay namin at ng di makita dinala ang kapatid ko, sinamahan ng tatay ko dahil bata pa si kuya pero pati siya ikinulong din. Mahighit 8 months sila nakulong.
---
Name: Jamfrance
City/State/Country: Colton, CA
IP Address: 165.235.7.225

Comments
NO. Let us not forget who he was and what he did to our dear PHL.
---
Name: Phil Researcher
City/State/Country: LA County , Ca USA
IP Address: 76.174.19.149

Comments
RE: Marcos and Libingan ng mga Bayani-- There was just so much Filipino Blood which was the result of greed.. A person who demands that you sign a document so your son who is under detention will be allowed to travel abroad..When you signed the document they took over control of your company . However, your son was not released.. That was what FM did to Eugenio Lopez Sr. and kokoy took over Meralco, Does he deserve to be buried at the LIbingan? Absolutely not.
Name: Phil Researcher
City/State/Country: LA County ,Ca USA
IP Address: 76.174.19.149

Comments
RE: FM burial in Libingan-- One of the arguments being espoused by FM loyalists is that he was a war hero.. Col Bonifacio Gillego in 1985 exposed the claims of FM. The Fake Marcos Medals authored by Col. Gillego unearthed the fact that for FM to have accomplished all the deeds for which he claimed he was awarded medals he would have to be in more than one place at the same time. Gillego was jailed during Martial law but his book became famous during the snap elections.. It is now in doubt if FM was ever in the front lines. FM even filed a war damage claim of $595,000 for the value of 2000 Brahman cattle. The U.S. apparently denied his claim as a fraud.
---
Name: Jess
City/State/Country: Sydney, Australia
IP Address: 110.33.244.95

Comments
First and foremost Pres. Marcos body should not have been allowed into the country. His litany of crimes will speak for itself. Pres. Cory Aquino should have thrown Imelda and Bongbong into jail right from the start of her term. If this happened there will be no Erap, Gen. Garcia, Gen. Ligot etc., etc.
---
Name: blumtrit
City/State/Country: Kilauea wants marcos
IP Address: 67.80.159.186

Comments
Kilauea is now erupting, as mentioned before Ferdie should be offered so as to appease the angry volcano. Imelda should do it now to take away the curse that's afflicting our nation. Ask Binay how you could take a blimp and glide to the mouth of the erupting volcano. Forget about Libingan, Mt. Kilauea will be glad to welcome you both.
---
Name: Myn
City/State/Country: Canada
IP Address: 68.150.152.68

Comments
Oh no!! for heaven's sake!! poverty, killings, corruption were rampant those days and yes, new buildings and infrastructures created and lots of nice shoes displayed but these are not a character of a person to lead a country and his dear wife was so powerful those days and can order execution at any time she wished! Behind that face is a devilish mind and acts that made our country not a good place to live! The reason why we migrated to where we are now. Heroes' burial doesn't fit him.
---
Name: boni.z
City/State/Country: batangas/ calvert co
IP Address: 138.162.0.42

Comments
Absolutely no! Marcos is the root of all evil in PHL. He left a legacy of nepotism, corruption, human rights violations etc. And up to now the Marcoses are still embedded in the political arena, A governor, congresswoman and a senator. Wake up Pinoy! They took not only money but, the dreams of our kababayans. Imelda said last year 'off the record' that they still have billions of dollars in NY. I say it's time to get rid of the Marcoses. Please read the 'Marcos Dynasty' book
---
Name: Kanada
City/State/Country: Kanada
IP Address: 99.255.45.165

Comments
Ferdinand Marcos was born in Sarrat, Ilocos North, on September 11, 1917, to Josefa Edralin and Mariano Marcos, both teachers. Mariano was later a two-term congressman and during World War II, a collaborator with the Japanese. Subsequently he was tied to four water buffalos by Filipino guerrillas and pulled apart. Marcos' real father, a man Marcos claimed was his "godfather," was a wealthy Chinese named Ferdinand Chua. He was a well-connected municipal judge who was responsible for much of Marcos' unusually good luck. FM was not a REAL war hero. The fake movies made of him being a war hero were fabricated and his medals were actually fake. He never fought the Japanese because his foster father was actually a collaborator with the Japanese.
---
Name: Juan de la Cruz
City/State/Country: Manila
IP Address: 124.158.38.69

Comments
I would appreciate it very much if you put my name down too among those who are against the idea of burying Marcos at the Libingan ng Bayan. He deserves nothing of that sort. He was a Tyrant. The same goes for his mad wife Imelda. And son Bong Bong.
---
Name: JRH
City/State/Country: mtl can
IP Address: 173.178.225.103

Comments
Some posters here at PNL are promoting the pathetic justifications to forgive & forget. Just remember that Marcos' motto was..abuse, cheat, & scheme. During his administration there was no integrity, transparency, & democracy. It's more of falsification of govt documents, illegal decrees favoring himself & his family. Not to mention: forged invoices, numbered accounts abroad, & dirty money. He disregarded existing democratic rules & acted as though he were above the law. Instead he created his own laws favorable to himself. To bury him at LNMB will pollute hallowed ground & introduce toxic & fecal matters of a petrified crook. It's a bad & sad idea.
---
Name: L A MARCIAL
City/State/Country: Manila
IP Address: 124.158.38.69

Comments
T I suggest that the administration should dig up all the wealth that the Marcoses have stashed away around the globe. That much wealth can be used to destabilize the present government and buy the services of HITMEN everywhere when needed for their protection. Also to hire the best Lawyers to defend them in court.
---
Name: Barbara
City/State/Country: Valencia
IP Address: 58.163.175.134

Comments
Marcos was already a crook and a murderer before he was elected??? A convicted criminal who together with Imelda was lucky to get away. I hope Imelda will pay for her crimes and be put in jail very soon. She's a crazy woman, insensitive and still talks nonsense!!!! No shame this Marcos family and outrageously rich!!! Pure crazy people, no doubt.
---
Name: Tonypogi
City/State/Country: Los Angeles, USA
IP Address: 99.6.89.50

Comments
I have a friend, 91 yrs. old now, who was the real "Hero of Besang Pass" (that Marcos claimed to be). He was the last man in Besang Pass directing the artillery on the advancing Japanese forces in order to allow the Americans to escape to Corregidor. When asked where was Marcos during this battle, this friend who was the recipient of the "Distinguish Service Cross" replied, " I don't know, he was nowhere to be seen as soon as the shooting started."
---
Name: tonypogi
City/State/Country: Los Angeles, USA
IP Address: 99.6.89.50

Comments
The worst legacy that Marcos left the country was MORAL DECADENCE. He changed the values of the Filipino people. He made it alright to steal as long as you don't get caught, etc. The proof is the hordes of politicians now in power. Reading some of the comments here is also proof. You can see the lack of morals of the authors. Walang delicadeza!
---
Name: Phil Researcher
City/State/Country: LA County ,Ca USA
IP Address: 76.174.19.149

Comments
RE: Unashamed corruption & endless exposes--If for anything FM shouldn't be buried at the Libingan as he was responsible for the destruction of term limits..Our early leaders realized that there has to be term limits as an Executive stays in power he starts to behave like a King.. Thus the Constitution had a maximum 8 years term (1935 Const.) But Marcos had to extend his stay so he created scenarios that the communists were going to take over ..All staged, false ambush.. Arrested the opposition and closed Congress..Tortured and mutilated (son of Mijares was mutilated).
---
Name: pinaskongmahal
City/State/Country: usa
IP Address: 70.240.136.175

Comments
No way Jose, for Marcos to be buried at the Libingan ng mga Bayani. He deserves nothing. If you committed sins of this magnitude: a super plunderer, murderer, faker, Japanese collaborator, womanizer, cheater, what's left of him is the searing heat of HELL. He's not even deserving to be buried under the smoking amber of Payatas or the Tondo dumpsite. What a waste to have allowed them to return back to the country they plundered, looted and desecrated after they fled into exile. Big, big, big mistake. Buscayno, where are you !!!
---
Name: Conrado Magnifico
City/State/Country: Batumbakal, Bulacan
IP Address: 137.82.188.162

Comments
Si Macoy ay dapat ilibing sa Libingan ng mga Bayani. Dapat siyang ilagay sa pagitan in Cory at Ninoy, para mabugbog ng husto. Noong nanalo siya sa pagka pangulo vs Diosdado Macapagal ang utang ng Pinoy ay $1.8 billion dolares, nuong mapatalsik siya sa Malacañang, ang utang ng Pilipinas ay umabot sa $40 billion dolares. Ano ang nangyari at napabaon tayo sa utang? Kaya kayong mga OFW, huwag sana ninyong sabihin na dapat siyang maging bayani. Kaya wala kayong makuhang trabajo sa Pinas ay dahil key Macoy. Maawa kayo sa mga anak ninyo na siyang magbabayad ng utang ni Macoy. OKEY!!!
---
Name: Yul
City/State/Country: CANADA
IP Address: 69.63.50.166

Comments
Whatever he did as a soldier or guerrilla (I doubt he really was) of WWII, is dwarfed a hundred times over by the bad things he did when he was the president of the Philippines. HIS BODY DOES NOT BELONG IN THE "LIBINGAN NG MGA BAYANI"
---
Name: Roel
City/State/Country: Muntinlupa City
IP Address: 93.188.232.61

Comments
Wasn't it enough they were given a chance to return to Philippines and pursue their political interests in spite of the various crimes they committed during the Marcos regime. Why can't they just bury him somewhere else? But, to be buried at the Libingan ng mga Bayani - that would really change the definition of being a "Filipino Hero."
---
Name: RAUL ACEBO
City/State/Country: PENSACOLA
IP Address: 70.191.239.99

Comments
Dapat dyan sa bangkay na yan eh sunugin na sayang ang pera ng mga Pilipino na ginagastos nila sa bangkay ni Marcos. Di pa sapat ang mga dinaranas na hirap ng mga Pilipino sa ngayon.........At nagpapasarap ang mga pamilya nyan ngayon sa Pilipinas at kunin ang lahat ng mga kayamanan nila na pagaari ng mga Pilipino......
---
Name: WDC
City/State/Country: California
IP Address: 69.106.122.206

Comments
Marcos is second to Rizal? You are out your mind? Jose Rizal loved his country and lost his life for it, compared to Marcos who did not do anything except bring our country to its knees.
---