n March 22, 2011, the Philippine Lower House voted to impeach Ombudsman Merceditas Gutierrez on the grounds that she betrayed the public trust.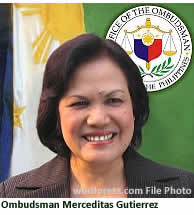 Less than two weeks earlier, the Senate Blue Ribbon Committee also recommended her impeachment and resignation along with several members of her staff.
Gutierrez's appointment was plagued by controversy from the time former President Gloria Arroyo appointed her as the Country's first female ombudsman on December of 2005. Gutierrez was a friend and law school classmate of then First Gentleman, Mike Arroyo. Her critics point to her lackluster performance in office and to her seeming lack of motivation pursuing the many cases of corruption leveled against the former president and her close associates.
In 2009 and again in 2010, two separate impeachment complaints were filed against Gutierrez for alleged mishandling of cases assigned to her office. The most recent complaint seems the result of an ongoing Senate investigation on corruption in the Armed Forces. That investigation brought to light the "sweetheart" plea-bargain deal offered by the ombudsman's office to retired Maj. Gen. Carlos Garcia who is accused of plunder. In that deal all plunder charges against the former general and his family would be dropped if he pleaded guilty to the less serious offenses of direct bribery and facilitating money laundering, and gave the government P135 million of his unexplained wealth.
Numerous legislators felt that a plea-bargain was unnecessary since the case against Garcia was strong. Even former Ombudsman Simeon Marcelo weighed in stating there was no need for a plea-bargain.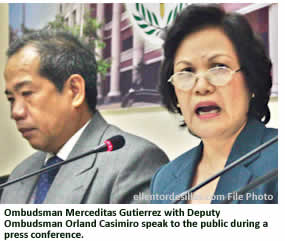 A Social Weather Stations (SWS ) survey conducted earlier this month (March 4 to 7, 2011) also showed that an overwhelming 83% of Filipinos want Garcia tried for plunder. Not surprisingly, that same survey showed that 52% of those surveyed also wanted Gutierrez removed from office, while only 15% thought she should stay.
With Filipinos across the globe showing more involvement and weighing in on Philippine matters via the internet, we'd like to hear what you have to say on this issue. Send us your views as to whether Merceditas Gutierrez should be impeached. Also be part of our online survey (click here).
Saved Comments from Our Readers
Name: Ariel
City/State/Country: Guam
IP Address: 69.44.203.226

Comments
Yes, she should be impeached. On the other hand, will the next ombudsman be just like her?? A puppet of the administration? Corruption will still continue unless the next guy is an angel or appointed by the people and not by the sitting president. I would root for Orbos..or former senator Flavier. (let's doh it)
---
Name: Brad
City/State/Country: L.A., Calif.
IP Address: 112.201.197.91

Comments
Merceditas Gutierrez should not be only impeach. Look what's going on in our country as all high ranking officials are getting reach thru corruption, but no one has place in jail. Only people are not well known and people who are poor are the person being place in jail even they are innocent. I think it's about time move on so that everyone should be given a chance to have a good life. Just wondering how much money does ombudsman Gutierrez had pocket in so many years, she should not be only impeach but she should put her in jail forever on her life.
---
Name: Vanessa Lee
City/State/Country: Kuwait
IP Address: 62.215.228.249

Comments
A million times YES. M. Gutierrez should be removed from office. Her lousy performance, biased in handling cases that are related to GMA & her disciples. She should realize the very function of her office is to prosecute, should be firm in handling cases regardless the cohorts are her comrades. There is no amount of friendship, and a big no sa pagtanaw ng utang na loob this is where Ombudsman stand.
---
Name: JRH
City/State/Country: mtl can
IP Address: 173.178.225.103

Comments
Is there anything as weird as the case of M. Gutierrez & the problem with corruption? Filipinos witness it everyday in one form or another. Ombudsman Gutierrez turned a blind eye on major cases, forgot her duties, & why she's in that important position. She was appointed by her mentor/benefactor GMA or the big fish. The common denominator of our gov't failed is corruption. The more of it in our failed institutions the less things work. It's been left uncheck for a long time now. So, we must attack the root cause. Gutierrez, Generals Ligot, Garcia, AFP crook personnel, other associates, & their spoiled wives should be convicted. It's becoming clear how they manipulated & converted funds as pasalubong/pabaon, inflated contracts, bid-rigging, bribery, & tax evasion from looted funds.
---
Name: marlon berg
City/State/Country: cypress, ca
IP Address: 173.196.143.100

Comments
Corruption, a serious offense that Merci doesn't care as an Ombudsman, a responsible gov't. official that should be prosecuting the offenders. She has been bribed by Gen. Garcia, et al. She's an example of an inutile gov't. official and should be impeached a 100 percent so that justice will be served to those corrupt officials who stole the money and food of the Filipinos. I wished she will be jailed for treason to the Pinoys.
---
Name: VMC
City/State/Country: Dipolog
IP Address: 121.54.47.8

Comments
A government official who doesn't perform her functions well, who is paid by our taxes ay dapat i-impeach to protect our nation's wealth and to punish those who corrupted our government funds. If he cannot prosecute those government officials who committed graft and corruption ay dapat she will go away from that department. Continue staying there is a waste of public funds.
---
Name: Nilo Imperial
City/State/Country: Azusa, CA, USA
IP Address: 108.23.237.172

Comments
She should have been impeached a long time ago as she was placed in that position for one purpose only, that is, to protect her master.
---
Name: Concerned Pinoy
City/State/Country: USA
IP Address: 136.166.60.221

Comments
I had been tracking the news on Philippine politics lately and am happy that we have a new Government that seems to be focused and sincere in ridding the country of corruption. Its sad to learn that a lot of corrupt officials and their families had been lavishly and SHAMELESSLY enjoying the hard earned taxes that the Filipino people pay the government each year - on that note its obvious that Merciditas Gutierrez has been working not for the people but for herself and the corrupt politicians she has been in cohort with from the previous administration. I would say, shame on the senate if they find her not guilty. Just to rid the TV of her face invoking her innocence is NAKAKASUKA!
---
Name: Perry Casapao
City/State/Country: Santa Clarita, Calif
IP Address: 99.6.89.50

Comments
What she has done or not done doesn't matter. What matters is the perception of the people of the Philippines on her performance, and that is VERY VERY Unsatisfactory. It would be better for her to simply resign and clam up to speed up the process of forgive and forget with the Filipino People.
---
Name: JRH
City/State/Country: mtl can
IP Address: 173.178.225.103

Comments
The only question is...'guilty or not guilty.' It's a very clear case of maladministration on the part of Ombudsman Gutierrez. So if we wish to rid ourselves & this gov't of corruption, then people in office must be incorruptible. Merceditas G was appointed to receive & report grievances against gov't yet was able to make a secret arrangement & a dishonest deal with a plunderer. This laxity, carelessness, & indifference is harmful to the welfare of our country. She lost all credibility, public trust, & purpose when it came to crucial cases which she intentionally did not pursue. Why?
---
Name: Malayang Pinoy
City/State/Country: Calgary
IP Address: 198.166.230.149

Comments
I think it's pretty clear. Gutierrez is there not to prosecute but to defend offenders of the land, she's a lawyer anyways. she defends the offenders close to the people behind her appointment. wag na po tayong magtaka. It's just right that she be impeached. hope the senators does their job not because of influence but because of conscience. remember, there's plenty of money out there flowing from the culprits. Please be a real senators of the land!!
---
Name: Phil Researcher
City/State/Country: La County, Ca USA
IP Address: 76.174.19.149

Comments
Re: Ombudsman Gutierrez.. One of the cases which appears to favor her impeachment was the Carlos Garcia Case. Why did the Ombudsman make representations in the SandiganBayan (The court where the Criminal case is pending ) that the evidence is weak.. There is an affidavit of the wife when she was detained at SFO with her Greencard holding children one of whom had 100K in his backpack that her husband has lots of money because he is compensated for signing military contracts in Ph. How could that evidence be weak? Now the U.S Attorney in SFO indicted the Garcia Children for smuggling dollars..It is of record that from 1999 to 2003 the Garcias have smuggled $785,000 Dollars to the U.S.
---
Name: Pat Monserat
City/State/Country: USA
IP Address: 76.208.170.209

Comments
She should be impeached. She is more interested in self-preservation and protecting the Arroyos. She is a disgrace to the legal profession.
---
Name: JRH
City/State/Country: mtl can
IP Address: 173.178.225.103

Comments
The Horrorable Ombudsman Gutierrez is like a mother goose who sat on eggs that never hatched. The apathy & indifference she's displaying is shameful. She even called the investigating committee 'kangaroo court' & 'moro-moro show.' It shows that she has no convictions concerning moral or spiritual values & very defiant in action & words. The senate must show boldness, audacity, & courage to remove this woman from office. Our laws are made to keep the rights of our people & not to permit crooks like her to rule. It's not beyond our power to have an honest gov't & stamp out corrupt leaders in our country. The path of righteousness must prevail. The sooner she be impeached & convicted the better.
---
Name: deo
City/State/Country: flour city
IP Address: 72.225.30.190

Comments
Even just basing her sins from what the editorial says, she should be impeached, tried and convicted by "tongress". And then try her for racketeering and corrupt practices; if convicted put her behind bars and throw away the key in the stinking Pasig river.
---
Name: Gene
City/State/Country: Ontario, Canada
IP Address: 174.88.14.134

Comments
After Holy Week, the impeachment of Ombudsman Gutierrez begins. Sen. Pres. JPE reminds senators, non-lawyers to have their conscience decide the fate of Gutierrez. A righteous, moral senator is one who will use his judgment, wisdom, & the power of inference, deduction, discernment, to arrive at a specific decision. Let Ombudsman Gutierrez speaks the truth & let the nation know details of her actions & inactions. Let her speak accdg. to her conscience as she stated clean. BATO-BATO SA LANGIT ANG MATAMAAN AY HUWAG MAGAGALIT. To Ombudsman Gutierrez, allow no one & close friends to be spared but say the truth on behalf of Filipinos. That day, you'll never be an OSBOWOMAN.
---
Name: 1 UP
City/State/Country: GOTHAM CITY
IP Address: 67.247.55.115

Comments
When people are facing charges / indictment in the Ombudsman system or in any other forms of courts, the accused rely on the old adage that "truth will set you free". In the case of Major General Garcia money had set him free (with a loot of 135 million, that is a lot of mullah to buy one's freedom). Etong si Heneral Carlos Garcia, ay major problem talaga. Just imagine if he had one more star in his shoulder as a military officer. Mas lalong grabe. He would run away and wipe out all the AFP's budget. A one man cleaning crew just like his commander-in-chief!
---
Name: Pete
City/State/Country: San Francisco
IP Address: 98.250.169.197

Comments
She is the root to all corruption in the government. Because of her, many government officials find shelter under her protective umbrella. Shame, shame, shame. Did she ever pray to God? The Almighty knows everything about her!
---
Name: Manila
City/State/Country: California, USA
IP Address: 98.119.47.202

Comments
Dapat lang. Lumaking masyadong ang kanyang ulo when Arroyo was the President. She did not do anything except sit those cases on her behind. Anyone who is not trusted must go and let the new people with heart and dedication enter the ombudsman position, without playing any favoritism. It doesn't matter who is the President. Go go go now
---
Name: toto
City/State/Country: Quezon City
IP Address: 99.245.51.104

Comments
Ombudsman Gutierrez should choose to resign. her credibility was already tarnished. nobody except her close friends and associates believe her. her decisions will always be in question. it is very hard to continue doing your duty under that condition. so if i am her i will relinquish my position out of delicadeza and save the senate a lot of time to do their duty making and passing laws.
---
Name: popoy
City/State/Country: united state
IP Address: 67.98.222.16

Comments
She need just to resign and gov't save some 15millon pesos for the taxpayer. Also she doesn't lose her all benefit from gov't. and please Leila de Lima will be the best ombudswoman.
---
Name: Balagtas
City/State/Country: Auckland
IP Address: 121.98.242.199

Comments
Impeach Marci ok, she can be a sacrificial lamb, of the Mafia connection, will that solve the tradition of corruption in every single local and national govt. dept., the fertilizer fund, all the scam in DepEd, Agri, Customs, Immigration, we can name them all, the Euro generals, the pabaon and pasalubong ni Glo. can the present gov't get it back, with the current system of govt. Napaka labong mangyari. Our poor people will remain eating isang lata ng sardinas at kalahating kilo ng bigas sa maghapon while few walang humpay lumustay ng pera na di pinag hirapan. Is that what we call democracy? Can we do something about it? I believe we can. If and when the people will stand united and say NO.
---
Name: GFJBHEDF
City/State/Country: Hercules
IP Address: 76.103.7.246

Comments
It's all just a political Hee Haw. Tom foolery. Moro Moro. In the lower house, (Batas Pambansa), "P"Noy's party mates and in cahoots had sufficient majority to impeach the ombudsman. In the senate, "P"Noy et al don't have the numbers. I counted 8, + former TNT senator Dacer-Corbito Lacson makes 9. "P"Noy et al need 16 to successfully impeach ombudsman Merci in the senate. It's an exercise in futility that has to go through the motions.
---
Name: JRH
City/State/Country: mtl can
IP Address: 173.178.225.103

Comments
The string of allegations against Ombudsman Merci has led to her unpopularity. She denied doing anything illegal in some of the major cases she didn't pursue or deal with & says she has been unfairly targeted by politically motivated opponents who want to bring her down. Others see her as incompetent, manipulative, arrogant, & very vindictive. We as a society won't find solutions until we squarely recognize the problems. Most of public institutions range in quality from sub-average to downright poor. Little wonder that these institutions or agencies are so vulnerable to corruption. Time for the senators to take the bull by the horn. Let heads roll & convict all these crooks now.
---
Name: Juan de la Cruz
City/State/Country: Manila
IP Address: 124.158.38.69

Comments
Please na man po". support the public's united cry for the never ending clamor for this shameful show of arrogance by Gutierrez in our daily papers. Her face alone shows how "thick skinned" she is amidst the the fact that evidence shows her guilty of several crimes plus the overwhelming number of votes which the Representatives found her fit for Impeachment. This woman deserves the to be arrested now and cast in jail like a common criminal. Please stop showing her face in the papers, it makes me puke.
---
Name: latepoca
City/State/Country: somewhere in time
IP Address: 121.1.30.222

Comments
Merciditas is a HINDRANCE in the TUWID NA DAAN. She will have to be beheaded like the 3 Pinoys in China for CRIME DOES NOT PAY.. Pres PNOY shall start with HIS BIGGEST BANG on MERCIDITAS so that ordinary PINOYS will eventually breath with great relief of CORRUPTION in GOV'T Services.
---
Name: Logoy
City/State/Country: Manama, Bahrain
IP Address: 77.69.195.30

Comments
Malinaw ang ibig sabihin nito. Matalino si Gloria naglagay siya ng mga tao na hindi matitinag sa hiya para magbantay sa kanyang baul na puno ng kanyang bulok, ng sa ganun pag namatay na siya ay mailibing din siya doon sa libingan ng mga bayani. siempre malabo siyang mailibing doon kapag nahalungkat ang kanyang baho. mabuhay ka Merci isa kang kang makapal na punong bantay.
---
Name: hpd32594
City/State/Country: Saudi Arabia
IP Address: 89.147.0.171

Comments
The impeachment process or conviction involves presentation of evidence and not by way of "yes" vote from the allies of Pnoy from the Congress, partisan LP votes or the yellow army bruhaha. I sincerely believe that our Senators are more independent minded and intelligent enough to weigh the evidence and would come out with good judgment or vote with conscience, be it conviction or acquittal.
---
Name: rademamj
City/State/Country: Dhahran
IP Address: 82.167.35.186

Comments
This is just the new administration's politics, and has nothing to do with actual job performance. They want their own person in there who they can control in that government oversight position. Sad to say, but massive corruption by the present administration is now a stronger probability. Already I see the Broadband contract is already being revived, and the cost will be much higher than the contract GMA canceled 2 years ago.
---
Name: Felipe L Torres
City/State/Country: Arlington, TX, USA
IP Address: 99.189.13.78

Comments
Please remove her before its too late. Those big time gov't crooks will be dead and the peoples money gone before any judgment can be render at all to them. Bolante, Euro generals, Mike / Gloria Arroyo, Abalos, & Neri are not young anymore .... let these greedy people feel the prison only the poor and under educated inmates are quickly put into. Only in the Philippines is where the people with bachelor degrees or higher in the public service who are most greediest. Where is the catholic spirit with these greedy people? They should be excommunicated once proven guilty.
---
Name: As I See It
City/State/Country: SanDiego,CA/CebuCity
IP Address: 173.129.63.26

Comments
For the sake of fairness and the principle of democratic processes Merceditas Gutierrez should be given the due process of law when she faces the Senate, the body who is going to examine the merits and demerits of her case. The Senate should give her the opportunity and the luxury of time to prepare her documents for her defense, explain her side and to let her answer all the accusations thrown against her. Those senators who have already prejudged her as GUILTY long before the idea of impeaching her (through media) should inhibit themselves as judges. One of them who is very conspicuous in her prejudice against the Ombudsman is Kiko Pangilinan and therefore he should inhibit him- self as judge or just abstain from voting, if he has the delicadeza.
---
Name: esd
City/State/Country: Malaysia
IP Address: 203.109.51.109

Comments
We should get rid of all the instruments of corruption of the past administration, and she is clearly one of them. She should simply resign and save the taxpayers money.
---
Name: tonyO
City/State/Country: pinas
IP Address: 111.68.59.72

Comments
DOJ Sec. De Lima "said Congress should pass a law giving a "categorical definition" of who the offended party is in plunder cases." LINK if there is no clear provision of law against the plea bargain agreement entered into between the Ombudsman and Gen. Carlos Garcia, this should not have been used used to impeach and remove from office Ombudsman Merceditas Gutierrez. Congress must first improve the law on Plea Bargain Agreement. Sec. De Lima is barking at the wrong tree. Ask Congress to do its job – its your duty so your office may not be branded as Department of Injustice or you don't get the stigma as the Secretary of Injustice, like the former !@$#@! Siraulo Gonzales.
---
Name: HOWA PAUKO
City/State/Country: DARIEN CT USA
IP Address: 96.57.93.194

Comments
She must be impeached before God's hand punishes her and all those who did evil and wickedness against the poor and persecuted Pinoys. Removal may be a big thing for her, as it involves pride, prestige and power; but the worst for her is yet to come. People call it karma, some call it the circle of life but divine justice will eventually catch up on everyone who have been avaricious including her. The rewards of wrongdoings are immense in the light of a just and holy God.
---
Name: 1 UP
City/State/Country: GOTHAM CITY
IP Address: 67.247.55.115

Comments
Impeachment is a tragic emotional blow to the personal and professional life of a person. It is no different from being forcibly evicted from one's home and being fired in the corporate world as incompetent and reviled by one's peers. This is the situation that Merceditas Gutierrez's is facing in her life. I would not be surprised if the Senate impeachment proceeding degenerates into some kind of inquisition. I just don't know how tough Gutierrez's hide is. Croc's skin and croc's tears? I can't wait to see.
---
Name: Yousof
City/State/Country: Jersey, C.I./UK
IP Address: 212.9.21.10

Comments
The best thing that Merceditas Gutierrez does is to do a hara kiri like what gen Angelo Reyes did to protect her family. At least the shame would end on her and won't keep on dragging her clan to shame. For sure, she will be remembered in Philippine history as the only female ombudsman who is the Most Corrupt, Thick-Skinned Shameless appointed official by no other than her Thickest-Skinned Famously MOST CORRUPT Female manipulative president Gloria makapal mukha Arroyo.
---
Name: Aedan Claret
City/State/Country: Philippines
IP Address: 63.229.6.45

Comments
I think Meldita Gutierrez doesn't know what an ombudsman's job is. She should be IMPEACHED!! Period.
---
Name: pinaskongmahal
City/State/Country: usa
IP Address: 70.240.136.175

Comments
Yes, Ombuds Merci must be impeached by all means. When she accepted the job, she was sworn to perform her duties to the best of her ability and welfare for the Filipino people. All she did was procrastinate and protect the interest of her Boss, the ponggok GMA. Others to blame are congress for failure to pass a bill creating a neutral justice nominating commission (not the president) for such sensitive position. The bar repeater, no brainer and demonizer FG who recommended Merci to his wife GMA as Ombuds is also to blame.
---
Name: Toto
City/State/Country: Quezon City
IP Address: 99.245.51.104

Comments
If they were to impeach a government official for corruption, the Philippines will be left with no one running the government. All government officials have been corrupt in one time or another including those who are initiating the impeachment.
---
Name: JRH
City/State/Country: mtl can
IP Address: 173.178.225.103

Comments
The ultimate conviction of M. Gutierrez will be the tip of the iceberg. Questions on why GMA appointed her in the first place must be investigated further. Mrs. Arroyo was the icon of power in the old regime, where endemic corruption & systematic abuse of power were dominant. She dipped her fingers on Gov't money to support her lavish lifestyle & grease money to those who supported her. As president, she's the chief executive official & head of state. Her ministers & ombudsman reported to her. It seems that vital records of M. Gutierrez were lost. Nobody can find them & no valid explanation was given. Something definitely stinks here.
---
Name: red carino
City/State/Country: marikina
IP Address: 92.103.228.4

Comments
Get out!!!!! end of story.
---
Name: tonyO
City/State/Country: pinas
IP Address: 111.68.59.71

Comments
The House of Representatives impeached Ombudsman Gutierrez without the due process of law; It was "ROBOTIC IMPEACHMENT by sheer force of majority votes of the majority political party. "If there is any grave abuse of discretion committed by Congress, as where the complaint for impeachment is not founded on constitutional or valid grounds, such action may be assailed before the Supreme Court on certiorari as a judicial, and not as a political, question since it does not adhere to the grounds provided for by the fundamental law of the land." It is not remote that she may question such impeachment as UNCONSTITUTIONAL, hence this case may not be finished by the time she retires from office next year, hehehe.
---
Name: JRH
City/State/Country: mtl can
IP Address: 173.178.225.103

Comments
M. Gutierrez doesn't want to bite the hands (GMA) that feed her. This egocentric & self-centered woman chose to protect crooks & corrupt people. She sat on the plunder case against Major Gen. Garcia before making her infamous deal-offer from plunder (stealing or plain robbery) major offense to the lesser charge of bribery (giving, offering, or accepting) minor offense. Both cases involve misappropriation of funds entrusted & assigned to Gen. Garcia which he converted to his own enrichment. He omitted, neglected, ignored, & efficiently oversaw this illegal practice in the AFP which is a direct violation of the professional code in the military. The quick processing & prosecution of this case must result in disciplinary procedures & conviction.
---
Name: 1 UP
City/State/Country: GOTHAM CITY
IP Address: 67.247.55.115

Comments
Who will be the next Ombudsman is not as important as keeping the image of the agency as the "corruption cleaning instrument of government" Unfortunately Merceditas sent the wrong message to the people with regards to the AFP scandal involving millions of pesos and top ranking generals. With millions of moolah involved some would say to an Ombudsman (as a Bisayan dude would say) ano nahurot na ba? "Ubos na man", comes the reply.
---
Name: Joe Mallari
City/State/Country: Chicago, Illinois
IP Address: 99.35.166.240

Comments
Short and simple. Two reasons why you want her out as Ombudsman 1) She's former Pres. Gloria Macapagal Arroyo's appointee, 2) She's not one your players.
---
Name: Homer Fallor
City/State/Country: Jubail, KSA
IP Address: 77.30.149.101

Comments
Ombudsman Gutierrez is so weak on dealing the case against Maj. Gen. Carlos Garcia, maybe because somebody on the previous administration wanted to influence her due to gratitude. This plea-bargaining agreement against the corrupt official could give hint to other culprits to deal an amicable settlement in the future, & this could bring shame to the Filipino peoples as well as to the present Administration to the eyes of foreign Countries. Ombudsman Gutierrez should be impeached to bring back the miserable image of the Ombudsman office & she will not hold any Government position in the future.
---
Name: blumtrit
City/State/Country: Public opinion yeah
IP Address: 67.80.159.186

Comments
Sotto: Merci Gutierrez's fate depends also on public opinion That's right, lets make it like American Idol – the public will judge aside from the senators. You could text your vote to the senate 5678. Sorry to say Merci, you need to sing a little more on top of what you know - you're not going to Hollywood, they're going to send you to prisonhood.
---