ast Wednesday, March 30, 2011, the government of China executed three Filipinos.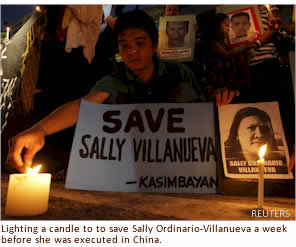 Sally Ordinario-Villanueva, 32, Elizabeth Batain, 38, and Ramon Credo, 42, were sentenced to death for smuggling heroin into the country in 2008. And although we might disagree with the use of the death penalty, we have to respect the local laws of that country.
In the case of Sally Ordinario-Villanueva, her execution becomes much more difficult to accept in light of revelations that she was not even aware she was bringing drugs into China. Her recruiter Tita Cacayan—who it turns out has of string of cases pending against her—had allegedly duped her into bringing a bag to Xiamen that was lined with 4,110 grams of heroin. Cacayan told her she was to give it to her new boss, who had left it in Manila during his last trip there.
If this was indeed what happened, Ordinario-Villanueva was a victim of a setup, unaware that she was committing a capital offense in a country that executes more people than any other country in the world. The question now is: how adequate was the Philippine government's legal defense of Sally Ordinario-Villanueva? Were all her legal options exhausted, or did she receive the kind of inadequate "lawyering" that government institutions like the PCGG (Philippine Commission on Good Government) and the office of the Ombudsman engage in, where they lose case after case?
Even Amnesty International accused the Philippine government of not doing enough, stating "The Philippines should have taken a stronger action..." in this particular case.
In the end it was the inept and lackadaisical government agencies and the illegal recruiters that sentenced those three overseas Filipinos to death long before the Chinese courts handed down a single verdict. From 227, there are now 224 Filipinos languishing in Chinese jails for drug offenses. Will that number increase with new apprehensions? Or will it decrease with more executions? It is all up to the Philippine government now. Let's see if these public officials are worth the salaries they receive from us each month.
Join our online survey (click here).
Saved Comments from Our Readers
Name: JRH
City/State/Country: mtl can
IP Address: 173.178.225.103

Comments
3 were executed, 74 more Pinoys in death row in China, & 500 more worldwide. We have that many Filipinos detained in China & other parts of the world for various offences, majority of which are drug-related. So, it's not an isolated case. Majority of the incarcerated felons are women. They all started innocently enough as legit OFWs but took a wrong turn & got involved in illegal activities for quick & easy money. It's a big temptation cuz Pinoys consider it as a short cut to getting rich quick.
---
Name: Steve R
City/State/Country: California
IP Address: 71.198.150.211

Comments
In the case of Sally and Cacayan's success in conning her victim, I also think that corruption was part of the scheme. I suspect that the bag containing heroin passed though customs with some help from some corrupt gov't officials. PNoy must turn all airports & seaports 'upside down' - make an honest effort to get rid of all corrupt custom personnel. WOW, what a tall order. Possible? Maybe or maybe not in the PH.
---
Name: Phil Researcher
City/State/Country: La County, Ca.USA
IP Address: 76.174.19.149

Comments
RE: 3 executed Filipinos; The execution was carried out because the Chinese govt. wants to show drug couriers that the drug trade is a serious problem. Punishment by death is a deterrent so prospective criminals could see if they do the same, they'll also get the death penalty.. Appeals by the Administration can only do so much, the ultimate person responsible are those people who take risks.. The Phil government has many weaknesses but the execution of the 3 should not be blamed on the Ph. govt.
---
Name: GFJBHEDF
City/State/Country: Hercules
IP Address: 76.103.7.246

Comments
While the 80% Ph catholic members were called to prayers by the CBCP, vice president Binay tripped to China once, twice to commute the drug mules' death sentences to no avail. What more could the "P"Noy administration have done? If it ceded the Spratlys or embraced Chinese communism, it would not have mattered. The 3 drug mules would still have fulfilled their date with Chinese destiny.
---
Name: 1 UP
City/State/Country: GOTHAM CITY
IP Address: 67.247.55.115

Comments
Why blame the government for the personal action of its people? Sally Ordinario-Villanueva was too accommodating and naive to accept a request from someone not knowing that she was carrying with that bag lined with heroin her own death certificate to China. China has a track record of executing foreign nationals who brng hard drugs into their country. The government of UK under Prime Minister Brown pleaded for the life of one of its citizens and a UK based organization (REPRIEVE) provided legal defense but all of these efforts failed in vain. If it is the law of the land of that country, foreign nationals should live with it. Don't expect hope, don't beg for mercy for it will only break your heart. Never, never cross the line nor test the limits of the law.
---
Name: justright
City/State/Country: la
IP Address: 98.250.169.197

Comments
Any international traveler knows that prior to check in, the airline officers always ask if the passenger carry anything from another person. She must have been asked; or else, the government should investigate the airline.
---
Name: JRH
City/State/Country: mtl can
IP Address: 173.178.225.103

Comments
The 3 Pinoys who were executed were ages 32, 38, & 42, not exactly young & foolish. So, how dumb can anybody be not to suspect an offer of $3,000 to $5,000US just to carry a travel bag? Gambling on an unknown outcome is not wise. It's very stupid. These syndicates know that anybody in the Phils can be bought. It's as simple as that. Our gov't must show some balls in the crackdown & immediate conviction of this international smuggling network in Asia & the Phils. Set examples by hanging all these Nigerian niggers & their tuta cohorts, coldblooded Filipino recruiters, & Chinese financiers. If China can do it, why can't we?
---
Name: blumtrit
City/State/Country: Intsikbeho no pity
IP Address: 67.80.159.186

Comments
The Gov't during the time of Gloria did not do enough. Too late, they should have asked China for leniency long time ago. What's so important to Binays rating if the three mules are dead? It's a lesson for the morons who want to make a quick buck. Dahil sa kahirapan at sa kagagawan nang pangu-ngurakot ni Gloria ito ang kahihinatnan. Pag isipan ibalik ang death penalty at unahin ibitay itong mga gumawa nang anomalya.
---
Name: Dr. Isabelo S. Alcordo, Ph.D.
City/State/Country: Valecia, Bukidnon
IP Address: 203.177.74.142

Comments
The positive side of this heart-breaking event is that the execution of three Filipino drug mules may save hundreds of potential Filipino drug mules if they are deterred from being one for fear of being hit with the full force of the law of their destination nations. Did the Philippine government fail the three victims? Yes, not only the government but also our churches. Both our government and our churches should have gone out of their ways to have a pre-departure briefing on the laws on drugs of their destination nations. I have suggested this in my book "PROSPERITY - God's Desire for the Filipino Nation" which I have provided our Cardinals and Bishops. LINK
---
Name: Rose Maghari
City/State/Country: Los Angeles, CA, USA
IP Address: 69.229.38.229

Comments
It was all the fault of previous administration, Gloria Macapagal Arroyo, she did not do anything and it is too late now. GMA only wanted to enrich herself, her family, her cronies as well as DFA and her entire cabinet, and forgot all the problems of OFWs. GMA should be tried and put in jail.
---
Name: ramboys
City/State/Country: california
IP Address: 206.190.72.205

Comments
Think about this...how on earth did those padala get boarded on an airplane when there are 4 xrays machines and 2 kap kapan at dalawang askal... before boarding...ang problima hindi sa nagbitbit, hindi sa nag padala kundi sa mga...CORAP NA TAOHAN SA AIRPORT FACILITY.......Pinoy yun ang unahin mo linisin ang pamamaraan ..lagyan ng live camera sa lahat ng angulo..tapos broadcast live ...sa lahat ng maraming tao..
---
Name: Balagtas
City/State/Country: Auckland
IP Address: 121.98.242.199

Comments
The only thing our government can do is to ask for clemency, its a crime committed in another country. We can blame our government for not providing enough employment. The government is even proud that one of the biggest dollar earning trade OFW the biggest number domestic helpers, sad because most of them have a college education. Kahit katulong sa ibang bansa, kahit mag alaga ng matatanda, lahat ng maruruming trabaho na ayaw gawin ng mga banyaga ok lang mas malaki pa ang kita kesa sa teacher or nurse ka sa Pinas. Hangat di natin totally palitan ang sistema ng gobyerno at politika palaging ganyan kasasapitan ng mahihirap sa atin kahit sa apoy ay susugba.
---
Name: 1 UP
City/State/Country: GOTHAM CITY
IP Address: 67.247.55.115

Comments
One possible way of mitigating Pinoy travelers from facing the harsh sentence of drug trafficking in a foreign soil is to stop these travelers before they even board the plane. These means the use of drug-sniffing dogs, chemical detecting devices, and monitoring of suspicious acting travelers from the ticketing counter to the pre-departure lounge. Once the passenger boards the plane, his/her fate is in the hands of the government where he/ she will deplane. Labas na ang PNoy government dito. THIS IS TRAVEL NOTE 101
---
Name: dylan
City/State/Country: ncr
IP Address: 121.54.92.58

Comments
This country has always been a coward towards every big country. It can't survive on its own, the politicians are power grabbers, and our security forces (navy, marines, air force, PNP) are so weak because the higher officers are busy getting rich. The only way to stand up to a bully is to learn how to be strong ourselves. Our people will never have to go to other country to earn a living but instead earn their living here, where they're safe from discrimination and are close to their love ones. How I wish this country could change it's ways. For sure, our heroes, especially those people who died defending our country in the name of freedom, are ashamed of what the Philippines, the "pearl of the orient" has become.
---
Name: mockingmaya
City/State/Country: taft avenue, manila
IP Address: 67.187.216.8

Comments
Some corrupt politicians, judges or justices deserve to be executed by the Chinese Politburo, not the less-fortunate & hard-working Filipino overseas workers, who will continue to be a victim of modern slavery. The Filipinos must refuse to be treated like disposable & cheap human beings. Third World population explosions will continue to contribute to modern barbarism worldwide: Mexican drug cartel, Siri brothel in Thailand, cheap labor in China, Taiwan, Hong Kong, and so forth. What can the Aquino administration do? Reduce or eliminate, extreme poverty or over-population, enhance quality of education, eliminate corruption, reform the justice system, promote transparency, & so forth. The clock is ticking & the Filipino people remain in the dark. The Filipino people deserve a better world.
---
Name: WDC
City/State/Country: California
IP Address: 63.193.188.95

Comments
The Aquino Administration did all they could to save these three Filipino mules for executions in China. Blame yourselves folks because you did not do anything to stop these people dealing illegal drugs. Start sending your politicians, cops and judges to jail, you know who they are?
---
Name: Sir Raul Lo
City/State/Country: Pilipinas
IP Address: 27.33.69.203

Comments
Mga maiiksi ang kokote nyu!!!!.....ano sabi nyung huwag ibe'blamed sa pamahalaan ng goverment ng Pilipinas ang kinahinatnan ng 3 Pilipino at iba pang Pilipino sa boong mundo na nasa death row?????..napakalaking numero ng kababayan nating subrang kapit sa patalim at pangarap na guminhawa ang pamumuhay sa ano mang paraan. Kung ang mga naunang namumuno ng pamahalaan ay nagplano sa ikauunlad ng bayan at walang kultura ng corruption, 'di wala sanang ganito kalaking numero ng mga Pilipinong nasa boong mundo na nasa death row. Kaya may pananagutan ang pamahalaan sa kinahinatnan ng mga Pilipinong ito, dignidad ng lahi natin ay naaalipusta sa ganitong kalagayan.
---
Name: 1 UP
City/State/Country: GOTHAM CITY
IP Address: 67.247.55.115

Comments
DEO: Even your analogy of Lydia Dean's case and the recently executed Pinoys were insane. Dean's case was a crime of passion decided by a jury. The case of the 3 Pinoys were not even appealable. In the western legal system death sentence is appealable. You can't say that with China. Do I have to use a jack hammer to put these arguments into your head or do I need a toilet plunger to shove it elsewhere?
---
Name: Lowe
City/State/Country: Manila
IP Address: 124.158.38.69

Comments
The best deterrent for drug pushers from selling wares abroad is by absolving the home country from intervening on their behest, They have committed a crime, they have broken the law and deserve no help at all. Or would we prefer that these drug dealers concentrate their sales here in our own country where corrupt officials can easily free them from jail?
---
Name: As I See It
City/State/Country: SanDiego,CA/CebuCity
IP Address: 173.152.226.78

Comments
1/2. Has the Phil gov't done enough to save the lives of Ordinario-Villanueva, et al? I believe the question is actually two-pronged - FIRST, has the Phil gov't done enough in matters of representation like sending good lawyers to defend them & high-profile officials for possible commutation of their sentences from death to life? Yes, I think so. China is a sovereign state and has its own law on drug trafficking which is very strict and I don't think Chinese court would buy that line of defense like 'I was setup some-body must have put that inside my bag without my knowing.' It does not matter whether or not we are sending lawyers in the caliber of Fernandez, Marcos, or Salonga. On the other hand, VP Binay has ably lobbied for them for possible commutation on humanitarian grounds.
---
Name: As I See It
City/State/Country: SanDiego,CA/CebuCity
IP Address: 173.152.226.78

Comments
2/2. SECOND -Has the Phil gov't done enough to prevent them from proceeding to China with those bags of illegal drugs? NO siree! The Phil gov't (in the first place) could have saved their lives if only a gov't official or group of officials at the airport did their job in not allowing them to pass through the very tight security being put up at NAIA, Mactan, or Subic. Each one of them carried between 3 to 4 kilos of heroine and I don't think each one has the capacity to swallow even a kilo of this illegal drugs to prevent detection. I'm inclined to believe in the connivance angle of this trade at the airport.
---
Name: Vanessa Lee
City/State/Country: Kuwait
IP Address: 62.215.228.249

Comments
Our government should not be blamed for the execution of Sally. President Noy sent Mr. Binay to China somehow he did all possible way to persuade the Chinese Government but to no avail. We have to respect one's country's law. Sally was easy prey, she should have been so smart to think about the outcome should she accept the thing from her crook Agent. This is one of the problems some people hitherto are not still aware the magnitude of risk should they involve in such affair. We should be firm and more cautious to safeguard our interest never ever be influenced by negative forces.
---
Name: geoge
City/State/Country: california
IP Address: 71.139.27.184

Comments
Aquino is this what you got for siding with China instead to the free world? Aquino did nothing because he still in campaign mode and blaming Arroyo.
---
Name: Joseph decosta
City/State/Country: Misamis, Mindanao
IP Address: 203.84.174.170

Comments
No one has the right to take away life except God but we need to understand that drug traffickers knowingly do this for money. They ignore the fact that drugs kill in many ways: families, children who grow up to be addicts, persons who loose cognitive functions due to drugs, theft and murder to support their habit and many more. Drug users loose their ability to be productive contributors to society but it is those involved in the distribution of drugs that cause the damage and therefore should pay for the countless lives they destroy for the sake of money.
---
Name: A. Policarpio
City/State/Country: Anywhere
IP Address: 64.229.221.132

Comments
Had the government helped the three drug mules? Of course not. Look, the government is the reflection of the people that voted it into power. Many surveys say corruption is not diminishing despite the good intentions of PNoy. Therefore it is all of the people (government and the governed) that pushed those mules to their death. How in the world were they able to pass PH customs?
---
Name: Phil Researcher
City/State/Country: La County Ca USA
IP Address: 76.174.19.149

Comments
RE: Drug Smuggling--If the Ph government is really serious in reducing the drugs that are smuggled through OFWs just make their pre-departure inspection more thorough. or is there any pre-departure inspection at all. Place large warnings at NAIA .."If you are detained in foreign airports because you brought in illegal drugs from PH, the Ph govt. may not be able to help you." Filipino travelers have to be responsible. You cannot blame the government for your own stupidity. Illegal drugs is a serious offense in other countries. Law are implemented unlike in PH when people can practically ignore the law by just bribing their way from on violation to another.
---
Name: 1 UP
City/State/Country: GOTHAM CITY
IP Address: 67.247.55.115

Comments
My sources are telling me that those drug mules executed in China were not OFWs but professional drug couriers and are paid $5000 per trip. They knew all along what the risk is. They had been briefed by their handlers.. Please don't give me the excuse that they were duped. If you know your history China has been in the opium trade and was engaged in the so-called Opium War with UK in 1839.If you know your science, cocaine has no antidote but opium has. Cocaine is a stimulant; heroin is a depressant. Cocaine numbs your tongue; heroin is bitter. Cocaine is white (pulvo blanco); heroin is brown. Cocaine is grown in Latin America; heroin in Southeast and southwest Asia. This is DRUGS 101
---
Name: Miguel Santos
City/State/Country: Los Angeles, CA
IP Address: 69.232.75.123

Comments
It's one of those stupid Filipino customs to accept custody and responsibility of something he does not know anything about. Even in the local TV shows they are frequently portrayed as if it's a natural thing to do among adults. Why would one readily transport something from someone he does not know too well without first verifying and making sure the "padala" is safe and perfectly legal? Is it related to our propensity to not care what is legal and proper? Some of our kababayans are too naive and too trusting to the point of being idiotic and foolish. How many times do we have to be manipulated and taken advantage of due to this imprudent and unwise custom? Are we really devoid of any sense of precautions and rationality in our Filipino psyche?
---
Name: Sylvia
City/State/Country: Baltao
IP Address: 14.201.66.31

Comments
These drug mules should have known what they were in for. What if they were not caught? They would receive their big reward in exchange for the many lives that will be destroyed due to illegal drugs. They didn't care!!
---
Name: EPO
City/State/Country: cotabato city
IP Address: 99.96.147.230

Comments
Kung bakit kasi ang mga naka bantay dyan sa airport bantay salakay rin !
---
Name: Tagaguhit
City/State/Country: OFW
IP Address: 59.60.61.158

Comments
It is the OFWs who work in China who were greatly affected with these past tragedies (Manila hostage taking and drug mule executions). Do you know how we suffered from hatred campaigns of some ignorant Chinese. Let it be a lesson for all not to be lured by easy money, be honest and work hard.
---
Name: WDC
City/State/Country: California
IP Address: 66.122.12.221

Comments
Best thing the Philippine government to do is hands-off for those Filipinos who will be executed in other countries, let them face their consequences. Filipinos did not ask them to do illegal drugs, and it is very unpatriotic what they did. So many Filipinos are going overseas to work, most of them are honest and hardworking people, and these drug peddlers can do the same. I travel a lot; I don't want that other nationalities suspect me carrying drugs because I am Filipino.
---
Name: tonyO
City/State/Country: pinas
IP Address: 111.68.59.71

Comments
I agree with Steve R; Pinas government did a lot to save these three Drug Mules, Nakakahiya pa nga ang gingawa ng Pinas government na nakikusap maigi patawarin lang ang mga convicted felons nato. Parang KUNSINTIDOR NA MAGULANG. If this is repeated often, lalo na kung may nakakalusot na mga Drug Mules, this will encourage Drug trade worldwide and aggravate drug addiction. Pabayaan na lang ma executed ang mga Drug Offenders na ito. Higpitan sa airport ang paglabas nila sa bansa at kung may makalusot, inform the Interpol at ng mahuli siya sa kanyang country of destination. Isipin mo na lamang kung ano karami ang victims of drug addiction. I remember that before and during WW II, China executed all opium addicts.
---
Name: Popskief
City/State/Country: Lebanon
IP Address: 217.163.49.51

Comments
It was a very sad and tragic experience especially for the families of the convicted drug mules. However, I find it grossly unfair to put the blame or even criticize the Philippine government for an individual act of it's citizen. I am borrowing the word of the Supreme Court "we must respect the law of another sovereign country". Instead of blaming anyone, we should move on and learn from this tragic event. We should encourage our government to follow China's lead and apply the heavy hand of the law, especially to those connected with Corruption and Illicit Drugs. Life sentence or death penalty, the law must be imposed.
---
Name: Phil Researcher
City/State/Country: La County Ca USA
IP Address: 76.174.19.149

Comments
Re: Sally Ordinario Villanueva--Since in your editorial you specifically mentioned her case as different from the other 2--executed drug couriers.. was Sally really a legitimate OFW or was she in fact a trader? she was supposed to go to mainland China to buy cell Phones. Most of the PH OFW in China are working in Hong Kong as Maids of expat British and and European households also Chinese households.. I don't think there are Filipino OFWs in the mainland except maybe Beijing or Shanghai the mega cities..
---
Name: jejemon
City/State/Country: Philippines
IP Address: 93.82.6.52

Comments
I believed that most of the Filipinos jailed and convicted in China are innocent. Evidently, Chinese rules and law are adamant. China is implementing such "inhumane" verdicts hence, it is to daunt everyone to not commit these offence. Sadly, in most cases, the convicted are truly innocent. I think, the Philippine government beyond doubt did give adequate assistance to them. It is to the PH airport authorities/workers who are to blame that 4110 grams (more than 4 kilos!!!) NAKALUSOT! How come? Payola? Again, and again, this should be a lesson to all Pinoys departing Philippines not to trust anybody. These "nakakahiya," "nakikisama," "nakikisuyo," "tumatanaw ng utang na loob" traits can endanger lives, maybe our own!
---
Name: GFJBHEDF
City/State/Country: Hercules
IP Address: 76.103.7.246

Comments
Nothing can be done about the dead mules. What is government doing about this problem? So far nada, except persecuting the recruiter of Ordinario who presented herself before the court asking for protection from would be vengeful killers. You'd think by now the police would have behind bars the syndicate gangs that recruited the recruiter. Won't happen. These characters might be kins or members of government. In that case, no one wants to go there, if they value their lives. The message soaked in. No drug mules any time soon, and the drug syndicates will use other mediums of delivery.
---
Name: Ross Feliciano
City/State/Country: Kuwait
IP Address: 178.53.41.149

Comments
The solution is VERY SIMPLE. There is no need to think about having a lawyer to come out with a solution. All those KNOWN as prohibited drug dealers MUST be brought to the place to answer about their activities related to drug issues and when found guilty, THEY MUST BE PUT BEHIND BARS, unless the government officials are either members of the Gutierrez circle or of the past many administrations.
---
Name: GFJBHEDF
City/State/Country: Hercules
IP Address: 76.103.7.246

Comments
On September 2009, president Arroyo went to Riyadh, Saudi Arabia and repatriated 119 distressed OFWs, flying them back to the Philippines with her. When 3 Filipino drug mules faced execution in the PRC, "P"Noy sent VP Binay to China twice for nothing. Just saying.
---
Name: CAMERON
City/State/Country: WASHINGTON D.C.
IP Address: 207.159.110.34

Comments
Ang dapat patayin diyan ay si TITA CACAYAN......
---
Name: As I See It
City/State/Country: SanDiego,CA/CebuCity
IP Address: 68.27.77.223

Comments
I agree with suggested warning at the airport, something like: ILLEGAL DRUGS ARE STRICTLY PROHIBITED IN THIS AIRPORT AND IN ANY AIRPORT IN A FOREIGN COUNTRY. IT IS THE RESPONSIBILITY OF A TRAVELER TO VERIFY HIS BAGGAGE/S AND TO CHECK THE ITEMS HE IS BRINGING. PENALTIES COULD BE SEVERE AND EVEN DEATH WHEN CAUGHT IN OTHER COUNTRY. But the warnings does not mean 'it diminishes the responsibility of the customs personnel to strictly enforce the tight screening of baggages at the airports for illegal drugs.'
---
Name: Dr. Isabelo S. Alcordo, Ph.D.
City/State/Country: Valencia, Bukidnon
IP Address: 120.28.233.165

Comments
Deo: Re your comment: The execution of the three drug mules is good for this country. AT LAST THIS WHOLE CORRUPT NATION THAT CONSIDERS OUR LAWS AND JUDICIAL SYSTEM AS BIG JOKES KNOWS THAT THERE ARE COUNTRIES LIKE CHINA THAT ARE SERIOUS IN IMPLEMENTING THEIR LAWS. And we are trying to CORRUPT these governments when we try to convince them not to apply their laws to our drug mules. You are right. These drug mules must have known what they were carrying . . . or they would not have been paid with thousands of pesos. LINK
---
Name: GFJBHEDF
City/State/Country: Hercules
IP Address: 76.103.7.246

Comments
For the $18 billion OFW remittance (2010), the Phl Gov't still does not provide legal assistance to OFWs in trouble. It never did. It goes through the motions, like sending VP Binay to China twice in behalf of the 3 drug mules prior to their execution. Sham! Pacifier. "Look people, we are doing our best."
---
Name: Vanessa Lee
City/State/Country: Kuwait
IP Address: 62.215.228.249

Comments
If our political culture does not involve corruption it will minimize people going abroad to work, some are forced to engage in drug related matters ignoring come-what-may. It is really heart breaking if there is an execution of our countrymen in foreign lands and many work even in the lowest category just to alleviate their families' plight. It is high time for our government to virtually CHANGE the system.
---
Name: Vanessa Lee
City/State/Country: Kuwait
IP Address: 62.215.228.249

Comments
Cont. 2 Stop the Pork Barrel – make it case to case basis, minimize the expenses. Instead allot this money to less fortunate, children's education, medical benefits, allocation of foods, shelters and transportations and importantly to create projects to utilize those unemployed. These Civil Servants are having handsome salaries and down-to-earth benefits. Refrain from corruption, refrain from dreaming power and wealth.
---
Name: Kanada
City/State/Country: Kanada
IP Address: 159.18.94.65

Comments
The problem is not that these OFW's are drug mules and that they were sentenced to death by China. What is really disturbing is "What if they are innocent and were tricked to carry luggage for the REAL drug dealers?". Has anyone been short changed in a store before? Or has anyone been swindled out of their savings by someone who told them to purchase some gold or valuable property that turned out to be fake? Well, some people can be tricked into carrying a suitcase or luggage into a country without knowing it's actual contents. And the worst part is these innocent people received the death penalty just because they were fooled by someone else. True injustice is what happened.
---
Name: GFJBHEDF
City/State/Country: Hercules
IP Address: 76.103.7.246

Comments
Stupidity is no excuse. That is why the PRC laughed the ignorance excuse of Ordinario to scorn. It simply is indefensible, even if the PRC allowed Ordinario a lawyer, 4,110 grams of heroine is 9.06 pounds of heroine, plus the weight of the bag. Even I, were I the Chinese customs agent would have been highly suspicious. "Why does this leather bag weigh like it was lined with lead?"
---
Name: pinaskongmahal
City/State/Country: usa
IP Address: 70.240.136.175

Comments
I agree with the PNL editorial that the gov't didn't do enough to warn unsuspecting OFW drug couriers before they embark on their trips. These OFWs are earning big bucks for the gov't. I suggested before that the gov't should clear the lobby of the Foreign Affairs Bldg at P. Faura to set up a one-stop shop for newbees (OFWs) getting their police clearance, NBI, visas, and other documents. Give numbers to avoid long lines. When completed, a staffer should give briefing to avoid duped of becoming a drug or dollar couriers.
---
Name: Tagaguhit
City/State/Country: OFW
IP Address: 59.60.61.158

Comments
Phil. Researcher: There are more Filipino professionals working outside big cities in China like Shanghai and Beijing. There are engineers, teachers, quality inspectors, pilots and mechanics, interior and furniture designers and a lot more professional careers. Bar workers, hospitality girls and domestic helpers most of them work in big cities. Filipinos in China contributed a lot in shaping their economy way back the 80's,so do a lot of research next time.
---
Name: As I See It
City/State/Country: SanDiego,CA/CebuCity
IP Address: 107.25.6.10

Comments
Somebody said, "instead of blaming anyone, we should move on and learn from this tragic event." Very well said, but the question is when are we going to learn? There are not only 3 or 75 Pinoys who are now languishing in Chinese prison but maybe hundreds all over the world whose cases are mostly related to illegal drugs. Are we (especially the gov't) going to learn and be serious about it ONLY because these kaba-bayans are about to be hanged, guillotined, or lethally injected? Has the Phil gov't just learned the news ONLY when they are already on death row? And do something in an attempt to save their lives ONLY when the the time is running out and they are about to be executed?
---
Name: Kanada
City/State/Country: Kanada
IP Address: 99.255.45.165

Comments
It is a big shame that innocent people have to be executed by a country like China when they should have tried to find out where the drugs were intended to go to and catch the REAL DRUG DEALERS in China. The Chinese government should have tried to strike a deal to set up a plan to catch those who were going to receive the drugs because I suppose the intended people who will receive these drugs are the ones who intend to sell it in China to make a lot of money. See link -> LINK I have no more respect for a country who wants to execute the innocent in order to protect a big drug lord who probably is bribing the Chinese officials big money so they execute the innocent mules instead.
---
Name: WDC
City/State/Country: California
IP Address: 64.171.134.123

Comments
Eighty-nine foreigners are in prison in the Philippines due to dealing illegal drugs not to mention the local drug peddlers? Philippines are becoming a haven for these drug dealers and peddlers. If the Catholic Bishops and priests and those other people are against the death penalty, I suggest putting these drug dealers with them and letting them feed and care for them. Think how much money the Philippine government saves. Pass the death penalty now and start executing these bastards!
---
Name: eng-eng
City/State/Country: ontario
IP Address: 174.91.102.121

Comments
What happened to the execution is a result of illegal acts perpetrated by a scammer with mob connections in Asia, I suppose. This is a Filipina who was caught in smuggling drugs to China. But what about Chinese doing illegal in the Philippines. How many times had there been crimes committed by Chinese doing illegal in our country? To my recollection, non of the Chinese who committed major crime was even prosecuted. Why? Because, our officials are being bribed to shut their mouth. Why can't our government do the same to these Chinese criminals.
---
Name: AHKO
City/State/Country: Brunei
IP Address: 222.127.35.94

Comments
Those drug mules know what they are getting into, and so do all the corrupt generals and gov't officials. If they are in China, they would all be facing a firing squad.
---
Name: 1 UP
City/State/Country: GOTHAM CITY
IP Address: 67.247.55.115

Comments
Joseph decosta: I completely agree with you. These drug mules become "angels of death" Too bad even Pinays are seduced in joining this breed of angels and even sacrificing their own families. What these women have done is far from the image we know of Maria Clara.
---
Name: JRH
City/State/Country: mtl can
IP Address: 173.178.225.103

Comments
This illegal drug trade is a global black market. Drugs alongside arms & oil are among the world's largest traded goods. It's hard to find hard facts about the huge profits made. One report stated that an estimated US$400 billion are made annually. That's a high profit margin. The price of heroin is valued 8 to 10 times higher than that of cocaine, making it a high-profit substance for smugglers, mules, & dealers. Heroin is easily smuggled. With 11 million OFWs, the temptation to make quick & easy money is the one factor that some Filipinos are tempted to do with dire consequences when they get caught. They must be forewarned before they go to other countries that dealing with illegal drugs is a no-no.
---
Name: 1 UP
City/State/Country: GOTHAM CITY
IP Address: 67.247.55.115

Comments
Let us not be so naive and ignore Deo's legal defense argument. Philippines had become a trans-shipment point for cocaine that comes as far as Latin America because cocaine could be brought-in very easily in the Philippines and there are so many people who are willing to carry them to China, Singapore, Malaysia that have tough laws on hard drugs. If the country wants to save and protect its citizens, toughen the laws on drugs and block the entry and outflow of illicit substances. THE COUNTRY WILL HAVE LESS GRIEVING FAMILIES AND MORE CHRISTMASES TO ENJOY.
---
Name: MAKURAG
City/State/Country: los angeles,ca
IP Address: 69.234.49.201

Comments
The Filipinos travelling for the first time don't realize the hand-carried papers given them by their recruiter can be inserted with drugs and are advised not to open them until they reach their destination. The Philippine airport unfortunately doesn't have sophisticated equipment to detect drugs. The destination point has the equipment and OFWs don't realize that's their end. Even here in states they are using scanners manufactured by China and China should have a better ones. Chinese are going to Philippines to make drugs in connivance with recruiters. The inspector at the airports should be aware of this as innocent OFWs become victims of Chinese and African syndicates.
---
Name: Dencio
City/State/Country: San Miguel
IP Address: 69.232.78.196

Comments
It's almost impossible to toughen the laws in the Philippines about drugs since the lawmakers and the law enforcers themselves benefit handsomely from the drug trade. Even the PNP and AFP Generals need these criminals to make more money beyond the amount of what they are legally paid for their jobs. Corruption has already destroyed the fabric of the Philippine society and government more than the common citizen could imagine. The biggest problem is that the majority of Filipinos think it's just a perfectly normal way of life.
---
Name: 1 UP
City/State/Country: GOTHAM CITY
IP Address: 67.247.55.115

Comments
It is the responsibly of the DFA to defend its nationals abroad. The PCGG and Ombudsman Office are irrelevant. These two agencies deal on local issues and they are never involved in diplomatic matters .Even the DOLE is hopeless. The Chinese government has no reason to deal with these Philippine agencies mentioned in PNL's editorial. My question is this: how many times did the Philippine Embassy personnel in China speak, visit and even attend the "hearings" of the executed Pinoys? How much "lawyering" are we talking about here? Nobody knows. Do you?
---
Name: Xmen
City/State/Country: Los Angeles, CA
IP Address: 206.11.112.251

Comments
The question is more of: How did those people get out of the Philippines carrying those drugs? Is the Philippine Customs not diligent enough to catch them and therefore let the customs of the recipient country handle it?
---
Name: Manuel C. Diaz
City/State/Country: Antipolo City
IP Address: 120.28.64.76

Comments
The Islas de Ladrones does not need high tech equipment to detect drugs all you need are trained AZKALS aka native dogs the big problem in Islas the ladrones the dogs end up on the plate as pulutan.
---
Name: Phil Researcher
City/State/Country: LA County USA
IP Address: 76.174.19.149

Comments
RE: "Phil is used as a transshipment of hard Drugs."..I have read from posters here and maybe they have read from newspaper reports that the Ph is a country "known" as a transshipment place where people from other countries go to Manila and hire cheap Filipino couriers to transport the hard drugs. Now who is at fault here ? Our law enforcement is known to be lax .It doesn't cost them (foreign drug dealers) a lot of money to be able to find a Filipino courier. If the authorities are strict and prevent those people from using PH and don't let those people in, then Ph will no longer be a transshipment country.
---
Name: Ray Llora
City/State/Country: Australia
IP Address: 203.18.108.226

Comments
No sorrow for drug mules or takers or users. They can be the scourge of society and they kill innocent people. Well done China..don't stop
---
Name: Erick
City/State/Country: sf, calif. usa
IP Address: 69.181.55.95

Comments
China executes about 10,000 people a year. These "executed people's" organs are use for organ transplants for it's citizens needing them. Some are use in the black market for foreigners. Chinese culture says someone got to be "complete" to make it to heaven. Examine these bodies for missing or switched organs that they may have put in them. Then Phil. would probably could make an argument that they were in hurry to execute them for their organs. Start from there.
---
Name: WDC
City/State/Country: California
IP Address: 75.38.66.172

Comments
If clueless Vice-Pres Binay acting like his President clueless Nonoy believes that the drug peddler from Echague, Isabela is innocent (Binay said that Sally Villanueva might not know that she was carrying drugs), then fire those K-9 dogs and K-9 cops who are working in the Airports. Either they are stupid (dogs and cops) or those cops are part of the drug cartels operating in our country.
---
Name: slbejar
City/State/Country: chicago
IP Address: 99.105.68.41

Comments
The Pinoys China executed for drug trafficking are victims either of their usual ignorance, or lackadaisical attitude typical to most Pinoys. Knowing too well that some travel agents or even just casual friends could do you harm by using you as enabler to their evil way of earning a living, brings the fact that this is exactly how the system in the country works, specially in politics where politicians, and considering the economic situation, people who are marginalized and disenfranchised by the economic situation. Let this unfortunate event (the execution) be a lesson to future travelers that there are some, be it friends or providers who will deceive you just to enable them to earn big bucks.
---
Name: 1 UP
City/State/Country: GOTHAM CITY
IP Address: 67.247.55.115

Comments
To the question posted by PNL if the government has done enough, answer these questions: how many times has the DFA talked / visited these "OFWs" before their execution? Who were the defense lawyers DFA provided to save them? The three executed OFWs were caught in 2008; they were executed 2011. Was it too little too late to send Binay as some kind of "Hail Mary Pass" that Deo has difficulty understanding? Where was PNoy all those years? PNoy was late in the Luneta standoff; late na naman ngayon.
---
Name: Ed Francisco, OFW
City/State/Country: Abu Dhabi, UAE
IP Address: 195.229.241.178

Comments
My Fellow OFWs, please do not accept the job of being drug mules. 4KUSD is not worth your life and we still earn that amount. Most countries apply death penalty for drug traffickers AND most Airports has K9 Dogs that specially trained against illegal drugs. Hence even how pretty looks good your luggage, police shall apprehend you once you collect the 'hot' bag in the receiving area! Pls Do NOT gamble. We just hope that our government shall refrain from 'kultura ng pagnanakaw sa kaban ng bayan'. God bless us all.
---
Name: 1 UP
City/State/Country: GOTHAM CITY
IP Address: 67.247.55.115

Comments
With this comment "Then Phil. would probably could make an argument that they were in hurry to execute them for their organs" Erik of CA, USA concluded. Erik, you are making a statement you can't back up. Were the organs of Villanueva and Batain harvested? Any recipient? Credo was cremated Where is your proof?
---
Name: Phil Researcher
City/State/Country: LA County Ca USA
IP Address: 76.174.19.149

Comments
RE People's Republic of China--After the execution of 3 Filipinos in China, I believe the lesson learned is that Filipinos should avoid China as a destination even if you are going there only as a tourist. I doubt the 3 who were executed were OFWs . I believe they were Filipino traders.. The bad thing is that they were trading in illegal drugs.. I seriously doubt that Sally O. Villanueva was "innocent".. I don't thing she was a neophyte as a traveler.. It is a misnomer to call them OFWs and a disservice to the name of the real OFWs.
---
Name: Dencio
City/State/Country: San Miguel
IP Address: 69.232.69.141

Comments
Where in the Philippine Constitution does it say that it's the government's duty and responsibility to save from foreign country's punishment, whatever their laws has prescribed, if a Filipino is convicted of a crime committed in a foreign country? Where does it say that personal responsibility for every Filipino citizen to be expected to do what is right and legal does not apply when in other countries? Let's stop giving juvenile excuses for criminals even if they are Filipinos!
---
Name: marione orcana
City/State/Country: philippines
IP Address: 114.56.109.201

Comments
For the three Filipinos who were executed, lets face the fact that they are not as wealthy as those rich Filipino politicians or military leaders who even as guilty as they are, still manage to clear their names and are not even jailed. Lets face it people, the law is only applied to those who can't afford it. It doesn't only happen to Filipinos but to all poor people around the world.
---
Name: Pedro Ochoa
City/State/Country: Manila
IP Address: 111.68.53.217

Comments
A convicted drug mule under due process elicits more sympathy than a police killed in pursuit of drug pushers. A drug addict gains little sympathy when hooked on drugs and cannot find a way out of his/her addiction. A law enforcer doing their job is seen with suspicion while the rest of the country lionize the (lack of) achievements of drug pushers and mule. Perhaps, we should all stop to think. The drug mules were not OFWs who are out there earning an honest living. We should stop tainting OFWs with the same brush as a drug mule who lives life, dangerous as it may be, in an elicit trade that should be condemned not worshipped as the new heroes of this country sorely in need of one.
---
Name: RayOfCavity
City/State/Country: Reno, NV USA
IP Address: 69.229.210.106

Comments
I really don't get it why the drugs were able to pass through our check points in our airports. Are the men manning the check points doing nothing while being paid by the people's money. WOW!!!!!!! This is ridiculous. Why not let the manager of the airport check it himself if he could NOT assign anybody in his Dept to HONESTLY man the check points. Come on Philippines WAKE UP YOU ARE SLEEPING TOO MUCH. OH MY LORD, MY LORD PLEASE HELP US PILIPINOS
---
Name: Kanada
City/State/Country: Kanada
IP Address: 159.18.94.65

Comments
It is so amazing how everyone feels that just because a person is caught with drugs are already guilty without even knowing the facts. If I suddenly walked into a crime scene without my knowing and saw a gun on the floor, I pick it up and walked further and around the corner I see a lifeless bloody person with gunshot wounds then suddenly some cops come in, am I guilty? I bet you, a paraffin test would prove Im innocent. In the case of the vehicle where I drove for someone not knowing it has 5 kilos of cocaine in it's interior lining, just check the ownership of the car and who it's registered to, because it's not mine. It's easy to point a finger at a person but it's harder to prove you are right.
---
Name: Dencio
City/State/Country: San Miguel
IP Address: 69.232.71.89

Comments
LPiF : "No country will condone illegal acts." That's BS! You obviously don't know what's actually going on in the Philippines! There are too many illegal and criminal acts that are being condoned and ignored in the Philippines. If laws are not enforced against crimes and other violations, that is tantamount to condoning illegal acts. Take those rose-colored glasses off so that you would see what is really going on! Nice sounding slogans are not the same as actual performance. Maybe you swallow Obama's Hope and Change too?
---
Name: deo
City/State/Country: flour city
IP Address: 72.225.30.190

Comments
LPiF: China admitted that they are harvesting organs from executed prisoners only with the consent of the relatives or if no one claims the body.If the above are the existing regulations in China but they did not follow that regulations when it came to the 3 Pinoys, as I said, the relatives may have grounds to sue China. I'm sure there are provisions in international law that governed the cases. Even "Illegal trafficking of human organs" may apply.
---
---
Name: Robert
City/State/Country: shanghai
IP Address: 220.178.49.250

Comments
I agree there is something wrong with the Philippines airport baggage scanning ... they have sniffing dogs but what happened? I'm just concerned if the dope was placed after luggage check in that will really make me scared. How can you prove to the Chinese authorities why you have drugs in your check-in luggage? What can be done to avoid this? Philippine Government ... please wake up!
---
Name: Meriam
City/State/Country: Seattle,Wa.
IP Address: 76.104.250.165

Comments
The people working in the Philippine airports and customs are corrupt themselves and maybe have been paid by the drug lords so they look the other way!
---
Name: Dencio
City/State/Country: San Miguel
IP Address: 69.232.71.201

Comments
Some of you guys are so infantile and still arguing about whether or not those drug mules are guilty. They have been tried and convicted as GUILTY under the legal court system in China where they committed the crime. It would be the same for tried and convicted foreigners in the Philippine system too to get the prescribed punishments. IT'S OVER and the criminals are DEAD because China has death penalty for such crimes. Philippines don't have it but Philippine leniency and ultra liberal bleeding hearts don't apply in China. Take note, almost everyone incarcerated anywhere say they are innocent even when they have been tried and convicted, what are you gonna do with them?
---