uring the March 12 airing of the live evening show "Willing Willie" on TV5 in Metro Manila,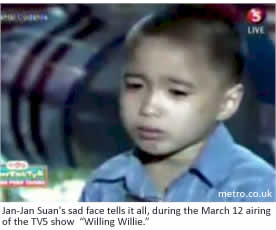 a six year old boy named Jan-Jan Suan was made to dance in front of a packed studio audience in a gyrating manner the way adult male "macho" dancers would do. For his effort, he was given Php10,000 (USD232) by the show's host Willie Revillame.
It was obvious from the child's facial expression (see the YouTube video) that the he was simply going through the motions and not particularly liking what he was doing—in front of a hysterically enthusiastic audience that kept egging him on.
While it would seem that Revillame and his studio audience may have meant no malice, various sectors of Philippine society have nonetheless called it "child abuse." The public outcry has risen to the level that many of the show's sponsors have pulled out their ads and the network has temporarily taken the show off the air.
Lawyer Leonard de Vera pointed at Revillame's former network ABS-CBN as the entity stoking the fires of this controversy. And while ABS-CBN indeed stands to gain significantly while "Willing Willie" is off the air, that network is not altogether blameless, having "created" Willie and the genre that his current show inhabits. For years ABS-CBN's "Wowowee" with Willie at the helm served up crass humor, debased women with scantily clad gyrating dancers, and mocked contestants most of whom were poor and not well educated.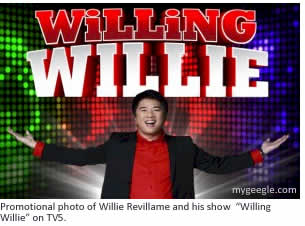 There was really nothing classy or uplifting about "Wowowee," it was simply an enormous money-making enterprise for ABS-CBN, just as "Willing Willie" now is for TV5.
In a country where the majority live on less than a dollar a day, and the "pun" is seen as a "witty" form of humor, we have a long way to go. The problem is no improvement can even begin to take hold so long as greedy network moguls continue to saturate the country's airwaves with the demeaning—almost insulting—fare they regularly broadcast.
The groundswell of indignation over Jan-Jan's dance on "Willing Willie" might at least get the country pointed in the right direction.
Participate in our Poll: Was it child abuse to make six-year-old Jan-Jan Suan dance the way he did?
Saved Comments from Our Readers
Name: As I See It
City/State/Country: SanDiego,CA/CebuCity
IP Address: 70.7.58.175

Comments
I agree with TonyO re: Willy Revillame's predicament now that he has to take leave of absence from his very popular program "Willing Willie" because of the concerted efforts to bring him down by ABS-CBN/Lopezes, Aquinos, and some individuals and groups of individuals. These individuals like Lea Salonga, Jim Paredes, and all those self-righteous individuals are (I'm inclined to believe) just envious of what Willie has done and achieved in terms of his popularity, earning power. CBCP, this supposedly moral guardians who has been riding free (of tax) could not even clean their own ranks of pedophiles joined the fray of vilifying Willie!
---
Name: JRH
City/State/Country: mtl can
IP Address: 173.178.225.103

Comments
It's obvious that this poor child was exploited to cater to a bakya crowd. This Willie is a classless clown. The pullout of the major sponsors was correct. It's a phooey show with substandard ethics. He said he's just helping the poor by giving them money. It's not his money but the sponsors of the show who provide it. The bakya crowd was hysterical in watching this poor kid to perform a suggestive dance. It's a low class low brow show. They must cancel this show.
---
Name: Thess
City/State/Country: Michigan,USA
IP Address: 72.37.171.180

Comments
In order to achieve changes our government needs to polish our laws and implement them strictly . We lack discipline and fear to our laws bec. if you are rich and powerful you are above the law all the time. Willie Revillame is a good host, He is not the only person to blamed here instead of blaming why not think solutions to the problems and modify the situation so as not to repeat the same scenario.
---
Name: Vanessa Lee
City/State/Country: Kuwait
IP Address: 94.129.142.233

Comments
The idea to have the boy in an Arena dance in a very unflattering manner is outrageous and only shows another episode of Willie's unprofessionalism. It is not just to show the virtue of a person disregarding whatever the message inflicts on the audience. Willie unfortunately miscalculated the would-be outcome in this issue. In addition, it seems it was not the boy's will to perform such way of dancing as evident by the expression on his face - this is tantamount to child abuse. However , Willie on the other side of the coin has helped many people.
---
Name: blumentritt
City/State/Country: blumtrit
IP Address: 67.80.159.186

Comments
PNL editorial is a good wake up call to change the programming of shows in a much better way. Sobra sa kalokohan kaya na i-insulto ang iba. This guy is taking advantage of the poor – ikaw ang dapat na sumayaw nang parang boteteng macho o' uma-ayudang janjan kung gusto mong tumaas ang ratings. Ang show mong walang ka torya-torya oras oras mukha mo palagi, kaya ayun tinapon ko na ang TV sa recycling kasama ka.
---
Name: GFJBHEDF
City/State/Country: Hercules
IP Address: 76.103.7.246

Comments
MTRCB and all those that accused Willie Revillame of child abuse are on record. It's been many days now since they publicly pronounced their accusation. Plenty of time for them to recant, had they wish to do so, and to date have not. TV5, Revillame, Host of employees and businesses affected ought now to file criminal, civil, libel suits, (as fit each case), and not let these tools get away. It only encourages others of their ilk down the road. Tools? To me they are.
---
Name: Manila
City/State/Country: California USA
IP Address: 72.67.95.173

Comments
It was not child abuse. He performed different. He was not crying because he was forced to dance that way. None of us really know why he was crying or looked sad, even before he began to perform. Somebody labeled it 'child abuse.' From the beginning the show was already awarding contestants with money. Different performers receive different amounts of money, it depends on how you perform and how well you are accepted by the audience. Somebody was out there to get Willie again. I feel sorry for the family and the boy because the media and the rest of the people labeled him as being abused. Everywhere he goes now, he will be teased and it might destroy his well-being. People are jealous and hate Willie!
---
Name: WDC
City/State/Country: California
IP Address: 63.193.188.170

Comments
I watched the YouTube video about this young kid dancing on Willie Revillame's show, for me there is nothing wrong with it. Just for fun folks, people are having fun. I am not a fan of Willie Revillame, but this time blaming on him as a manipulator for this young kid is not right. You folks should be crying against to those who plundered our nations rather than this 5 minutes fun dancing.
---
Name: Thess
City/State/Country: Michigan,USA
IP Address: 72.37.171.180

Comments
See a lot of organizations condemned the incident human rights, celebrities, DSWD, etc. but if you look at it sumasakay nlang sa issue. Our society is full of hypocrisy how many children are being abused in our country? You see young children sold for prostitution like in Ermita or any areas where those who live like wolves are hungry for flesh. Kids experience hard labor, are raped, do not get the basic needs; these are the issues that the government needs to mind. The only difference is that that this incident was televised and there were immediate reactions. In a short period we are going to be emotional and pour support for this child for a couple of days. Then back to oblivious moments and ready to watch another program.
---
Name: tonyO
City/State/Country: pinas
IP Address: 114.108.243.107

Comments
Willie Revillame should not be blamed for purported dirty dancing of 6-year old Jan Jan. It's the fault of the government, There is are law against "Child Abuse" and, most importantly, the MTRCB headed by Ms. Llamanzares that supervises TV shows. Looks like it did not issue a guideline that a dance like what Jan Jan performed is bad and barred. The comments of Willie's critics, including that of the ABS-CBN, Commission on Human Rights and Rep. Dy are all PERSONAL OPINIONS. It's not prohibited by law or by the MTRCB. Looks like this issue is being orchestrated by the ABS-CBN interest because Revillame's show is big competition, reduced its rating, and its income from advertisements.
---
Name: lee buyagan
City/State/Country: K.S.A
IP Address: 178.73.81.69

Comments
It's been a long burden for the public when it comes to Willy Revillame, the commission on human rights has done nothing to make him liable for all his wrong doings. The stupidity of this guy lingers on in the eyes of the people and no one can stop him as long as he is in the entertainment industry. Our laws are valueless for this mischievous man.
---
Name: joey fish
City/State/Country: downers grove, IL
IP Address: 70.131.152.89

Comments
Pagsama-samahin na natin itong sina W Revillame, Mikey Arroyo, Bongbong Marcos, at mga corrupt government officials na nagpasasa, mga arrogant, unrepentant, ilagay sa hukay at sunugin. Pnoy, saludo kami sa iyo! Ituloy ang matuwid na landas. Sana medyo bilisan lang at malupit na parusa sa mga iyan!
---
Name: GFJBHEDF
City/State/Country: Hercules
IP Address: 76.103.7.246

Comments
Joe and Dianna Suan sued Dr Lourdes Carandang and named others for libel for insinuating that their son Jan-jan was abused by Revillame when he participated in Willing Willie dance and/or sing talent show for children 6 to 11.
---
Name: Thess
City/State/Country: Michigan,USA
IP Address: 72.37.171.180

Comments
The incident that happened at Willing Willie is just an eye opener to all of us but this is nothing new. Whose at fault and needs to be blamed for this? First, the parents of the child if they are in their right mind why did they permit their son to dance this kind of dance from the beginning? They need to be charged for child abuse too. Secondly, the staff of WW or the whole network do they have rules or guidelines to implement their programs on what are the specific morals and responsibilities that need to be shown to the viewers on how to carry out their programs? more to follow comments.
---
Name: myrna
City/State/Country: canada
IP Address: 70.30.55.4

Comments
Why are all you people putting down Willie. It is just a show, an unexpected incident happened not even, prepared, or scripted. it just happened all of a sudden...no intention, no offensive offense. For me, this boy's parents are using the child for money, this is nonsense issue...garbage, a waste. You know how frank Willie is, you join the show, then you have to go with the flow..Afterall it is just a show...The next day all is gone. The child is not even a contract artist, nor a child actor but just lucky to join the show... OLD ROCKET TO WHOEVER WANTED TO PUT DOWN OR NAIL WILLIE...
---
Name: GFJBHEDF
City/State/Country: Hercules
IP Address: 72.215.75.252

Comments
MTRCB and named others that accused Willie Revillame in violation of RA 7610, (..ESPECIAL PROTECTION AGAINST CHILD ABUSE), have yet to file case in court of law, having filed their case virally in the court of public opinion, dumbing Willie Revillame. To date, MTRCB is just holding Pow-wows in its cubicle.
---
Name: tolits
City/State/Country: Vancouver, Canada
IP Address: 24.84.197.239

Comments
Finally this guy got what he deserves. The Wa Wa Wee is not over yet. He uses the poor for his advantage. At the time I was in the Philippines and saw it all. He called all these poor people to go to the show's venue, he knew that it could not accommodate them all. Do not blame ABC CBN for he alone is to blame and nobody else. No preparation whatsoever for crowd control, rescue, ambulance for such a big crowd. There was only one entrance and one exit and worst of all, the terrain was sloping down towards the gate entrance. Murder case is what he deserves. Lives can never be replaced by money. It is all about GREED and Nothing more. He is a disgrace to all FILIPINOS. That's the BOTTOM LINE.
---
Name: A. Poli
City/State/Country: Anywhere
IP Address: 64.229.220.108

Comments
What can I say about Willie's program? Its a reflection of what we had become. People have become desensitized to silly jokes and insults. Our society's moral values have deteriorated because we let bad guys get away with it. Filipinos have now forgotten to say sorry for their own mistakes. Why? Because we had leaders and officials who were bad examples. Take for example the Marcoses. To this day those bastards would not even show a hint of restitution for what they did to Filipinos. Now no one dares to admit mistakes. Everyone has a "palusot".
---
Name: MSFLORENCIO
City/State/Country: MANDALUYONG CITY, PH
IP Address: 120.28.64.69

Comments
I just saw the video and it is apparent that everybody was having fun except for the boy. INMO if there is someone to blame it should be the boy's parents they taught and allowed the boy to dance in a erotic manner in public. They were even coaching their son, as seen on the video... Wille on the other hand exploited the dance moves to increase his TV ratings.
---
Name: Balut53
City/State/Country: Las Vegas, NV
IP Address: 138.163.0.44

Comments
You honestly believe that a six year old dancing like that is entertainment? The parents and Willie should be castigated for letting this boy dance like that on national TV. We, the studio audience, and home viewers should be ashamed for not saying anything against it.
---
Name: GFJBHEDF
City/State/Country: Hercules
IP Address: 76.103.7.246

Comments
The poor folks TV show 'Willing Willie' will be back on Tv5 April 22 or 24 after a two weeks hiatus brought about by false accusation of child abuse. Meanwhile, Dr Carandang et al, who accused the host of the show Willing Willie of child abuse are being sued for libel in a court of law by Joe and Dianna Suan, parents of the maligned 6-year-old Jan Jan.
---
Name: dipadadaig
City/State/Country: Philippines
IP Address: 2.90.207.172

Comments
Totoo ang ABS-CBN ang nagdala sa pinansyal na kinalalagyan ngayon ni Willie at ang ABS-CBN ang siya rin naghubog kung anong klaseng prinsipyo meron si Willie ngayon. Ang resulta....nagkakagatan sila ngayon! hahaha!
---
Name: GFJBHEDF
City/State/Country: Hercules
IP Address: 76.103.7.246

Comments
"What profits a man if he gains the whole world, yet loses his soul?" Willie Revillame has had a change-of-heart and will not sue the starlots (celebs)(tools) of his nemesis. Willie maybe rich financially, but his heart belongs to the poor. That is why his show, Willing Willie,..is a poor man's show. I, like many of you, watch Willing Willie, for it reminds me always that majority of our kababayans are dirt poor, and need our help. Each of us can help even one other Filipino, be he/she kin or stranger. Take a leave. Visit the old country and pick one that you will help. Collectively, we will make the difference. That's what Willing Willie is all about. Go home. Find yourself A Jan Jan. Tomorrow maybe too late.
---
Name: Daniel Marahomsar
City/State/Country: Davao
IP Address: 205.250.124.112

Comments
Dapat lang na maging patas po sa pagsita kung ano ang ipapalabas sa TV. Hindi lang po si Willie Revillame kundi lahat. Bakit yung "Dwarfina"> di ba para sa pamilya na palabas yun? Bakit ipinapakita na sobrang minamaltrato si "Dwarfina". MTCRB check naman ninyo yan!....pantay-pantay lang po!
---
Name: jim deguzman
City/State/Country: chicago, il
IP Address: 24.12.34.139

Comments
Willie's critics are hypocrites. Just wondering how many of his critics hire underage help who get paid $10/month? How many have visited establishments that employ underage girls for their entertainment? How many of these critics have expended the same amount of energy demonizing Willie in voicing their opinions about the numerous ways children are exploited in the Philippines far worse than what Willie did to this boy? At least he rewarded him P10000 w/c is a lot more than the majority of Filipinos earn in a month.
---
Name: deo
City/State/Country: flour city
IP Address: 74.65.5.159

Comments
Let the boy or anybody dance for that matter for P10,000 is "cruelty"! Are they kidding?!. Where can they find P10,000 in one minute or less? Whoever are bitching about this are "naiinggit"! When I was watching Wowowee and the episodes are about "Kasambahay who are schooling", "Children of Kasambahay" and other money challenged people, their faces are not only sad.; they are crying! When Willie Revillame starts giving P5,000, P10,000 or more those "money challenge." Those watching can't help but express their "inggit". Not many are lucky, so somebody have to be "maiinggit". Cruelty! their a*s!
---
Name: GFJBHEDF
City/State/Country: Hercules
IP Address: 76.103.7.246

Comments
Willing Willie will be right back on schedule, stronger, better, even more popular than it ever was. Meanwhile, its nemesis, (gnashing), is like a caged beast. It can't seem to come up with a program to outdo Willing Willie, resorting to smear campaign in guise of false child abuse, (Jan Jan). Fool tools it used are now sued, (more later). TV is not Gov't Dept of education. It's a business. Without its commercial sponsors, there will be no TV as we have it. To stay in business, one needs to be competitive, not resort to smear campaigns.
---
Name: Rudy
City/State/Country: SC
IP Address: 69.242.200.40

Comments
I used to watch Wowowee then I began to dislike the program coz some of Willie"s remarks to contestant and the audience, medyo may kabastusan at pawalang galang sa kapwa, mga question na nakakasakit sa damdamin pero sa iba kahit ano ang sabihin ni Willie ay lulunukin na rin dahil sa PERA.
---
Name: 7gtg
City/State/Country: Regnsk
IP Address: 24.89.83.100

Comments
I changed my mind about this Willing-willing shows or even the Wowowee. Before I thought it was a cool idea sexy dancers, and one person handing out money. Then I observed TV entertainment shows of other countries, Hong Kong, Korea, Japan,... theirs still have decency. While ours is going to the dogs, if not the worms. Regarding this issue with a boy asked to dance dirty.. Think of it like Cigarettes. Its better to stop it right now. And send those program writers, back to the drawing board. Also fire anyone who shows the slightest symptoms of pedophilia.
---
Name: Matanovic Klundt
City/State/Country: Kamloops, BC
IP Address: 207.189.234.12

Comments
Apparently, Espinosa, TV5 boss, is retaining the program and the talent, from the way he talks. He even described this guy Revillame (who is arrogant, unrepentant, and incorrigible) as not an evil incarnate. Plain and simple, he is using the poor people for his agenda, period. Well, the best thing you can do is show your people power again by not buying the products for anyone advertising their products to any Revillame show. It is really time for him to go, reflect on his behaviour, and if he is sincere, share his wealth not thru TV program/s. Gosh, how much more if Villar won in the last election.
---
Name: Steve R
City/State/Country: California
IP Address: 71.198.150.211

Comments
Hope that something good will come out about Jan-jan's macho dance on TV beside the money he received from Willie. That something is the fact that the level of awareness on child abuse in the PH had become a current national issue. Kudos to PNL for allowing posters to debate the issue. Question: Will anyone in the Congress of the PH respond responsibly? Let's hope that one or two members of Congress will find it in their hearts to introduce a child abuse bill. Hope the bill will also talk about the sufferings of all children in the PH, particularly the children living under bridges in Metro Manila. They have human rights, self worth and dignity of their own. Sense of duty to all, not just to Jan-jan.
---
Name: Andrew John B
City/State/Country: Manila
IP Address: 122.52.158.122

Comments
If you make criticism against Willie you'll be sued for libel; But when Willie verbally attacks and insults anybody was he sued??? Tell Willie, giving money to poor is NOT license to mock, insult, and verbally abused anybody! Willie sobrang yabang mo!
---
Name: Eric Reyes
City/State/Country: Angeles, Pampanga
IP Address: 112.210.224.118

Comments
I am presently vacationing here in the Philippines, and TV in this country reminds you of 1930s USA TV (only now, in color). There is actually a show called "Nita Negrita", in which the main actress sports Black Face; girls with skins bleached so white it would make Michael Jackson blush are standard fare on daytime TV, and they are unable to stand still for one second, presumably gyrating in what is apparently sexy moves, but which just makes them look like they are on some kind of medication; TV ads from major multinationals inviting women to buy a sachet of any number of poisons in order to ditch their brown skin and get white beauty in 5 days for 7 pesos lang. Grrrr. That's what passes for TV in the Philippines today. Truly truly sad!
---
Name: Observer
City/State/Country: HAWAII/ILOCOS
IP Address: 82.145.211.19

Comments
There's Nothing wrong what was Jan jan did. He just showed his talent. Hindi naman yun masasabi na kalaswaan. Teka nga, napansin ko parang Laylow ngayon si Kasamang Shane? Whatz up! How's the twins? Shane ano masasabi mo kay Willie? Ano ka ba visaya, bicol ,batangeña or what? You used to write in different language.
---
Name: 1 UP
City/State/Country: GOTHAM CITY
IP Address: 67.247.55.115

Comments
I will challenge anybody who will claim that Jan-Jan Suan was a victim of child exploitation to define the word per se as well as the answer to the question of who benefitted from it? Was it Revillame the host? Or the parents of the boy themselves? Moreover, whether the "macho dance" was lewd and falls under the scope of an obscene act as understood by many. Whose prism is it? Many here are joining the mob or lynch squad without even thinking.
---
Name: Aida
City/State/Country: vancouver, bc, canad
IP Address: 216.108.4.72

Comments
I watched this show when I was visiting in the Philippines and saw this young boy tearfully answering Willie's questions and performed that lewd dance with guidance from her Aunt. So who is to be blamed...the boy or family..not Willie? But sometimes Willie goes to far and it's quite embarrassing to watch these poor people on stage. Oh, well it's for the MONEY...the better you perform the more you get.
---
Name: Manuel C. Diaz
City/State/Country: Antipolo City
IP Address: 180.191.73.143

Comments
Why all the attention of Jan-Jan at least he earned 10,000pesos. Why not also look at the sampaguita children in Santolan and Greenhills these children earn what? exposed to all vehicular danger and nobody gives a hoot. I always give these children money every time they come near my car selling sampaguita necklace just give them money and they keep their sampaguita necklace. BTW these children work until midnight in Greenhills waiting for restaurant customers.
---
Name: E. Tan
City/State/Country: Ongpin, Manila
IP Address: 70.161.224.108

Comments
What is the big deal about this dancing boy Jan-jan? Being a popular TV show, Pilipinos must like what Willie is doing, otherwise "gutom si Willie kong walang manonood" and the show will not prosper. I believe the problem is still the Pilipinos crab mentality being the cause of all this uproar from the minority opinion.
---
Name: mlimcaela
City/State/Country: texas
IP Address: 98.197.204.203

Comments
Willie deserved it... dapat lang... he's so mayabang, bastos at walang utang na loob... yumaman dahil sa ABS-CBN ... lahat ng meron sya darating ang araw mawawala dahil sa kayabangan nya...
---
Name: 1 UP
City/State/Country: GOTHAM CITY
IP Address: 67.247.55.115

Comments
Critics are quick to condemn Willie Revillamie and even blame him for the stampede in the early years of the defunct Wowowie. You could not deny that the noontime show was a CASH COW for ABS-CBN and to Lopezes. There is a conspiracy to bring Willie down to his knees because he joined a rival TV station. Jan Jan dancing was a convenient excuse to demonize Willie. The "crying face" viewed by many is a typical behavior of any six-year old. It is the result of pressure, tension, and fear of being blamed. From the TV host? No but from the disapproval of the boy's parents and the crowd in that order of importance. Just look at the behavior of Deo in this forum.Deo cries, wets his diapers and calls Uncle (Tony0 of QC, Philippines)! Hi hi hi
---
Name: disfransan
City/State/Country: http://kasandugo.com
IP Address: 108.0.86.147

Comments
To all you posters and PNL who consider the Jan Jan dance a form of child abuse, why are you so blind to all those parents who keep having children that live in wooden carts, sleep on flattened cardboard boxes under bridges, eat pagpag, street urchins by day, grow up unschooled? Your sense of what is improper (Revillame show) is absurd and misdirected if not influenced by ABS-CBN manipulation. Rather, we should relentlessly campaign for the passage of the RH Bill!!! Let us unite for once. This is more important that torpedoeing Wiling Willie. Sorry PNL, I don't the world through rose-colored glasses.
---
Name: disfransan
City/State/Country: http://kasandugo.com
IP Address: 108.0.86.147

Comments
PNL Posters: In the forest of child abuse, you can only see Jan Jan "abused" by Revillame. That is so sad. Steve R can see the millions of children who had no choice being born below the poverty level, hungry, underfed, unschooled, never to experience "normal" life as we know it. The DSWD and CHR, PNOY and members of Congress are likewise blind (or look the other way) to what is really going on in the country. If this is no a good reason for nationwide protests, I don't know what is. Filipinos are so forgiving to a fault. The RH Bill is a step in the right direction, but nobody seems to be in a hurry to get it passed. Jan Jan is only one boy. Millions of children of dirt poor parents remain "abused" every day. Sila ang dapat natin pag-ululan ng pansin!! Together as one, WE CAN!
---
Name: Jonathan
City/State/Country: USA
IP Address: 214.1.196.249

Comments
Actually, I saw and repeatedly watched the you tube on the March 12 event and see what the fuzz is all about and this is what I can only say. The talent of Janjan was fueled by repeatedly performing it instead of the host and DJ stopping it and going on with the show. Mr. Revillame has also made some comments suggesting adults topics. he kept on feeding fuel to spread the fire rather than quenching it. Is this what we call responsible hosting?
---
Name: gladys
City/State/Country: australia
IP Address: 124.168.28.57

Comments
I saw this video on YouTube and I didn't see anything wrong with that boy showing his talent on the program.
---
Name: Juan Domingo
City/State/Country: Treasure Island
IP Address: 71.95.184.125

Comments
I would like 2 give my comment on the Issue. Some of the bloggers point fingers in who's to blame. I just wonder why so much attention was given to this incident, why no one says anything about [street vendors] w/c, I compare d whole thing to Jan Jan's case and see no difference w/it, yet no high government official mentions any kind of abuse being done to them [street vendors] Just wondering.
---
Name: tom sangalang
City/State/Country: san pedro, laguna
IP Address: 112.210.193.17

Comments
Nothing is wrong with the dancing, that is a talent of the boy,
---
Name: Benny Javier
City/State/Country: San Diego, California
IP Address: 75.18.246.82

Comments
I believe the parents when they said that their son was only acting during the whole performance. That impressed me because of the raw but natural talent of that boy! To those of you who took this in your judgmental narrow mindedness brains, CHILL OUT and stop roiling the water of innocence with your malice-infected minds!
---
Name: blumtrit
City/State/Country: usa
IP Address: 67.80.159.186

Comments
Mga kalokohan sa TV shows sumobra ang kagaspangan, si Janjan ay nagamit lang dahil sa kanyang talent na sumayaw na hindi naman malaswa sa aking paningin. Nangyari lang na naging controversial dahil sa maraming galit kay Willie. Even myself bago lang ako sa TFC, everytime I tune to Pilipino channel palagi nalang si Mr. Wow at yung mga sexing dancers. Na overexposed at nakakasawa kaya tinangal ko ang subscription. Sigaw siguro nung isang dancer sa akin "CONGRATULATIONS!" Sabi nang wifey mabuti no more looking sa mga sexy.
---
Name: Maria
City/State/Country: USA
IP Address: 99.89.36.99

Comments
We seldom watch Willing Willie but I don't see anything wrong with the child's dance. It's on what views you will judge it. We watched other shows, too, and there were instances that some kids danced like that and yet no comment came out of it. There are some kid's show portraying husbands & wives and yet no count of malice was judged.
---
Name: Marie
City/State/Country: Batangas
IP Address: 80.109.30.155

Comments
Parehong dapat ma-blame si Willie at parents ni Jan-jan. Si Willie ginawa niyang katawa-tawa ang style ni Jan-jan. At ang parents naman ay tinuruan ang kanyang anak ng sayaw ng pang-club na sayaw ng hostess o mga baklang putatsing. Bakit hindi turuan ang mga anak ng mga desenteng gawain at hindi ang ipamata sa bata ang kalaswaaan. Si Willie naman tinolerate niya ang ganoon. Isang kahibanagan ng dahil sa pera - ang mang-aliw ng mga tao kahit pa sa kalaswaan. Shows na may kabaduyan. Mga dancers na halos hubad na gumigiling sa show. Yan ba ang dapat ipapanood sa mga bata? Baka paglaki ng mga anak na babae yan na ang gawing trabaho dahil mas madali ang pera. Ikot-ikot lang ng katawan 80,000 na a month? Si Janjan ay mukhang may ambisyon dahil inumpisahan na.
---
Name: 7gtg
City/State/Country: regnsk
IP Address: 24.89.83.100

Comments
E. Tan: " What is the big deal about this dancing boy Jan-jan? Being a popular TV show, Pilipinos must like what Willie is doing, otherwise "gutom si Willie kong walang manonood" and the show will not prosper.." We are a country on our way to economic prosperity. It is time to 'clean up' as we move forward. 'Easy money' should not be encouraged. It is hard work that pays. Willie's show of giving away easy money is like you remitting money to unemployed and lazy pamangkins back home.
---
Name: LPiF
City/State/Country: Los Angeles, CA
IP Address: 76.166.197.27

Comments
Marie/Batangas: Re: Your comment "Willie is not decent entertainer. Some observers agreed with me. There are good entertainers but not Willie. He is not for the young to imitate." I know that we all are entitled to an opinion. I don't know Willie personally and am not here to defend him. I have been following some of your post and I can tell that you advocate righteousness. It's surprising to hear you knock down a fellow human in spite of what you stand for. You are treading a fine line between bigotry and hypocrisy.
---
Name: Todd Young
City/State/Country: New Zealand
IP Address: 119.224.80.60

Comments
This is not "acting" on the child's part. I've seen that look in his eyes many times... From other abused children in several countries. This child knew full well what the dance he was forced to do meant.
---
Name: Estela Ohlrogge
City/State/Country: US
IP Address: 69.128.152.188

Comments
Every time I visit the Phils. (once a year at least), I am shocked at the type of daytime variety TV shows that passes for entertainment. They are exploitative and demeaning especially to young women. Don't we have some kind of board of censors that have guidelines for what behaviors are appropriate on TV? Garbage in, and garbage out. What our young people see on TV will be what they will become! As an elementary teacher, this bothers me no end. Perhaps, parents should start limiting TV time, write their lawmakers, and boycott advertisers of shows like these. For a country that professes to be a strong Catholic one, we sure don't act like one.
---
Name: Hirannie
City/State/Country: Canada
IP Address: 64.180.71.121

Comments
I thought Pilipinos are smart but not. Just a simple dance you don't even know and appreciate JanJan dancing? I studied Arts and International dancing. JanJan dance is an ART. He is lucky that he knows how to dance. Please don't judge it as an abuse child. Even the Professionals don't know what they are talking about. You might regret your wrong assessment and its a shame.
---
Name: tabitha logan
City/State/Country: Singapore
IP Address: 58.170.167.252

Comments
Nothing surprises me in the Philippines its a political mess run by a total idiot who cant really see further than the end of his nose am I the only one who can see this ? the Philippines lives in the past and has not a single political leader or person who can look forward as for the TV shows as per this article its just downright scandalous that it should air on TV the audience will have been paid to attend or given free something to get them into the studio you are all mindless fools
---
Name: supad
City/State/Country: california
IP Address: 69.62.199.204

Comments
That's not child abuse. the kid is just a gifted dancer it's one of his famous moves. Child abuse or neglect is the one you see everyday in the streets. Child labor and neglect. the gov't is not doing a thing about it. hopefully people criticizing Willie will help these street or Smokey Mountain children... Peace,
---
Name: lee buyagan
City/State/Country: ksa
IP Address: 178.73.87.246

Comments
Para matapos na ang problema ng bayan kay Willie dapat kasuhan na yan at huwag ng pabalikin sa show business total kumita na siya ng limpak limpak na salapi sa pamamagitan ng pang uuto niya sa mga pobreng Pilipino. Tama na yang taong yan masyadong pabigat na siya sa lipunan, mag isa lang siya at naambubulabog sa gobyerno at milyong mga pilipino, itakwil na yan ngayon na!
---
Name: 1 UP
City/State/Country: GOTHAM CITY
IP Address: 67.247.55.115

Comments
MIMCAELA wrote "Willie deserved it... dapat lang... he's so mayabang, bastos at walang utang na loob... yumaman dahil sa ABS-CBN ... lahat ng meron sya darating ang araw mawawala dahil sa kayabangan nya..." The guiding principle in television/ entertainment industry is for Willie to make money for the network and not the other way around. If he didn't, Willie will be the first to go. He will be fired and the show is cancelled. EVERYTHING IS ABOUT TV RATINGS AND MONEY.
---
Name: Lulu
City/State/Country: Cebu City
IP Address: 71.204.181.180

Comments
Please advise Willie Revillame that once he will come back again to host he should not make fun to those who are toothless. Most of the time he will force them to smile or open up them mouth just to show to the TV audience. He doesn't realize how degrading it is for them or how shameful it is for them to do that but because Willie gives them money in return they will do it against their will. So please Willie refrain from doing that. Thank you in advance.
---
Name: Rademamj
City/State/Country: Saudi
IP Address: 82.167.35.193

Comments
I was expecting to see some very humiliating dance, and saw mainly a boy with a little stage fright trying to entertain the audience. So for two weeks I have been condemning this Willie guy, when in reality its nowhere as bad as it was said to be. No Exploitation here from my perspective.
---
Name: Sally P.
City/State/Country: Elk Grove, Ca USA
IP Address: 69.62.199.204

Comments
I don't agree with the child abuse accusation about the show. This is a hypocritical analysis of those blowing this matter way out of proportion. Your show is actually helping a lot of people whether it be entertainment or financial. The kid may be crying but he has the choice to stop dancing if he did not want to do it. Child abuse/neglect is those homeless kids sleeping on the streets, those who make a living out of the trash in Smoky Mountain, child labor in some scrupulous factories in the Phils. They're bashing you for nothing, they just want to get some kind of monetary settlement for themselves. More power to you Willie, God bless.
---
Name: Gintong Lahi
City/State/Country: Biak-na-Bato
IP Address: 69.234.190.71

Comments
It started with a war between media moguls in the Philippines. Profit is the driving point. Willing Willie is the driving force. Jan Jan is the nail to make it happen. The PNL Editors bite it and the end result is a blackeye..... on the objectivity of our journalists. He, he, he, figure it yourself. Just look at the video one more time. I, we, you, they did not see this young boy being subjected to human indignity. Ang lahat napapalingon kapag "pilak" ang ginamit. Sino ba sa media ang involved?
---
Name: Lok A Yu
City/State/Country: Alberta, Canada
IP Address: 198.53.32.227

Comments
I've watched the Jan Jan's episode in Willing Willie and to me... I found no malice in it. I too am a TFC subscriber. I can't understand how quickly this arm of the gov't jumped into a quick decision about Willie abusing the child... There was nothing wrong in it... Why have they not censored the news about the drug dealers executed in China... put it this way....they maybe innocent but ignorance of the law excuses no one.. In the eyes of the Chinese gov't, they were still drug dealers and that is punishable by death. Instead, they made big news in Philippines like a celebrities....So Shame on you...
---
Name: Tagaguhit
City/State/Country: OFW
IP Address: 65.49.68.155

Comments
This topic really shows who the narrow-minded, the ego-centric, the self righteous, the holy sh*t and the crab-minded individuals are. Put the blame on the society, it is just a manifestation of how a society works. Go back and read Noli Me Tangere and you will find yourself facing your own image.
---
Name: Steve R
City/State/Country: California
IP Address: 24.10.125.169

Comments
With due respect, Sec. Soliman, per reports, you stated "our mandate to protect children who are victims of abuse, neglect and exploitation." " We are doing everything we can to help these children. They deserve a better quality of life and we want them to be protected. Really? Madam Sec., there was no abuse. The host was only doing his job. No intent, script & I believe that Willie has no prior history of the crime. Here at PNL, the most credible comment was posted by a professional dancer. If anyone can determine what was done during Jan-jan's dance, whether there was abuse or not, a professional dancer I think is more believable than anyone
---
Name: Merlina Caro
City/State/Country: San Diego, CA USA
IP Address: 98.176.189.237

Comments
There was no child abuse! The kid was nervous and cried a bit. Willie did not do anything to hurt the child verbally or physically. The boy earned money in good faith by showing his talent and not by stealing like most street children in Manila and some major cities in the Philippines. There are hundreds of children abused in the streets of Manila that are being neglected by the government and yet with this one kid the DSW and others spent their valuable time yapping. My message to these people - PLEASE SPEND YOUR TIME WISELY AND PRODUCTIVELY! GATHER ALL THE HOMELESS KIDS IN MANILA AND GIVE THEM SHELTER AND FOOD AND EDUCATION, PLEASE!
---
Name: dswd
City/State/Country: cotabato
IP Address: 124.106.99.19

Comments
Dinky Soliman sues Willie Revillame... funny and what waste of time. ang daming mga batang nagtitinda ng sampaguita sa lansangan, pumunta ka sa mga wet market,mga bata ang naglalako ng gulay at prutas. sa vegetable market namin dito sa cotabato ,mga bata ang tindera at tindero.iyan ang child exploitation.dapat iyan ang bibigyan pansin ng dswd.yong mga batang gusot gusot ang damit at walang paligo na nasa lansangan.jan jan just want to be discovered para mag artista. I don't think may child abuse sa case ni Jan jan..
---
Name: GFJBHEDF
City/State/Country: Hercules
IP Address: 76.103.7.246

Comments
Unless there are real signed on persons on case filed at a prosecutor's office in Quezon City against W Revillame, TV5 et al, then this nothing more than a ruse, a sham, a nuisance, a news grabbing vagina, intended to drum out more anti Revillame sentiments, seeing that their plan to demolish Willing Willie has gone awry. 'Tis an act of hopeless desperation.
---
Name: Tongo
City/State/Country: Tongo
IP Address: 166.250.66.51

Comments
A TV show's an art form, like Monet's paintings, or Mozart's music, or Dante's poem, or Euripides' play, or Aster's dance, etc., that portray the artist's creativity which maybe repugnant or pleasing to the consumer of the arts, depending on one's interpretation vis-à-vis the arts' theme or subject. Hence, the subject must be subjectively interpreted, cause there's no single interpretation to any art form. It's the art form that hurts moral sensitivity of the viewer that draws a grey line. Many times, arts and artists become offensive to viewers or consumers of arts. So loosen up, since arts are in the eyes of the beholder.
---
Name: JRH
City/State/Country: mtl can
IP Address: 173.178.225.103

Comments
6 Children Rights Advocacy & other Human Right Groups filed complaints against Willie & TV5 for the abuse & exploitation of children's rights. Jan Jan's suggestive & humiliating sexual dance presented in this show plus the unsavory remarks by this idiot Willie urging the boy to continue. If others find it entertaining, then, watch it on YouTube. It's degrading, undignified, & horrible to watch. A small crying boy kid go-go burlesque dancer did it for the money. Well, it violated Section 10 of Republic Act 7610 or the Special Protection of Children against Abuse, Exploitation, & Discrimination Act. If this is the best TV entertainment the Filipinos can afford, it only shows how mindless & irresponsible Willie & TV5 is (wanton recklessness).
---
Name: Regale
City/State/Country: Pasay
IP Address: 82.178.194.30

Comments
Abuso nato at hindi ke Willie kundi sa Mga Networks na pinagtatrabauhan niya. Mga engot lang ang matatawa sa kanila. mga abusadong utak din ang napapasaya nila. PERA LANG BA NAG KATAPAT NG KAHIHIYAN NINYO LALO NG MGA MAGULANG NG BATA??? parehong pareho lang kayo ng ABS-CBN at TV-5. MGA ABUSADO!!!
---
Name: 1 UP
City/State/Country: GOTHAM CITY
IP Address: 67.247.55.115

Comments
PNL editorial board wrote "It was obvious from the child's facial expression (see the YouTube video) that the he was simply going through the motions and not particularly liking what he was doing..audience that kept egging him on". And finally Philnews came to the conclusion of the country's sorry state when it comes to entertainment.. One incident to indict the entire entertainment industry is ridiculous. Any child psychologist who understands child development is less likely to conclude that that Jan Jan Suan's facial expression is indicative of "abuse" but more of pressure, fear of public rejection, tension, etc. 6 year olds love to show their talent.
---
Name: mabelle54
City/State/Country: USA
IP Address: 112.206.165.36

Comments
First Wowowie, and now Willing Willie. sure it is child abuse. No six yr old should be subjected to ridicule and made fun of, money or no money. You really think this is a wholesome, family-oriented show...with scantily clad women gyrating in the midst of minors? Is this the values we want to raise our kids on?
---
Name: Leo
City/State/Country: Sacramento, CA
IP Address: 158.96.4.13

Comments
It is time for Willie to realize that his jokes are not acceptable. They are very insulting, degrading and immoral. He makes fun of the poverty the poor are experiencing due to corruption in the government which simply meant that he also profits from governmental corruption. So Willie, better not show your face on TV. You are a disgrace to the industry. I was just wondering why TV5 did not realize you are Mr. Trouble. You bring chaos to the people you work with. Change your attitude and act professionally.
---
Name: Manila
City/State/Country: California USA
IP Address: 71.165.192.204

Comments
D. Soliman, is already accusing Willie of being a child abuser with no right evidence. Soliman is working under the Aquino's Admin - Aquino's family may have problems with Shalani. Willie was happy for the little boy. What was wrong if he danced along with the boy? you called that child abuser? Many people are jealous and hate Willie. ABS-CBN does not have good moral shows for children. None ever came forward to sue ABS-CBN. Soliman, they are so many problems in the Philippines. Focus more to help those needy children, than this little boy. You cannot say that the parents did not know anything? they have to know what talent the boy would performed? he cried before he started to dance. Willie gives money to all contestants. The boy, is being teased. Everywhere he goes, he is already labeled.
---
Name: tonyO
City/State/Country: pinas
IP Address: 111.68.59.71

Comments
Jan Jan and his parents thought he was doing good with his dancing in the children talent competition of Willing Willie game show of TV 5. Then, came the mob of Psychologist kuno, Honey Carandang, mother of Ricky Carandang, both related to the ABS-CBN management, its TV editorial, Secretary Dinky Soliman of DSWD, Chairman Etat Rosales, CHR, etc. saying that Jan Jan's dancing was immoral, unethical and lewd, a violation of the Child Abuse Law, notwithstanding that there is no rule or ethical standard to the contrary. Now, the parents are saying the this child is emotionally and psychologically suffering. QUESTION – who abused this Child. Me thinks the mob did.
---
Name: Steve R
City/State/Country: California
IP Address: 24.10.125.169

Comments
W/due respect to Sec Soliman & CHR Rosales. In the name of human rights, dignity & self worth, there is still time to pull back, do it right for true democracy in the PH. The suspect, Willie have his own human rights & dignity too, again & again there is time to pull back. Re-direct your energies toward street children who are continually abused as evidence by 70,000 street children in Manila & 33 killings of children in Davao.
---
Name: Manila
City/State/Country: California USA
IP Address: 72.87.147.4

Comments
They said, they are going to do some amendments/modifications to Willing Willie Show. Academic portion to help everyone. Some cannot answers simple questions - it made the person 'stupid or dumb.' Hopefully, everyone will benefit? **Kay Willie - huwag na lang tuksuhin ang isang tao kung akala niya may pakabakla. What you see 'leave it alone' and do not go too far more xxx. Poor people are sufferings with hardships. They will find by all means to participate to make money to survive? This incident happened hopefully, lesson learned. There are other channels that allow young children perform as an adult and not appropriate for their roles/ages. None ever said anything about it? Willie be careful! You are always the 'victim.'
---
Name: Carmen D
City/State/Country: Florida
IP Address: 98.183.58.114

Comments
The reason of all the problems that was happening in all the show that Willie was hosting due to his lack of education and common sense, he thinks its ok to do things inappropriately without consulting the show's quality control. Palibhasay laki sa lansangan.
---
Name: 1 UP
City/State/Country: GOTHAM CITY
IP Address: 67.247.55.115

Comments
Leo of Sacramento wrote: "It is time for Willie to realize that his jokes are not acceptable. " Jokes are never meant to be taken seriously. There are deprecating jokes, jokes on blondes, jokes on old people, Polish jokes, Asian jokes, Pinoy jokes, etc. Jokes are all meant to elicit laughter. Jokes won't make you cry. Have you ever heard the phrase: "the joke was on me"? If not, too bad. WHERE IS YOUR SENSE OF HUMOR?
---
Name: Marie
City/State/Country: Batangas
IP Address: 80.109.30.155

Comments
We should not waste our time on Janjan's issue. It's a pity for a child to be a victim of intrigues. What he did was only to obey his parents and Willie even he's ashamed. To buy toys and be given plenty of money if he wins could be the deal to Janjan by his parents. The wrong part in his performance was he looked unhappy while he was doing the bakla dance. The people were mixed up if he was forced at Willing Willie to do that dance. His performance seemed to be laughable and Willie tolerated his manner as cockfight gambler. That is ok because of 10,000 pesos?!
---
Name: deo
City/State/Country: flour city
IP Address: 74.65.5.159

Comments
In the news: "CHR Defends Psychologist In Dancing Boy Case". I reckoned "CHR" is Committee on Human Rights". But it is not the issue I'm raising; it's the lesser known fact that there is such person as a "Psychologist" in Pinas! Hindi na nga yata sila kumikita dito sa 'tates, eh, sa Pinas pa. Most Pinoys are crazy but they think it's the other guy who's nuts, that's why you would think a "psychologist" has no place in Pinas. I becha (my last aluminum centavo) "Mandaluyong loob" resident ONE UP, would make more sense than a "psychologist" in Pinas. BTW, Psychologist, Psychiatrist, "Doktor Ng Mga Baliw"; prapreho lahat iyan and their verdict: Hopeless si ONE UP! Kayo mangyan!
---
Name: Berto
City/State/Country: Virginia USA
IP Address: 69.137.158.28

Comments
Government Agencies and Private sectors alike were forced to take action against Willie Revillame because of his undesirable behavior in public which elicited local and international condemnation. He became an issue because he caused embarrassment to our country. There was no choice but to act on his case.
---
Name: Manila
City/State/Country: California USA
IP Address: 72.87.147.4

Comments
When we went home to Manila, I would make reservations to see Wowowee. I had to pay to get in for the numbers of people I brought with me. (only allow so many per family). If I did not make reservations, We would take the chance to stand in line early and for hours. Organizers only allowed so many people to enter and they would be sent to the back (upstairs). I looked at those begging people that they hoped to be one to enter the show. Sad and hopeless. Poor people would make it ahead of time for reservations and pay to see their favorite shows on ABS-CBN otherwise, they would have to stand in line. I said to one 'you can use that money to buy food instead of paying to see those shows (Ruffa and other shows?) just because they received small gifts, they did not care to pay to see the shows.
---
Name: LPiF
City/State/Country: Los Angeles, CA
IP Address: 76.166.197.27

Comments
This CHILD ABUSE issue has gone out of control and precipitated a real CHILD ABUSE TSUNAMI that is going to snowball worldwide! This all started on a simple no malice dance contest that went WILD! These self righteous experts are to blame, look at the MENTAL ABUSE it's inflicting on Jan Jan NOW, who created it? The media turpitude has so much to do with it, they went too far. This innocent child is being damaged because of irresponsible handling by media. The Lopez MAFIA, as phreng tonyO called it, are reprehensible. The self vested interest of the so called authorities have ABUSED their power. This issue has become a complete circus an it's a SHAME! Boils down to PERA PERA lang!
---