or centuries, it was drilled into us that we were a subservient race and should thus defer to the dictates of our colonial masters.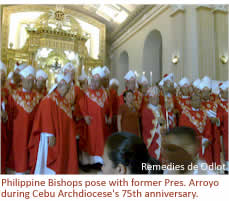 Today those colonial masters and their once powerful empire are long gone...or are they?
When the Spanish empire builders began colonizing the islands in the sixteenth century, they brought along with them the builders of another empire: The Holy Roman Empire. And although the once mighty Spanish Empire is no more, the Holy Roman Empire through the Catholic Church continues its dominion over us.
The actors in this centuries-long Zarzuela play may have changed (Filipino clerics have since replaced the Spanish Friars) but the storyline remains the same. The Catholic Church in the Philippines now has a Filipino face, but it can only look to Europe for direction. The Holy See still calls all the shots.
When the country and the Church have similar aims as is usually the case, then all is well across the land. But when they are at odds with one another as is the case in the Reproductive Health Bill, you can be sure that our Filipino Clergy will never take the side of its people and defy the Vatican. Such defiance would be unthinkable; they must tow the Church's line no matter what.
With our population growing exponentially, the Philippines may soon be unable to feed or house its own people. In densely populated urban areas,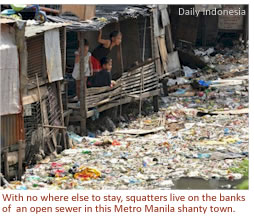 resources are already strained to the breaking point, even as quality of life parameters plummet. And the sad truth is that it will be our children and grandchildren who will feel the full impact of this catastrophe. At that stage, the facile platitudes about prayer and self-sacrifice that the Church has forever advocated will have no meaning.
Filipinos have to realize that we are facing a very real problem and have to tackle it head-on now. We cannot kick the can down the road for the next generation to solve—it would be too late by then. Neither can we look to the Catholic Church for guidance because the Church is simply not on our side on this issue.
The question now is: will we Filipinos be able to stand up and do what is right, or will we defer as we have in the past to the dictates of some sovereign (be he Pope or king) halfway across the globe who knows little to nothing about our country's problems?
Participate in our Poll: Are you for or against the Reproductive Health (RH) Bill?
Saved Comments from Our Readers
Name: bebe kovacs
City/State/Country: florida
IP Address: 76.108.71.236

Comments
When I read the Noli Me Tangere of Dr Jose Rizal in my elementary and high school years, I already knew that priests don't have the authority from God. Those colonizers used religion to enslave the Filipino people and they were not true priests. Father Damaso was a symbol of oppression by the friars to the men and women of our country, treated as slaves. Jesus Christ does not led unrighteous people, He makes people free! and progressive.
---
Name: toto
City/State/Country: Quezon City
IP Address: 99.245.51.104

Comments
If the catholic church still believes that majority of Pilipinos still follow them , they are wrong. I for one and most of people I know are Catholic but don't attend mass anymore. We believe in God but not the priests. I have some priest friends and play mahjong and tong-its with them. we smoke and drink. maybe not all, but priests are hypocrites. they are also human. If Cardinal Sin believed that because of him people gathered to defy Marcos, he was wrong. People were fed-up with Marcos that's why they rebelled not because of him. So stop meddling in government affair, please.
---
Name: Kalabog
City/State/Country: Daraga , Albay
IP Address: 64.40.183.70

Comments
Editorial sez : "When the Spanish empire builders began colonizing the islands in the sixteenth century, they brought along with them the builders of another empire: The Holy Roman Empire"- Unfortunately, many Filipinos can't seem to recognize the fact that religion in this case became a means of subjugation. To many people like Marie- Christianity and the the Catholic Church are one and the same!
---
Name: ed Francisco
City/State/Country: Dubai, UAE
IP Address: 195.229.241.177

Comments
Mabuhay ang mga nakaka-alam nang tunay na problema sa Bayan. Isulong ang Family Planning!!! Simbahan Katolico magpakatutuo kayo. Gusto ninyong kupkupin lahat nang nakatira sa lansangan? Pakainin lahat nang walang makain? Bihisan lahat nang walang damit? Bigyan nang Bahay at Lupa lahat nang mahirap sa Pilipinas? Mabuhay ang mga nagsusulong nang RH BIll!!!!
---
Name: Sa Tutuo lang
City/State/Country: Pinas
IP Address: 207.102.255.107

Comments
Just to let you know that at UST maga pare talagang masasarap ang ulam nila lagi. Di mawawala nang masarap na alak tuwing kumakain sila. Sa sobra nag koleksion araw araw tuwing nag mimisa sila sa Umaga twing Monday all the way to Friday no one knows how much their collection is dahil hindi ito nag rereport sa BIR. Kawawang Juan De La Cruz. Sabi nga nang maga Indians sa North America, before we owned all of this land, pero noong dumating ang maga pare at maga puti, we now own a Bible and they own the land. So nothing's different in the Philippines.
---
Name: DOMINADOR AGUSTIN
City/State/Country: VALENZUELA CITY
IP Address: 112.200.76.198

Comments
The church is inconsistent in all it's teachings. They profess to help the poor but the schools they run have the highest tuition fees in the country and they enjoy tax exemption from the gov't. These church people are hypocrites. They want a lot of poor people because this is where majority of their followers come from. These people can be easily manipulated, programmed in the name of God for the benefit of the church's governing scumbags..
---
Name: Asterio P. Aguinaldo
City/State/Country: Chula Vista, CA, USA
IP Address: 198.228.210.146

Comments
Italy and Spain have zero birth rates and the Catholic Church has not excommunicated any gov't official for advocating, supporting, or proposing any birth control programs. Even China and India later opted to adopt a program to curb their growing population! Either our own Filipino bishops are ignorant, selfish, or lazy for not studying their position!
---
Name: Todo
City/State/Country: Lanao del Norte
IP Address: 58.71.45.66

Comments
Now is the time for the Church to stay away from the temporal affairs of the state and concentrate more on saving souls, if indeed it is true. We have been under the influence of the men of the cloth for the past 300 hundred years and nothing has happened to the Indios of this archipelago. Let us try doing away with these hypocrites.
---
Name: lakay berting
City/State/Country: canada
IP Address: 75.155.221.181

Comments
Ang CBCP at IGLESIA NI CRISTO ang nagpapalakad ng gobyerno sa Pilipinas at hindi ang Presidente at Bise Presidente. Lahat na sasabihin ng Presidente na ikakabuti at ikakaganda ng Pilipinas ay lagi na lang nila KINOKONTRA.
---
Name: Jazzmhin
City/State/Country: USA
IP Address: 75.72.21.8

Comments
I am a nurse and a catholic. From a health perspective, this is not healthy anymore...more and more children will be sick and the government will not be able to support the growing population that we have. Being a catholic, I believe in God and priests as mediators and not some sort of dictators. I know this is something new for the country, but something has to be done to correct this or else we'll plummet to the bottom
---
Name: Todo
City/State/Country: Lanao del Norte
IP Address: 58.71.45.66

Comments
Someone here posted and asked why the Catholic church has been subjected to negative comments while other religious denominations which demanded higher contributions from its members are not. The reason is simple, only the Catholic church among the Christian churches here which interferes with the government in every step the latter takes. The Catholic church has no respect for the concept of separation of the church and the state. Because the Catholic church criticizes, it can also be criticized for its antiquated and fanatical stands, as its opposition to RH and Divorce Bills.
---
Name: Kuya Ruben
City/State/Country: Mariveles, Bataan
IP Address: 173.248.249.92

Comments
Vatican is a very small country, but their annual budget is almost twenty times that of the Philippines, it (the Vatican) has no natural resources, does not manufacture shoes, cars or bread, where do you think they get their wealth? From all of the stupid Pilipinos who are continuously contributing money to the catholic church, Vatican is the "Camp" of all senile menopausal old males who have no sunshine in their lives but want to intrude in the lives of others. It is about time we Pilipinos should stay away from them.
---
Name: As I See It
City/State/Country: Cebu City/San Diego
IP Address: 70.183.105.70

Comments
According to our Lord JC, "render unto Caesar what belongs to Caesar, and to God what is God." History tells that our clergymen most especially our religious leaders (like the CBCP) have been doing their intrusion into the realm what belongs to the state. Why only NOW that we are crying foul against these supposed 'moral guardians' when the majority of the people CONDONE their behavior during the admins of GMA, Estrada, and Marcos. Remember those priests during those years, aside from the Political Cardinal Sin!
---
Name: Dr. I. S. Alcordo, Ph.D.
City/State/Country: Valencia City
IP Address: 120.28.203.198

Comments
I believe that with or without the RH bill, the educated married or unmarried Filipina women have been using one form of contraceptive or another, Church or no Church. The problem are with the uneducated, not uneducated in sex but education in general. Thus, the public money spent on contraceptives through this RH bill is put to better use by giving it to the Dept. of Education. This bill will only enrich the rich pharmaceuticals.
---
Name: Steve R
City/State/Country: California
IP Address: 71.198.150.211

Comments
What's the fuzz is all about. Excerpt: "Stated Purpose: One of the main concerns of the bill, according to the Explanatory Note, is that population of the Philippines makes it "the 12th most populous nation in the world today", that the Filipino women's fertility rate is "at the upper bracket of 206 countries." It states that studies and surveys "show that the Filipinos are responsive to having smaller-sized families through free choice of family planning methods." It also refers to studies which "show that rapid population growth exacerbates poverty while poverty spawns rapid population growth." And so it aims for improved quality of life through a "consistent and coherent national population policy."
---
Name: JRH
City/State/Country: mtl can
IP Address: 173.178.230.42

Comments
The super-rich catholic church has P12.9 billion stock shares in Phil banks. Also, P2.4 billion stocks owned by the Roman Catholic Archbishop of Manila & P1.3 billion of the church-owned Hospital de San Juan de Dios. 9 out of the top 100 corporations belongs to the Catholic Church. Maybe, it's high time that our gov't get back some taxes with these billionaire bishops. They are sitting on billions of pesos & everything is tax-free. What if they share a little, like the interests on these investments? The poor & very poor might benefit or the economically impoverished millions of Filipinos. We can't simply continue to do the same sh*t in the same way forever. The church must help the poor. They got the money. Charity begins with them.
---
Name: Vanessa Lee
City/State/Country: Kuwait
IP Address: 94.128.25.179

Comments
There is no issue for the church regarding their stance to RH Bill if there is a persistent support to the less fortunate, children's education & for those mothers whose lives are at risk to deliver their child. The Roman Catholic Archbishop of Manila having P12.9 billion worth of stock in Bank of Philippine Island. Be that as it may, I understand the position of the church considering they have also lots of expenses to defray but I do believe it is just right to spare church income to help the needy especially children. Just imagine the huge amount being raised is it fair?
---
Name: expat
City/State/Country: Belgium
IP Address: 81.164.208.114

Comments
Family planning is not the responsibility of the church.. it is the responsibility of the couples themselves.. Why do Filipinos have many children when they know that they are poor and they are not able to send their children to school, nor can they give them a good living or a better future? Having a child is a personal decision and a personal choice..no one dictates to their neighbors to have a child, neither the government nor the church. It is the wrong mentality that having many children is a blessing and they have helping hands to do the household chores and even to work to earn money to feed the family.. to change the future is to change the mentality and the conviction..
---
Name: Ynot
City/State/Country: Md
IP Address: 169.253.4.21

Comments
I am for the RH bill although it is not enough to solve the current poverty problems of the RP. I would like to see jobs brought in by the government in conjunction with RH bill.
---
Name: Mikaela
City/State/Country: San Francisco, CA
IP Address: 204.68.210.39

Comments
It has been awhile I haven't posted my messages in this forum but this controversial/intriguing issue about RH bill caught my eyes. Pro-RH should NEVER STOP pushing for the passage of this bill. Opponents are mostly MEN. Hypocrite clergies, men in both Congress and Senate. You guys are all narrow/closed minded people. Open your eyes, be REALISTIC. Can't you see thousands of POOR WOMEN IN THE COUNTRY WITH A STRING OF CHILDREN (per family) are CLAMORING for HELP. IT HAS BEEN LONG OVER DUE! SUBUKAN NINYO NA KAYO ANG MA-BUNTIS. P-NOY w/o a blink of an eye should sign this bill into law ASAP!
---
Name: Pedro
City/State/Country: Surigao
IP Address: 98.199.206.159

Comments
Why are Catholic priests practicing celibacy when the are pro-life? They should get married as well to obey what GOD said in the book of Genesis "go forth and multiply". They are a bunch of hypocrites.
---
Name: Sa Tutuo Lang Naman
City/State/Country: Canada
IP Address: 207.102.255.112

Comments
Its all about money and greed. The Catholic Church is the richest in the world and we know it. Ayaw nilang mabawasan ang kolektion nila for a very long period of time. They should pay taxes para mabawas bawasan ang problema nang ating bayan at siguro if they pay taxes than the Philippine Government can pay all its debt sa World Bank at IMF. Than we will have more Dollar Reserves rather than sending them to ROME.
---
Name: 1 UP
City/State/Country: GOTHAM CITY
IP Address: 67.247.55.115

Comments
If anyone understands the word CARITAS (I guess many don't) that would have been the role of CBCP in the Philippines and not politics. Here is a brief description of what Caritas does ... "provide shelter, food, and necessities on a weekly basis to individuals and families in need of immediate assistance." The tent is often expanded to include medical care. It is about the caring attitude and not the confrontational behavior of bishops against government on social issues such as the RH Bill. It is about their role in uplifting the lives of the poor or dispossessed for the love of Christ. SHAME SHAME SHAME on CBCP!
---
Name: Benton
City/State/Country: Australia
IP Address: 202.124.75.93

Comments
Ever since the Phil. was colonize by the Spaniards, the Catholic church has & are still keeping the population large, poor, ignorant & fearful, to be able to control them. Churches should not interfere in the affairs of the Government. There is that separation of Churches & Government, that is why religious organizations do not pay taxes. Maybe it is time for governments to levy taxes on religious organizations.
---
Name: tonyO
City/State/Country: pinas
IP Address: 114.108.243.107

Comments
Population growth and management is governmental rather than a religious issue. It is only the Catholic Church that interferes with family planning. Other religious faiths don't, e.g., the protestants do not interfere with family planning although they are also Christians. The Bishops and priests of the Catholic faith are tied to celibacy, hence barred from getting married and cannot have children. They have no part with population growth. They are not credible advocates of family planning, In short, walang "K" na makialam sa isyung na wala namajn silang kinalaman. They have no right to invoke their religious faith since family planning is not prohibited by God. There is nothing in the Bible that supports the CBCP's position against the RH Bill.
---
Name: Carlos Rubio
City/State/Country: Bothell, WA, USA
IP Address: 50.46.235.96

Comments
I don't know what are stipulated in the RH Bill, whether it has teeth to take a significant bite in solving the problem of population growth or how it is going to be enforced. What I know is that we have a problem which has to be dealt with NOW. The Philippines can not sustain the present growth rate without breaking. Have we reached the breaking point or shall we wait for Malthusian remedies to the population problem; WAR, FAMINE and PESTILENCE?
---
Name: Latepoca
City/State/Country: SOMEWHERE IN TIME
IP Address: 121.1.30.222

Comments
The leaders of the CHURCH OF TODAY have only MONEY on their minds, that is why they are opposing the RH Bill. It is a REALITY that almost all PRIESTS are RICH and have NOT helped the POOR uplift their lives, .....Is this the teaching of CHRIST to GET RICH??? MY gully, what is NOW happening to our FAITH with these so-called APOSTLES OF CHRIST with DARK intentions??? Somebody has to lead and restore our faith in GOD.
---
Name: Orly
City/State/Country: Manila
IP Address: 121.54.32.50

Comments
Just do the simple math Spend your daily income of P500 to feed 8 mouths or Spend your daily income of P500 to feed 4 mouths who you think will get more? Let's face it, most of us are educated but are still ignorant, we bow and obey to western religion but closed our eyes and refused to see the reality of our suffering poor countrymen
---
Name: 1 UP
City/State/Country: GOTHAM CITY
IP Address: 67.247.55.115

Comments
When you allow the Church to interfere in your life by telling you when to have sex, how to have sex, etc. that is an over-reach. I would not want to see a priest in my bedroom!
---
Name: docmacky
City/State/Country: antipolo city
IP Address: 218.186.8.227

Comments
The RH Bill has to be passed now, with or without the Church's imprimatur. Let's move on towards what is right and practical and not hypocritical.
---
Name: JRH
City/State/Country: mtl can
IP Address: 173.178.230.42

Comments
The church is not at all compatible with the aims & purposes of the Reproductive Health Bill. Proponents of the historic bill wish nothing but the welfare of Filipinos in conformity with the purpose of humanity. All of us realize that the only country we could ever call our own is the Phils, not Rome, not Spain. If the outdated clerics are hell bent in opposing the bill, then, we have a problem. Progress necessarily requires change & the overthrow of the past. Overpopulation is the problem. The instigation of the church & the hopelessly conservative bishops violate the requirement based on justice. Power, after all, should rest with the people & not the clergy. Let's not include stupidity in this debate.
---
Name: Gaudencio Degollacion
City/State/Country: Bielefeld,Germany
IP Address: 79.239.109.105

Comments
I am in favor of the RH Bill, because it would be possible for a family to chose how big they can build them and much more how much they can afford to supply their daily and for their future for education, etc....!!!
---
Name: Marie
City/State/Country: Batangas
IP Address: 80.109.30.155

Comments
I am not trying to insinuate my side for RH Bill. We are entitled to write what we think is right to declare. You have your own knowledge about something esp. re RH Bill and I have mine. Go on with your opinion, nice reading! Just to remind if we are economically stable/progressive country we'll need manpower. And if no available workers due to old age our country will suffer again. Do you think the pro RH Bill will have the courage to face the anti RH?. Or should the pro RH like to accept over age employees? That will happen!. It is very clear that the pro RH Bill's aim is: - "no to pregnancy, get old, die, but no newborn babies".
---
Name: scorpio
City/State/Country: los angeles ca
IP Address: 12.20.177.5

Comments
Church should separate itself from the government. The RH bill has nothing to do w/ church, it is for each individual to decide for themselves what is best for them. The RH bill is for gov't to address and for people to decide. The Church should stay out of it, because it has nothing, NOTHING!!! TO DO WITH THEM !!!
---
Name: JRH
City/State/Country: mtl can
IP Address: 173.178.230.42

Comments
The church's negative judgment of the Reproductive Health Bill will remain unchanged & irreconcilable with the opposing doctrine of the church. It may be pointed out that among the most vexing problems in the Phils are the millions of poor & very poor barely surviving on their meager incomes. In short we have a multitude of hungry people unable to support their families & maintain a respectable & healthy lifestyle fit for human beings. It appears to follow a pattern set by the wrong principles & ancient practices gone from bad to worse. Without this important health bill we may hit the 100 million mark soon, e.g., more hungry mouths to feed & more problems for our govt. Will the church help? I don't think so.
---
Name: deo
City/State/Country: flour city
IP Address: 74.65.15.202

Comments
Who ever wrote this editorial should have asked ONE UP first. Of course ONE UP don't know this (I only assumed he does), that not only in the Philippines but also in the U.S. and all over the world's Catholic Church, Vatican still "calls the shots" (but not the kind of "shots" that the author(s) purportedly meant-I hope). If the Church in the Philippines made an impression to the author(s) of this editorial that Vatican still calls the shots it is because the Philippine hierarchy are acting like it is.
---
Name: Tess
City/State/Country: USA
IP Address: 72.37.171.180

Comments
Comment #1. The government should implement in full force the RH bill, bec. our population is getting bigger and bigger with nowhere to go, I feel sorry for each child who is being tied-down by poverty and lacking privileges like the basic needs. Our culture is so closed considering the influence of the Catholic church people are being misled confused and afraid not knowing the benefits of family planning.
---
Name: deo
City/State/Country: flour city
IP Address: 74.65.15.202

Comments
If I were the Catholic Church, my line of objections to the RH Bill will not be of the Doctrine of the Church but the corruptions in the government. Check this out: That "losses" alone in the National Food Administration (NFA) in the tune of P10 Billion could have taken care of the needs of millions of economically deprived Pinoys. The obviousity is even obvious if you add the other exposes brought about by tonyO and 7gtng.
---
Name: Reynard
City/State/Country: Jeddah,Saudi Arabia
IP Address: 213.181.164.247

Comments
Kung ang mga paring katoliko kaya ang bigyan natin nang tig 5 bata na papalakihin, papag aralin at ibibigay ang mga pangangailangan nila sa pang araw araw payag kaya sila, kasi sila ang pumupuna pag dating sa Family Planning, para maranasan naman nila kung ano ang nararanasan nang mahirap na 5 ang anak
---
Name: MARNY V
City/State/Country: RP/Africa/Europe
IP Address: 71.58.3.127

Comments
PH wasteful trash in RH mentality: The mere fact that we don't practice what we preach, doesn't mean the priests don't care. The C. church & people w/ different faiths are trying to feed the poor but not sufficient enough to counter poverty. They could only give so little to so much. It's the doctrine that the catholic belief that is followed to the letter & a matter of principle. Like what was written, Jesus Christ obeys what His faith brought Him till crucifixion. But the attitude should be flexible. They should go with the flow. Ancient belief is no longer applicable to the present situation. If population explosion can't be controlled, then we are in deep sh*t. The gov't is trying to do the 1st step by the introduction of RH bill.
---
Name: WDC
City/State/Country: California
IP Address: 67.123.19.147

Comments
Reproductive pills or not are not the issue. The problem for us Filipinos is we don't care. You give these poor Filipinos money to buy these so called birth-control pills and they are not going to do it. They will spend this money for their own vices like cockfighting, mahjong, liquor or their "babaes". You give them the pills instead; they will find some ways to sell them for the same reason. So what we are going to do? Keep blaming somebody? Filipinos need to be more responsible.
---
Name: AHKO
City/State/Country: Brunei
IP Address: 222.127.43.125

Comments
I wonder what meals those Bishops are dinning on? Why not ask them to stay with the poor? Those hypocrites live in posh residences and are served sumptuous meals everyday. Let them stay together with the poor and eat rice and salt...and then I will support their anti-RH stance.
---
Name: pera lang
City/State/Country: ca/php
IP Address: 96.51.252.160

Comments
The church is a business, like a Chinese businessman. the logic behind their opposition to RH Bill is: 1 will always be better than 0. More contributors more pledges. With 80,000,000 persons, 1 centavo minimum would mean 800,000 pesos (once a week) time 52 weeks in a year would mean 20,000,000 a year. LIFE IS PRICELESS...... quality vs quantity.
---
Name: A. Poli
City/State/Country: Anywhere
IP Address: 112.203.4.237

Comments
The poor have no time understanding the RH bill. They are pretty busy surviving in this very very noisy, littered with people, environment of ours. Their only recreation is making babies in whatever spare time is left.
---
Name: Mario Roxas
City/State/Country: Manila
IP Address: 213.98.206.84

Comments
What a load of rubbish. This is taken off the playbook of a merchant of contraceptives whose only interest is to sell as many condoms as possible. After having failed to sell to the people, they now lobby hard the government as their primary customer using tax payers´ money.
---
Name: uber
City/State/Country: usa
IP Address: 98.150.173.214

Comments
When gov't authorities use people's money (by the millions) its called corruption but when the Damasos use peoples money (by billions) its called "abuloys" -so with less population its gonna be less abuloys and less sakristans - therefore "LUGI" sila! If JC could break the law of Sabbath to help people (did miracles on the Sabbath) - then why can't people break Catholic dogmas to help their own families/relatives!
---
Name: Marie
City/State/Country: Batangas
IP Address: 80.109.30.155

Comments
I think almost all participants in this forum are against in the sanctity of life. They hate the priests, bishops, the church and the anti RH Bill. Hate in heart. The priests are also human beings so they commit mistakes too. But not all of them. But my advise, pick up all the good words from them during homilies and ignore their mistakes. I cannot blame some people in this world because many have no brain to understand the good and the bad. The principle in life -"naniniwala naman ako na may Dios, basta gusto kung mang-insulto ng tao iinsultuhin ko - patatawarin naman ako." Sila yong nakikita ang kamalian ng iba esp. the churchmen pero hindi ang sarili nilang kabastusan ng ugali sa iba.
---