t has been a year since he assumed office, and critics of President Benigno Aquino, III say they are increasingly seeing signs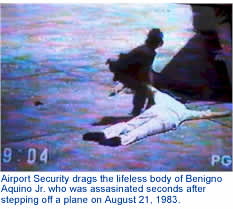 of his indecisiveness. At issue is whether to allow former dictator Ferdinand Marcos to be buried at the Libingan ng mga Bayani (Philippine Hero's Cemetery). The president could have simply put his foot down and said "no!" It was after all during the reign of Marcos that his father Benigno "Ninoy" Aquino was assassinated at the tarmac of the airport that now bears his name. The Filipino people would surely understand and respect that decision. Instead Aquino recused himself and turned the task over to Vice President Jejomar Binay who has now recommended a Marcos burial with full military honors in Ilocos Province.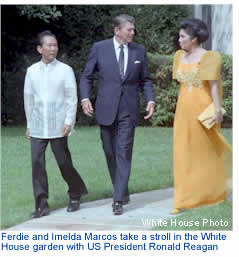 For a person accused of using deceit and cunning to rise to the top, then revising the country's constitution to perpetuate himself in power; for a person accused of plundering his country's treasury and torturing his detractors; for a person accused of crushing his enemies then taking what they owned for himself and his cronies; that person deserves no state-recognized honor whatsoever.
At the end of the day, Ferdinand Marcos was a diminutive little tyrant who most likely perceived himself as such. As the picture on the left reveals, he walks almost to the edge of the paved walkway in deference to the American president (and the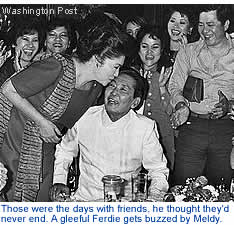 Americans whom he forever looked up to). Yet he beat down his own people to prop himself up. And he used propaganda and outright lies to make himself what he never was: he was no war hero; he was no patriot; he was no statesman; and he was no honorable man.
Historical revisionism will never work in the case of Marcos. There is just so much wrong he did for so long that there will always be ample evidence to counter any attempt by his family or his followers to rewrite history. With the coldness he showed his enemies, the president should now insist that Ferdinand Marcos be interred quietly and privately in his Ilocos hometown without military honors.
Postscript: On October 13, 2011 President Aquino stated that it would be the "height of injustice" to afford the former dictator who trampled on the rights and liberty of millions of Filipinos a hero's burial.
Saved Comments from Our Readers
---
Name: LPiF
City/State/Country: Los Angeles, CA
IP Address: 121.1.11.166

Comments
Is it the Filipino people's responsibility to bury this crook SOB? I do not understand why the Filipino people are being involved in disposing his corpse. He died as deposed enemy of the people, why in the world do we have to waste our effort, time and money? He does not deserve any compassion let alone national attention and full military honors. Let his own family and cronies bury their own dead. Mr. PNoy, why are you so cowardly at saying "NO" to this lunatic burial non-sense. Why are you delegating it to VP Binay who is another eunuch playing politics just to save his own big fat ass from critics. The pundits of this country are all full of it. Let's face it, this leadership is so pathetic and it is a shame and scandal to the WWW! (wholewideworld)
---
Name: MARNY V
City/State/Country: RP/Africa/Europe
IP Address: 69.141.41.243

Comments
According to a former closed-in bodyguard of Marcos' inner circle: The reason why he (the bodyguard) defected & sought asylum in America was for fear of his life. Almost all of his comrades died mysteriously whenever missions to eliminate somebody was accomplished. So even Marcos own people were not safe during his reign of terror/martial law. If ever FM will be given a full military honor, his victim's spirits might all walk out in protest & walk away!
---
Name: Phil Researcher
City/State/Country: LA county Ca USA
IP Address: 76.174.19.149

Comments
RE Full Military Honors for FM-- VP Binay.. I hope the electorate will remember that on 2016 when VP Binay runs for Pres. An example why FM does not deserve any honor ..FM told Eugenio Lopez Sr.. who was already in the U.S. that if he signs over Meralco to his Cronies-- FM will free his son Genny Jr. who was being detained by FM.. So Lopez Sr. signed off to free his son. Guess what FM did-he did no free Lopez Jr.. From the Column of Max Soliven--sometime in June of 1972 Chino Roces (Manila times Pub) was celebrating his birthday in his compound and there was an uninvited visitor -FM- when FM declared Martial Law two months later all the visitors of Chino Roces during that birthday celeb were detained in Camp Crame.
---
Name: Phil Researcher
City/State/Country: LA County, Ca USA
IP Address: 76.174.19.149

Comments
RE: Full Military Honors-- There is a proposal give FM Full Military Honors for his final burial in Ilocos Norte.. There are the MABINI lawyers who oppose it.. If giving full military honors means FM is a Philippine Hero.. Then absolutely not. He declared martial law using false pretenses.. Remember JPE declared that his ambush was staged...He was responsible for the death of several people.. most notable-- Dr. Potenciano Bakay MD. who revealed in an interview that FM had a Kidney Transplant. No full military honors to a thief and a murderer.
---
Name: Manuel C. Diaz
City/State/Country: Antipolo City
IP Address: 120.28.64.74

Comments
Binay now will get the Ilocano votes suggested that Macoy the mummy will now be buried with full Military Honors but only in Ilocos not in Libingan ng mga Bayani. BTW the military will Honor Macoy as the Despot, Mass murderer and a Ladron.
---
Name: JRH
City/State/Country: mtl can
IP Address: 173.178.230.42

Comments
Vice-Pres Binay's recommendation to bury the late Pres. Marcos with full military honors is an insult & ignominy to the hundreds of victims of a tyrant dictator with an unprecedented wholesale corruption. He was the most corrupt in Asia, if not the world, during his regime that almost bankrupt the Phils. His only burial place is in Ilocos & nowhere else. If they want to bury him as a soldier, that's fine but good lord not at the Libingan Nang Mga Bayani. He is not a hero. He was a very evil person who ever ruled the Philippines. Some suggested that they turn off that refrigerated crypt up north & let him burn in hell. It's a stupid recommendation.
---
Name: jenny
City/State/Country: hongkong
IP Address: 61.18.186.135

Comments
I don't agree for Marcos to have military honors. Hindi kagandahan sa ating bansa, dagdag lang ng kahiyaan.
---
Name: deo
City/State/Country: flour city
IP Address: 66.66.171.254

Comments
I said it before and I'll say it again: Marcos forfeited any single honor deserving him when he turned dictator.
---
Name: Edmund Ricafort
City/State/Country: san diego, ca
IP Address: 76.93.102.126

Comments
Dapat sunugin sa public ang bangkay ni Marcos. 30 billion dollars ang nasa Swiss bank na ninakaw niya sa mga Pilipino, mga cronies niya 100 billion dollars, pinapatay niya si Benigno Aquino, libo-libong Pilipino pinapatay niya dahil kontra sa kanya, magnanakaw at mass murderer ng kapwa Pilipino niya, tapos ililibing na bayani!!! Binay asan ka ba ng panahon na yun, isa ka rin palang crony. Pnoy bakit wala kang bay*g, wala talagang mangyayari sa Pilipinas. its a matter of right or wrong!!! Damm, mga utak ipis!!!
---
Name: alex
City/State/Country: lakewood, wa u.s.a
IP Address: 208.54.4.181

Comments
There should no debate on this issue whether to give Marcos a hero's burial, this guy is a murderer a dictator who did anything to stay in power, during his years in power we should not forget all the people that sacrificed their life, and people that Marcos killed during his years on power, specially for Ninoy and Cory its would be a disrespect to them, its like giving honor to Saddam Husain
---
Name: WDC
City/State/Country: California
IP Address: 64.160.201.191

Comments
More than twenty years of oppression by Marcos to the Filipino people then give him a full military honor? What a thought from the Vice President Binay, either he is clueless like his President or he is just another MORON.
---
Name: Marie
City/State/Country: Batangas
IP Address: 80.109.30.155

Comments
Those militaries even retired who are close to Ferdinand Marcos can give him a service that the family is requesting and can make the ceremony special by the supporters. Maybe Marcos have helped them a lot and it's but the right thing to do for a special friend. I think that will be fair because he was considered a hero for them. But to consider Marcos a hero of our country is really an insult to all victims of Marcos regime. The memories of People Power is the evidence of his real image.
---
Name: JRH
City/State/Country: mtl can
IP Address: 173.178.230.42

Comments
A hero's burial? Charges or corruption & plunder were the issues against Marcos, aggravated by charges of endless human rights violations & other abuses, highlighted by the assassination in Aug 1983 of Benigno Aquino Jr. At the time of Pres Marcos' hasty departure to Hawaii in '86, his assets were estimated at US$10 billion which brought the Phils in an acute economic distress. If not for the EDSA I & majority of Filipinos got tired of his strong-arm tactics finally said 'enough is enough'. The confluence of events pulled the Phils from the edge of violence & civil war. Marcos' departure meant the non-violent transfer of political power. Marcos, Estrada, & Arroyo don't deserve any honor whatsoever cuz all of them failed the Filipinos miserably.
---
Name: Phil Researcher
City/State/Country: LA County, Ca USA
IP Address: 76.174.19.149

Comments
Re: Dictator Marcos...We did not know at that time when he declared martial Law that FM's motivation was not for the good of the people but to perpetuate his rule which was going to end as required under the 1935 Constitution..but the constitution was a mere scrap of paper when the barrel of a gun is pointed at your head. Meralco was only one of large enterprise there were other businesses that were confiscated .. Imagine Kokoy Romualdez a bar Flunker had a law office whose main client was Meralco. Now FM deserves a hero's burial the man who broke the Guinness World record on corruption.
---
Name: Franco Forral
City/State/Country: California
IP Address: 99.137.236.204

Comments
A President who started his presidency where our country was number two in Asia and end up at the bottom of the economic ladder on his watch does not deserve to any honor to be buried.
---
Name: JUN SILANG M.
City/State/Country: Malaysia
IP Address: 119.160.155.145

Comments
There should be no military honors to be granted to Marcos as he has been the very reason why the Philippines is still at poverty level. Marcos has been also the main contributor why millions of Filipinos are not living with their families thus they are forced to work abroad having those jobs generally indecent jobs specially for women. Current government now should not have soft heart to persons or past leaders to grant any honor for Marcos. All incumbent leaders should know instead honoring the value the citizens specially the poor.
---
Name: Kanada
City/State/Country: Kanada
IP Address: 99.255.45.165

Comments
I am part Ilocano by relatives and I say burn his body surrounded by the Philippine Klu Klux Klan (KKK - Katipunan) and burn a cross over his body. This tyrant killed a lot of fellow Ilocanos during his time too. To say he cared for Ilocanos is a like saying Obama is a white man. Burn his casket and burn a cross over his grave to show he is not respected by Filipinos all over. He is an insult to the country and it would be a grave injustice to all those Ilocanos who opposed his regime and gave their lives for it. BURN HIM. He's a murderer and a traitor. He only cared for his greedy family and his crooked cronies. He never cared for the Filipino people.
---
Name: tonyO
City/State/Country: pinas
IP Address: 114.108.243.107

Comments
P-Noy is invertebrate. There is no law that entitles Macoy for burial with military honor or burial at the Libingan Ng Mga Bayani. This means P-Noy has legal discretion to decide on this issue. He must exercise his political will. Unfortunately, he has none of it. He's an invertebrate President. NO BACKBONE. What's P-Noy's problem with Macoy's dead body? During his lifetime, Macoy and cohorts plundered the country. He left the country economically, financially and politically bankrupt. He forfeited whatever right befitting a President of the country. In fact, he should have been prosecuted as a criminal and hanged like any other dictator, e.g., Sadam Haussein. Walang manyayari sa Presidency ni P-Noy.
---
Name: A. Poli
City/State/Country: Anywhere
IP Address: 64.229.178.200

Comments
Re: "Cagayan de Oro Rep. Rufus Rodriguez said that depriving Marcos of his right to be buried at the Libingan ng mga Bayani was unfair. He said the late dictator "deserved such an honor considering his achievements." ....I knew this day will come hence the reason they did not bury dictator Marcos. They knew democracy is messy. That one day the young populace will forget what Marcos did to the country in few decades after he dies. Those folks want us to forget the bad things Marcos did as a dictator. SOB. We had been had. :(
---
Name: Rose Maghari
City/State/Country: Los Angeles, CA, USA
IP Address: 69.228.147.29

Comments
Mr. President please do not allow Marcos be buried with Military Honors. HE killed thousands of people political and non political enemies. He took many businesses from people and ours was one of them. PLEASE REMEMBER YOUR FATHER WAS KILLED BY MARCOS.
---
Name: sampagita
City/State/Country: New York City
IP Address: 166.84.191.131

Comments
A BIG "NO, NO" to the full military honor for the Person who destroyed the legacy of the heroes who fought for freedom of the Filipinos, the Person who modeled if not taught the Filipinos to be corrupt, the Person who trampled the bright future of the Philippines. His reign derailed the path of the Philippines to a better competitive economic standing if not dominance of the country in Southeast Asia. Mr President, Mr Vice President, how easy you forget. Wake up!
---
Name: LPiF
City/State/Country: Los Angeles, CA
IP Address: 121.1.11.166

Comments
Trust God: Re: Your post; "Is it a righteous thing to judge Marcos for his wrong doings only?" ABSOLUTELY! You don't indict a person doing the right thing, would you? His crimes overshadowed the good things he has done. He does not deserve respect from the Filipino people. Has his family, (e.g. Imelda, Imee, Bong Bong) ever apologized on his behalf for the human right abused he committed to his country? Come on! Nasaan and kanilang delicadeza. Kapal ng mukha nilang magbigyan ng full military honors siya! It's so absurd and disgusting!
---
Name: WDC
City/State/Country: California
IP Address: 69.110.192.238

Comments
We have many Filipinos became unsung heroes during World War II and were not buried with full military honors. Marcos was just an ordinary guerrilla, his heroism was just fantasy in the movie Iginuhit ng Tadhana. Just bury him without twenty-one gun salute, save all those bullets for the Muslim militants.
---
Name: Phil researcher
City/State/Country: LA County, Ca USA
IP Address: 76.174.19.149

Comments
RE: the death of Senator Ninoy Aquino. I was here in Los Angeles-- A few weeks before Ninoy was shot.. There was a newspaper report that Imelda Marcos apparently was telling Ninoy.. If you want money I can call "Rockefeller" and you can have $5 million to start a business there in the USA,, however, if you decide to come home.. We can't guarantee your safety...Remember this was Martial law FM was the dictator who had control of the MIA "absolute control" the dictator.. then Ninoy was shot and killed.. That in a nutshell is the story who was responsible for the death of Ninoy.. And Binay wants to give that guy "Full military honors"
---
Name: Kali
City/State/Country: Hawaii
IP Address: 72.130.247.17

Comments
PNoy, if Marcos was recognized for exceptional courage, nobility, or achievement and as ideal or model to be admired; all of the above was negated when he became a dictator where he took away the liberty and freedom of the Filipino people (period). This is the answer about this issue why you should not allow Marcos to be buried in the Libingan ng Bayani. What is there that you don't understand? It even makes you downright stupid by giving the task to Binay to check the pulse of the people regarding the issue. Remember the "buck" stops with you; therefore whether you like it or not the decision is still with you. How about stand up like a man, defend what is right, and stop playing politics.
---
Name: WDC
City/State/Country: California
IP Address: 63.193.183.126

Comments
Don't inject God when comes to burial of any oppressor. Let God take care Marcos' soul, Filipinos can take care his remains by feeding them to the dogs. People like MORON Binay can be buried along with Marcos if he wants to, nobody will stop his wish.
---
Name: JRH
City/State/Country: mtl can
IP Address: 173.178.230.42

Comments
Pres. Aquino's leadership might take a big hit with the Filipinos if he'll approve of Binay's proposal. He might shoot himself in the foot if that should be his final decision. Judging from the many negative comments from PNL posters & bloggers in the Phils, you get the impression that this idea is bad & must not happen. It appears that Pnoy has neither the will nor the ability to decide on this important issue. A possible political fallout will follow & the Marcos clan will be recognized & worthy of a place in Phil history if he'll accept this plan. The Filipinos emotional issues may be further clouded by misconceptions about Pnoy's leadership or lack of it.
---
Name: Reybatocat
City/State/Country: Reno, Nevada, USA
IP Address: 69.227.143.166

Comments
If Satan would even not accept him why bother bury him. Just dump him in the side of the HI-way so at least animals could still feast on his body or may be Satan will give him a match for him to build his on hell because he is more than Satan in terms of evil stuffs/doings that Satan would not accept to have a competition that Satan would not win
---
Name: bukaw
City/State/Country: bacolod city
IP Address: 96.229.77.212

Comments
The good book promises that "what we sow, we reap". The Orientals call it yin and yang. The Hindi call it karma. The plus and the minus.....I refuse to believe the arrogant Marcoses and their minions will always have it their way. It may take time (which the Marcoses think they can also buy), but payment will be demanded for every tear unjustly shed during their wicked regime. I may or may not be around to witness the event here on earth, but I will have all of eternity to rejoice in the ultimate triumph of true justice.
---
Name: Caloy
City/State/Country: Bothell, WA USA
IP Address: 50.46.235.96

Comments
Military honors?! For what?! Are we forgetting history? It has only been forty years and we seem to be open to revision of history. Why can't the Marcos family bury him quietly and not subject the Filipino people another insult to the injuries they've caused. I am willing to forget and forget as long as they refrain from insulting me more with their actions.
---
Name: susan
City/State/Country: manila
IP Address: 61.18.186.135

Comments
Hindi ako papayag sa sinabi ni Sen. Antonio Trillanes back daw sya sa paglibing ni marcos sa libingan ng mga bayani dahil naging sundalo naman daw sya. Oo nga pero paano ang kasalanan na hindi man lang nya napagbayaran dahil namatay nga sya sa hawai sa kanyang exile. Dapat sa lahat ng sundalo at presidente ng Pilipinas kapag lumabag sa batas ay hindi ilibing sa libingan ng mga bayani.Total marami naman tayong aso na nagtrabaho sila na lang ang ilibing doon, dahil ang aso hindi sinungaling at hindi corrupt.
---
Name: Maria
City/State/Country: Christchurch NZ
IP Address: 222.154.149.165

Comments
What a disgrace to your country if Marcos is buried like a hero! Filipinos should always remember what this man had done to you country! Look at you now, rather than concentrate on finding justice who actually killed Aquino, you are honoring Marcos instead. Don't let yourselves be a laughing stock from the rest of the world! Wake up People!!!
---
Name: Manileno
City/State/Country: Puget Sound, WA
IP Address: 64.241.168.8

Comments
Binay is a retarded idiot. This is a perfect example how Filipinos get into continuous chaos & setbacks by electing someone who will not even qualify as a parking attendant here in the USA. Now Filipinos will have to pound salt till you vote his ass out of office. When will Filipinos ever learn.
---
Name: Elvee
City/State/Country: New York City
IP Address: 68.36.173.228

Comments
Please remember how the Marcoses used government funds and foreign aids like it were their personal money. They never wanted to leave the palace. They wanted to stay in power for life. Thanks to everyone who joined the People Power process. If the Marcos Estate gives every Filipino a million pesos each, they will still have more than enough money beyond their lifetime. The Marcoses will never have worry about money and if they start distributing the loot, they will have appeased the suffering of our people. Imelda should be tied over an anthill and pricked by every Filipino with a pin.
---
Name: Mawie Cabinta-Cardelli
City/State/Country: Australia
IP Address: 138.130.238.53

Comments
That's why we Filipinos remain the laughing stock of the world! I am ashamed to admit I'm a Filipino only because of the Marcoses. Get done with some Filipino traits such as 'utang na loob', 'pakikisama', or 'kalimutan na ang nakaraan'. These are good in their proper context. Not in the Marcos context.
---
Name: Manuel C. Diaz
City/State/Country: Antipolo City
IP Address: 120.28.64.74

Comments
Marcos cadaver should be publicly hanged in Luneta just like Cromwell.
---
Name: bawal ang tanga rito
City/State/Country: sta. monica, ca
IP Address: 69.235.34.241

Comments
I don't understand why we have to bother ourselves about the demand by the remnants of the Marcos regime. For national unity? Aside from the Ilocanos the majority of Filipinos have mostly forgotten about these Marcoses and they don't care whether you throw his body to the sharks now just like Bin Laden better still throw Imelda and Bongbong with him. Masasamang lahi di na dapat pagtularan. And a favorable decision after surveying only 1,200 people? Kulang pa iyan sa pinapatay ni Macoy. Huwag kang TANGA Binay.
---
Name: MARNY V
City/State/Country: Roadtrip na!
IP Address: 69.141.41.243

Comments
News flash re Marcos full military honors: It's obvious that Blmtrit (siya nga ba iyon, nawawala din kasi) treated 1 UP & deo for ice cream at Times Square, NYC. They kissed & made up ! Baka naman nanood pa ng Broadway, Phantom from LV...ooops, Of The Opera, pala ! This is only a break from Marcos internment. Pros & Cons, majority wins; most likely 95% of PNL (Palagay Ng Lahat) disagrees to the military burial; people have spoken. In my life (PNoy)--it's--now--or--never--, LINK what's your decision PNoy?
---
Name: WDC
City/State/Country: California
IP Address: 75.38.66.79

Comments
Marcos was not convicted because majority of the Philippine politicians were also corrupt like him. Nobody is honest in any government branches in the Philippines even now, you want to convict Marcos then, they will also convict themselves.
---
Name: LPiF
City/State/Country: Los Angeles, CA
IP Address: 121.1.11.166

Comments
TeM/New York City, NY: How ignorant can you be? Marcos authored the ART OF CORRUPTION in the PH. He was a CON ARTIST. He created a TEMPLATE and he is all to blame. Had he not started it, this country would be a better place. VP Binay's decision is honorable? What? You must have snorted something illegal, man! Read the percentage of posters that has the same view as yours and see if you find one that sounds like you! Haha...
---
Name: As I See It
City/State/Country: SanDiego,CA/CebuCity
IP Address: 184.225.82.126

Comments
Rose Maghari of L.A. in addressing to PNoy categorically stated, charged and judged in capital letters, "PLEASE REMEMBER YOUR FATHER WAS KILLED BY MARCOS." Methinks this has been very interesting subject instigated /initiated by political opponents of Macoy, and if Miss /Mrs. Maghari can substantiate or provide even an iota of evidence that it was indeed the former president (Marcos) who directly or indirectly killed Ninoy Aquino then it is another opportunity for Noynoy, who is now in power to reopen the case; if NOT then this is a just another BALONEY, a FAT LIE, an outright political DECEPTION disseminated time and again during the years when Tita Cory was in power.
---
Name: Amor
City/State/Country: Los Angeles Ca
IP Address: 216.81.81.85

Comments
This article is fitting and proper. It is the true description of the evil tyrant F. Marcos. If I am the president of the Philippines, I would have his dead body up again for firing squad at the Luneta in Manila as a payment for evil crimes. This article is really good. I give it 5 stars.
---
Name: Kali
City/State/Country: Hawaii
IP Address: 72.130.247.17

Comments
It's appalling to have a Senator with a very low intelligence quotient in the name of Sen Trillianes. Mr. Senator, comparing Marcos to GMA in terms of their wrongdoings was like comparing apples and oranges. Marcos was a dictator who took away the rights and liberty of the Filipino people and "salvages" many for opposing him. GMA's wrongdoings still remain to be proven. The Senator was bitter coz as a soldier he was jailed for attempting to overthrow the govt. That was sedition Mr. Senator? In time of war traitors faces firing squad. Policy of the government to gave hero's burial to previous Presidents cannot be construed as unilateral, therefore since Marcos took away the liberty of the people and "salvage many, then he is not a hero. Take "Senate Class 101" Mr. Senator, you need it.
---
Name: Henry De Ocho
City/State/Country: Buenavista, Phil.
IP Address: 188.135.51.51

Comments
I believe Vice President Binay is not joking concerning his recommendation of burying Marcos with full military honors. I believe Mr Binay is serious about it, and so he is seriously WRONG of recomending to bury Marcos with full military honors even in the smallest island that is part of the Philippines. RP lost the chances to progress when during the 20 years time Marcos grip to power the big chance to progress was still there and now the whole country is suffering caused by the wrongs and abuses he did to the country. Now our neighboring countries are so progressive when the Philippines was economically ahead of them all, except Japan, even before Marcos came to power. How then can the Filipinos honor such a greedy selfish tyrant.
---
Name: pinaskongmahal
City/State/Country: usa
IP Address: 70.245.109.240

Comments
PNoy, please do a reversal on Binay's decision to bury the rotting body of MaCoy to LMB in the same fashion as Justice Sec De Lima reversing her predecessor Alberto Agra clearing the cases of 18 erring immigration officials involved in human trafficking. Are these 18 officials involved also in the hasty travels of the 3 hung OFWs in China few months ago? What happened to Cunanan, the facilitator of OFW travel papers to China? Cunanan should be detained without bail and indicted now. In the interest of justice, don't be a negligent or a derelect.
---
Name: Sabongero
City/State/Country: Buckhead, Georgia
IP Address: 70.173.1.195

Comments
Filipinos as whole never learn on their misfortunes It is one vicious circle and still refuse to recognize or address their problems. What need to happen is a bloody revolution. They elect officials who perform in an educated & intellectual manner. As a whole the country will continue to slide back on the economic ladder.
---
Name: deo
City/State/Country: flour city
IP Address: 74.65.15.60

Comments
"Ito ay hindi tsismis na pag-uusapan lang...walang labis, walang kulang" according to the lyrics of Fred Panopio's song. When Miss Aurora Pijuan won the Miss Universe(?) title, one night she was summoned to Malacanang supposedly to pay courtesy call on Marcos. Ngitngit ng mga demonyo!, when she entered in the study room there was Marcos in his pajamas!; she was shocked and suffered a nervous breakdown. She was able to leave unharmed. This episode was told by Aurora's mother to her neighbor (I will not name her because she was a prominent person who was once President and Director of one of the biggest private universities in RP, owned chains of Radio and TV, Dept. Stores and Restaurants) who in turned told the episode to me. I believe her.
---
Name: Phil Researcher
City/State/Country: Los Angeles , CA
IP Address: 76.174.19.149

Comments
RE: FM War hero?--FM was no war hero.. Col Gillego who was detained by FM when he declared Martial law.. Wrote a book" The Fake Medals of FM.". It was researched using American Archives .. It appears that FM the war hero was not anywhere near Bessang Pass in 1945.. Likewise Marcos Father the defeated congressman was as collaborator and friend of fellow collaborator President Jose P. Laurel..FM also claimed that he had 500 Brahman cattle lost in WWII but his war damage claim was denied by the U.S Army as Fraudulent.. There seems to be a pattern of fraudulent behavior..opening bank accounts in Swiss banks etc..
---
Name: JRH
City/State/Country: mtl can
IP Address: 173.178.230.42

Comments
Ferdinand Marcos became a dictator based on a lie. He claimed that the communists tried to assassinate his then defense secretary, & as such, declared Martial Law. However, it was later found out & Enrile later confessed that this bogus assassination story was concocted & a mere fabrication. What followed? Marcos started a purge that killed, imprisoned, & tortured all of his known political enemies & critics. That way he had a free hand & used many of his cronies as fronts or dummies depositing money overseas, investing in other countries, & converted corporate assets stolen from others. It will be an insult to bury him as a hero. He's an extraordinary crook.
---
Name: LPiF
City/State/Country: Los Angeles, CA
IP Address: 121.1.11.166

Comments
Todo/Lanao del Norte: You just made a good point why Marcos was never convicted of any crime. What you didn't realize is, all the members in our Judicial System at the time were all intimidated by him. They were all bunch of EUNUCHS. You must also remember that during that time, he was the top five richest man in the world, if not the richest, and the most influential politician in the PH! Do you have doubts in you mind he may have bought his freedom? Haha.. In regards to Makapal Arroyo, there is no question she is a copycat of Marcos! Do you disagree?
---
Name: Cupido
City/State/Country: Coppertown
IP Address: 166.137.138.27

Comments
Marcos maybe the first dead president to be buried in a public land. His presence at the Libingan will not increase traffic on All Saints Day, How many loyal followers will ay homage to the man? Not even Hawaiian Ilocanos will even bother to take the trip and place a wreath.
---
Name: As I See It
City/State/Country: SanDiego,CA/CebuCity
IP Address: 70.183.105.70

Comments
CBCP's Antonio Ledesma, the bishop of Cagayan de Oro says a BIG NO to a burial of Macoy with full military honors at LNMB. Ledesma epitomizes the bishops he represents who while at the pulpit in front of the captured audience every Sunday preaches to high heavens the value of mercy and forgiveness and yet he can not practice what he preaches! Yeah his hypocrisy reaches to high heavens! Which reminds me of another bishop, the political cardinal (Sin).
---
Name: JRH
City/State/Country: mtl can
IP Address: 173.178.227.126

Comments
In these cynical days of doubt & indecision whether to bury Marcos as a hero or not, the pure principles of morality upon which our country was founded must take an added significance. Those principles were the standard banner of Dr. Jose Rizal, Gen. E. Aguidaldo, Pres. M. Quezon, etc. At this point, if we'll allow immoral & corrupt leaders (proven) to be considered as heroes & righteous people, then, we can only conclude that the Phils is an incurable basket case. If we have to survive as a people, then, we must adhere to what's right & decent. Corrupt people has no place in the Honor Rolls of real heroes. Corrupt is corrupt.
---
Name: Adonis
City/State/Country: Carle Place
IP Address: 24.184.99.221

Comments
Pnoy made the right decision to recuse himself from making that decision to allow Marcos a final resting place at Libingan or not. As a victim of Marcos's rule he could not be a judge and jury without giving up his impartiality as president. Most departed presidents are buried in private cemeteries anyway. Marcos will be among the unforgotten at the Libingan. Don't forgive Marcos; just forget and ignore the APO is my advice.
---
Name: WDC
City/State/Country: California
IP Address: 63.193.189.0

Comments
It is not crooked vengeance to refuse to bury a dictator with full military honors who brought down his own country to her knees. Look folks what this single individual did to our country, "Marcos made our country bed-ridden with no hope to heal". You SOBs injecting God's name to convince the Filipino people to bury MARCOS with honor, it will never work. "
---
Name: JRH
City/State/Country: mtl can
IP Address: 173.178.230.42

Comments
The Marcos family & their supporters will do everything possible to bury him at the Libingan ng mga Bayani. No matter what, money still talks in the Phil Socio-political cultural setting. To start with, military officials installed Marcos in the AFP Hall of Heroes. Next, Congressman Escudero's hard campaign had already gotten 204 & counting members of congress to sign a petition to have Marcos, interred as a hero. The Marcos clan has a lot of ill-gotten wealth to use in this quest. If finally they will declare him as a hero is like declaring Nazi Adolf Hitler as a hero. Heil Macoy.
---
Name: matuling
City/State/Country: hesperia, CA
IP Address: 76.169.91.108

Comments
Why in the name of God are we being obliged by these Marcoses to give finality to the legacy of their dictator super corrupt liar father? The Marcoses are IRRELEVANT repeat IRRELEVANT to the future of the country. Their time has passed and majority of the Filipinos don't want them back. Only the money hungry politicians who still believes in the mystique of the unaccounted hidden wealth of these bad human beings who gives attention to them. Manga Ilocanos please produce one honorable politician. Puro lang kayo Marcos, Singson at Crisologos. Same crooks.
---
Name: JRH
City/State/Country: mtl can
IP Address: 173.178.227.126

Comments
Thousands of Filipinos have responded negatively to a recent survey on whether or not former Pres Marcos should be given a hero's burial. The day of reckoning will be this month of June. VP Binay will make a final decision & hoping to end the stigma against Marcos. They have been inherited & imitated by other corrupt politicians by stealing gov't procurements & other sophisticated untraceable methods: 'Stealing 101' authored by F. Marcos. Thanks to our hardworking OFWs, our economy is kept afloat by the millions of foreign currency. These OFWs are the real heroes who undergo tremendous sufferings due to family separations, loneliness, & culture shock. It will be a shame to them to honor the dark legacy of Marcos. He earned it by stealing money big time. Phooey to a fake hero.
---
Name: miguel s fulgencio
City/State/Country: marikina city
IP Address: 116.50.227.130

Comments
For reasons unknown to us, our VP has been tasked by the President to decide on this sensitive issue. Even if it has " a dam if you do and dam if don't written all over it " its a tough choice. I'm sure he has given it heavy though. It already a done deal and let the government carry out the order. Its that simple. Lets not make a big fuzz about it and give our Vice President & President some slack. They have tons of other important pressing matters to attend too.
---
Name: sbejar
City/State/Country: chicago
IP Address: 99.105.68.41

Comments
Vice president Binay seems like an airhead to me for suggesting that Marcos be given a military honor for his burial somewhere in Ilocos in exchange for a spot at the Libingan Ng Mag Bayani where his equally corrupt family wants it burried. Give me a break. Another thing, why is president Aquino being soo indecisive on this matter considering that it was his own father who was murdered which a lot of people believe instigated by Marcos. Thanks to all the OFW who put up a good fight in opposing it.
---
Name: Aiota
City/State/Country: SB, CA
IP Address: 173.55.135.114

Comments
PNoy must make a stand, show his strength and character first as President and then as the son of Ninoy who was murdered during the Marcoses' regime. What is Pinoy afraid of? The decision should not be hard. NO HONORS FOR THE MARCOS BURIAL. His family should just bury him in their own private way. End of debate.
---
Name: joshua
City/State/Country: vancouver
IP Address: 207.81.4.66

Comments
I totally disagree that F. Marcos be given full military honors. He is liar, deceiver, deceiving millions of the Filipino people. i was once a victim of those once martial law days. I cant forget those dark days in Sept 21 1972. For the VP Binay he's too soft and passive, walang prinsipyo for the millions of Filipinos.
---
Name: HMS
City/State/Country: USA
IP Address: 67.241.96.149

Comments
It's just a hopeless, dysfunctional country we have. After all the untold misery and thievery inflicted on the Filipino people, public officials led by the Vice-President no less want to honor him. Is it any wonder the Philippines is in such a bankrupt state it is in? For inspiration the Filipinos have to look elsewhere then apply there as domestics. That is all they are deemed as worth.
---
Name: Cupido
City/State/Country: Cooperstown
IP Address: 166.137.138.27

Comments
The claim that Marcos was a war hero was made-up. It was designed to create for Marcos an image larger than life. There is a saying that lies repeated often eventually become the truths. From there myths arise. There was the myth that Marcos was a great lover and golfer. If you believe all those myths are real, go back to sleep.
---
Name: Matanovic Klundt
City/State/Country: Kamloops, BC
IP Address: 207.189.234.12

Comments
Hail to the chief. Majority of the Filipinos will agree with his decision not to give military burial honors to a thief, dictator, master of deception, you name them and he has them. Now, it is a matter of waiting to see some of the Marcos cronies or even Imelda sent to rot in jail. More than 20 years since the overthrow, no decision of major cases of the Marcos Family and their cronies ever pinned down.
---
Name: Phil Researcher
City/State/Country: LA County , Ca USA
IP Address: 76.174.19.149

Comments
Re Ferdinand Marcos-- In the mid 70's my residence was in Antipolo but I had to drive to work daily to Makati Financial District. My favorite radio program while driving was Rafael Yabut..Paeng one morning made a comment that it was the birthday of FM many people are stranded because buses were used to transport people to celebrate FM's birthday. In this broadcast Paeng Yabut was basically questioning why the buses were not there so people could go to work. A few days after that the Radio program of Paeng Yabut was gone. A criminal case was filed against Paeng. "Yung patay na caso hinukay at binuhay." (continued)
---
Name: Phil Researcher
City/State/Country: LA County Ca USA
IP Address: 76.174.19.149

Comments
Re Paeng Yabut .. So Paeng Yabut had no Radio Program and a criminal case was filed against him...several months passed.. now Paeng Yabut came back to Radio.. but the difference was he now always said positive things about FM.. Apparently the criminal case against him was dismissed and he could go back to Radio but could not say anything negative against FM.. Until Paeng Yabut's death I never heard him say any negative thing against FM. That my friends was Martial Law.
---
Name: Cupido
City/State/Country: Copperstown
IP Address: 166.137.138.27

Comments
Matuling: there is no mystique or fascination with APO. those who are below 40 years old by now have no idea what Marcos has done. Only their parents remember the man. The current generation is not interested on whether Marcos is interred at the Libingan or not. It is a political issue but not to many of us older folks who are so passionate about Marcos final resting place.
---
Name: tonyO
City/State/Country: pinas
IP Address: 114.108.243.107

Comments
GFJBHEDF, there is such a thing as "DISHONORABLY DISCHARGED", A soldier dishonorably discharged from the service loses the rights befitting soldiers. Marcos, who was a soldier and a veteran and former President of Pinas, was dishonorably discharged when ousted by the EDSA I People Power Revolution. Marcos forfeited and lost his right to honor. He does not deserve burial with military honor simply because he had been dishonored, kuha mo?.
---
Name: Imelda
City/State/Country: Manila
IP Address: 14.201.66.31

Comments
You know what? To solve this problem, someone should set fire on the Marcos mausoleum so that his preserved body burns to hell where he really belongs. By giving Marcos the honor means we support the countless evil things he has done both to his men and country. His legacy has tarnished THE NAME of the once beautiful, economically sound and popular PHILIPPINES.
---
Name: Bayanko
City/State/Country: New York, NY
IP Address: 208.125.20.234

Comments
Marcos, if living today, should have been executed like Saddam Hussein. He deserves no honor, nor his wife...they should be held liable and accountable for the sufferings and pain of the families (excluding cronies) they caused the country and the Filipino people. Don't show your stupidity and craziness by giving him an honorable burial. He doesn't deserve it.
---
Name: Kulas
City/State/Country: Ilocos
IP Address: 165.214.4.21

Comments
This President should be taking all the wealth from the Marcoses and giving it back to the Country and making sure nobody loots it ever again like the Marcoses did. Concentrate on how to help stop this exploding population and minimizing poverty. Not just words like AROYO.
---
Name: 1 UP
City/State/Country: GOTHAM CITY
IP Address: 74.101.63.227

Comments
JRH: While it was true that Marcos practiced the art of corruption, he did not keep all the wealth to himself but entrusted a lot of the "loot" among his cronies. ERAP kept all the money to himself; Gloria to her husband and sons. The level of corruption Marcos enjoyed allowed him to create a political dynasty; ditto for Erap and Gloria.
---
Name: WDC
City/State/Country: California
IP Address: 64.160.201.23

Comments
Pnoy refuses to give full military honor to Marcos the number one dictator and plunderer; it is right thing to do. This is should be a reminder to those who are currently plundering our country, YOU SH#THEADS will not get away of your crimes, Filipino people will never forget!
---
Name: Mary
City/State/Country: Sydney Australia
IP Address: 203.28.106.137

Comments
This is the biggest insult that could ever happen to the Filipino people. Giving this person (Marcos) a military honour despite of the sufferings, fear and poverty he inflicted on his people! This is unreal man. Wake up Mr Binay.
---
Name: sampagita
City/State/Country: New York City
IP Address: 166.84.145.226

Comments
It seems to me that the President is so obsessed in pinning down the Arroyos and very lax with the Marcoses. The former is nothing compared to the later when it comes to the damage done to the country. What do you think is behind that, anyone?
---
Name: Phil Researcher
City/State/Country: LA County CA USA
IP Address: 76.174.19.149

Comments
RE: Heroes Burial for FM-- There are younger people here who are still convinced that FM was a Hero....Upon my rereading of some of FM..'s alleged exploits during the war..He also claims that he survived the Bataan death march.. This is an outrageous claim.. First..His Dad Mariano Marcos, a twice defeated Congressman was a Japanese collaborator.. It is very unlikely that he went to the hills during the war..His claim of 2000 Brahman Cattle lost during the war was another outrageous claim that the U.S. denied as a fraudulent claim.. Lastly he was forcibly kicked out of the Islands like Ben Ali of Tunisia. That is no hero.
---
Name: 1 UP
City/State/Country: GOTHAM CITY
IP Address: 74.101.63.227

Comments
PNL broke the news of no burial at the Libingan for Marcos. The alternative is to bury Marcos in Batac and give him the honor as past president. To me playing the TAP or 21-gun salute is not really that important. Burying Marcos puts to rest this contentious issue. I thought this would be a good compromise. The dead at the Libingan would not have to worry about having an unwanted neighbor. Binay could give his recommendation but PNoy still remains as the decider.
---
Name: tonyO
City/State/Country: pinas
IP Address: 114.108.243.107

Comments
Gene said "Yes, I want Marcos to buried in Libingan ng Bayani." Adre, you just lost. REQUEST DENIED BY P-NOY in his capacity as Pinas President.
---
Name: tonyO
City/State/Country: pinas
IP Address: 114.108.243.107

Comments
1 UP, so binabawi mo ang contention mo that Stalin was given a hero's burial because the honor after death wrongly extended was almost immediately TAKEN BACK BY THE STATE. This is my point, Marcos, the plunderer, is not a hero. He dishonored his position while in Office hence, not entitled to be honored at death. He does not deserve a burial at the Libingan Ng Mga Bayani or elsewhere with full military honors. Bahala si Imelda & family na ilibing siya elsewhere but certainly without full military honors because he forfeited his right to honor
---
Name: 1 UP
City/State/Country: GOTHAM CITY
IP Address: 74.101.63.227

Comments
People will remember Marcos for his 1081, human rights violations perpetuated by the military under Fabian Ver, and the assassination of Ninoy Aquino. People have no recollection that Marcos fathered tourism and foreign remittances by OFWs from the Middle East. High yield rice grains came out of IRRI during his term as a "benevolent dictator." Students from other countries came to the Philippines to get their education. He gave value to the word technocrat. But human emotions are more prone to remember the evil that a person does more than the good that a person had done. My question is: what have we learned from Marcos that had made us better today?
---
Name: LPiF
City/State/Country: Los Angeles, CA
IP Address: 121.1.11.166

Comments
GFJBHEDF: If you are a corrupt politician (plunderer) declaring your assets would mean digging a hole under your feet! How much is US$35 billion? That's Marcoses loot my friend! Wonder if anyone knows GMA's?
---
Name: Trust God
City/State/Country: Philippines
IP Address: 112.198.79.2

Comments
LPiF said- "…In that case, why are you defending his interest? Let's face it, Marcos's only intention was to establish a political dynasty through sheer intimidation, that's how powerful he was, and he was successful." – I'm NOT defending his interest, I'm simply emphasizing Democratic principle that an accused person is presumed innocent, until the contrary are proven beyond reasonable doubt. Again, you are wrong, because Marcos wasn't successful, (as you claimed); he was overthrown! Why don't you ask the Editorial why they didn't get the side of Binay, and Marcos Lawyers opinions, & incorporate it in their topic?
---