o commemorate Jose Rizal's 150th birthday, we look at an article he wrote that was published in parts in La Solidaridad from September 1889 to December 1890.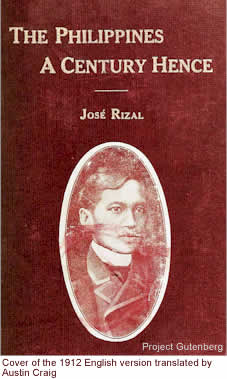 "Filipinas dentro de Cien Ańos" or "The Philippines a Century Hence," gives us a fascinating glimpse into Rizal's world 121 years ago. More importantly, it allows us to compare what he thought would happen to his beloved islands with what actually happened.
Rizal started his article by looking back, noting that three hundred years of colonial rule had severed Filipinos from their past: "They gradually lost their ancient traditions, their recollections—they forgot their writings, their songs, their poetry, their laws, in order to learn by heart other doctrines, which they did not understand...they were lowered in their own eyes, they became ashamed of what was distinctively their own."
But Rizal noted as well that "The Philippine races, like all the Malays, do not succumb before the foreigner." He then warned that if Spain hoped to keep her colonial possession, she had to give Filipinos the freedoms and reforms they clamored for. To Rizal the outcomes were almost inevitable. A scholarly individual, he pointed to history and argued that "Colonies established to subserve the policy and the commerce of the sovereign country, all eventually become independent, said Bachelet, and before Bachelet all the Phśnecian, Carthaginian, Greek, Roman, English, Portuguese and Spanish colonies had said it."
On the other hand, if Spain did acquiesce and liberalized her policies towards the islands, Rizal seems to have had no problem with the Philippines remaining a colony of Spain.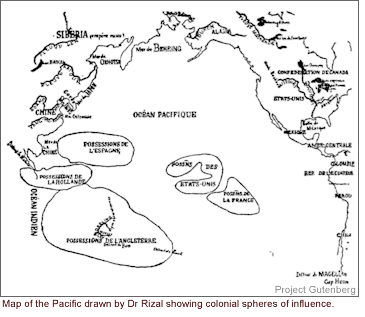 What is clear to Rizal is that change was inevitable and that Filipinos a hundred years hence would be enjoying all their rights and freedoms, either as a part of Spain or as an independent country.
Less than a decade after the article was written, Rizal was executed by the Spanish; Andres Bonifacio rose to found the Katipunan and lead an armed struggle against Spain; and the United States—which Rizal acknowledged as a rising power in the Pacific—invaded the Philippines.
Rizal of course could never have foreseen all that would happen to his beloved Philippines. He could never have foreseen its exploding population (there were roughly six million Filipinos when he wrote the article). Nor could he have foreseen the Martial Law years of Ferdinand Marcos that almost completely destroyed the fabric of Philippine society. And as a Mason, never in his wildest dreams would Rizal have foreseen the all-encompassing grip the Catholic church would still have on Filipinos keeping them acquiescent, meek and subjugated more than a century after the Spanish were gone.
As luck would have it Project Gutenberg just recently released "The Philippines a Century Hence" as a free downloadable ebook LINK. This translation of Rizal's work was published by the Philippine Education Company in 1912. The ebook also includes the following: excerpts from Rizal's friend Fedor Jagor, a German explorer and ethnographer whose work Rizal first came across as a student in the Ateneo; Rizal's Farewell Address (not his Last Farewell); Rizal's defense against accusations of treason; and Rizal's remarks about the armed rebellion he was accused of leading.
Saved Comments from Our Readers
---
Name: GFJBHEDF
City/State/Country: Hercules
IP Address: 67.188.19.40

Comments
Based on this editorial, Dr Jose Rizal was a historical chronologist, and based on his analogy of historical facts hereby divulged, conceived the future, and had the gift of precognition. WOW! Did he see the RCC becoming the dominant religion, and running all 3 branches of Gov't by its people?
---
Name: JRH
City/State/Country: mtl can
IP Address: 173.178.228.84

Comments
The principles & ideas which Bro. Jose P. Rizal espoused & exemplified to which he unselfishly dedicated his life are timeless & timely because it's Masonically inspired. Our motto is the 'Brotherhood of men under the fatherhood of God'. Rizal said.."we must enlighten the people first. If everyone in the nation is loyal, devoted, benevolent, faithful, righteous, harmonious, & peaceful, then, sooner of later, the Phils will become so." Bro. Rizal used his brave pen to make his countrymen realize that the only country that we could ever own is the Philippines - not Spain - & to make them conscious of, as well as fight for, their rights & liberties. This relevance of Bro. Jose Rizal's ideals & principles to the Phils today is true & it's prevailing. Long live the Philippines in 2011.
---
Name: 1 UP
City/State/Country: GOTHAM CITY
IP Address: 74.101.63.227

Comments
The execution of Jose Protacio Rizal by the Spanish government inspired 6 millions Pinoys to raise arms against their white colonizer; the assassination of Benigno Aquino, on the other hand, reawakened the minds of 50 million Filipinos whose freedom was taken away from them forcibly by a brown- skinned dude from Batac - Ferdinand Edralin Marcos. Democracy was revived and regained but then economic opportunities were still considered elusive by some 76 million Pinoys (who consider themselves either poor or borderline-Social Weather Station survey).
---
Name: JRH
City/State/Country: mtl can
IP Address: 173.178.228.84

Comments
Bro. Rizal was one indio, 'one gem of a man,' who did not cower nor wilt under pressure. He employed his courageous pen to expose the Spanish colonialists' abuses. He endeavored to unite fellow Filipino expatriates in Europe ( Bros Marcelo del Pilar, Antonio Luna, Mariano Ponse, Rafael del Pan, G. Lopez-Jaena, etc. They all belonged to Lodge Solidaridad in Madrid, Spain). They spearheaded the movement of redeeming the 'lost Eden' from Spain's stranglehold. Bro. Rizal urged all Filipinos in the principles of Pagkakaisa, pakikisama, pagkabayani, pagsasarili, at pakikipagkapwa-tao on free & equal terms in the total development of all Filipinos.
---
Name: JRH
City/State/Country: mtl can
IP Address: 173.178.228.84

Comments
On the same context we must also mention Bro. Andres Bonifacio, founder of the Katipunan, who patterned this revolutionary organization masonically. Bro. Bonifacio introduced the so called "Pacto de Sangre' where members were required to make incisions on their arms & sign their names in hteir own blood. This was not a Masonic practice. Another prominent mason was Gen. Emilio Aguinaldo who said.."the successful revolution of 1896 was masonically inspired, masonically led, & masonically executed, & I venture to say the First Phil Republic of which I was its humble president, was an achievement we owe, largely, to Masonry & the Masons.
---
Name: Trust God
City/State/Country: Philippines
IP Address: 112.198.79.222

Comments
Kung tunay na makabayan si Rizal, bakit hindi niya sinulat sa Tagalog yong kanyang mga Tula? Bakit banyagang Kastila ang kanyang ginamit? Why can't the Editorial explain why Rizal became a Mason? What is the belief/teachings of Masonic? "Freemasonry exposed" Bakit hindi ninyo binangit yong grupong "Rizalista"?
---
Name: JRH
City/State/Country: mtl can
IP Address: 173.178.228.84

Comments
Aside from Jose Rizal, is there any other Filipino today who can claim that he's a poet, artist, scholar, physician, journalist, linguist, traveler, reformist, son, brother, lover & friend rolled in one package? He also wrote two novels..Noli me Tangere & El Filibusterismo. As a mason, he inspired other Filipinos to join Masonry & establish a truly national organization which stretched from the Ilocos to Zamboanga, bringing together under one umbrella people who belonged to different regions, had dissimilar customs & spoke diverse dialects..Tagalogs, Pampangos, Ilocanos, Bicolanos, Visayans, etc. learned to embrace each other as brothers. Brotherly love, relief & truth as its main tenets.
---
Name: Manuel C. Diaz
City/State/Country: Antipolo City
IP Address: 180.191.59.45

Comments
If TonyO is correct that it was Rizal who influenced our national character by just looking at our bad character Rizal must be a bad influence. BTW Rizal was an OFW.
---
Name: WDC
City/State/Country: California
IP Address: 75.38.77.45

Comments
Yes, Filipinos forgot what Rizal and Bonifacio were fighting for-300 years of Spanish occupation in the Philippines. Filipinos are still having these mental Kastila attitude: "Me, me, me ……". Filipinos need to follow Andres Bonifacio during his time: "Get rid those politicians who are robbing the country".
---
Name: 1 UP
City/State/Country: GOTHAM CITY
IP Address: 74.101.63.227

Comments
History tells us that betrayal and conspiracy had marked the relationship between the Spanish occupiers and the indigenous people of the country. And even among Pinoys themselves. Humabon became the first king of be converted into Christianity and the start of Pinoy's subjugation for 300 years. Humabon suggested to Magellan to whack his rival Datu Lapulapu. but when Magellan became the victim himself in the Battle of Mactan, Humabon wanted to poison the remaining Spanish soldiers. Now fast-forward in history to the assassination of Antonio Luna and Andres Bonifacio. And the political rivalry between the Marcoses and the Aquinos with the latter ending up being assassinated in the tarmac.Did you know that the person who stabbed Bonifacio was a Makapagal?
---
Name: JRH
City/State/Country: mtl can
IP Address: 173.178.228.84

Comments
Bro. Jose Rizal, with his martyrdom, proved that the forces of repression & brutality can slay the dreamer, but slay his dreams they can not. All his life he demonstrated his sincere desire to work for the liberty, unity, & prosperity of his country. Thus, Filipinos could then capably participate on free & equal terms in the realization of the Brotherhood of Men under the Fatherhood of God..where there are no slaves, executioners, nor oppressors; where right & justice, not might & wealth. prevail, where all Filipinos live in peace & harmony as one big family; where He who reigns is GOD. So mote it be.
---
Name: LPiF
City/State/Country: Los Angeles, CA
IP Address: 121.1.11.166

Comments
WDC & Trust God: In every movie there has to be a contra bida and in this particular one, you both are the one, hehe, wonder if you are related. Your line of thinking, without a doubt have similarities. You both are critical of Jose Rizal. TG has questioned why Rizal did not use Tagalog in writing his novels. How good would that be to the Spaniards? Wasn't Spanish our national language at the time? WDC, stated, Rizal's novels are too lenient to follow, blah blah...did you mean shallow or meaningless? Both of you have just slandered a dead respectable man that represents you and the rest of the Filipinos. You should be ashamed of yourself.
---
Name: Steve R
City/State/Country: California
IP Address: 24.6.69.178

Comments
In his "Mi Ultimo Adios" Jose Rizal began his farewell with "Farewell my adored land… With gladness I give you my life" During EDSA I, in front of 1000s & 1000s of Filipinos who were demanding that the Marcoses give up their tyrant hold of the country; the 1st Lady, Imelda standing next to F. Marcos, showed an act of covetousness as she sang "dahil saiyo, nais kong mabuhay". Generally, the Marcoses tried just about anything & everything bcoz with her D.S. song I don't think she was singing it for FM"s ear (smile). Jose Rizal is our national hero & the Marcoses - let your mind wonder to wherever, whatever words you can think of & fill in the blanks _______, & ______.
---
Name: JRH
City/State/Country: mtl can
IP Address: 173.178.228.84

Comments
During the Spanish times, if one criticized the authorities in the Phils he was branded a filibustero & if named, was enough to cause his detention or deportation. Filipinos were sneered at as INDIOS, or members of an inferior race. Expatriates in Spain joined masonry cuz lodges in Spain were open to all nationalities regardless of race, color, or religion. They were able to established their own lodge (Solidaridad) which was composed exclusively of Filipinos. They advocated for reforms in the Phils. During the Spanish colonial era, Rizal's two novels Noli me Tangere & El Filibusterismo inspired dissent among peaceful reformists & armed revolutionaries (katipuneros) against the Spanish authorities.
---
Name: JRH
City/State/Country: mtl can
IP Address: 173.178.228.84

Comments
Trust God, In Rizal's time, the Filipinos as a nation were unknown in Europe. Most of the Filipinos living in Europe particularly Spain wanted to be known for what they were or thought they were. Spanish is the language of Spain, the two novels were meant for Europeans as well as the Filipino people. It's about prejudice, fanaticism, & injustice to our people that Rizal & others wanted to expose to the world. In fact, the NOLI had two predecessors as a Filipino novel: Burgos' 'La Loba Negra' & Paterno's 'Ninay,' all of them written to arouse the feelings of all Filipinos.
---
Name: mockingmaya
City/State/Country: taft avenue, manila
IP Address: 67.181.5.21

Comments
Public school teacher: What would Dr. Rizal think about the less-fortunate public school students today? Do you think you're different from rich & elitists private students? Public school students: Rizal would probably say that the quality of public education is losing by default & public policy has failed to support human capital: it produces politicians who are devoid of the basic understanding of what constitutes a strong, secure & enduring democratic institutions. Public school teacher: But they say that rich private students are more intelligent than public school students? Public school students: Not really, they have more books, computers, chairs, desks, influence, & their corrupt parents (politicians) have squandered the public treasury & stole money from us.
---
Name: WDC
City/State/Country: California
IP Address: 75.38.76.197

Comments
If Rizal and Bonifacio were alive during Marcos time, the difference between them was that Rizal would advise Marcos like a young child and Rizal would say to Marcos: "Please my son, don't do it again", for Bonifacio he would have chopped that SOB Marcos using his machete.
---
Name: As I see It
City/State/Country: SanDiego,CA/CebuCity
IP Address: 68.101.255.62

Comments
Somebody says, "our national hero, Jose Rizal was their creation for making him a martyr." I beg to disagree and I don't think that's the way it was in the case of Rizal. Martyrdom carries with it how man has been brought up, his character, principle. In the first place he was very fortunate to have that kind of pleasant environment that he had, a lot sib-lings to play with and his parents were considered well-to-do and could afford almost anything available for the up-bringing of their children - most especially to satisfy the innate precociousness and curiosity of the little boy Rizal; his enthusiastic parents especially his mother (an excellent teacher) really did a good job in teaching him (done usually through bedtime story-telling), instilling in him the good values in life.
---
Name: 1UP
City/State/Country: GOTHAM CITY
IP Address: 74.101.63.227

Comments
With almost 100 million Filipinos, the problem of the country goes beyond political issues anymore but rather social and economic. Money corrupts honest people, deprives the poor but hard working people access to opportunities, education and health. JP Rizal and Andres Bonifacio are irrelevant in this generation. The judicial system is broken and the laws that Congress writes are violated more often than followed.
---
Name: tonyO
City/State/Country: pinas
IP Address: 114.108.243.107

Comments
MARNY V said "Rizal's expose' of Friars' abuso militar led him to become our national hero & our existence in the eyes of the world. OUR NATIONAL HERO…" ADRE, RIZAL HAS NEVER BEEN OFFICIALLY PROCLAIMED AS OUR NATIONAL HERO and this is very unfortunate because he's generally recognized as such. Very ungrateful ang Pinas governments since Rizal's execution, who failed to issue such official proclamation albeit there are laws which cited, but not proclaimed. Rizal as Pinas National Hero.
---
Name: deo
City/State/Country: flour city
IP Address: 74.65.4.29

Comments
I have read with interest the "Trial and Martyrdom at Bagumbayan" of Jose Rizal. From the time of his arrest in Barcelona up to his extradition to Manila and eventual execution, why were there no outcries from Europe and including the Americas from people with whom he had in contact? In fact he denied having anything to do with the Katipunan and the revolution.
---
Name: GFJBHEDF
City/State/Country: Hercules
IP Address: 67.188.19.40

Comments
Philippine history, to date, has no equal to Dr Jose Rizal. His German friend, Dr Adolph Meyer, described Rizal in one word, "stupendous." Documented studies showed Rizal to be a "Polymath." One with ability to master many skills/subjects. Rizal was an ophthalmologist, sculptor, painter, educator, farmer, historian, playwright, journalist, writer, poet. he dabbled in architecture, cartography, economics, ethnology, sociology, dramatics, martial arts, fencing and pistol shooting. A street in Germany was named after him, and is there today.
---
Name: Manuel C. Diaz
City/State/Country: Montclair CA
IP Address: 76.174.219.92

Comments
To 1UP that is always the problem if you have been a slave for the rest of your life you always look for an "amo" employer. Why can you not make a living being self-employed overseas? JP Rizal was a Doctor sa mata Rizal did not need to be employed by some master to make a living.
---
Name: 1 UP
City/State/Country: GOTHAM CITY
IP Address: 74.101.63.227

Comments
Rizal's "Noli Me Tangere" (English translation: Don't Touch Me) was written partly in Spain, France and Berlin. As historians would recall Rizal was fearful that this book will never go in print and in circulation for lack of money until someone offered a loan of P300. On March 21, 1887, however, the first book reached Blumentritt. The book was an account of the life of the Tagalogs. Many were critical of Rizal's writings and Rizal was forewarned that if he ever goes back to the country he would lose his head. The Spanish government and the Church considered his book subversive and heretical in that order respectively. Archbishop Pedro Payo condemned the book. Those who read the book were told that they were committing mortal sin.
---
Name: 1 UP
City/State/Country: GOTHAM CITY
IP Address: 74.101.63.227

Comments
CONTINUE ... the Spanish government banned the book. What happened thereafter was history. Funny but some bishops of today are threatening supporters of RH Bill with ex-communication (like the curas of yesteryears). Deja Vous!
---
Name: Kalabog
City/State/Country: Daraga
IP Address: 64.40.183.70

Comments
ACCORDING TO Deo: " Historians identify him as Filipino of insect decent yet his full name is Jose Protasio Rizal Mercado y Alonso Realonda. See? No insect there. " Well can he be Mexican? Andalusian? or anything anywhere being Spaniard if you base it according to names?
---
Name: WDC
City/State/Country: California
IP Address: 66.126.39.7

Comments
Philippine Schools need to replace Rizal subjects into STEM (Science, Technology, Engineering and Math) similar to here in the US if Philippines wants to become competitive. Filipinos must not go back and try to learn those SOB Spanish oppressors three hundred years ago. Japan, Korea, and China can compete against the US economically because of these four subjects not because of the colonial mentality that one individual like Rizal had to advocate.
---
Name: JRH
City/State/Country: mtl can
IP Address: 173.178.228.84

Comments
This editorial mentioned Dr. Jose Rizal's principles & ideals of masonry may cure the prevailing ills in our country cuz it's a well known fact that masons were the guardians of freedom or the votaries of liberty. So, individually & collectively, we must contribute to the improvement of our country's citizenry. We latter-day Filipinos can best honor the memory of our foremost national hero; Dr. Jose Rizal, who was falsely accused of high treason, of rebellion & sedition, & of forming illegal associations. The stupid friars portrayed him as "a German spy, an agent of Bismarck, a protestant, a mason, a witch, & a condemned soul etc." His fate was sealed, prejudged, & was sentenced to die. However, he didn't bend either to tyranny nor to death.
---
Name: GFJBHEDF
City/State/Country: Hercules
IP Address: 67.188.19.40

Comments
Since arriving in MCD's islas de los ladrones, the whore of Babylon had been abusing the natives indiscriminately to date. Dr Jose Rizal wrote of them in his books; Noli and El Filibus.. In fact, they are now investors in all kinds of enterprises. They now drive Sport Utility Vehicles, and been accepting millions of pesos, doled to them by government in power, prior to elections. Their corruption, Rizal wrote about, got better thru the years. They are now so good in their art of corruption, that their sheep now defend them and their corruptness, instead of condemning them. The whore of Babylon lives on, and fat, in MCD's isla de los ladrones.
---
Name: JRH
City/State/Country: mtl can
IP Address: 173.178.228.84

Comments
The relevance of Dr. Jose Rizal's ideals & principles to the Phils are still true today. Unfortunately, as we know, our national hero did not live long enough to see the realization of his most cherished dreams but if we, too, live & exemplify those same ideals, then we'll render ourselves deserving, to some small degree of the priceless heritage bequeathed to us by Dr. Jose Rizal. His message was simple: pakikisama, pagkabayani, pagsasarili, & pakikipagkapwa-tao. To date, we as a nation are exerting all our efforts to build our country on those simple guidelines. Now, it's a challenge for us to contribute our individual & collective shares to that effort.
---
Name: JRH
City/State/Country: mtl can
IP Address: 173.178.228.84

Comments
History tells us that, in our national struggle for independence & nationhood, the roll of honor leads with the deeds, sacrifices, & heroism of Freemasons - Dr. Jose Rizal, Apolinario Mabini, Marcelo H. del Pilar, Andres Bonifacio, Antonio Luna, Mariano Ponce, Graciano Lopez-Jaena & Gen. Emilio Aguinaldo. There are other Filipino masons whose names & contributions are too numerous to list. These men cannot be bought or cowed; who put character & virtue above lucre & loot, who stood for priciples no matter what or however unpopular; who devoted themselves entirely & exclusively to the welfare of the community & the Philippines.
---
Name: JRH
City/State/Country: Montreal, Canada
IP Address: 173.178.228.84

Comments
Could you imagine had Dr. Jose Rizal been born with TV, copying machine, computers, cel phone, credit cards, the internet, etc. He'll be the most popular dude on Facebook, twitter, etc. He could also be the no.1 blogger here at PNL. He'll be criticizing all types of scoundrels, including thieves, smugglers, & swindlers elected into office. He'll urge Filipinos for a good, clean, & honorable gov't & the essence of true public service; sincerity & good deeds, honesty, integrity, & truth, no lies; obfuscation & corruption, not dishonesty & hypocrisy in public service.
---
Name: Adonis
City/State/Country: Carle Place
IP Address: 24.47.137.142

Comments
When the formal armed uprising started against Spain, Rizal had to negotiate a deal with the government to live in exile in Cuba as a physician. Rizal was never an advocate of armed revolution. He preferred the Gandhi approach. There were similarities between Ninoy and Rizal in some ways. The death of Ninoy at the tarmac should be a day to be remembered and honored.
---
Name: Adonis
City/State/Country: Carle Place
IP Address: 24.47.137.142

Comments
Leaders that were born from countries occupied by foreign powers or invaders and who had left their homeland and lived in the western world get enlightened. They see things in a different perspective. I could cite hundreds of leaders who came back to their countries of birth to lead and become heroes when they die. Undeniably Rizal was one of them.
---
Name: 1 UP
City/State/Country: GOTHAM CITY
IP Address: 74.101.63.227

Comments
I recommend this website: LINK. It is a good read about Jose P. Rizal. All the while many, if not all, thought that Rizal's friends here and abroad were unaware of what was happening to Rizal, Deo was wrong and so was I. Rumors really travel fast even without digital devices. It was a good example of the value of social networking long before Twitter, FaceBook or MySpace came into being. It is great to Google to get your facts straight than rely on ignorance and unreliable recollection of history.
---
Name: 1 UP
City/State/Country: GOTHAM CITY
IP Address: 74.101.63.227

Comments
Whoever makes negative remarks today about the Rizal family (like G&C) needs his head examined. That person does not know his country's history and had no recollection of what was taught by his history teacher in grade school.Here are the facts: "The Rizal Family was considered one of the biggest families during their time. They're also one of the richest families in their hometown, the fact that JP Rizal was able to study medicine in Europe (he was secretly supported by his brother Paciano) tells us already that the family was well-off. He travelled to Madrid alone in May 1882 and studied at the Universidad Central de Madrid where he earned the degree, Licentiate in Medicine."
---
Name: 1 UP
City/State/Country: GOTHAM CITY
IP Address: 74.101.63.227

Comments
CONTINUE ... As history tells us the Spanish government took revenge by stripping the family of their possession because of Rizal's critical and subversive comments in his book.
---
Name: deo
City/State/Country: flour city
IP Address: 74.65.4.29

Comments
TonyO: I guess, what I'm saying is what did Jose Rizal do for the good of the Indios that made him a national hero? His travels did not do any good that should make him a hero. There are more deserving of that honor. He even denied he was a revolutionary. Even his two books at the time were no good either to raised the fervor of the Indios to revolt; "historians", kuno, let it morphed into something which it were not. Sure it made some party (the friars for one) pissed but it did not shake the very foundation of Spain's colonial empire, or he would not have been shipped back to Manila after his arrest in Spain. The whole thing was a local affair! He was a patriot, alright, but not a national hero.
---