any local government officials in the Philippines are arrogant, tyrannical and for the most part feel they are above the law. Public service in the Philippine context is a convoluted mix that includes: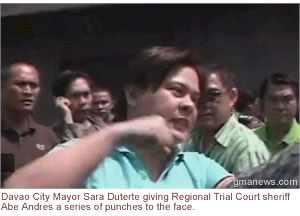 a sense of entitlement; a pretense at humility; and a well-entrenched belief that public officials have all the right to lord it over their constituents.
A case in point is the violent outburst of Davao Mayor Sara Duterte who was caught on video repeatedly punching the local sheriff who was simply doing his job. An individual of such explosive temperament has no business in public office and instead should be required to undergo long-term anger management therapy. Sadly, Sara Duterte's actions disgraced not just herself but all Filipino public officials in the eyes of the world.
From the Crisologos in the north, to the Ampatuans in the south, local officials run their jurisdictions like virtual fiefdoms. And their sons and daughters learn from the start to act with even more impunity as was the case then with Vincent Bingbong Crisologo who led a band of armed goons that burned down the towns of Ora Este and Ora Centro in 1970, to Andal Ampatuan Jr. who is currently being tried for the 2010 Maguindanao massacre that took 57 lives.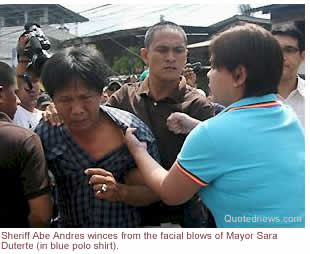 With the rise of the internet, YouTube and cell phones that can take pictures and videos, local officials might no longer be able to act in public with the brashness and impunity as they once did. But this might just make them more guarded and hide their nefarious deeds well away from any public scrutiny.

They only way to eradicate this problem is to come down hard on local officials who overstep their bounds. Gloria Arroyo did nothing during her term as president to reign in these local politicians/warlords and the Maguindanao massacre is the end-result of that neglect.

If President Benigno Aquino III is to succeed where all others before him have failed, he must come down hard on all Local officials who abuse their power and overstep their authority. And for democracy to truly take hold in the Philippines, the Filipino people must understand that public servants are there to serve them and not the other way around.

POLL: Should Mayor Sara Duterte be punished for assulting Sheriff Abe Andres?

Saved Comments from Our Readers
---
Name: ludy
City/State/Country: naples, fl us
IP Address: 205.188.116.196

Comments
I condemn Mayor Duterte's actions against the sheriff. She's extremely wrong. If she did that to my brother or my father, I will hit her back. The sheriff had legitimate reason to do that to her but he's a nice guy. Regardless of her reason, she just cannot inflict physical harm on anyone. She should not remain in power. Her behavior was wrong and it's not acceptable.
---
Name: Luigi
City/State/Country: Los Angeles, Califor
IP Address: 99.162.84.109

Comments
The Philippines is the way it is, recognized around the world as is and lost the respect of other countries because of the people running the country. They are all selfish, self centered, uneducated criminals. This is very embarrassing to hear all the bad comments of other countries re: our culture. It is time the People of the Philippines do something about these abusive Govt. officials. Duterte should be removed from office and tried for assault.
---
Name: Maya
City/State/Country: guam
IP Address: 218.186.9.249

Comments
SARA DUTERTE can do whatever she wants because she has the power to do so, not only her but mostly G.O. kaya hinde surpresa yung ginawa nya. B4 elections they are good, after election they are BAD.
---
Name: Angie Flores
City/State/Country: Brampton, Canada
IP Address: 99.229.145.221

Comments
Something should be done for this uncalled-for behavior. Shameful to call her a public servant! Calling for President Aquino, truly an abuse of power.
---
Name: Banzuki
City/State/Country: Illinois
IP Address: 71.239.74.156

Comments
I used to deal with these kinds of people when I was a young lieutenant in the Phil. Constabulary. The government should remove their PNP, AFP, and civilian securities, then we'll see how they'll react. The reason why they act so tough is because of these armed bodyguards.
---
Name: WDC
City/State/Country: California
IP Address: 75.38.65.24

Comments
Philippine leaders are arrogant? Not only arrogant but they are idiots not knowing how to lead. We need to tell these idiots enough is enough and if they don't behave, we Filipinos who live overseas will go back out there and take over the whole stupid place. Filipinos overseas are smarter and more reliable than those in our country. We need change folks; we have enough brain power and resources to kick these bastards out if we are united.
---
Name: 1 UP
City/State/Country: GOTHAM CITY
IP Address: 74.101.63.227

Comments
Because our counterparts in the Philippines are intimidated by Rodrigo Duterte, who has that reputation as a "vigilante", and a daughter who has an anger management issue, we should ramp up the criticisms about the family. We must increase the pressure until Sara is suspended or relieved. We should raise the issue also if Rodrigo could stay as acting mayor since he had already maxed his term as mayor.
---
Name: Cupid
City/State/Country: Loveland
IP Address: 166.137.137.223

Comments
Someone said that : "give the man some powers and you will see the change in him." You saw that Marcos, Gloria, the Ampatuans and the Dutertes, to name a few.
---
Name: Ralph Velasco
City/State/Country: CA
IP Address: 199.33.32.40

Comments
Katulad ng bayang naming Tayug, Pangasinan. Ang mga ABUSADO ngayon doon ay ang mga classmates and batchmates ang kasalukuyang Mayor. They shoot the street lights, they maul people, they do drive-by shooting at houses and even kill the people who are against the Mayor's corruption. People are afraid to talk, scared to speak of what they really know about what is the truth that happening in our town Tayug, Pangasinan. Improvement is their front but, CRIME AND VIOLENCE IS RAMPANT.
---
Name: Manuel C. Diaz
City/State/Country: Montclair CA
IP Address: 76.174.219.92

Comments
This Duterte hullaballoo is really moronic in the first place the land that is the subject of the eviction notice was acquired by a Chinoy thru a tax delinquency auction. If the government of this "Robin Hood" Dutertes were really for the poor how come the City of Davao did not buy the property then distribute the property to the poor? ISLAS DE LADRONES IS GOVERNED BY MORONS AND IDIOTS.
---
Name: Helen
City/State/Country: Cebu
IP Address: 61.18.186.135

Comments
Maraming sumoporta sa mga Duterte ng Davao, talaga namang takot sila dahil kahit bastos ang leader nila okay pa rin sa kanila. Tandaan nila na ano man ang tinulong sa kanila yon ay pera ng bayan at hindi sa mga duterte. mahirap talaga ang takot, kung sabagay maykatwiran silang matakot dahil kung manalita ang vice mayor mukhang sya lang ang kinikilala ng davao. Kaya hindi ako magpunta ng davao ayaw kong itapon ang pera ko sa kanilang lugar, since wala akong sosyo sa mga negosyo nila okay lang mag dirty finger sya oras-oras hangat sa gusto nya at hangat maputol ang kang mga kamay. Pwee"' nakakasuka sya, yabang.
---
Name: Phil Researcher
City/State/Country: LA County , Ca USA
IP Address: 76.174.19.149

Comments
RE: Mayor Sara Duterte-- The Vice Mayor is Rodrigo Duterte.. The Judge who issued the Order of Demolition is another Duterte said to be a relative...There is a headline which says Judge Duterte sides with the Mayor because he states there is Rep. Act 7279 which says that when the people subject of the demolition Order are under privilege they are given a 30 day Notice... Judge You should have given that Order to the Sheriff.. "Order .. Subject to the provisions of RA 7279 the Sheriff is hereby Ordered to Execute Demolition Procedures subject to a 30 day Notice. Judge you were responsible for the mistake not the sheriff. Under what law was Sara authorized to beat up the sheriff?
---
Name: LPiF
City/State/Country: Los Angeles/Mla
IP Address: 121.1.11.166

Comments
If the demolition order was in fact illegal, according to Regional Trial Court, then why wasn't the Judge who issued the order instructed the sheriff or made him be aware of the 30-day notice to have avoided such commotion? How stupid can these public servants be for missing such basic provision of the law? This is an unacceptable demonstration of negligence? They all need to be fired and pay punitive damages for the consequence they brought to the community. There is no room for this kind of stupidity!
---
Name: Eloy
City/State/Country: LA
IP Address: 200.104.46.203

Comments
This mayor is a good boxer but not a humble public servant!
---
Name: Ralph Velasco
City/State/Country: CA
IP Address: 199.33.32.40

Comments
That's what the people get when they let candidates buy their votes every election. Oppressor leaders, dictators and dynasty. PHILIPPINES!! We need to CHANGE! You NEED TO CHANGE by yourself. Do not to SELL your votes in every election. CHOOSE THE RIGHT CANDIDATE AND THE PERSON WHO IS NOT ABUSIVE IN POWER TO HURT PEOPLE AND TO CORRUPT YOUR MINDS.
---
Name: jony palabrica
City/State/Country: u.s.a.
IP Address: 67.169.128.180

Comments
Judge Isaac Rubillo is a big kiss-a*s to the Dutertes. Those people who demonstrated at Rizal park were at the urging of baranggay lt. de Dutertes and sheriff Abe Andres and his families were already warned of the consequences. Hey, the majority of the people of Davao are just plain scared because the Dutertes control the DDS and the NPA's. I think Duterte is an honorary commander of the NPA... if Aquino is truly serious in getting rid of corruptions he should start with this kind of government official
---
Name: Louie
City/State/Country: Manila
IP Address: 111.235.89.83

Comments
Philippines=shame if this remains unpunished. The Dutertes know well that a great job in Davao does not give them the right to punch and show their middle finger. They do not have respect for their constituents and their positions.
---
Name: jose cinco
City/State/Country: calbayog samar phil.
IP Address: 74.138.175.93

Comments
Yong midle finger sa u.s.a. masama. si G. Bush nag victory sign sa Australia galit ang mga Australiano ibig sabihin ang nanay mo ay (whore) sireng pa san waray later. Kung middle finger tuwang tuwa sa kanya ibig sabihin cool ka. Hay buhay
---
Name: EJ Flores
City/State/Country: Las Pinas
IP Address: 112.203.4.13

Comments
This display of violence by Mayor Sara erased all the legacies that her father brought to Davao. There is no justification for this arrogance. What is bad in here is trying to justify the wrong by bringing in placard carrying supporters to tell us "there is nothing wrong here and this is an acceptable practice". Shame on those who support the evil just because they benefit from it.
---
Name: JAY SANTIAGO
City/State/Country: HONOLULU, HAWAII, US
IP Address: 64.75.193.66

Comments
These politicians always move at the last minute. There was a notice that there will be a demolition on a certain day why didn't they move earlier. It's obvious this is a political stunt on the part of the mayor...think about it.
---
Name: bbbsoltera
City/State/Country: SD, CA
IP Address: 99.231.223.106

Comments
Where else can you find such horrible acts but in P.I. It is about time that Phil implement a new law for Mayoral term. Make it one (3 or 4yrs) term for a mayor. Like for president only one ( 6yrs) term. No more dynastic system like Ampatuans, Dutertes etc. These families monopolize the political system in their provinces so much so that people are scared to challenge them. They act in the guise of being pro-poor, but actually these people are arrogant, abusive, lawless. Poor Filipino people, really pathetic the poor Filipinos coz they're so gullible to believe that these politicians are concerned about them.
---
Name: Susan
City/State/Country: Manila
IP Address: 61.18.186.135

Comments
Sabi ni vice mayor Duterte ang dirty finger daw ay freedom of expression. sabi nya ibigsabihin nito talagang galit sya at dismayado sa nangyari. Ang masabi ko kay former mayor and currently vice mayor ng Davao wala syang respito sa ibang tao, gusto mo lang ikaw ang hari. Alam namin na may nagawa kang maganda, pero may nagawa karing pangit. Remember pera ng bayan ang ginagastos mo dapat respito naman sa kapwa. Kung gusto mong maging hari umalis ka pwesto mo at ipagyabang mo ang saliri mong pera para masabi nating totoong tao ka. (Pagamit ng dirty finger sa isang vice mayor ay nakakasuka). Yak, nakakahiya ka.
---
Name: Jess
City/State/Country: Australia
IP Address: 220.239.145.16

Comments
When a fly is on top of carabao, he thinks of himself bigger than the carabao. This is what happens in government. People in top positions think they are the rulers and kings. This has got to be stopped!!! The said Mayor should be punished by suspension and disbarment for her actions. She should be ashamed of herself.
---
Name: JRH
City/State/Country: Montreal, Canada
IP Address: 173.178.230.24

Comments
The Duterte clan has no class & no conscience whatsoever. If they are truly & faithfully discharging their duties as leaders of that city, then they should also be accountable for their actions. The arrogant & defiant statements & the use of the middle finger by the father & his son for all to see worldwide was inappropriate & indecent for any public official. Instead of being role models for other Filipinos, they act like goons & bullies. Others are trying & striving to set good examples for sincerity, honesty, & compassion in public service but not the Dutertes who are crude, rude, & rural.
---
Name: WDC
City/State/Country: California
IP Address: 75.38.77.42

Comments
We should blame to ourselves for not doing anything to these abusive politicians. PNL mentioned the Crisologos: Bingbong Crisologo burnt the whole Ora Este Barrio, and what happened after that, Filipinos installed him as a Congressman of Rizal Province. What a bunch of JERKS and now we have this Duterte punching a cop, I won't be surprised if the Filipino people will install her to become the President of the Philippines or make her a hero. You did it to yourselves folks, don't complain.
---
Name: Chito
City/State/Country: Califonia
IP Address: 69.109.119.159

Comments
What happened in Davao city , is pure bullying and no respect for other human beings. And one thing that I don't understand is why some people think that kind of act is ok. It makes me sick ...
---
Name: WDC
City/State/Country: California
IP Address: 75.38.67.19

Comments
One of the reasons that people in the Philippines are lawless because of their leaders are also lawless. Start prosecuting these lawless leaders maybe and maybe there are still is room of change in the Philippines.
---
Name: Andres
City/State/Country: Paco, MNL
IP Address: 69.232.75.253

Comments
Abused people in the Philippines are often times left without any recourse for justice because they don't have anybody to rely upon to help them push justice. How can you sue when the threat of being killed by abusive authorities is very real? The killings in Davao are not figments of imagination yet the Philippine Justice system, if there ever is really one, has not even done anything about it. Do you think any poor person in Davao would have the courage to go against the mayor, vice mayor who have been known by the Davao people to be behind the killings? Of course he does not want to file a complaint, He does not want to be killed! What is the government doing about it??? Why can't the government itself file a case against the abusers?
---
Name: Phil Researcher
City/State/Country: LA County, Ca USA
IP Address: 76.174.19.149

Comments
RE: Anna Duterte, Mayor of Davao city I watched the beating by Mayor Duterte on Youtube and also watched a TV interview.. The reporter asked: "Did you contact the Judge who issued the demolition order".. No , I did not contact him but he is my relative"... Why does the mayor have to say that. The Judge was her relative... There was no remorse.. as if she hadn't done anything wrong. What a country.. only in the P.I.
---
Name: Nestor Florencio
City/State/Country: Auckland,new zealand
IP Address: 124.197.32.158

Comments
Yes! Only because these local officials thought they will stay in power for all eternity... it is about time to pass an ANTI-DYNASTY LAW. ALL FOR ONE TERM! ONE TERM FOR ALL! Mr. Aquino ...sir this is about the future of the country! end this vicious cycle of political dynasties...it is killing our democracy...our future...as a free country..
---
Name: Cupid
City/State/Country: Loveland
IP Address: 166.137.138.26

Comments
Pnoy' Robredo, and De Lima should not let this opportunity pass to punish Sara Duterte if they want to convince the people they are serious in going after corrupt and abusive people in public service.
---
Name: Manuel C. Diaz
City/State/Country: Montclair CA
IP Address: 76.174.219.92

Comments
The system in Islas de ladrones really sucks. Mayor Duterte is a squatter coddler while the court officer was paid by the land owner to implement the eviction order. All institutions in islas de ladrones are manned by ladrones.
---
Name: 1 UP
City/State/Country: GOTHAM CITY
IP Address: 74.101.63.227

Comments
The aggressive behavior of Sara is reflective of the father and other siblings of Rodrigo (the father). The daughter Sara punches, the father pulls the finger (either with a gun or simply points the forefinger) and the son raises the middle finger. Their behaviors are caught in video while talking or while being interviewed in the media. There is a parallel here with the Ampatuans of Maguindanao. As citizens of a civil society, we must condemn these behaviors. They are disgusting. The family sets terrible examples of public service and therefore they should be "fired."
---
Name: Clint
City/State/Country: Long Island, NY
IP Address: 68.194.139.204

Comments
This is embarrassing. I'm ashamed to say I'm from Davao and be associated with this kind of behavior, not to mention from the Mayor of Davao city itself. I was there 2 weeks ago with the big flood. Maybe she got irritated with all the blame given to her after the disaster, with the local government lack of disaster plan. Still, there's no reason to hit somebody in public or private setting.
---
Name: tonyO
City/State/Country: pinas
IP Address: 114.108.243.107

Comments
Davao City Mayor Sara Duterte should be penalized by the DILG and by the Court for her criminal attack against the Court Sheriff, Abe Andres, who was simply implementing the court order to demolish the squatter colony in Barangay Soliman in Agdao district. There is no need for a tedious investigation of this case because everything is "res ipsa loquitur" or speaks for itself; she's guilty. She and her vice mayor father, former mayor Rodrigo Duterte) who publicly supported his daughter's illegal act behave in the way of a gangster boss that has no place in public administration. This is good only for the Mafia.
---
Name: 1 UP
City/State/Country: GOTHAM CITY
IP Address: 74.101.63.227

Comments
The Davao City incident is a test on how the nation handles abusive public officials. We are fed up with corruption and human rights abuses. Will Pnoy remain passive and detached again (as in the Luneta hostage taking)? Will DILG acquiesce and DOJ fold its arms? If the three elements I mentioned take active part and act in unison or harmony, booya they got my respect again!
---
Name: Elly
City/State/Country: California
IP Address: 71.110.6.241

Comments
She may not understand that a public servant's duty is not to serve fist punches. If fist punching is her passion, being a Mayor is not the position for her. She should challenge Manny Pacquiao in the ring and she'll get more money than being a Mayor.
---
Name: Steve R
City/State/Country: California
IP Address: 24.6.69.178

Comments
S. Duterte should have been arrested & jailed per 2010 Philippine Supreme Court Decisions on Criminal Law and Procedure. August 16, 2010.Art. 14. Aggravating circumstances. Excerpts. "The following are aggravating circumstances: That advantage be taken by the offender of his public position. That the crime be committed in contempt or with insult to the public authorities. That the act be committed with insult or in disregard of the respect due the offended party on account of his rank, age, or sex. That the act be committed with abuse of confidence or obvious ungratefulness." Maginoong Pangulo ng PH heto na po ang pagkakataon upang ipatupad at patunayan ang hangaring "matuwid na landas".
---
Name: LATEPOCA
City/State/Country: SOMEWHERE IN TIME
IP Address: 121.1.30.222

Comments
It is high time NOW that CONGRESS pass a LAW to BAN FAMILY AFFAIRS running the local governments.. Instead of giving good advises to HIS MAYOR daughter, ACTING MAYOR the FATHER, had indeed inciting rebellion by throwing dirty fingers in the nationally televised press conference....What the hell in going on PNOY of your TUWID NA DAAN??? MAGSAMPLE KA NAMAN PNOY......
---
Name: Val A. Subas
City/State/Country: Manila, PHL
IP Address: 68.108.156.18

Comments
There is no such thing called "JUSTICE" in the Philippines. Democracy and Justice only applied to well connected, politician, elitist, rich, etc..but if you are none of these above you are screwed. Why, because monkeys wearing suits are running the country.
---
Name: Todo
City/State/Country: Lanao del Norte
IP Address: 58.71.45.66

Comments
The police escorts of Mayor Atty. Sara Duterte must be dismissed from service because they failed to prevent the mayor from hitting the sheriff. They appeared even to have held the hands of the sheriff so that the mayor may accurately hit her target. But even if we assumed that they did not participate or they were caught off-guard, the fact is that they failed to arrest her right after she hit the sheriff. These police officers must have known that any person committing a felony in their presence may be arrested even without a warrant and the rules are not held inoperative simply because it was the mayor who did the assault.
---
Name: ferdot
City/State/Country: fl.
IP Address: 98.82.109.161

Comments
Itong si Mayor Sara masyadong bully at abusado, kawawa naman si Sheriff Andres. Masyado namam niya inabuso sa publiko. My God anong klaseng public servant ka? We have a banana republic. My heart goes to Sheriff Andres, the guy was just doing his job.
---
Name: Manuel C. Diaz
City/State/Country: Montclair CA
IP Address: 76.174.219.92

Comments
Mayor Duterte of Davao should be charged with assault and obstruction of justice. And if found guilty she should be disbarred. The rule of law should always be supreme.
---
Name: Cupido
City/State/Country: Copperstown
IP Address: 166.137.137.38

Comments
I can't wait for the administration of BS Aquino to demonstrate to the entire nation its sincerity in cleaning up the mess of the past that created mayors and governors who are behaving like emperors or kings. Show us Pnoy that you have a titanium and not cardboard spine.
---
Name: Visayana
City/State/Country: Richmond,B.C. Canada
IP Address: 50.98.64.125

Comments
This disgraced character of a Filipino Mayor was being broadcast on our National TV. I don't think we are proud of her act.
---
Name: 1 UP
City/State/Country: GOTHAM CITY
IP Address: 74.101.63.227

Comments
Sarah Duterte has a serious anger management issue. She should be suspended if not relieved of her position as mayor of Davao City. She must serve time or undergo probation of which one of the conditions is attending anger management classes. Abe Andres, on the other hand, must receive protection from the NBI or national police otherwise he ends becoming another statistics in the bloody murders of that city.
---
Name: Al M
City/State/Country: toronto
IP Address: 174.117.126.212

Comments
Are you telling me this "lady" is still sitting in her position as mayor? She should be suspended immediately while being investigated. The evidence is so clear. Typical Philippine justice. How about that governor in Kalinga? Gee, nothing surprises me anymore when it comes to Philippine politics. The corruption. . . unbelievable and nothing, yes nothing is being honestly done. The people, when are you going to say "no more" or are you just corrupt?
---
Name: GFJBHEDF
City/State/Country: Hercules
IP Address: 67.188.19.40

Comments
Like father like daughter, temperamental, mayor Sara Duterte unleashed four rapid straight punches to the face of a hapless court sheriff who outright ignored and disobeyed her order to wait for her arrival before demolishing poor people's shanties in Davao. Both actions, Sara's and the sheriff's, are wrong of course. Sara more so. We expect her to be prosecuted. The court sheriff may be dismissed from his job, and will sue for assault, battery, and damages. > LINK
---
Name: joaquin
City/State/Country: california
IP Address: 98.244.20.89

Comments
What that mayor from Davao did is abuse of authority. what a shame! she was trying to earn some "ganda" points for re-election purpose. she must be removed from office or else it's gonna be a bad precedent.
---
Name: Marie
City/State/Country: Batangas
IP Address: 80.109.30.155

Comments
Sara Duterte has a strong feeling that nobody can sue her because she belongs to a powerful clan. President Aquino must do something to this kind of official who can destroy the good image of his administration. PNoy should not look back what Dutertes have done for him last election but let the justice prevail, the right thing to do for the country. Wipe out dirty politicians to start a new government that he can be proud of all over the world. Sara was very wrong and must be punished.
---
Name: popskief
City/State/Country: Lebanon
IP Address: 217.163.49.51

Comments
She must have been wielding so much power in her turf to have acted like that in public despite any provocation by the other party.
---
Name: Todo
City/State/Country: Lanao del Norte
IP Address: 58.71.45.66

Comments
There is no justification for Mayor Inday Sara of Davao to hit Sheriff Andres as the latter was merely performing a ministerial function. Being a lawyer, Mayor Inday Sara Duterte mush have known that even the mayor is not above the judicial processes. If we take the words of her father, Rodrigo, that she is not afraid to be disbarred and disciplined administratively by the DILG, then that would be the highest form of arrogance of a person of her kind. Let, therefore, the Supreme Court look into the matter and impose, when appropriate, upon Atty. Sara Duterte, penalty which she deserved as an officer of the court.
---
Name: Todo
City/State/Country: Lanao del Norte
IP Address: 58.71.45.66

Comments
It is a challenge to the Supreme Court to act on a matter of disrespect to a judicial process exhibited by no less than an attorney and and a mayor, Atty. Mayor Inday Sara Duterte. When she punched the sheriff while the latter was performing a ministerial function, she put her being a lawyer in the line and may be disciplined by the SC. Yes, it is true that she became popular even more because what she did, but her acts put in jeopardy the integrity of the Courts in Davao City. Her politics should not be allowed to subvert the Courts.
---
Name: raffy magsaya
City/State/Country: san jose, california
IP Address: 98.234.178.6

Comments
That mayor from Davao City have just created a unbeatable political opponent. If that guy decided to run for mayor against her, she will be history.
---
Name: Sunny
City/State/Country: Manila
IP Address: 61.18.186.135

Comments
Sara Duterte hindi bagay maging mayor dahil madali pla syang magalit, at ka babaeng tao nanapok ng lalaki. bagay sa kanya boxing. at saka bakit ba mag-ama na sila ngayon. ang tagal ng ama nya naging mayor tapos ngayon vice mayor then sya mayor parang kanila na ang lahat tapos wala pang pasensya. dapat may karapatdapat na parusa sa kanya. pero yong sinapok nya takot yata magdemanda. sayang. hahaha.
---
Name: JRH
City/State/Country: Montreal, Canada
IP Address: 173.178.230.24

Comments
Not brutal arrogance but accountability of our gov't officials must prevail. By their acts shall they be judged. The action of lady Mayor Duterte was immature & stupid. It's normal in the Phils cuz thru the years, we have elected all types of crooks, scoundrels, including thieves, swindlers & scalawags. What was displayed in public & was instantly shown via the internet world-wide, was a criminal assault to a govt employee. Sad to say that Filipinos have adopted a different standard for criminal-politicians who are rich & well-connected. Examples: Ampatuans, Leviste, Marcoses, & the Arroyos..an endless list.
---
Name: Ramon
City/State/Country: Cebu
IP Address: 61.18.186.135

Comments
Vice Mayor Duterte mayabang at parang mamamatay tao. Sabi nya "'punch me and I shoot you'' parang nanakot talaga sya. Gusto na nilang hawakan ang Davao, ayaw na nilang may iba pang maging mayor sa lugar nila. Kaya mag-ama naka-upo tapos ngayon nanapak pa. Kung may kasalan ang tao e ' mayor naman ang anak nya sana pinatawag nalang sa opisina at doon kinakausap para maayos ang problema. Bagay sa mag-ama alisan ng power.
---
Name: JRH
City/State/Country: Montreal, Canada
IP Address: 173.178.230.24

Comments
Our new 'Pambansang Kamao' should be the new title of Mayor Saraman Duterte. It's clear that most politicians in the Phils can literally get away with murder, kidnapping, salvaging, assassination, intimidation, & the art of boxing in public without remorse or restitution. The many Human Rights victims in the Phils are proof-positive that our politicians will resort to violence & murder to defeat the opposition or political rivals. If, in the act of any reconciliation, Pres. Aquino will fail to exact justice, then these shameful actions will continue. We should have role models to look up to & not goons, guns, & gold of abusive politicians & tomboy-like ruler of a city.
---
Name: JRH
City/State/Country: Montreal, Canada
IP Address: 173.178.230.24

Comments
The kanto-boy approach of the woman who looks like a man or Mayor-enforcer Duterte is not only barbaric but totally unacceptable no matter what angle you look at it. It's also horrifying & shocking to know that the father or Vice-mayor advised his daughter not to apologize or give in to any pressure whatsoever. This arrogance & power-drunk leaders are common traits of most politicians in position of power in the Phil. She also added that she'll not apologize even if it means disbarment as a lawyer or expulsion from office & it doesn't really matter to her. Just like a spoiled brat she won't admit that what she did was wrong & inappropriate against a gov't employee just following a legitimate mandate.
---
Name: lee buyagan
City/State/Country: ksa
IP Address: 121.54.54.53

Comments
Kasuhan na ang walang kuwentang babaeng ito, she showed too much arrogance to the whole world. Dapat sa kanya kastiguhin na kaagad. She thought she was a hero pero hindi bagkus isa siyang katawa-tawa na nagpamalas ng walang kahiyaan. Like a T-Bird fury!!! hahaha!
---
Name: 1 UP
City/State/Country: GOTHAM CITY
IP Address: 74.101.63.227

Comments
The assault on a sheriff, who is an officer of the court, by the current mayor, Sara Duterte, of Davao City had gone viral. Despite that, Sara denies the incident, gives stupid excuses that nobody buys, and is unapologetic of her actions. This is a blatant display of arrogance by an elective public official. DILG and DOJ must step to the plate and file administrative and criminal charges respectively even if the victim, Abe Andres, refuses to file charges. I know that the latter won't for fear of being "salvaged" by the father of Sara, Rodrigo Duterte. The goonish behavior of Sara Duterte is lamentable. MARIA CLARA MUST ROLLING ON HER GRAVE!
---
Name: Sonny Medina
City/State/Country: USA
IP Address: 99.191.219.118

Comments
Sara Duterte and her father think that they are above the law. If the local sheriff cannot do their job as instructed by the court, then it is possible that another Ampatuan Massacre could happen in Davao and we can call this "The Duterte massacre". SHAME ON YOU SARA AND RODRIGO DUTERTE.
---
Name: JRH
City/State/Country: Montreal, Canada
IP Address: 173.178.230.24

Comments
The poor sheriff should have deflected the impact of the punches of this violent terminator-mayor Duterte. I think the sheriff should sue the pants of this aggressive mayor. I have the impression that she wanted political points with her constituents by acting this way. The Sheriffs' Confederation of the Phils. should condemn her actions. She was surrounded by male bodyguards when she assaulted this poor guy. The mayor & her bunch of goons whose poor record & performances exemplify nothing but bad, ineffective & wrong course of action. They should arrest her for her violent & unexplained behavior. The sheriff won't file charges cuz he's scared. It only proves that power corrupts & the small Juan de la Cruz will always suffer.
---
Name: Cupido
City/State/Country: Copperstown
IP Address: 166.137.137.38

Comments
It is much better if Rod Duterte zips his mouth. Nobody believes what he says anyway in defense of his daughter.
---
Name: Carlos
City/State/Country: Manila
IP Address: 61.18.186.135

Comments
Yes' Sara Duterte kailangan syang parusahan, kasi sya ang mayor pero hindi nagampanan ang magandang pamamalakad sa lugar nila. kung hindi sya parusahan lalong hindi maganda sa bayan natin ang ignorin nalang ang ginagawa nya, gayong alam natin na mali ito. Sya at ama nya hindi magandang sample sa mga susunod pa nating tatakbong local opisyal sa ibat-ibang parte ng Pilipinas.
---
Name: Marie
City/State/Country: Batangas
IP Address: 80.109.30.155

Comments
Ano pa bang dapat pagusapan sa Fact Finding Team ay kitangkita naman ang nangyari. Naka-video ang pangyayari, nanapak ang mayor, mga alalay niya tinulungan pa si Sara na iharap sa kanya ang sheriff para ipabugbog, pinalapit ang sheriff na akala mo donya. Walang namagitan bagkus pinaboran ang mayor. Dapat ba yong pang-aabuso ng mayor na yan? Ininsulto niya ang korte. Napakayabang, maldita talaga. Siguro alam nilang mananalo na naman sila sa election. Uso pa ba ang lagayan? at may takutan? Sana wala na!
---
Name: Marie
City/State/Country: Batangas
IP Address: 80.109.30.155

Comments
Mayors Lim and Gatchalian expressed support to Sara Duterte maybe because they have the same character. Being powerful is one cause of disunity. I think Sara should not remain in her position to stop KKK as PNoy implemented this system. Duterte is like Binay who doesn't want to give others the chance to serve the country. What will they do with the money?. Maybe what happened to Sara is one way to stop them from grabbing positions.
---
Name: LPiF
City/State/Country: Los Angeles/Mla
IP Address: 121.1.11.166

Comments
Marie: I agree that Mayor Duderte's demeanor is uncalled for and deserves to to be disciplined. Being a mayor does not give her the license and a right to assault anyone, let alone a public officer doing his job. This incident could easily have been handled professionally without the media being involved. This incident without a doubt, have undermined her credibility as a public servant. The people of Davao deserves apology for her actions. They don't deserve a bully serving them. ANOSAYMO?
---
Name: Manuel C. Diaz
City/State/Country: Montclair CA
IP Address: 76.174.219.92

Comments
To those who are after the head of Sarah Duterte Mayor of Davao City particularly Marie of Batangas go home to Islas de ladrones and file a case against Mayor Duterte in the Sandinganbayan or in the RTC it seems that the clerk of court is reluctant to file a case against Mayor Duterte. Then ask for God's help.
---
Name: Marie
City/State/Country: Batangas
IP Address: 80.109.30.155

Comments
Hindi muna pinakinggan ni Sara Duterte kung ano ang sasabihin ni Andres, kaagad niya sinapak . Wala namang alam na magkakagulo doon at tinupad lamang ni Andres and kanyang trabaho. May court order na dapat sundin. Ang naging problema ay ang mga taong nagtatanggol sa kani-kanilang karapatan. Normal yan sa mga taong inaakala nilang sila ay naapi. Pero, nagpadalos-dalos naman itong si Sara na akala mo barumbada at pinairal ang kakayahan dahil nagmayabang na siya ay isang mayor. Hindi tama yan dahil hindi na niya binigyan ng karapatang magpaliwanag si Andres. Di ba ang isang lawyer ay pinakikinggan ang bawat isa sa kaso? Sobra talagang nag-underestimate ng kapwa. Alisan na yan ng lisensya!
---
Name: Marie
City/State/Country: Batangas
IP Address: 80.109.30.155

Comments
Sara Duterte is now popular around the world. I saw her in CNN and how she did hit the Sheriff. The arrogant champ of Davao - "Pacquia".
---
Name: 1 UP
City/State/Country: GOTHAM CITY
IP Address: 74.101.63.227

Comments
As I understood from Sara Duterte's case she might face administrative, criminal or civil case. Administrative could come from DILG; criminal from DOJ; civil from the aggrieved party (Sheriff Andres). It's also possible all could happen sequentially. (Tony0 could comment anytime). As far as I know (VIEWED us PERSPECTIVE) this case is simple battery (assault) but could be elevated to aggravated assault (that carries a much stiffer penalty) because the victim is an officer of the court. Any argument made by the father, Rodrigo Duterte, carries no weight in justifying the action of her daughter for it is bias. Let us put an end to this type of Ampatuan- like or Duterte-like behavior of elected officials. SHAME! SHAME! SHAME !
---
Name: deo
City/State/Country: flour city
IP Address: 74.65.4.29

Comments
But I can't blame Mayor Sara Duterte-Carpio for punching the sheriff. I would have done the same to the sheriff. Even to me (in the picture at least) the sheriff looks like one of the "illegal" occupants he was trying to evict! A person of his stature should dress better than that to be recognized. As I said in my other posting, even a necktie will scare the hell of anybody (at least in RP). In the U.S. Jehovah's Witness goes house to house with ties and it doesn't make any difference to people, hehehe. If you know what I mean. Besides, it's in the genes of Sara Duterte-Carpio. His father is Rodrigo Duterte! He does not need an introduction, right?
---
Name: deo
City/State/Country: flour city
IP Address: 74.65.4.29

Comments
In the Philippines, to be abusive is one of the fringe benefits of being an official (and their scion) as PNL editorialized. After all it is "what am I in power for?" culture. It's the culture of Pinoys. Who ever holds the "batuta" has got the power.
---
Name: Samuel
City/State/Country: Davao
IP Address: 74.14.60.34

Comments
The Mayor is the People's representative, and acts as a proxy to the People's wishes. The Sheriff is the People's servant, and and acts to serve and protect the People's interests. Clearly the Sheriff was not serving the People that day, and the Mayor was. The Mayor let her exasperation take control of her emotions, and temporarily lost her composure. But the Mayor WAS doing her job. The People clearly wanted the Sheriff to handle the situation in a different way and he refused. The Mayor was then put in the position of having to first alter the Sheriff's actions, and second, calm a large crowd of citizens pushed to the point of rioting. The Mayor accomplished both tasks with expedience. I commend her for her unwavering support of her People's dignity.
---
Name: Samuel
City/State/Country: Davao
IP Address: 74.14.60.34

Comments
Comparing the actions of Mayor Sara Duterte to the actions of warlords such as the Ampatuans is nothing but a joke. One is acting in the best interests of her constituents, and the other is terrorizing an entire population! Talk about sensationalism! The Police use non-lethal (and lethal) force to achieve their objectives all the time and the Mayor simply gave the Sheriff a taste of his own medicine. Good for her!
---
Name: Davey
City/State/Country: Canada
IP Address: 96.49.69.168

Comments
You are right they are the servant of people, so think of what Sara Duterte did is she not protecting the people when she ask the sheriff to delay for just to 2 hrs the demolition, as she want talk to those owners of those houses in the squatter area to avoid a worst confrontation that will lead to a worst situation, this move by Sara D. demonstrate her concern to the peoples. Viva to the action of this Mayor, I salute you Mayor SARA D. of Davao City, PH.
---
Name: As I See It
City/State/Country: SanDiego,CA/CebuCity
IP Address: 68.107.126.100

Comments
PNL again shows its shade of strong BIAS when it samples only one particular local official (Duterte) on the two pics it graphically depicted on that one particular incident; without even considering the background of the story especially the SC decisions on the alleged violations of Mr. Andres in the past. For me the UNTOUCHABLE political kingpin Mr. Chavit Singson deserves more to be the best exemplar in this category of local officials who have the propensity of taking matters onto their own hands.
---
Name: eugenesis
City/State/Country: phil
IP Address: 93.190.188.11

Comments
Just looking at the video, it's no brainer that the mayor let loose those punches in dismay to the sheriff decision to start the demolition with out her presence that cause violence and disorder. The sheriff should have wisdom and humanitarian consideration knowing that the mayor is busy with relief operation in the affected area by flood in the city. All she want is just 2 hours of delay so that she will personally supervise the demolition as local chief executive. The people will not listen to the police nor the military they only listen to the mayor whom they elected. The city gov't already have the relocation for the affected families. The sheriff could have waited, its not about life and death for him. the result violence occur in the area that could be avoided
---
Name: Bobot
City/State/Country: Hawaii
IP Address: 67.52.66.146

Comments
Yes, when I'm looking in the news, its was so kind of very desperate witnessing of that incident. Just because you're in the power being a mayor and I'm hundred ninety eight percent sure she was wrong by using her power and what she thought she is the queen of all and she really misused what she got from people. Why just because you have that and now you overpowering everything? She wasn't right at all. To Mr. President: I would appreciate more what you are doing right now but if you can do something about what this mayor did to that poor person, please Mr. President
---
Name: 1 UP
City/State/Country: GOTHAM CITY
IP Address: 74.101.63.227

Comments
It has been reported in the papers that the mayor of Davao City, Sara Duterte, assaulted a sheriff who was enforcing the court's order to demolish some houses in the city. A sheriff Andres is an officer of the court. Assaulting an officer of the court is a felony but the mayor thought otherwise; hence, no need to apologize. That is brazen arrogance to me. Criminal charges must be filed against her by the DOJ. DILG must take action because her public demeanor is indicative of abuse of power. She must serve time and pay restitution for her action against sheriff Andres. Sara Duterte must be removed from office. A strong message needs to be sent to other mayors and elective officials that Ampatuan-like or Duterte-like behavior is not acceptable. The Dutertes think they own Davao City.
---
Name: Alexis
City/State/Country: Philippines
IP Address: 121.54.2.148

Comments
For me I think I agree with Mr. Randy David analysis that because our society is still feudal and the immense gap between the poor and rich as well as the weak institution we have ESP. the judiciary are the root causes of abuse being perpetrated to the great no. Of our people, the masses. Kaya kampi ako Kay mayor Sara nagmamadali yong sheriff mag demolish parang nabigyan ng may-ari ng lupa.
---
Name: deo
City/State/Country: flour city
IP Address: 74.65.4.29

Comments
The grassroots is the political base of most politicians. Mayor Sara Duterte-Carpio is not the exception who only reacted when her base was about to be evicted by a sheriff who might also be in the employ of a private individual. I understand, according to Davao local news reports, the "illegal" occupants were occupying a private property. I may also do what the Mayor did if a person claiming to be in authority but doesn't prove it to me. Check this out: While as a young "lover" in Manila I strolled with my love at the Muni link when a person confronted us for "scandalous" behavior in the Muni Link and said he is a cop. Wham! right in the kisser and he was out cold for good. If he was a cop, he should have proved it. See the Mayor did not do any different.
---
Name: Arlene
City/State/Country: Cebu
IP Address: 61.18.186.135

Comments
Sara Duterte dapat alisin sya sa pwesto, at sana sa iba pang mga opisyal ng bansa kapag lumabag sa batas huwag patawarin,lalong lang kasing yumabang. kung anong kasalan syang pagbayaran para naman tumino na tayo ng sa gayon gumanda naman ang bayan natin. Ang laki ng pilipinas pero maraming mahirap, di ba dapat mas mayaman pa tayo kay sa ibang mga karatig na bansa, pero dahil sa mga abusadong opisyal sa atin salpak tayo sa kahirapan. Mga opisyal ng governo na sa tingin nila sila ang hari at silay mamatay tao dapat bigyan ng karapatdapat na parusa.
---
Name: Gago Gago
City/State/Country: Ilongo
IP Address: 166.250.71.238

Comments
When public officials think of themselves as master, instead of servants of the public they serve, behavior as such becomes common. such display is a product of officials assumptions that they have birthrights, superior in mind, lots of money, socially mobile, etc. but they are not as good as the guy or girl next to them. when either elected or appointed, they claim or occupy lofty status, as so they think. Their thinking becomes screwed like they are greater or better than others. the truth is they aren't worth a centavo since the people pay their salary. So take away the salary, and they will act differently. They will act accordingly let them serve pro bono.
---