n Monday, July 25, 2011 President Benigno Aquino, III delivered his State of the Nation (SONA) speech and started off by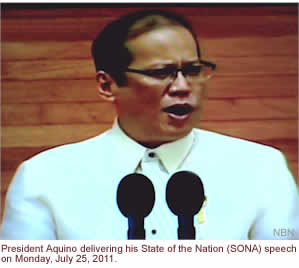 reminding Filipinos that he put an end to the "wang-wangs" that have pervaded Philippine thoroughfares since the late dictator Ferdinand Marcos rammed his "Martial Law-New Society" down the country's throat in 1971.
"Wang-wangs" or police car sirens were used extensively by those in power when driving around the country's roadways (usually with uniformed motorcycle escorts leading the way). Other cars were pushed aside and traffic lights disregarded as these speeding convoys with their flashing lights and blaring sirens muscled their way through clogged streets. The "wang-wang" had come to symbolize the sheer arrogance and utter disregard for the common man by those in power. As the president noted in his speech; it was as if their time—those with "wang-wangs"—was more important than anyone else's and they had the right to barge through traffic while everyone else was forced to sit in it.
On his first day in office Aquino put an end to the use of "wang-wangs" by banning them outright except for police and emergency vehicles. Ending the "wang-wang" mentality of Filipinos on the other hand will take more time and effort because it has been engrained in us for centuries.
For over three hundred years our Spanish colonial masters showed us indios how those in positions of authority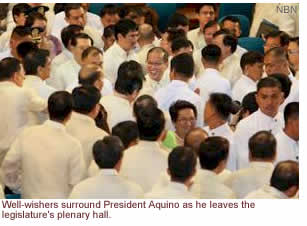 should behave and how we had no right to complain about anything. Thus in today's Philippines you see Filipinos in any position of authority, from a lowly Barangay Tanod to a high national official, lording it over the rest who must forever acquiesce and accept their sorry state without complaint—until they in turn gain power and can lord it over someone else. Thus there are no "public servants" per se in the Philippines, only public tyrants who use their position to gain power and wealth and keep it for themselves their relatives.
President Aquino seems to be aware that it will take time to change the Filipino's "wang-wang" mentality. He must therefore continue to lead by example and come down hard—truly hard—an those who abuse their authority. Only when the "wang-wangs" inside all of us are gone will the Philippines have public servants who truly serve the public and not themselves.

Saved Comments from Our Readers
---
Name: Leandro D. Quintana
City/State/Country: Hawthorne, Ca. 90302
IP Address: 166.250.76.64

Comments
Cory Aquino, in those months immediately following the People Power EDSA revolution, had both the political and moral capital to effect many changes by "ruling by decree" which the Filipinos would have accepted because of her personal integrity. Instead, what did she do? No decisive action. No grand vision. What she did was to "restore" the empty shells of "democracy". And the most hollow and useless of these shells was the Congress. Restoring our Congress cannot and should not be construed as a "restoration" of democracy. In truth and in reality we never had a true and functioning democracy. And Congress was the power base for the oligarchy. And they continue to rule today and we are indeed in the same, if not worse, rut as when the Marcoses ruled.
---
Name: WDC
City/State/Country: California
IP Address: 69.229.249.68

Comments
If Filipinos try their leaders in a cage like what the Egyptians doing to Mubarak, then they need to build the "Mother of all Cages". 99.9% of politicians in the Philippines are corrupt.
---
Name: ronald ryan
City/State/Country: sacramento ca, usa
IP Address: 75.42.83.156

Comments
35 years ago I left for the USA. last year I went back to visit--omg! the Philippines is deteriorating. Garbage everywhere you go, traffic is so bad, extreme smog, beggars in every stoplight, roads so bad. Twice we had people power and there is no change. We need a new government. Number one problem: population. Just too many human beings in such a small country. Politician do not care. Solution? There is none.
---
Name: JRH
City/State/Country: Toronto, Ontario
IP Address: 174.91.77.243

Comments
Justice for all. No one is above the law, no matter how rich or powerful. This PNL editorial are powerful statements indeed. The accused, however, are all ignoring this condemnation. So, bring them to trial just like Mubarak whose fall from power & prosecution have resonated throughout the Middle East. The new People power movement must come from a new kind of activism & advanced technology. Online posts, text, cell phone videos, & social networks must spearhead this movement. Before, People Power stopped the advancing armored columns along Edsa by sheer volume. This time we can manage it via the internet..People power the modern way.
---
Name: Mar Aquino
City/State/Country: Manila
IP Address: 217.125.168.185

Comments
The difference in the Philippines is, after people's power the so called Marcos wealth could not be accounted for by the Cory government. What was curious however was the number of instant millionaires that could not account for their rapid rise to wealth.
---
Name: Joe Raymundo
City/State/Country: Hong Kong
IP Address: 112.119.219.115

Comments
As far as I can remember, it was the South Koreans who were able to imprison their presidents (2 former generals of the armed forces) after their own people's power a few years after our own people's power. We even proclaimed our country as the most politically matured country in Asia. Now where are we compared to South Korea? Oh yes, we are among the most corrupt in the world - and our government questions the accuracy of the report.
---
Name: As I see It
City/State/Country: Cebu City/SD,CA
IP Address: 68.107.109.30

Comments
I agree with Deo's & GFJBHEDF's observations respectively, "PNL missed the reasons why PP of Pinoys escaped bloodshed, while Egyptians suffered...", "there were no footage Marcos' soldiers shooting down non-violent protesters." And if I may add, Macoy did actually give a clear order to his generals to fire only when fired upon first by RAM soldiers. According to Gen. Ver's son Col. Irwin Ver (PMA class '70 topnotcher, chief of Pres. Sec. Guard) in his memoir they were only ordered by Macoy to strengthen Malacañang defense perimeter, despite the urging of his Joint Chiefs of Staff to launch military actions vs. the rebel soldiers; the presence of Phil Marines at Edsa was to discourage rebel forces, not to chase & shoot them down.
---
Name: Jeff Lopez
City/State/Country: San Diego, CA
IP Address: 75.215.119.235

Comments
Where is the Filipino people's sense of outrage? Despite all the charges of corruption committed by GMA and her minions you have yet to see the people's indignation and outcry. Is it because Filipinos are truly docile and lazy? Do Filipinos really care about their country? Or are they really more concerned about their personal plight to worry about the national interests?
---
Name: Elmer Apacway
City/State/Country: La Trinidad, Benguet
IP Address: 174.7.73.82

Comments
I am tired of hearing about People Power at a drop of a hat. True, PP got rid of a tyrant but the whole gamut of his influence was relatively left unscathed. PP stopped right there and then, never thought of purging the 'sleepers' as well who were well-entrenched inside government and big businesses. The result? After two decades, the Philippines remains the same: poor, corrupt and still singing the PP anthems. I hope we have now a president who sees beyond the haze and has the balls to initiate the full meaning of people power.
---
Name: Jim
City/State/Country: Canada
IP Address: 24.71.148.43

Comments
What has changed. Juan Ponce Enrile is still around he is like a chameleon, changing his colours often. He does seem to have the ability to sniff the direction of the winds. Imelda is a congresswoman, Bong Bong is a senator. The current President and one of his opponents in the election are both members of the Cojuanco family. A convicted plunderer former President is allowed to run again and comes second and his son is made to be a powerful senator. You get what you deserve, if you keep electing these people.
---
Name: Kalabog
City/State/Country: Libog Daraga
IP Address: 64.40.183.70

Comments
To the Editor: Ur- " No one is above the law, no matter how rich or powerful."- Of course, that is without saying should be the case. But (a big BUT) remember that in RP - we have multitudes of high priced well educated shysters and mouth pieces supported by clever media handlers-- so guess what? Those rich and powerful can afford them. AND we are a nation of people with proud "religious" mind set that believe in "forgiveness and turning the other cheek"--- public opinion are easily swayed by appealing to the people's idea of Christian AWA!! Too many godly and naive Maries in our society.
---
Name: deo
City/State/Country: flour city
IP Address: 74.65.6.243

Comments
I am glad there are a few who knew the history of Pinoy People Power (PP). I mean why it was a bloodless revolt. That's why there is no way it like the recent PP from Asia to the M.E. What is regrettable is that no one directly paid for the cause of Pinoy PP. Pinoy can only hope that after the Philippine Press rights were restored by the PP, it is now the responsibility of the Philippine press to pay back the PP by keeping always in the highlights the criminal acts of the public officials charged of these dastardly behaviors.
---
Name: WDC
City/State/Country: California
IP Address: 67.123.19.80

Comments
Filipinos lost their chances when they let Marcos go free. If they just made Marcos an example by either hanging him in public or putting him in prison for life together all his cronies, Philippines could be a better country now. However it is not yet too late, Filipinos must and must support Pres Aquino of his best intentions to clean-up the government.
---
Name: Manuel C. Diaz
City/State/Country: Montnclair CA USA
IP Address: 76.174.219.92

Comments
Philippines aka Islas de Ladrones is entirely deferent from Egypt. In Egypt you have the Pyramids in the Philippines aka Islas de ladrones you have the Pyramid Scam.
---
Name: Peter
City/State/Country: Detroit
IP Address: 108.98.160.160

Comments
"Filipinos might see themselves as compassionate and prefer to let bygones be bygones, but when they let the guilty go without so much as a slap on the wrist, they embolden a new crop of tyrants, plunderers and thieves." ----- Well said !!! But Filipinos are not all compassionate, specially those in power. The truths are (1) they are afraid of their life because it is easy to take someone life in the Philippines than in other countries (2) they themselves have a full closet of dirty laundry and are afraid to be dug up. A scheme that most government officials try to protect their kinds. I have observed that country for the last 40 years. The kind of mentality of the people made the country a hopeless case unless they go thru a major transformation by education.
---
Name: 1 UP
City/State/Country: GOTHAM CITY
IP Address: 74.101.63.227

Comments
We cannot compare Arabs and Filipinos in the way they treat their leaders after they have fallen out of power. Arab's kind of justice (Sharia Law) is harsher that Christian's. Christians are more humane and forgiving than their Muslim counterparts when they sinned against society. Muslims stone women who commit adultery and hang or behead their men when they commit felonies. Rulers in the Arab world obtain political power through the barrel of a gun. When they fall, they really fall flat on their faces. Pinoys still have a soft heart! THEIR PATIENCE IS BOUNDLESS. Just look at Erap and Gloria.
---
Name: Kalabog
City/State/Country: Libog Daraga
IP Address: 64.40.183.70

Comments
Editorial waxing wishful fantasy -"Filipinos deserve closure. And it should never be too late to bring the guilty to justice. No one is above the law, no matter how rich or powerful. " SAD TO SAY not realistic in Filipino society. Marcoses are in power/ Enrile not even slapped with misdemeanor charge for staging a supposed driveway ambush used as an excuse for martial law- is now rewarded with a senatorial seat/ Wang wang Pnoy even "forgave the Marcoses"--- and now he is going after GMA instead?!?
---
Name: JRH
City/State/Country: Toronto, Ontario
IP Address: 174.91.77.243

Comments
Could you picture the FG in bed inside a metal cage pleading innocence before the court from the many corruption charges against him. Knowing him, he'll deny, deflect, & defend himself from the multiple charges & other complicities of plunder until the day he dies. People power is contagious. Most of the rulers in Tunisia, Libya, Yemen, Bahrain, Jordan, & Syria are all experiencing this global phenomena. People in this troubled area are all demanding reforms, freely elected gov't & power placed on parliament rather than by appointments by their leaders. Our gov't should impose a travel ban on the Arroyos. The FG must be be notified the minute he lands in Manila.
---
Name: deo
City/State/Country: flour city
IP Address: 74.65.6.243

Comments
I agree with the editorials how Egyptian Power (PP) shows the world how it should end. But not in Pinas, though; not the way it is going.
---
Name: TOTOY BATO
City/State/Country: Dixs Place
IP Address: 99.230.161.61

Comments
WDC : The opportunity the Filipino missed was to put into test if they have a strong will to really sentence Marcos to the gallows. Erap was pardoned after serving time (in house arrest) escaping the humiliation similar to Mubarak. I doubt if the court's decision is much stronger and more forceful this time when Arroyo and her clan are charged to face charges and presented to the court in a meshed steel cage for security reasons. I have my serious doubts. BELIEVE ME
---
Name: GEORGE GONZALES
City/State/Country: LA, CA
IP Address: 99.59.235.64

Comments
THE PHILIPPINE authorities should put Miguel Arroyo and his wife Gloria in cage so that they can be prosecuted. They raided are government agencies. Ninakawan lahat ng agency. Si Mike arroyo, first gentleman, is not a gentleman after all. He is a very good lawyer and a very good liar, too. I hope they put them away for good.
---
Name: 1 UP
City/State/Country: GOTHAM CITY
IP Address: 74.101.63.227

Comments
WDC: After getting rid of Marcos, his successor, Cory Aquino, was not interested in indicting Marcos for human rights violations but to recover some of his loot. Cory was more focused on reconciliation where nobody was made to pay for his crime(s). Had Marcos been extradited and made to answer all charges and convicted, G&C will be considered as a mortal sin and not venial.
---
Name: JRH
City/State/Country: Montreal, Canada
IP Address: 173.178.226.201

Comments
Mike Arroyo versus Hosni Mubarak? In the Phils, what you get is what you pay for. The helicopters sold allegedly by the FG at high prices were not always of higher quality cuz they are old models & extensively used by the FG & sons during those elections. They're used & old. That sale is like overly-priced-generic products over top-of-the-line ethical aircrafts. PNP paid a higher & handsomely priced Hilos for used, depreciated, & perhaps defective models. They actually look like small crop-dusters of old..not suited for our high-hitting & crime-busting law enforcement agency..PNPK..Pinoy na Pinoy nang Kapulisan. Is is really a highly sure-fire investment strategy on the part of the 'The-Police-who-can't-get-it-right-most-of-time.'?
---
Name: vigilante
City/State/Country: behind enemy lines
IP Address: 71.134.211.164

Comments
Most Filipinos are cowards and "pusong mamon"! Combine that with the fact that most are also ignorant, naive and unresourceful, we have a perfect combination of people that are easy to manipulate, control and subjugate. Unfortunately, the Catholic Church, where most affiliates with, also prefer that kind of state and mentality for the people since that is highly conducive to a situation of helplessness and mendicancy in which religion or supernatural powers would be seen as the only recourse for hope.
---
Name: Vanessa Lee
City/State/Country: Kuwait
IP Address: 94.129.163.175

Comments
The past is past let's move on there's no benefit to blame the people who gave a chance to Marcoses and other bigwigs to obtain their corresponding posts. We have to be solid in principle to support the present administration that will strengthen it's policy toward reformation. It might be true Mr. President's five years in office can not totally clean the corruption cases from previous administrations but because of his incessant pursuit to have the government reform it will at least minimize occurrence of anomalies and somehow curtail the dirty under the table transactions of those crooks public servants. Hopefully, with God's will and guidance the next administration will be having the same divine vision as President B. Aquino III. Let's hope against hope. God speed.
---
Name: Malou Wang
City/State/Country: University Avenue
IP Address: 99.230.161.61

Comments
The Alphabet concluded that " Mubarak is not on trial for graft, corruption, police brutality, and other crimes during his 30 year reign." I agree. Filipinos however place higher premium in condemning their presidents (Marcos, Erap, Arroyo) of plunder more than human rights abuses. Because Gloria and husband are now undergoing medical checkups and surgeries, many Filipinos want to emulate the Egyptian model of placing the accused in cages if GMA and husband face the courts. But Gloria is not a victim of PP but the power of PNoy and that the conjugal tandem has yet to be formally indicted in court.
---
Name: Lord Gago
City/State/Country: Sun Diego
IP Address: 166.250.65.195

Comments
The people power during the French revolution should be the benchmark for the Pinas people power, where they can be tutored by deceptive fallacies wielded by gov't and society to preserve peace and to instill discipline. Like the French, Pinas people displayed repugnance and barbarity while under the sword of Marcos henchmen and kleptocratic gangsters. As always, many behave accordingly while under watch, but they do otherwise when big brother's eyes are not smiling and watching. So the mice play when the kitten were away. When the smoke cleared, the French society was chaotic and anarchic, like the Pinas people.
---
Name: GFJBHEDF
City/State/Country: Hercules
IP Address: 67.188.19.40

Comments
In 1947, 1st time on TV, Mahatma Gandhi staged none violent revolution against British rule, which eventually helped India win its independence in 1947. Followed by Cesar Chavez's nonviolent campaign to protest the treatment of farmers in California. Then Martin Luther King Jr's none violent people power marches in Alabama & Washington DC to win civil rights for African Americans. Then came the non violent people power revolution against Ferdinand Marcos in the mid 80s.
---
Name: boy E
City/State/Country: Oceanside, Ca
IP Address: 203.84.185.50

Comments
Keep it up, Pres. Noynoy! We are expecting you as the real hero. We tried Erap, pero binalasubas niya ang presidency. We replaced him with an intelligent Ateneo grad, economist GMA, mas malala pa ang ginawa. She legitimized corruption, starting from pardoning convicted ERap, sunod-sunod na pangungurakot sa gobyerno. Pati ba naman personal nilang gamit na helicopters, sa gobyerno na kinurakot ang funding, sa gobyerno pa rin ipinagbili ng priced new? PCSO, PAGCOR at lahat ng government agencies ginawang bulsa ng mga ARRoyos, ipinamudmod sa Congressmen, senators, allies, cabinet members, pati bishops naambunan. Nakakadiri ng tingnan ang mga Arroyos. Nakaksuka na! May mukha pa kayang humarap ang anak at apo nito sa public?
---
Name: Adonis
City/State/Country: Carle Place
IP Address: 24.47.137.142

Comments
Bs Aquino may have convinced many people of his sincerity to weed out corruption but results prove otherwise. If he could nail Arroyo he would have would have been a feather to his cap. Beyond corruption are those chronic problems of poverty, access to education and health services. A third of his term had already been used up with no graft or plunder conviction to BS Aquino's credit.
---
Name: Banzuki
City/State/Country: Illinois
IP Address: 71.239.74.156

Comments
I considered the people that criticized Pres. Aquino likes pot holes or bumps of the Tuwid na Daan. Pres. Aquino should continue doing his job by patching all these holes and bumps. These bumps and path holes are in minority as majority of the people they want changes. If they want to go back or back slide let them do it. Just keep putting them in jail.
---
Name: 1 UP
City/State/Country: GOTHAM CITY
IP Address: 74.101.63.227

Comments
Suferman: The idea of getting ahead of others (wang wang mentality if that is what it means) is a natural instinct. It is survival driven. Some use it brazenly but many use it surreptitiously or in stealthy manner until it is discovered. The election fraud in Mindanao, the misuse of military, PAGCOR and PCSO funds, broadband scandals, etc. are but a few of the examples of the latter. Everyday you see scandals unearthed that the judicial system is unable to resolve. THE COUNTRY REALLY NEEDS AN ACTION HERO LIKE SUPERMAN.
---
Name: JRH
City/State/Country: Toronto, Ontario
IP Address: 174.91.77.243

Comments
It will be a dramatic moment if & when GMA, the FG, her sons, & others will be finally brought to court. It will be a very good example for Filipinos to bring the former president et al to justice. If we can call this the final transition from the rotten to the good path will show that graft & corruption does not pay. I think most Filipinos don't want GMA to hang or spend her life in jail. Maybe a few months incarceration & then a lifetime house arrest will suffice. Let's just hope that she will not come up with a new illness right before trial begins like loosing her voice or worst, loosing her mind. Insanity is a very effective legal defense.
---
Name: GFJBHEDF
City/State/Country: Hercules
IP Address: 67.188.19.40

Comments
When senator Noynoy Aquino campaigned, "Kung walang kurap walang mahirap," the majority of eligible registered Filipino voters elected him into office. Therefore PNoy is prioritizing, fulfilling what the majority elected him for, going after, and exposing all "kurap" acts, for starters. Thus no "kurap" activity, past and present is exempt. SWS and other surveys report there less hungry folks now than b4 PNoy took office. That's the other half of his campaign PNoy was voted into office for and is working to address. Other improvements/issues in Gov't and the economy are, and will be addressed best as possible. PNoy's minority critics, and pretend supporters, portraying the president as having no direction, are always present in this and all governments, past, present, and future.
---
Name: Gene
City/State/Country: Ontario, Canada
IP Address: 174.93.112.199

Comments
If you cannot reason out with sanity, why resort to stupidity. It's a problem with majority of Filipinos. It is time to change & be reasonable. What P-Noy is doing, I totally agree no matter what criticisms are thrown against him. All those officials of the Gov't. & private individuals who commit fraud & corruption & desecrate the Phil. Constitution should be reprimanded, tried in court, & if proven beyond reasonable doubt, they all should go to jail. REFORM FOR A PROGRESSIVE PHIL.
---
Name: Steve R
City/State/Country: California
IP Address: 24.6.69.178

Comments
At some point in our schooling, we were told to be objective when we criticize someone. On 7/25/11, a group of about 30 Bagong Alyansang Alabaman (BAM) protested in front of the PH Consulate, Los Angeles, CA. Their vice chairperson stated the following: "We can't afford another year of how Aquino is running the country", that the President's SONA was "a big disappointment and "failed to address the real problems going on in the country". Speak for yourself BAM, in terms of affordability, PNoy is running the country with no "sticky fingers". He was criticized for buying a 2007 Porsche for P4.7 million but that was his own money. He later sold the Porsche for the same amount.
---
Name: 1 UP
City/State/Country: GOTHAM CITY
IP Address: 74.101.63.227

Comments
Wang wang is a literary figure of speech. I have difficulty relating it to the Pinoy's psyche or mentality and corruption. Religion has corrupted the minds of both Christians and Muslims. The rich and the powerful have corrupted the system of government. Moreover, malware could corrupt one's computer files. It is poverty that weakens the moral fiber of Pinoys. Needless to say, corruption feeds on poverty. The extend of poverty of a nation is proportionate to the level of corruption. PNoy could wage a war on corruption but he will never win or claim victory (much more walk with a trophy on hand). BS Aquino may end up being a victim of corruption himself.
---
Name: GFJBHEDF
City/State/Country: Hercules
IP Address: 67.188.19.40

Comments
Get rid of it. What is Wang Wang Mentality? Graft and corruption, Crab mentality, cruelty, abuse of of power and/or authority, Lording over others, and the likes.
---
Name: 1 UP
City/State/Country: GOTHAM CITY
IP Address: 74.101.63.227

Comments
I am really cynical about this wang wang mentality and corruption that Aquino is trying to stitch (and sell to the public). I look at the whole thing as Aquino playing the role of a crazy knight in Cervantes' novel of Don Quixote de la Mancha attempting to tilt the windmill. Address the poverty issue and the level of corruption will decline.
---
Name: Suferman
City/State/Country: KSA
IP Address: 178.20.150.162

Comments
Dapat talaga alisin na ang mga taong meron WANG-WANG (sa utak) na nanunungkulan sa gobyerno... lol...
---
Name: WDC
City/State/Country: California
IP Address: 69.110.192.39

Comments
Excellent proposal by Pres Noynoy to outlaw the Wang-wang and I hope our kababayans will heed. These bastards think they are the king of the road by turning-on their wang-wangs on any traffic stop or on heavy traffic so that they cannot be late to go to their parties, mistresses, cock-fighting, mahjong, bars, or go to the bank to deposit the money that they did not earned. I hope Noynoy's next step is to fire any Philippine government officials who are using any government vehicles as their POVs.
---
Name: Paco Sa Cruz
City/State/Country: Vietnam
IP Address: 113.170.218.245

Comments
Do you really think the removal of wang-wang will change the likes of Chavit Singson, the Ampatuans, the Marcoses, the Estradas, the Lapids, the Revillas, the Villars, etc., etc.? I don't think so! Filipino politicians happen to serve themselves and not the people because this is the kind of system that has been established. Once in position, politicians tend to believe and think that they are untouchables and unless P'Noy starts sending the corrupt to jail, the wang-wang concept although good and have its merits will just be a thing of the past and die a slow death just like the hundreds of court cases against the Marcoses, the Estradas, the Arroyos. etc., etc. Who knows, the next President might restore the wang-wang and then we are back to square one.
---
Name: Tess Alarcon
City/State/Country: Virginia, U.S.A.
IP Address: 216.40.68.92

Comments
Let us continue our faith that P-Noy with his like-minded Filipinos in search for truth, justice and fairness will succeed. But they need our help too. We should not allow those malicious critics who want to put down the President. Let us all work together to bring the Arroyos and their cohorts to justice. Tess
---
Name: Vanessa Lee
City/State/Country: Kuwait
IP Address: 94.128.44.168

Comments
I heard few SONAs from previous Philippine Presidents but it didn't sound meaningful to me and here it is the 2nd SONA of President Aquino was like a horse's kick to public servants who are guilty ng sabihin niya " Yong mga public servants na nagpapayaman patuloy niya susubaybayan at mananagot sa kalukuhan nagawa". Me konsiyensa din sila sa kanilang mga ginagawang anomaly and somehow it pinch them. President Aquino has still 5 long years in office, his determination to curve disastrous flow in Philippine's system of governance I believe it will reach his promise - reformation of our motherland.
---
Name: edgar poten amper
City/State/Country: zambo city phil.
IP Address: 112.202.203.138

Comments
Take those corrupt to jail, I will truly believe if this administration of Pnoy can take GMA and her cohorts to jail. Pabalikbalik na lang yan eh....file ng file ng kaso wala na mang nakukulong...ehh. Sino yung niloloko? Taong bayan pa rin........Magbago na kayo mga politikong walang ginagawa kundi magnakaw ng pera ng bayan................
---
Name: james
City/State/Country: Lemoore, CA, USA
IP Address: 98.224.125.219

Comments
Thank you pangulong Noynoy sa inyong palilinis ng mga kurupsyon at ng mga mapagsamantalang tao sa ating gobyerno. Naibalik nyo po sa aking ang paniniwalang may mga tao pa rin pwedeng mailagay sa pwesto na may layuning tapat para sa ating bansa. Mabuhay po kayo at salamat sa mga gagawin nyo pang mga kabutihan para sa bansang Pilipinas.
---
Name: Ramon C. Balde
City/State/Country: Oxford, Michigan
IP Address: 76.238.193.16

Comments
It's time to support President Aquino. He seems sincere about what he wants accomplished. What he said in his speech is exactly what every Filipino, with the exception of the corrupts, has lived with for the longest time. He seems to understand the ordinary Filipino. But it's nothing if we don't work with him. Good job and thanks to you too, sir.
---
Name: Galitsacorrupt
City/State/Country: Riyadh, KSA.
IP Address: 77.31.128.96

Comments
PNoy is heading the correct path in cleansing our society with corrupt government, politicians and church officials!!! Corruption is the # 1 problem of our country that is why we are not progressing as a nation! Go PNoy go!!! put behind bars all those crooked, abusive and thief Govt. Officials and Politicians including Church officials, if need be!!! Do it fast please? Report the progress of you war against corruption again on your SONA 2012…..we need results!!!
---
Name: Architect Angelito (Lito) L. Mallonga
City/State/Country: Vancouver, Canada
IP Address: 64.114.129.250

Comments
I salute Pres. Noynoy for doing his job as it is only his first year of office. Clean them all up all the way. Every Filipinos always are in a hurry for him to do the work so let us give him that chance now. His Second year will be a very big difference for I am sure more investors will come and the very first agenda will be doing more on infrastructures so we can move products and produce both locally and internationally. All those beautiful buildings will come later once we have them in place.
---
Name: JRH
City/State/Country: Montreal, Canada
IP Address: 173.178.228.112

Comments
What's the main essence of this new editorial? Wang-wang mentality partially eliminated but not exactly. There are still people in gov't who thinks that they are the chosen few & has the God-given right to bulldoze their way no matter what. You see it everywhere..' For Official Use Only' on the side of the vehicle parked everywhere including beer halls & after hour clubs & at times overnight. It shows that people who are in a hurry most often wants 'shortcut' thus the wang-wang way. Like politicians who wants instant cash in exchange of money, gift, or favor. In the Phils it's still the Padrino-system. I'll do it for you but what's for me in return. Pnoy must double his efforts to eliminate it totally.
---
Name: Kalabog
City/State/Country: Libog Daraga, Albay
IP Address: 64.40.183.70

Comments
Editorial sez it all- "President Aquino seems to be aware that it will take time to change the Filipino's "wang-wang" mentality. He must therefore continue to lead by example and come down hard—truly hard—an those who abuse their authority." FIRST ORDER of the day and the real Lithmus test for WangWang administration is the resolution of the Hacienda Luisita Issue. This will really show the mettle of Pnoy- is he serious or is it just another usual political lip service for domestic consumption!! Let's See!
---
Name: As I See It
City/State/Country: Cebu City/SD,CA
IP Address: 68.107.109.30

Comments
P1 billion pesos spent on coffee by a gaming agency PAGCOR! Though PNoy cracked it out in a lighthearted manner in his SONA that amount is no joking matter. He left his coffee story hanging as he did not go into details - like who consumed it, the time period covered with that staggering amount, and whether heads will roll at PAGCOR or whether this matter will be inves-tigated at all! Wangwang's patungo sa 'daang matuwid!' But where's the narrow straight road?
---
Name: Marie
City/State/Country: Batangas
IP Address: 80.109.30.155

Comments
Maganda naman ang naging SONA ni President Aquino. Napansin ko lang ang kanyang style ay parang sa makata. at iisa ang tono. Pero, maganda naman ang mga laman. Maraming nadiskubreng anomalya at mapaparusahan kung sakaling mapatunayan. Marami na ring accomplishments. Siguro sa loob naman ng 3 years ay may mahahatulan na lalo na ang Ampatuan.
---
Name: JRH
City/State/Country: Montreal, Canada
IP Address: 173.178.228.112

Comments
Wang-wang mentality was used by Pres. Aquino as a strong symbol of what's wrong with our govt. Hopefully, the newly appointed Ombudsman Morales will lead the way in unclogging the pending cases in that office. Justice Secretary de Lima, on the other side, will support all efforts to juxtapose a similar approach. Likewise, another lady, not mentioned in the SONA, is the current head of COA. If this trio can synergistically act on the many cases before them & finally convict some of the crooks.. will be a welcome accomplishment in the annals of Phil history.
---
Name: mockingmaya
City/State/Country: taft avenue, manila
IP Address: 67.181.5.21

Comments
I do believe in the sincerity of President Noynoy Aquino to fight the systemic corruption: past & present. The Filipino people have difficulty to understand the dynamism or persistency of corruption without looking deeply into its roots, or history, if you will. Elaborate mechanism is not enough to prevent the re-emergence of home grown despots & plunderers of public funds. President Noynoy Aquino can't do it alone; he needs the help of dedicated & impartial guardians of the rule of law---the Constitution itself. In other words, President Nonoy Aquino must have more courage to tackle, rather than ignore the primordial issues of his administration. He must reorder social-economic-political affairs for the benefit of all, or for the "common good," or "public good."
---
Name: turing
City/State/Country: london
IP Address: 86.162.37.164

Comments
Pnoy should continue to chase Arroyo about corruption during her admi. The amount of money wasted due to corruption makes a big difference to make the betterment of ordinary Pinoys, the money if just been used properly in delivering basic services to people
---
Name: Phil Researcher
City/State/Country: LA County, Ca USA
IP Address: 76.174.19.149

Comments
RE: PNoy after 1 year in Office..President Pnoy couldn't really eliminate corruption but the reason he is much better compared to the 2 presidents before him is he is setting a good example...You can't say that he has unduly enriched himself as President. Whereas Erap & GMA were the extremes.. ERAP even before taking his oath formed the BW corporation with Victor E as an incorporator this was the company that led to EDSA II. Then GMA took over all her children became multimillionaires including Iggy Pidal. We Filipinos have one word for this "Garapal"
---
Name: expat
City/State/Country: brussels
IP Address: 81.164.208.114

Comments
We are always pointing our fingers to others to tell them that it is their fault why the country is falling.. Why don't we help this country to achieve changes by changing first the bad attitudes of the Filipinos themselves....to achieve changes the citizens of this country must contribute and hindi lang asa..
---
Name: WDC
City/State/Country: California
IP Address: 67.123.17.194

Comments
If graft and corruption are the number one priorities of Pres Noynoy, he should start to his uncle Eduardo Cojuangco, the primary helper of Marcos when he plundered the country, right Mr. Noynoy?
---
Name: GFJBHEDF
City/State/Country: Hercules
IP Address: 67.188.19.40

Comments
Interrupted by applause at lease 46 times, PNoy's SONA lasted almost one hour. It reinforced my fervent belief that the direction of his one time presidency is dedicated to eradicating massive corruption, responsible for much of poverty, and ugly filipino crab mentality, dragging us down. > LINK
---
Name: Cupid
City/State/Country: Loveland
IP Address: 166.137.137.18

Comments
The Palace is saying that facts will match the words when BS Aquino delivers his SONA's address. Aquino will be met by demonstrations with many unhappy how Aquino moves the ball to the goal line. No conviction on corrupt and evil politicians. The poor are getting poorer; education and health are still inaccessible to many; people are being made to pay more for basic services. RH bill and Freedom of Information Act still remained un-enacted.
---
Name: GFJBHEDF
City/State/Country: Hercules
IP Address: 67.188.19.40

Comments
Stopping wang wang on the street, that grew from PFM reign of terror, five presidencies ago, during his early days in office, setting the example, enduring being stuck in traffic, was an easy accomplishment for PNoy. Eradicating wang wang mentality, will take PNoy's entire presidency and beyond. Like corruption, it's deeply embedded in the pinoy id. Nevertheless, It's part of his campaign slogan for which he was elected, and therefore his mandate. That's what the majority voting public, (PNoy's boss), wanted, and PNoy, is faithfully fulfilling it despite the wang wangs of his minority critics.
---
Name: Steve R
City/State/Country: California
IP Address: 24.6.69.178

Comments
Few Presidents were known to be honest with the country's coffer but at glance, we are seeing a president who is likely to top them all. Cross our fingers and hope President Aquino III will finish his term of office as "clean" as he is today. President Aquino III is likely to receive a "pat on the back" by most Filipinos for following up on his to do list during his first SONA mainly the removal of wang wang mentality, how govt. officials misuse their power & authority. With President Aquino III, we could all have sigh of relief from what were reported about Ferdie Marcos, FVR and Gloria G. Arroyo.
---
Name: LATEPOCA
City/State/Country: SOMEWHERE IN TIME
IP Address: 121.1.30.222

Comments
PNOY 1 year in office has gain nothing except blah blah blah blah on curbing corruptions but yet NO ONE HAS BEEN PUT IN JAIL...PNOY has been singing haleluyas on corruption but look WHERE ARE NOW THE LIKES of LIGOTS, GARCIAS ( Carlos and Winston ), BOLANTE, ABALOS, NERI, ARROYOS, AND ETC...... They are in their comfortable homes LAUGHING ON PNOY.
---
Name: Manuel C. Diaz
City/State/Country: Montclair CA USA
IP Address: 76.174.219.92

Comments
President BS Aquino's wang-wang speech must be very un-nerving to GMA, GMA upon hearing the speech has to be rushed to an emergency she lost her "spine" DUE TO TOO MUCH COFFEE SERVED BY PAGCOR. Actually the Doctors were tasked by President BS Aquino to implant a truth gene to the spine of GMA and see wHat happens next HELLO GARCI?
---
Name: As I See It
City/State/Country: Cebu City/SD,CA
IP Address: 68.107.109.30

Comments
A friend of the Aquino family retired justice of SC Conchita Carpio-Morales is appointed by PNoy as the chief Ombudsman. This is in conso-nance with his political battlecry "Kung Walang Kurap Walang Mahihirap." Whether the new Ombudsman will only go after corrupt officials during the Gloria's admin or will she also prose-cute those officials under the Wangwang admin, especially the KKK (kaibigan kaklase kabarilan) members remains to be seen. I hope she won't feel indebted to PNoy & be independent minded as chief prosecutor.
---
Name: As I See It
City/State/Country: Cebu City/SD,CA
IP Address: 68.107.109.30

Comments
In the news PNoy in his SONA address high-lighted wangwang (siren) as one of his achievements since he became president of the Phil. a year ago. This is a good one as wangwang now serves as a symbol of change in attitude of the populace towards governance, though it still re-mains to be seen if there is really a change of attitude especially among the public servants. Whether or not it will have positive chain reaction among the people I would still call PNoy as Presidente Wangwang for initiating it.
---
Name: Marie
City/State/Country: Batangas
IP Address: 80.109.30.155

Comments
The officials who are now castigated to big time anomalies are starting to feel the karma. They thought they would be having a lasting enjoyment. They thought all the past presidents who tolerated their evil doings as corrupt officials, will be the same president as now. As I said, there is always an end to all with evil life, evil minded. Better cure the wrongdoings by repenting and change to better - soon.
---
Name: GFJBHEDF
City/State/Country: Hercules
IP Address: 67.188.19.40

Comments
In his SONA PNoy mentioned AFP modernization, and flashed image of the upgraded/refurbished and modernized USCG Hamilton, Now the BRP Gregorio Del Pillar, AFP command ship in the West Philippine sea. Last month I happened to golf with a consultant to the USCG Pacific. He mentioned the Coast Guard is ordering 25 new cutters. I told him Philippines got the Hamilton already. He said Philippines may get some more, soon as the new cutters arrive. The current USCG cutters patrolling the US West coast: > LINK
---
Name: Cupid
City/State/Country: Loveland
IP Address: 166.137.136.11

Comments
The slow pace of economic development will sink the administration of Aquino. People want to see things they could feel and not some abstract accomplishments from their president. Words are cheap
---