n 1986 Filipinos showed the world how to topple a tyrant through the phenomenon we now know as People Power.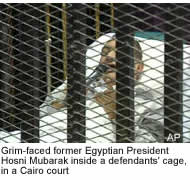 Twenty five years later, the Egyptian people are showing the world—and Filipinos—what the end-result of People Power, might look like.
On August 4, 2011, in a Cairo court an ailing Hosni Mubarak appeared on a hospital bed inside a metal and wire defendant's cage to respond to charges of corruption and complicity in the deaths of Egyptian demonstrators who had been protesting his despotic regime.
Sadly, we Filipinos never even got that far. Hundreds of thousands of ordinary Filipinos put their lives on the line during the EDSA People Power revolution. They faced down tanks and stood their ground amid the very real threat of a military offensive. They did it because they were sick and tired of Ferdinand and Imelda Marcos and their circle of cronies who had systematically emptied the country's coffers and kept everything for themselves.
For their selfless act of heroism, Filipinos deserved (and still deserve) to see justice served. Like Mubarak in Egypt, Filipinos should have seen the Marcoses and their cronies put on trial and then locked up behind bars. Instead what they saw was the smiling face of their new president Cory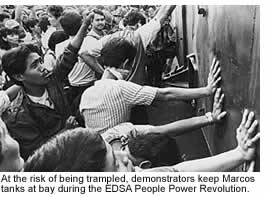 Aquino, whose performance in office served as a tacit admission that she was in way over her head. Rumor even has it that at times she seemed more inclined to simply play mahjong with friends than do the arduous work of pursuing and prosecuting those who had brought the country to its knees.
Filipinos might see themselves as compassionate and prefer to let bygones be bygones, but when they let the guilty go without so much as a slap on the wrist, they embolden a new crop of tyrants, plunderers and thieves. Filipinos deserve closure. And it should never be too late to bring the guilty to justice. No one is above the law, no matter how rich or powerful.
Now it is time for teacher to learn from student. Egyptians are showing Filipinos what comes after people power.

Saved Comments from Our Readers
Name: Peter
City/State/Country: Detroit
IP Address: 108.98.160.160

Comments
"Filipinos might see themselves as compassionate and prefer to let bygones be bygones, but when they let the guilty go without so much as a slap on the wrist, they embolden a new crop of tyrants, plunderers and thieves." ----- Well said !!! But Filipinos are not all compassionate, specially those in power. The truths are (1) they are afraid of their life because it is easy to take someone life in the Philippines than in other countries (2) they themselves have a full closet of dirty laundry and are afraid to be dug up. A scheme that most government officials try to protect their kinds. I have observed that country for the last 40 years. The kind of mentality of the people made the country a hopeless case unless they go thru a major transformation by education.
---
Name: 1 UP
City/State/Country: GOTHAM CITY
IP Address: 74.101.63.227

Comments
We cannot compare Arabs and Filipinos in the way they treat their leaders after they have fallen out of power. Arab's kind of justice (Sharia Law) is harsher that Christian's. Christians are more humane and forgiving than their Muslim counterparts when they sinned against society. Muslims stone women who commit adultery and hang or behead their men when they commit felonies. Rulers in the Arab world obtain political power through the barrel of a gun. When they fall, they really fall flat on their faces. Pinoys still have a soft heart! THEIR PATIENCE IS BOUNDLESS. Just look at Erap and Gloria.
---
Name: Kalabog
City/State/Country: Libog Daraga
IP Address: 64.40.183.70

Comments
Editorial waxing wishful fantasy -"Filipinos deserve closure. And it should never be too late to bring the guilty to justice. No one is above the law, no matter how rich or powerful. " SAD TO SAY not realistic in Filipino society. Marcoses are in power/ Enrile not even slapped with misdemeanor charge for staging a supposed driveway ambush used as an excuse for martial law- is now rewarded with a senatorial seat/ Wang wang Pnoy even "forgave the Marcoses"--- and now he is going after GMA instead?!?
---
Name: JRH
City/State/Country: Toronto, Ontario
IP Address: 174.91.77.243

Comments
Could you picture the FG in bed inside a metal cage pleading innocence before the court from the many corruption charges against him. Knowing him, he'll deny, deflect, & defend himself from the multiple charges & other complicities of plunder until the day he dies. People power is contagious. Most of the rulers in Tunisia, Libya, Yemen, Bahrain, Jordan, & Syria are all experiencing this global phenomena. People in this troubled area are all demanding reforms, freely elected gov't & power placed on parliament rather than by appointments by their leaders. Our gov't should impose a travel ban on the Arroyos. The FG must be be notified the minute he lands in Manila.
---
Name: deo
City/State/Country: flour city
IP Address: 74.65.6.243

Comments
I agree with the editorials how Egyptian Power (PP) shows the world how it should end. But not in Pinas, though; not the way it is going.
---
Name: GFJBHEDF
City/State/Country: Hercules
IP Address: 67.188.19.40

Comments
In 1947, 1st time on TV, Mahatma Gandhi staged none violent revolution against British rule, which eventually helped India win its independence in 1947. Followed by Cesar Chavez's nonviolent campaign to protest the treatment of farmers in California. Then Martin Luther King Jr's none violent people power marches in Alabama & Washington DC to win civil rights for African Americans. Then came the non violent people power revolution against Ferdinand Marcos in the mid 80s.
---
Name: mockingmaya
City/State/Country: taft avenue, manila
IP Address: 67.181.5.21

Comments
President Noynoy Aquino's administration must bring the perpetuators of Maguindanao & Vizconde massacres to justice. The soldiers who were involved in Guatamala's massacre were sentenced by the court to more than 6,000 years imprisonment.
---
Name: Leandro D. Quintana
City/State/Country: Hawthorne, Ca. 90302
IP Address: 166.250.76.64

Comments
Cory Aquino, in those months immediately following the People Power EDSA revolution, had both the political and moral capital to effect many changes by "ruling by decree" which the Filipinos would have accepted because of her personal integrity. Instead, what did she do? No decisive action. No grand vision. What she did was to "restore" the empty shells of "democracy". And the most hollow and useless of these shells was the Congress. Restoring our Congress cannot and should not be construed as a "restoration" of democracy. In truth and in reality we never had a true and functioning democracy. And Congress was the power base for the oligarchy. And they continue to rule today and we are indeed in the same, if not worse, rut as when the Marcoses ruled.
---
Name: WDC
City/State/Country: California
IP Address: 69.229.249.68

Comments
If Filipinos try their leaders in a cage like what the Egyptians doing to Mubarak, then they need to build the "Mother of all Cages". 99.9% of politicians in the Philippines are corrupt.
---
Name: ronald ryan
City/State/Country: sacramento ca, usa
IP Address: 75.42.83.156

Comments
35 years ago I left for the USA. last year I went back to visit--omg! the Philippines is deteriorating. Garbage everywhere you go, traffic is so bad, extreme smog, beggars in every stoplight, roads so bad. Twice we had people power and there is no change. We need a new government. Number one problem: population. Just too many human beings in such a small country. Politician do not care. Solution? There is none.
---
Name: JRH
City/State/Country: Toronto, Ontario
IP Address: 174.91.77.243

Comments
Justice for all. No one is above the law, no matter how rich or powerful. This PNL editorial are powerful statements indeed. The accused, however, are all ignoring this condemnation. So, bring them to trial just like Mubarak whose fall from power & prosecution have resonated throughout the Middle East. The new People power movement must come from a new kind of activism & advanced technology. Online posts, text, cell phone videos, & social networks must spearhead this movement. Before, People Power stopped the advancing armored columns along Edsa by sheer volume. This time we can manage it via the internet..People power the modern way.
---
Name: Mar Aquino
City/State/Country: Manila
IP Address: 217.125.168.185

Comments
The difference in the Philippines is, after people's power the so called Marcos wealth could not be accounted for by the Cory government. What was curious however was the number of instant millionaires that could not account for their rapid rise to wealth.
---
Name: Joe Raymundo
City/State/Country: Hong Kong
IP Address: 112.119.219.115

Comments
As far as I can remember, it was the South Koreans who were able to imprison their presidents (2 former generals of the armed forces) after their own people's power a few years after our own people's power. We even proclaimed our country as the most politically matured country in Asia. Now where are we compared to South Korea? Oh yes, we are among the most corrupt in the world - and our government questions the accuracy of the report.
---
Name: As I see It
City/State/Country: Cebu City/SD,CA
IP Address: 68.107.109.30

Comments
I agree with Deo's & GFJBHEDF's observations respectively, "PNL missed the reasons why PP of Pinoys escaped bloodshed, while Egyptians suffered...", "there were no footage Marcos' soldiers shooting down non-violent protesters." And if I may add, Macoy did actually give a clear order to his generals to fire only when fired upon first by RAM soldiers. According to Gen. Ver's son Col. Irwin Ver (PMA class '70 topnotcher, chief of Pres. Sec. Guard) in his memoir they were only ordered by Macoy to strengthen Malacañang defense perimeter, despite the urging of his Joint Chiefs of Staff to launch military actions vs. the rebel soldiers; the presence of Phil Marines at Edsa was to discourage rebel forces, not to chase & shoot them down.
---
Name: 1 UP
City/State/Country: GOTHAM CITY
IP Address: 74.101.63.227

Comments
There is a stark difference between the spring revolt in Egypt and the EDSA revolt I. In Egypt, USA encouraged the Egyptians but discouraged Mubarak from holding on to his office. In EDSA I, Reagan discouraged Marcos from staying but never encouraged the Pinoys in their bloodless uprising. USA facilitated the departure of Ferdie and even provided a safe haven for Marcos and other members of his household in Hawaii. No offer of asylum was made, to my mind, with regards to Hosni.
---
Name: Vanessa Lee
City/State/Country: Kuwait
IP Address: 94.128.60.109

Comments
There's a big difference between PP in Philippine and in Egypt. People involved in Philippine's PP were in total control they did not provoke the soldiers whereas, in Egypt demonstrators were in total combat with the soldiers - it is just human's right to defend oneself hence, lives perished. Egyptians perished.
---
Name: KALI
City/State/Country: HAWAII
IP Address: 72.130.247.17

Comments
Methinks that the only dramatic change for the better that could happen in a country is when the revolution is really bloody. Citizens make serious decision to reform the government to ensure that spilled blood did not gush in vain. In Pinas, Edsa 1 was a lost cause. After Marcus left the country the mood was like "Mardi-Grass" celebration or something. "What is there to worry, nobody got killed, let's party now then talk about reform later". So far, corruption is everywhere, rampant police abuse, big time carnapping involving police, people in high office enriching themselves. The only difference then and now is the country at least is not run by a dictator.
---
Name: Jeff Lopez
City/State/Country: San Diego, CA
IP Address: 75.215.119.235

Comments
Where is the Filipino people's sense of outrage? Despite all the charges of corruption committed by GMA and her minions you have yet to see the people's indignation and outcry. Is it because Filipinos are truly docile and lazy? Do Filipinos really care about their country? Or are they really more concerned about their personal plight to worry about the national interests?
---
Name: Elmer Apacway
City/State/Country: La Trinidad, Benguet
IP Address: 174.7.73.82

Comments
I am tired of hearing about People Power at a drop of a hat. True, PP got rid of a tyrant but the whole gamut of his influence was relatively left unscathed. PP stopped right there and then, never thought of purging the 'sleepers' as well who were well-entrenched inside government and big businesses. The result? After two decades, the Philippines remains the same: poor, corrupt and still singing the PP anthems. I hope we have now a president who sees beyond the haze and has the balls to initiate the full meaning of people power.
---
Name: Jim
City/State/Country: Canada
IP Address: 24.71.148.43

Comments
What has changed. Juan Ponce Enrile is still around he is like a chameleon, changing his colours often. He does seem to have the ability to sniff the direction of the winds. Imelda is a congresswoman, Bong Bong is a senator. The current President and one of his opponents in the election are both members of the Cojuanco family. A convicted plunderer former President is allowed to run again and comes second and his son is made to be a powerful senator. You get what you deserve, if you keep electing these people.
---
Name: Kalabog
City/State/Country: Libog Daraga
IP Address: 64.40.183.70

Comments
To the Editor: Ur- " No one is above the law, no matter how rich or powerful."- Of course, that is without saying should be the case. But (a big BUT) remember that in RP - we have multitudes of high priced well educated shysters and mouth pieces supported by clever media handlers-- so guess what? Those rich and powerful can afford them. AND we are a nation of people with proud "religious" mind set that believe in "forgiveness and turning the other cheek"--- public opinion are easily swayed by appealing to the people's idea of Christian AWA!! Too many godly and naive Maries in our society.
---
Name: deo
City/State/Country: flour city
IP Address: 74.65.6.243

Comments
I am glad there are a few who knew the history of Pinoy People Power (PP). I mean why it was a bloodless revolt. That's why there is no way it like the recent PP from Asia to the M.E. What is regrettable is that no one directly paid for the cause of Pinoy PP. Pinoy can only hope that after the Philippine Press rights were restored by the PP, it is now the responsibility of the Philippine press to pay back the PP by keeping always in the highlights the criminal acts of the public officials charged of these dastardly behaviors.
---
Name: WDC
City/State/Country: California
IP Address: 67.123.19.80

Comments
Filipinos lost their chances when they let Marcos go free. If they just made Marcos an example by either hanging him in public or putting him in prison for life together all his cronies, Philippines could be a better country now. However it is not yet too late, Filipinos must and must support Pres Aquino of his best intentions to clean-up the government.
---
Name: Manuel C. Diaz
City/State/Country: Montnclair CA USA
IP Address: 76.174.219.92

Comments
Philippines aka Islas de Ladrones is entirely deferent from Egypt. In Egypt you have the Pyramids in the Philippines aka Islas de ladrones you have the Pyramid Scam.
---
Name: TOTOY BATO
City/State/Country: Dixs Place
IP Address: 99.230.161.61

Comments
WDC : The opportunity the Filipino missed was to put into test if they have a strong will to really sentence Marcos to the gallows. Erap was pardoned after serving time (in house arrest) escaping the humiliation similar to Mubarak. I doubt if the court's decision is much stronger and more forceful this time when Arroyo and her clan are charged to face charges and presented to the court in a meshed steel cage for security reasons. I have my serious doubts. BELIEVE ME
---
Name: GEORGE GONZALES
City/State/Country: LA, CA
IP Address: 99.59.235.64

Comments
THE PHILIPPINE authorities should put Miguel Arroyo and his wife Gloria in cage so that they can be prosecuted. They raided are government agencies. Ninakawan lahat ng agency. Si Mike arroyo, first gentleman, is not a gentleman after all. He is a very good lawyer and a very good liar, too. I hope they put them away for good.
---
Name: 1 UP
City/State/Country: GOTHAM CITY
IP Address: 74.101.63.227

Comments
WDC: After getting rid of Marcos, his successor, Cory Aquino, was not interested in indicting Marcos for human rights violations but to recover some of his loot. Cory was more focused on reconciliation where nobody was made to pay for his crime(s). Had Marcos been extradited and made to answer all charges and convicted, G&C will be considered as a mortal sin and not venial.
---
Name: JRH
City/State/Country: Montreal, Canada
IP Address: 173.178.226.201

Comments
Mike Arroyo versus Hosni Mubarak? In the Phils, what you get is what you pay for. The helicopters sold allegedly by the FG at high prices were not always of higher quality cuz they are old models & extensively used by the FG & sons during those elections. They're used & old. That sale is like overly-priced-generic products over top-of-the-line ethical aircrafts. PNP paid a higher & handsomely priced Hilos for used, depreciated, & perhaps defective models. They actually look like small crop-dusters of old..not suited for our high-hitting & crime-busting law enforcement agency..PNPK..Pinoy na Pinoy nang Kapulisan. Is is really a highly sure-fire investment strategy on the part of the 'The-Police-who-can't-get-it-right-most-of-time.'?
---
Name: vigilante
City/State/Country: behind enemy lines
IP Address: 71.134.211.164

Comments
Most Filipinos are cowards and "pusong mamon"! Combine that with the fact that most are also ignorant, naive and unresourceful, we have a perfect combination of people that are easy to manipulate, control and subjugate. Unfortunately, the Catholic Church, where most affiliates with, also prefer that kind of state and mentality for the people since that is highly conducive to a situation of helplessness and mendicancy in which religion or supernatural powers would be seen as the only recourse for hope.
---
Name: Vanessa Lee
City/State/Country: Kuwait
IP Address: 94.129.163.175

Comments
The past is past let's move on there's no benefit to blame the people who gave a chance to Marcoses and other bigwigs to obtain their corresponding posts. We have to be solid in principle to support the present administration that will strengthen it's policy toward reformation. It might be true Mr. President's five years in office can not totally clean the corruption cases from previous administrations but because of his incessant pursuit to have the government reform it will at least minimize occurrence of anomalies and somehow curtail the dirty under the table transactions of those crooks public servants. Hopefully, with God's will and guidance the next administration will be having the same divine vision as President B. Aquino III. Let's hope against hope. God speed.
---
Name: Malou Wang
City/State/Country: University Avenue
IP Address: 99.230.161.61

Comments
The Alphabet concluded that " Mubarak is not on trial for graft, corruption, police brutality, and other crimes during his 30 year reign." I agree. Filipinos however place higher premium in condemning their presidents (Marcos, Erap, Arroyo) of plunder more than human rights abuses. Because Gloria and husband are now undergoing medical checkups and surgeries, many Filipinos want to emulate the Egyptian model of placing the accused in cages if GMA and husband face the courts. But Gloria is not a victim of PP but the power of PNoy and that the conjugal tandem has yet to be formally indicted in court.
---
Name: Lord Gago
City/State/Country: Sun Diego
IP Address: 166.250.65.195

Comments
The people power during the French revolution should be the benchmark for the Pinas people power, where they can be tutored by deceptive fallacies wielded by gov't and society to preserve peace and to instill discipline. Like the French, Pinas people displayed repugnance and barbarity while under the sword of Marcos henchmen and kleptocratic gangsters. As always, many behave accordingly while under watch, but they do otherwise when big brother's eyes are not smiling and watching. So the mice play when the kitten were away. When the smoke cleared, the French society was chaotic and anarchic, like the Pinas people.
---
Name: TOTOY BATO
City/State/Country: Dixs Place
IP Address: 99.230.161.61

Comments
The People Power did not really create political or moral impact in the lives of Filipinos. Those who were entrusted to protect the country continue to violate that given trust. Just look at the audacity of several generals, directors and commissioners of government agencies who wasted hard earned monies. Step back and observe Arroyo and her clan how rich they had become within a short period of time. Marcos and Erap look like amateurs and street kids
---