ith former Arroyo administration officials being slapped with lawsuits left and right, Filipinos are finally sitting up and taking notice.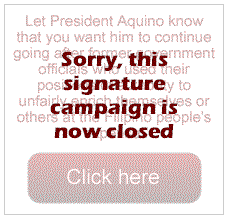 It may have been easy for those in power to make millions (even billions) during former President Gloria Arroyo's administration, but keeping that booty as well as their reputation intact is turning out to be a different matter altogether.
Unlike the Marcos cronies of the seventies and eighties who brazenly used their ties to the dictator to tilt the playing field in their favor and to this day live off their ill-gotten wealth, the copycats of the Arroyo administration are finding that what they did when they were in office are now being closely scrutinized.
At long last Filipinos are seeing "fairness" at work. It used to be that the rich and powerful always got away with everything and the ordinary "Juan" simply accepted that as a fact of life.
Even if President Benigno Noynoy Aquino III does nothing else for the remainder of his term in office except bring wrongdoers to justice, it could make him one of the greatest—if not the greatest president this country has ever had.
No doubt it will be a difficult task especially with the current High Court stacked with Arroyo appointees.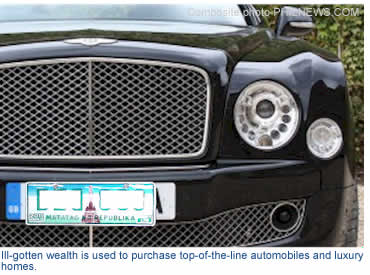 In addition, when Aquino starts prosecuting those who plundered during the Marcos era, he will find himself indicting some of his own relatives.
Bringing rich and powerful wrongdoers to justice will not be an easy task. These oligarchs who make up the ruling class in Philippine society will undoubtedly put up a vigorous fight. They have deep pockets and legions of followers willing to defend them at all cost.
It is for this reason that PHILNEWS.COM is launching an online signature drive to show the president that there is a vast majority of people out there who want to see him succeed in this endeavor. Patriotic Filipinos as well as former Filipinos living all over the world who want nothing more than to see those guilty finally brought to justice.
Let us send a clear message to the president that those who plundered the nation's coffers must not get away with it, must not get to keep any of it and live happily ever after. CLICK HERE


Saved Comments from Our Readers
Name: Jess
City/State/Country: Bakersfield, Ca.,USA
IP Address: 98.149.215.59

Comments
Three cheers for President Aquino for trying to clean up corruptions in our government. Let us give justice to all Filipinos by prosecuting all plunderers and their cronies. The President needs all support from us all, let's give it him.
---
Name: Paco Sa Cruz
City/State/Country: Vietnam
IP Address: 123.28.157.190

Comments
While PNoy is focused in seeking justice for the people by prosecuting corrupt government officials of the past administration, action shall also be taken to initiate changes that would result in making it more difficult or virtually impossible for a government official to steal from the people. For instance, I have always been against the principle of "Pork Barrel" for the Congressmen and Senators. Everybody believe that this is being used by these government officials for personal gains not for the intended purpose and yet the system remains the same. If we continue to live with a system that allows crooks and plunderers to take advantage then trying to catch and prosecute the corrupt government official will be a never ending story.
---
Name: Dala na
City/State/Country: Pangarap State
IP Address: 112.198.243.83

Comments
I hope PNoy is serious in going after those plunderers and their subsequent trials will not turn into a circus or moro-moro. Those thieves have enough wealth to hire the best legal brains money can buy to thwart the course of justice at every turn with clever maneuverings with the intent of dragging the case for so long until everyone tires of it.
---
Name: Abbas
City/State/Country: Maguindanao
IP Address: 98.198.93.227

Comments
Yesterday's victim is today's tyrant. Witch hunting of Aquino's Administration doesn't do good at all. He should bring the Marcoses first to jail before anybody else.
---
Name: Snookey Boy
City/State/Country: Vancouver Canada
IP Address: 207.102.255.112

Comments
Its time to get this Arroyo Family to answer all what they have done. They ripped-off all Filipinos. Its payback time. Tama ang sabi ni Pres. Noynoy. Walisin para di tularan uli ito. If he will not do it now, than wala nang katapusan and corruption diyan sa atin. Itong maga corrupt na leaders tulad nag maga Arroyo at iba pa diyan, masuadong respeto nang lipuna, habang ang ordinaryong Juan De La Cruz konting pagkakamili lamang nasa bilangguan na. Sino sa gayon diyan na mataas na tao ang na bilanggo aber? We have double a standard diyan sa atin.
---
Name: 1 UP
City/State/Country: GOTHAM CITY
IP Address: 74.101.63.227

Comments
This editorial about corruption and signature drive to notify and encourage BS Aquino mean nothing. The justice department is always unable to achieve conviction. If even petty grafters like Joey Marquez escaped "justice," how much more for the heavy hitters like the generals, the Arroyos, Danding Cojuangco, Joc-Joc Bolante, etc.? PNoy may call for Jihad against corruption but for Allah's sake show us some beheadings!
---
Name: Kalabog
City/State/Country: Libog Daraga, Albay
IP Address: 64.40.183.70

Comments
Editorial statement: "...It may have been easy for those in power to make millions (even billions) during former President Gloria Arroyo's administration, but keeping that booty as well as their reputation intact is turning out to be a different matter altogether." That might very well be! But alas these "power-that-be" of yore can't seem to shake off their corrupt ways. Behold Iggy alias Pidal acting again as the Cavalry to save his bother- showing fake "Lease Contract" between him and Lion Air --to deflect and roil the muddy water that his brother found himself in-- the message is - The Filipinos are so stupid they will fall for this ruse again!! The Arroyos do got nerves!!
---
Name: JRH
City/State/Country: Montreal, Canada
IP Address: 173.178.226.201

Comments
Filipinos all over the world will appreciate to see a live TV broadcast of the proceedings. The trial must be broadcasted nation-wide, protect all the major witnesses or whistleblowers, & most important stop the on-air grandstanding of dozens of highly paid attorneys hired to defend GMA & the FG. The charge is simple.. they are being tried on stealing national funds big time & profiteering form them. This time the court of public opinion favors our lawmakers. The general mood of Filipinos this time can't be improperly influenced by GMA, the FG, & the Arroyo clan. People are just tired & sick of their corrupt way. Justice must prevail.
---
Name: mockingmaya
City/State/Country: taft avenue, manila
IP Address: 67.181.5.21

Comments
Most Pinoys are indoctrinated from cradle to the grave by Christian theology, which teaches the need for forgiveness, the Christian principle of God's constant forgiveness. But forgiveness toward the wrongdoer or sinner (tyrant, rapist, murderer, plunderer, etc.) doesn't mean forgiving & re-electing the wrongdoer, the despot politician, so that he/she can steal more from his country's coffer with gusto, rape & murder again & again. Although some witnesses told the unvarnished truth that Gloria Arroyo, Mike Arroyo & other charlatans had lied & committed crimes against the Philippine Republic, judges & jurists didn't have the balls to put them behind bars. Why? Because Christian theology teaches that punishment is only possible through God.
---
Name: pinoyhero
City/State/Country: new york city
IP Address: 96.250.163.162

Comments
Ang basic problem sa mga Pilipino ay ang pagkakaroon ng loyalist attitude. This is one reason why our country can't ever defeat poverty. Sa magagandang panukala ni Pres. Aquino marami agad ang kumukontra dahil loyal sila kay Marcos o Arroyo. Tigilan na ang pagiging loyalist- iwaksi ang taksil sa bayan at tulungan o suportahan ang naglilingkod na tapat sa taong-bayan. Stop crab mentality and strive what is good for the country. Please, for the sake of our country, change our character, change our attitude- do away with loyalist mentality.
---
Name: Steve R
City/State/Country: California
IP Address: 71.198.157.255

Comments
When President Aquino delivered his 1st SONA, he gave a first impression that he could "hit the ground running ". A year later, that snap shot is getting clearer & hopes are increasing that he could be the one who will pull the country from out of control corruption among high govt. officials. Hopefully, from a level of 1 to 10, ten being the worst corrupt country, President Aquino could bring PH down to an acceptable level of 3 to 4. With Sec. de Lima, Commissioner Heidi Mendoza, NBI Director Gatdula, AFP Chief Oban & PNP Chief Bacalzo, I believe PNoy can achieve substantial success in fighting corruption. Even with the trusted circle of Cabinet members & high govt. officials, the people's 100 percent support are needed to make it happen.
---
Name: Tonypogi
City/State/Country: Los Angeles
IP Address: 99.6.89.50

Comments
You cannot expect any President to be able to thoroughly clean up the government. Anyone expecting that is a moron. You can only expect one to visibly start doing so and expect his successors to follow suit. Pnoy is on the right track and his detractors no matter how much they try to deny it, are simply followers of the previous corrupt administrations.
---
Name: Shirley
City/State/Country: Makati
IP Address: 14.201.66.31

Comments
POWER to President Noy Aquino. A big thank you. Finally at long last, we have a savior.
---
Name: JRH
City/State/Country: Montreal, Canada
IP Address: 173.178.226.201

Comments
Before we go any further, let's just look back on all those spectacular headliners in the past before this plunder cases with the Arroyos. First, the Bolante case; what happened?, Gens Garcia & Ligot, what happened?, the Ampatuans, what happened? By now, the least that could have happened is a little milestone in convicting any of the above cases. So far, no known result, no known conviction, & no known accomplishments. It seems that corrupt people who can afford the most expensive lawyers can greatly influence the legal system in the Phils. All these crooks are crying all the way to the bank. Filipinos like to see some conviction & justice be done now.
---
Name: WDC
City/State/Country: California
IP Address: 69.110.193.70

Comments
I will look on the positive side. There will be a time that Filipinos will be fed-up with these plunderers and eventually they will pay for their misdeeds. Everything has an end and I hope that in my lifetime I will be able to see our country change to better.
---
Name: mockingmaya
City/State/Country: taft avenue, manila
IP Address: 67.181.5.21

Comments
Abbas wrote: "Yesterday's victim is today's tyrant..." I think Filipinos are in dire need of temporary benevolent dictator or "constitutional dictatorship" (to utilize his constitutional power as a Commander-in-Chief to restore order & maintain equilibrium for general welfare) to hunt every terrorist, plunderer, tax evader, rapist, Maoist-rebel priest, fundamentalist for the common good.
---
Name: KALI
City/State/Country: HAWAII
IP Address: 72.130.247.17

Comments
Per PNL-"Even if President Benigno Noynoy Aquino III does nothing else for the remainder of his term in office except bring wrongdoers to justice, it could make him one of the greatest—if not the greatest president this country has ever had." This is a ridiculous suggestion by the PNL. Let it be known that as President his primary concern is the welfare of the people and the country, meaning that if my relatives in Visayas can afford "bagoong" now for breakfast, lunch and dinner, they cannot be eating "asin" (salt)at the end of PNoy's term cuz that's all they can afford. They should be eating adobo, pretada, and lechon once in a while. That's what you call progress, and that's what PNoy's goal supposed to be. If he can give every Filipinos a job, then he will be the greatest.
---
Name: Marie
City/State/Country: Batangas
IP Address: 80.109.30.155

Comments
Our country is very lucky for having a new president. Let's give him a chance to do what is best for the country. Don't expect too much from him to settle every problem like a superman. Let us just be thankful that a man like him has come to us. He is sincere and not a corrupt person whom we can trust. That the very good point on him. Therefore, 4 years more to wait to have a lasting satisfaction.
---
Name: Fred Cervantes
City/State/Country: Manitoba
IP Address: 206.248.175.56

Comments
All these investigations, I'm sure nothing's gonna come out of these as usual. Only in the Philippines, poor Filipinos.
---
Name: Nad Mestidio
City/State/Country: Toronto, Ont., Can.
IP Address: 174.117.154.124

Comments
This is the flowering and golden years of the Republic, the colonial mentalist generation is gone, Trapo politics are senile now. Filipino immigrants who use the word crab mentality are 70 yrs. old now, retired and tired. Our youth are educated and the leadership is young.. By P Noy's leadership we will eventually be known as a less corrupt country then it will be easy to educate our youth in an honest and hard working transparent governance.
---
Name: james
City/State/Country: jose
IP Address: 205.225.207.163

Comments
Mabuhay ang mamamayang Filipino na nagtataguyod sa isang corrupt-free Philippines.
---
Name: danny michaels
City/State/Country: bulacan/ texas
IP Address: 138.162.0.43

Comments
It's good that corruption is finally addressed and I think Pnoy is doing a good job. The rats are starting to jump ship. But, I think He (Pnoy) should have started with the Marcoses. They are the root and started the corruption in our country. Imelda once bolstered that they have $1 trillion dollars stashed safely in the US and Europe. That's enough to get us out of debt and then more.
---
Name: Val A. Subas
City/State/Country: Manila, PHL
IP Address: 68.108.156.18

Comments
Rid Pinas of corruption? Can't be done, truly impossible and illogical! Like saying that "earth is square", deep down the bottom of your consciousness it's not real or true. The Pinoy's DNA, Soul and Genes are imbedded with corruption. Chances of winning $200 M in Lotto is much much greater than Pinoys being corrupt free....period!
---
Name: JRH
City/State/Country: Montreal, Canada
IP Address: 173.178.226.201

Comments
When you have the power, prestige, & money that the Arroyos have, can we really bring a solid case against them? This is the overwhelming proposition, they can afford the best legal team money can buy in the Phils. The justice system in our country is in regression. We are not only stuck in neutral but in reverse. All of the senate hearings, in spite of the bravados, of our inquiring senators amount to nothing in the end. So, how far is this gov't prepared to go in pushing back the clock? Time to move on & convict, convict, convict.
---
Name: GFJBHEDF
City/State/Country: Hercules
IP Address: 67.188.19.40

Comments
P'Noy's only wish, is to carry out the sincere dedication of his parents for a better Philippines. His presidential campaign battle cry, "Without corruption, there there would be no poor." That is the straight path campaign promise he was elected on. Since taking the oath, to date, P'Noy has been going after corruption unceasingly, as promised. He will win some, as well as loss some, but will stay the course unwavering. Of course he will do his best also to address other presidential matters as best he could, where he could, constitutionally. Don't expect him, as some, to be tyrannical or dictatorial, or eradicate RP's ills waving a magic wand. He can't do it alone. No man is an island. Not all around the president are trustworthy either. May God be P'Noy's co-pilot.. always.
---
Name: hms
City/State/Country: New York
IP Address: 67.241.96.149

Comments
I am saying right now. WALANG MANGYAYARI! WALANG MAKUKULONG! WALANG MAPAPARUSAHAN! Why? Because it's the nature of the Filipino to get bored and forget. A year from now all this jazz about the plunder and corruption will be forgotten. It will then be time for the powers that be to move on for more plunder and corruption. Ganyan lang yan. Pilipinas yan.
---
Name: hms
City/State/Country: NY USA
IP Address: 67.241.96.149

Comments
What a country! The so-called patriots during Marcos's time are now the thieves and plunderers, except they are more rapacious, insatiable, arrogant and ruthless. And just like the Marcos thieves these GMA thieves will go unpunished. The more things change the more they stay the same. Pilipinas, kay ganda!
---
Name: LPiF
City/State/Country: LosAngeles/Mla
IP Address: 121.1.11.166

Comments
We should all be sanguine that we finally have a leader in spite of his foibles as most skeptics and critics of his administration have branded him. Most critics and political adversaries have the audacity in jumping the gun just to see him fail. He is barely a little over a year in service and yet we expect miracles to happen. The circuitous plunder issues should be blamed on politicians clandestine activities. The chicanery of our elected officials are no doubt influential in manipulating the media. We have yet to see these criminals indicted and sent to jail for good or could this be just a complete political imbroglio?
---
Name: Montrealer
City/State/Country: Montreal, Canada
IP Address: 70.52.74.24

Comments
I just hope the people behind PNoy will help him all out in his house cleaning effort to make Pilipinos proud again. It is a mundane task for they are against powerfully rich groups, but if sincerity in doing so is in their hearts they will succeed. I know in his efforts, PNoy's life is always on the line. May God always protect him from danger.
---
Name: Steve R
City/State/Country: California
IP Address: 71.198.157.255

Comments
In his fight to reduce corruption, PNoy must be watchful to make sure that every Cabinet Members must disengage their ties with every provincial, city and barangay who are continuing with corrupted contracts such as excerpt "TWO infrastructure contractors of the Quezon City government belong to one family of Chinese descent that, city hall insiders said, members of the Bidding and Awards Committee favored to corner over P100-million projects last March. Marigold Development Corporation, one of two contractors that won the construction of center islands in Visayas and Roces Avenue worth P28 million had the same Apollo Y. Chua as one of its incorporators."
---
Name: 1 UP
City/State/Country: GOTHAM CITY
IP Address: 74.101.63.227

Comments
The headline "NO Happily Ever After" is an appropriate description of the justice system. People charged with plunder or graft escaped justice unscathed. If one steals from someone, common sense dictates that what was stolen must be recovered. What happens is that the government is able to recover only a portion of their loot if not at all from people implicated in plunder or graft. Even the government does not go after these people's bank accounts and collect taxes on unexplained "unearned income." Their banking activities continue to flourish. Imagine the loss in government revenues.
---
Name: Edward
City/State/Country: Angeles City
IP Address: 203.87.152.50

Comments
I would like to tell you people about dishonest people and why your president can do nothing to stop corruption. Your police, highway patrol. the LTO, traffic enforcement from city hall, all day long they make traffic stops but never issue a ticket. It's always money, you have to give them money to continue on after being stopped or they take your license. Every last one of these people do this. And most of these people are nobodies. When will your president find the time and honest people like himself to go after small time crooks that make people lives terrible everyday. He has an impossible JOB.
---
Name: Marciano Dimayuga
City/State/Country: Gagalangin, Tondo
IP Address: 108.35.6.18

Comments
Matagal nang nalimutan ng ating mga kababayan kung sino ba sila talaga. Ito ay dahil sa mga iba nating kababayan na nagsamantala sa kanilang kapwa at nang-abuso ng kanilang sinumpaang katungkulan. Nawala na ang ating tiwala sa ating sarili at lalo na sa ibang tao. Kahit na ang mga batas at kaayusan ay nawala ng silbi dahil lahat ay nadadaan sa pakiusap, suhol o pananakot. Tingnan ninyo na lamang ang ating kapaligiran: marumi at nagkalat ang basura, naglipana ang mga snatcher at mga batang namamalimos sa lansangan, parami ng parami ang mga naninirahan bilang mga squatters... sana ay maibalik natin ang pag-galang at pagmamalasakit sa isa't isa para sa ikauunlad ng atin bayan.
---
Name: Ompong Ibarra
City/State/Country: Calgary
IP Address: 74.200.30.4

Comments
Let us be reminded when Ninoy planted the seeds of hope decades ago, only now we see the fruits of his sacrifice. For the task is great and the road difficult. It may take the nation generations to embrace honor and righteousness. PNoy, you may never be set a foot on the promise land. But be encouraged for you are chosen to lead the exodus of the Filipino people. Your father should be proud of you. Mabuhay ka, ser!
---
Name: bon basije
City/State/Country: orange park, florida
IP Address: 98.82.36.14

Comments
To the unrepentant corrupt Filipino politicians I wish they'd heed this reminder from Thomas Gray in his "Elegy in a Country Churchyard": The boast of heraldry, the pomp of power, And all that beauty, all that wealth ever gave, Awaits alike the inevitable hour, The paths of glory lead but to the grave.
---
Name: Cupid
City/State/Country: Loveland
IP Address: 198.228.195.225

Comments
LPiF: You could not blame most of us for being so impatient for results because Aquino keeps talking about corruption for two years. Say it once but show me the results would have been better. The Ombudsman is being swarmed with plunder cases at the rate of 1000 a year yet it's ability to win cases is abysmal. If the call to go after corrupt people is genuine how come Garcia, Ligot, Bolante, etc are still free men ? If this is jihad some heads must be rolling by now!
---
Name: George GONZALES
City/State/Country: la, ca
IP Address: 99.59.235.64

Comments
There will be no mercy for those plunderers. The first gentleman is no gentleman after all, he is the source of all evil in the GMA administration. Masiadong maitim ang kaluluwa. Si GMA naman naging Congressman to avoid being investigated. Very smart si bulilit.
---
Name: pinaskongmahal
City/State/Country: usa
IP Address: 70.250.72.14

Comments
PNoy and De Lima, this is for you: Why not team up together, De Lima will position her gov't prosecutors to gather and prepare all pertinent documents and evidences to indict GMA and FG about the sale of two pre-owned helicopters to PNP passed as new. The magnitude of this scandal is possible only when manipulated by a corrupt GMA and FG tandem. Not Gen Verzosa or anyone else. Impossible. Iggy is just an inker. Limit posturing and proceed with the other cases (fertilizer, pagcor, ztn, election fraud, etc) without let-up. Your legacy is put them behind bars where they belong.
---
Name: Archt. Lito L. Mallonga
City/State/Country: Pinas
IP Address: 64.114.129.230

Comments
Pres. Noynoy is ion the right direction. Try to convince our fellow Filipinos from abroad to come back not only to retire but to invest in our Mother country. To do this, make sure that their investments and their lives are protected. once this is done I am 100% sure they will all come. Its better for there investments stay's in the country and not like what is going on through the years when those investors from abroad pulls most of their resources when the economy is down and we are back to square one all over again. So carry on the good work Pres. Noynoy!!! We will be all besides you all the way.
---
Name: LATEPOCA
City/State/Country: SOMEWHERE IN TIME
IP Address: 121.1.30.222

Comments
If PNOY cannot put the ARROYOS, GARCIAS, LIGOTS, some corrupt CONGRESSMAN, GOV, MAYORS, ETC. in JAIL, then PLUNDERER will go on as it was their VICE. PNOY should match his pronouncement with concrete ACTIONS...,., NOT just keep on TALKING with NOTHING but POGI POINTS. We are all TIRED of BLAH BLAH BLAH BLAH, PNOY not need another UPRISING from the GIPIT na MASA to solve these corruptions.
---
Name: WDC
City/State/Country: California
IP Address: 67.123.18.44

Comments
To clean-up the corruptions in the Philippines, Filipinos must sacrifice just like the Libyans. No pains no gains and I don't see it happen in my life time. Philippines will always corrupt country and Filipinos will always at the end of the soup lines.
---
Name: Ron
City/State/Country: Kuwait
IP Address: 188.236.10.213

Comments
"........does nothing else for the remainder of his term in office except bring wrongdoers to justice, it could make him one of the greatest—if not the greatest president this country has ever had. I do not agree." Surely our economy will go downhill from there and he might be labeled as one who brought Phil. to bankruptcy. At least do something about the economy. Run the country & create ? or strengthen the Sandiganbayan to do the dirty work.
---
Name: oss
City/State/Country: cebu city
IP Address: 124.6.164.183

Comments
I like what president P-noy wants to do or at least he knows what his taking about. But if he's serious about waging war against corruption in this country, he has to be an aggressor. You can't win the war if you're not aggressive enough. If he's administration doesn't put anybody behind bars soon, he'll loose the war against corruption and his presidency.
---
Name: Junx
City/State/Country: Caloocan
IP Address: 119.92.155.52

Comments
Mga kababayan na may malasakit sa kapakanan ng bansa natin. Ako man ay nangangarap din na mawala ang korapsyon dito sa bansa natin subalit hanggang pangarap na lang siguro dahil ang mga magigiting at arogante nating mga senador na nag-iimbistiga ng korapsyon ay may mga bahid dungis at sila din ay may mga kasong korapsyon. Ano kaya ang kahihinatnan ng imbistigasyon na ginagawa nila? Mgising sana tayo at hwag silang iboto at hwag paniwalaan ang mga matatamis na salita at pangako nila pagdating ng halalan.
---
Name: Anthony Mercado
City/State/Country: Canada
IP Address: 142.83.138.3

Comments
PNOY is doing a great job in lining up the heartless oligarchs to face reality that the law can be slow in punishing these bastards and yet we say Better Late Than Never !! We hope PNOY will not change his course of action against corrupt officials and their cohorts !! Mabuhay PNOY !!
---
Name: Liza from Hawaii
City/State/Country: Hawaii
IP Address: 208.54.4.191

Comments
I totally agree with prosecuting the corrupts, the only reason why somebody will not agree to this is if they also corrupted the system
---
Name: Snookyboy
City/State/Country: KANADA
IP Address: 64.114.129.234

Comments
Never forget what Gloria has done to the Philippine. She sold us to China on the SPRATLY. I hope Pres. Noynoy Aquino will stick to his mandate that the Philippines owns this biggest coral reef in the world and nobody has the right to take it from us. Bakit ba takot na takot kayo sa China. Dahil ba sa marami sila kaysa sa atin at mayaman na raw sila.Diyan kayo lahat nagkakamali maga kababayan ko.Maraming maga bansa ang umabuso sa atin sa ating maga resources sa itaas nang lupa diya pero di nila nakukuha ang yaman natin sa ilalim nang dagat at sa ilalim nang lupa. Kaya lahat sila hangang gayon naririyan pa at iyong iba ayaw umalis kahit na sinusuka na sila.It will not be long at di na tayo hahamakan ninoman.
---
Name: LPiF
City/State/Country: Los Angeles/Mla
IP Address: 121.1.11.166

Comments
A leader, no matter how ascendant he may be, without ardent followers, will never become great. The Filipinos R so divided, time N again since day 1 when I joined this forum, I have preached the importance of righteous ideology. We need new social ATTITUDE! The CRAB MENTALITY is a complete hindrance to our country's economy, let alone the obfuscation of our public servants in the issue of corruption. I believe, PNoy is trying to inject righteousness with his TUWID NA DAAN. Realistically, it won't happen overnight like some posters expect. It's humanly impossible! Come on folks, let's all work together to accomplish and attain the pursuit for GREATNESS! Look, America is a great country, yet the republicans crab mentality has been ruining the economy! It's simple, they want Obama to FAIL!
---
Name: Damulag
From: North Royalton, Ohio
Remote Name: 76.241.158.35

Comments
Am I to believe that corruption only happened in the past....the media is leading us to believe that this unconscionable practice was the way of the past ...now that P-Noy is the president graft and corruption is miraculously no more....i feel that the media is in bed with this administration...just like the media here in the U.S. is with this Obama administration...I love the Philippines but I honestly believe that unless we go through a collective metamorphosis...this will never go away because it is our normal way of conducting business....it is never about the merit of the issue but how you move your concerns forward...and the easiest route is always ..... whom you know...it's terrible but it is what it is!
---
Name: banzuki
From: illinois
Remote Name: 71.239.74.156

Comments
For those who plunder- Are you unaware that a multitude of your brothers perish or suffer from need of what you have in excess? Let us institute rules of justice which will make special exceptions for no one. Mabuhay ang PHL.
---
Name: Kalabog
From: Libog Daraga, Albay
Remote Name: 64.40.183.70

Comments
Nothing can be nearer to the truth than the the "truism" invoked by the PNL Editor : " These oligarchs who make up the ruling class in Philippine society will undoubtedly put up a vigorous fight. They have deep pockets and legions of followers willing to defend them at all cost." Behold! Just take a look at the Arroyo brothers and their Pidal and Helicopter cases! Now that there is a another circus in town (PENSION SCAM)- the Arroyo brothers once again escape closer scrutiny.
---
Name: Steve R
From: California
Remote Name: 76.105.11.64

Comments
PNoy deserves all positive comments about his honesty re. his plan to reduce corruption in the PH but the consequence of not walking the straight line "matuwid na landas" is only applicable to selected few such BOC Alvarez & others who were suspended from their job due to reports of bank fraud. The Social Welfare Secretary and Human Rights Chair must be removed from office due to ongoing casa operation in Makati - the result of human trafficking from other provinces in the PH.
---
Name: Rolly Sandoval
From: Philippine
Remote Name: 117.18.231.14

Comments
Sana ma review ni P Noy at mabasura ang mga gawa ng dating administration na mas lalong nagpapahirap sa mga naghahanap ng kahit local na mga trabaho.Biro mo sa pag-aaplay mo pa lang ng ordinaryong trabaho sa mga MALLS ay katakot takot ang gagastusin. Mag-umpisa ka sa Barangay clearance, NSO, NBI, Health exams etc, Estimated gagastos ang applikante na walang siguro na matanggap sa ina-applyan ay 3 to 4 thousand pesos. At ang masakit ang mga ito ay ma expire sa 6 months. At kung hindi ka matanggap sa ina applayan mo na trabaho. Siyempre, panibagong mga iyan na naman, At again 3 to 4 thousand pesos, tsk,tsk,tsk Ang masakit pa kung matanggap sa trabaho e-contractual via Agency. At masuwerte ka kung minimum wage ang matatanggap mo! Hay nako, aywan ko ba, Pls P Noy tulong please. Paki action nga
---
Name: Tangaytangay
City/State/Country: Los Angeles, CA
IP Address: 75.50.115.224

Comments
I admire Pres. Benigno Aquino III for his guts and focus on prosecuting the corrupt members of the Macapagal-Arroyo administration. It is becoming obvious that Gloria Arroyo has known this corruption during her administration and it clearly appears now that her husband was involved in many of these nefarious activities. I hope that the Noy Aquino administration will succeed in its prosecution of the corrupt members of the Arroyo administration and plunderers of the Phil treasury.
---
Name: R Sharp
City/State/Country: UK
IP Address: 91.125.155.37

Comments
Marami ang nasa gobyerno ay matagal na o nailagay sa position dahil sila ay popular o dili kaya sila ay artista! I think this is the time na linisin na ni P Noy ang lahat ng cabinet minister, gobernador, mayor, konsehal at kung ano anu pa, upang ang matino, may kakayahan at may takot sa Diyos ang mamuno sa ating bayan.
---
Name: Kababayan
City/State/Country: San Antonio, Texas
IP Address: 64.148.246.227

Comments
Why not? Joseph Estrada is a convicted plunderer yet he is free and living happily ever after. Even if the Arroyo's are convicted, they, most probably will be granted presidential pardon and will live happily ever after.
---
Name: Cupid
City/State/Country: Loveland
IP Address: 24.47.137.142

Comments
LPiF: To attribute poverty to corruption is wrong. Aquino government is blaming corruption rather than addressing poverty. It is politically smart to adopt political slogans to conceal widespread level of poverty. People do not cry unashamedly because of corruption but rather of poverty. Just watch your favorite Filipino news beamed through us via satellite to see effects of poverty. In contrast, the drama of the people accused of plunder in the senate hearings.
---
Name: Onok Amputi'y Layag
City/State/Country: Los Angeles, CA
IP Address: 75.50.115.224

Comments
The Aquino administration should be commended for initiating the prosecution of corrupt officials in the Arroyo administration. However, Aquino must ensure that the officials prosecuting these plunder and corruption cases are competent and people of integrity. The same is true with the judges trying these cases. Look at the drug possession case which was allegedly dismissed by the court for the prosecutors bungled it. The question is did they bungle it because of their ignorance or incompetence? Or, was there any other reason behind?
---
Name: Shorty
City/State/Country: Xenia, Ohio
IP Address: 24.209.94.171

Comments
While it is true that we need to address the poverty in the Philippines, it is also right to prosecute the people who are responsible. The country is already suffering and the people elected in office was not making it easy if they are found guilty. They are elected and trusted by the people to do things the right way and it is their job to uphold this idea true. How can you address poverty if the people you trusted to lift you up from the depths of oblivion are the ones digging it deeper for you?
---
Name: gerry calimoso
City/State/Country: vancouver, b.c
IP Address: 75.155.101.235

Comments
The evil that men do should be exposed and the responsible should be held to account for their evil deeds. President Aquino should be admired for changing the mindsets of the the Filipinos and for giving good example about good governance. corruption was tolerated by the people because the president herself was corrupt. how they are able to sleep well despite the guilt in their conscience is amazing. but Mr. President, because of your crusade against corruption, I am proud to be a Filipino again. We keep you in our prayers that you will continue to do the right thing for the Filipino people because they are worth dying for.
---
Name: Juan Batungbakal
City/State/Country: Virginia Beach, VA
IP Address: 74.98.183.72

Comments
Corruption is innate in the Phil. Government; I mean, it is already "built into the system". Itanung ninyo sa mga natalo. "u know what I mean, take it out." Eh, masyado nang garapal yan eh. Tingnan nyo lang ang Macapagal Hwy Case..O and Kape sa Pagcor (isang bilyonnes, ano ba naman yan?? kapal)
---
---
Name: Gaspar Ramos
City/State/Country: Muntinlupa , Phil.
IP Address: 112.203.56.178

Comments
Yes,its time that those former gov't official who got rich by gov't money be prosecuted and sent to jail..
---
Name: MARNY V
City/State/Country: RP/Africa/Europe
IP Address: 68.45.152.140

Comments
The character of PNoy's gov't also influences our ways & attitudes: A simple observation on how we could adopt such old habit into an attitude of caring: We're always in a hurry, so we're fond of cutting lines (singitan ng sinigitan). At a Pinoy store/rest., I was asked by the owner what my order is even if I was 3rd in the line. So, I declined & said they were 1st in line. They even thanked me for such a small gesture. I was once a victim too, when I was 1st in line and a customer, who the owner knows, went ahead of me & ordered ! I was very furious and complained. Now, they're more careful & make sure the line is being followed. This shows also how our government's attitude towards corruption makes the difference! Ang pagbabago ay nagsisimula sa atin !
---
Name: Cupid
City/State/Country: Loveland
IP Address: 166.137.136.205

Comments
Aquino wants to leave a legacy that he had waged a war against corrupt public officials. But this is one fight that it is hard to win. The country's laws must be tough themselves, the judicial system must be aggressive enough, and the resources of the government are large enough to build a tight case. Unfortunately none of these pre-requisites exist even in our dreams. Two years have passed and PNoy is still talking. Show us some proof.
---
Name: 1 UP
City/State/Country: GOTHAM CITY
IP Address: 108.27.129.135

Comments
Before we become too generous giving praises to PNoy for his crusade against corruption, let us wait for a while for results to come in. Let us not raise the false hope that the administrations has caught a "big fish" or a "lolong" (a mammoth croc).
---
Name: jotorr
City/State/Country: luzviminda
IP Address: 24.186.123.170

Comments
If corrupt officials will be hanged in public there will no officials left. Period.
---
Name: Khely
City/State/Country: England
IP Address: 92.21.162.39

Comments
Poverty is the result of corrupt government....I just hope that Noynoy's bid to prosecute those individuals "na nagpasasa sa kaban ng bayan" is not just another publicity....He can show that, it's genuine by prosecuting his relatives first.....
---