t's back to the dark ages for the hysterical tabloid press in Metro Manila where the bellowing newscasters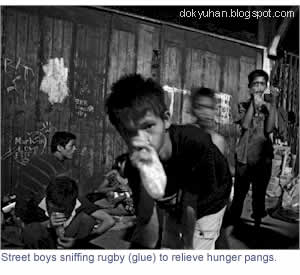 and commentators are condemning street children and children in conflict with the law as criminals. The most strident commentators call for the children to be charged and jailed and reduce the age of criminal liability to 12 years old or younger. They demand that the Juvenile Justice Welfare Act be changed.

This act, Republic Act 9344 is a landmark legislation of compassion that seeks to restore the deprived life of children in conflict with the law. It says that children younger than 15 have an alternative to harsh, cruel prison life where enough of them have been raped, abused, beaten and starved in sub-human conditions. They can be helped, given a chance of an education and rehabilitation through meeting their basic human rights, nutritional needs and education. However, up to a million children and minors from the teeming slums frequent the streets and join gangs to survive. Many hundreds of youth are still jailed in conditions not even fit for animals.

Those who advocate the repeal of the law don't know the reality. They are branding the street children as the tools of the criminal syndicates which the police are either too scared to oppose or are in cahoots with. Instead of exposing the criminal syndicates and their wealthy masterminds, the irresponsible commentators are setting up the street kids as targets for the death squads.

Not only that, a few commentators, after giving a tirade condemning the street kids over the radio or TV and arousing fear and hatred against them, they launch their own text-in surveys, then use this survey result to justify their continued condemnation of the children. The one straight forward solution is to feed and educate the young and give jobs with a living wage to the older teenage youth.

The death squads too are busy killing hundreds of street youth in recent years and doing their bloody butchering work with a nods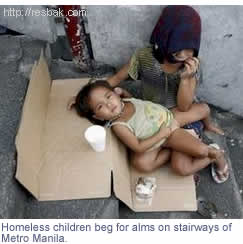 and winks from their political backers and incompetent police. The latest, most gruesome, has been the killing of three youths, 13 and 14, tied, gagged, tortured and stabbed a hundred times and thrown as garbage in a ditch in Zamboanga City to the eternal shame of the politicians, police and citizens. Their muffled screams still cry out for justice and mercy. But there is none.

Cebu and Davao cities are the most notorious for the extermination of street youth. Ten years ago, I called on the former Mayor of Davao City to defend human rights and stop the killings of street youth. Instead, he charged me with libel and had me hailed to court.

It was a proud moment indeed to be able to take a stand for the kids in court but what¹s even more amazing was the crowd of street children that came to Davao City airport to surround me with their malnourished bodies to protect me from the assassins' guns and escort me to a van away from danger. In the end, the Mayor was persuaded to drop the baseless charge. The death squads rule by fear but the politicians call it democracy. If the majority of the people approve by their silence, then I suppose it is. It is the democracy of death and the death of democracy.

There will be no end to the thousands homeless urchins that challenge our conscience and religious beliefs until the root cause is dealt with. That is the corrupt system of government and the insurmountable inequality of society. There is the unbridgeable gap between the tiny group of luxurious living rich and the masses of struggling poor. It's a society where 2% of the population own about 70% of the natural wealth and the millions of hungry slum dwelling people are barely surviving from day to day.

Poverty, mass unemployment and hunger drive the children from these slums on to the streets to a miserable life of hunger and hopelessness. They go begging, and cannot resist stealing when they are hungry and smell the delicious foods that waft out from the fast food restaurants. The hungry children are driven crazy with the desire for a decent meal. Most of the time they live on left over from the garbage cans. The government has no homes that cares for them and delivers their basic human rights. They are the abandoned and forgotten until they are forced to steal in order to eat. Then they are condemned to prison.

This is the fundamental failure of the Church, politicians, society and humanity - to remain indifferent to the hungry needy children and allow them to be condemned as criminals. We have to come to their defense and give them a life of dignity and decency.
Email Fr. Shay Cullen at preda@info.com.ph
Saved Comments from Our Readers


Name: Aiota Capli
City/State/Country: California
IP Address: 165.235.174.72

Comments
The editorial said it all. The problems stem from a corrupt government, with ineffective, self-absorbed members. It seemed too that the media has forgotten the root cause of the plight of the streetchildren. The question is will we ever have a government with a real solution to their plight. The kids were driven to commit crimes to live and survive and the government's solution is to make them liable for it and brand them as thugs? It is time to build a safehouse for children, where they live, be fed, nurtured, and educated on how to become humans first, and lead a life that's devoid of hunger, and criminal minds. They are victims, not perpetrators. If they can have access to basic human needs, then no one needs to take that far a measure.
---
Name: GaryR
City/State/Country: Subic Bay
IP Address: 81.99.86.133

Comments
The church encourages families to have many children which most are unable to support. These children find themselves on the streets begging or stealing to get food for themselves and their families. The govt needs to address poverty before things like the broadband upgrade. Maybe GMA and her family could give back some of their stolen money to help. The RH bill is a step in the right direction.
---
Name: JRH
City/State/Country: Montreal, Canada
IP Address: 173.178.226.201

Comments
Is child incarceration repression or reform? It appears that it's more of a brutal suppression of poor children. Some cities resort to lethal violence instead of greater flexibility & reform. Most of them are distrustful of their own people. Why? These poor children are homeless, derelicts , are considered dangerous. This national problem has never been managed by our govt. Drive along Edsa & you'll see a lot of them hanging around doing nothing or lately victimizing taxi drivers. These people needs help & care. It does no good to arrest those them cuz they're hungry & helpless but nobody seems to care; that make no sense at all. Pnoy should address this as a top priority in our 'Pearl of the Orient' & not 'The scum of the Earth'.
---
Name: Kalabog
City/State/Country: Daraga
IP Address: 64.40.183.70

Comments
Editorial sez- "This is the fundamental failure of the Church, politicians, society and humanity - to remain indifferent to the hungry needy children and allow them to be condemned as criminals. We have to come to their defense and give them a life of dignity and decency." FINE lofty rhetoric indeed! Now how about acting on it! This Padre Cullen should start working on supporting the RH Bill!
---
Name: Anthony Benavidez
City/State/Country: Zamboanga City
IP Address: 94.128.95.62

Comments
The Churches are silent. They, pastors, priests are living in splendor in the midst of the poor people who sleep and eat in the side walks but doing nothing to uplift the living condition of these poorest of the poor citizens. Those who represent God on earth own big business in terms of universities and other forms of business ventures but NOT PAYING TAXES where upon the money from supposed taxes could be utilized to feed and provide shelters to these unfortunates because of corruptions in the government. Let us all hope and support this present Aquino administration to prosecute those who became rich during the past administrations through abuse of power.
---
Name: Artemis
City/State/Country: the Moon
IP Address: 112.208.122.248

Comments
The Church should do something about these children. They have a big role in the moral and spiritual development of the children. Instead of duplicating what the government agencies are doing or trying to run the government they should spread Christianity among the youth and the "buayas" in the government.
---
Name: 7gtg
City/State/Country: regnaks
IP Address: 24.89.83.99

Comments
The government cannot address the problem of street children. The government is too busy abiding by the filam's wishes of prosecution, prosecution and prosecution of the corrupt. So yes.. while you people are enjoying your 'kunyari galit sa corrupt', ang mga real problems ay nakakalimutan. The money and time wasted in going after those 'supposedly corrupt' (Marcoses, GMAs, ERAPs) could have been put to better use by helping these children. It is all your fault you vengeful filams and filcans.
---
Name: LPiF
City/State/Country: LosAngeles/Mla
IP Address: 121.1.11.166

Comments
Poverty and poor PARENTHOOD is to blame for these juvenile gangsters. Instead, RA 9344 should be drastically revised to include holding those parents for child endangerment and parental negligence or pass another law for that matter. These children are never given the chance to better themselves due to government's inability to establish programs that caters to such social disorder. How about our church, what are they doing? Can RH Bill be able make a difference if passed? We must not allow this juvenile disobedience to grow and become another social cancer.
---
Name: jose cinco
City/State/Country: calbayog samar phil.
IP Address: 74.138.175.93

Comments
Baguhin ang regulastion tungkol sa pag-ampon, kapatid kung nasa Texas walang anak gustong umampon ng dalawang bata ang sabi sa kanila dapat daw tumira sa Pinas ng anim na buwan dalawang besis para daw makasanayan ng batang aampunin ibig sabihin isang taon titira sa Pinas. Ano ba naman patakaran mayron tayo nagtratrabaho pa sila ang ibig sabihin ang makakaampon lang ang mga retirado. Di ko alam kong totoo marami diyan may-alam sana mag post kayo.
---
Name: Phil Researcher
City/State/Country: LA County, Ca USA
IP Address: 98.119.17.19

Comments
RE: Street Children who commit crimes.. The problem continues because there are so many people who reproduce children who are irresponsible.. There are just too many kids without a home structure that they end up in the streets with no means of feeding themselves other than to steal from others. The violence won't stop because the local government don't have enough resources to maintain peace and order. Just too many people not enough public officers to police them.. The result is that Filipinos who have a means to leave the country are doing so in droves. Do you believe tourists will flock to PH.?
---
Name: Manuel C. Diaz
City/State/Country: Montnclair CA USA
IP Address: 76.174.219.92

Comments
Street children are sad commentary on the actual condition of Ilsas de ladrones. These Children are stow-aways running away from abusive adults and they end up in the streets and find the street environment worse than ever. The police will arrest them throw them into congested jails with adult criminal recidivists, get raped then are released again into the streets. SWS has no funds for these children. While congressmen/women get Php70million pork per year and the Senator bleeding hearts get Php200million pork per year, there is no money for street children. Viva Islas de ladrones.
---
Name: MR Dumont
City/State/Country: Vancouver, Canada
IP Address: 70.78.166.24

Comments
Sad to see these kids situation. While the Bishops are worried about having expensive SUV's and retirement home. These kids need only the basic need, food and shelter. RH Bill? the church doesn't like it, simply because the more people, the more money. Every peso a poor Filipino puts in the collection box is for the comfortable living of the hypocrite priests and bishops. For the government officials, they don't care. They live comfortably, so everything can wait for all the bills. In the meantime, they will waste time of bickering each other. What a country? both church and government!
---
Name: hms
City/State/Country: New York
IP Address: 67.241.96.149

Comments
And the Church Opposes the RH Bill. Think about it. Pretty soon they will be killing street children like in Brazil. What a dysfunctional society the Philippines is.
---
Name: WDC
City/State/Country: California
IP Address: 75.38.79.153

Comments
Are you bunch of crazy people? Why blame those impoverished children who live in the street? Blame yourselves by being unkind and greedy. Don't send these children to jail, send those politicians who continue robbing the country to jail. If not for those SOBs, Philippines would never have any of these problems.
---
Name: Phil Crusoe
City/State/Country: New Zealand
IP Address: 118.93.248.123

Comments
As the Street Kids attack the wealthy their situation gets more desperate each time. Look back over 20 years has it got any better? The wealthy with power, police and religious groups can change this but hide behind their wealth or empty words. It is only a matter of time before their family will be affected by an incident with these kids. Their rich and powerful world is getting smaller and the Street Kids world larger and both are becoming just as troubled. Its not rocket science you need a balance. You do not have to give them all your wealth just a chance nor a thousand empty words just a few truthful ones. The secret is to start with the youngest save them and they will save the next generation and your next generation may not have to be victims of your apathy! Reap what you sow!
---
Name: 1 UP
City/State/Country: GOTHAM CITY
IP Address: 108.14.177.130

Comments
The argument is quite simple. The offenses of these minors are non-violent crimes. Philippine lawmakers are narrow minded applying the same rule on adult crimes as applicable to minors by sending these juvenile offenders to adult prison, labeling them as a threat to public safety or national security and making them receive adult sentences. Whoever the author of the bill is to lower criminal liability for minors is completely detached with reality if not cerebrally challenged (dumb if I may conclude)
---
Name: Cupid
City/State/Country: Loveland
IP Address: 166.137.137.115

Comments
Parental neglect, a government out of touch, and a church more involved in politics than in social issues are causing these minors to commit non-violent crimes. The problem got worse when lawmakers started thinking of applying adult sentencing standards to minors.
---
Name: tonyO
City/State/Country: pinas
IP Address: 114.108.192.10

Comments
Cupid: "The sight of children sleeping under the bridge, begging for money in the streets, and scavenging for food are the UNINTENDED CONSEQUENCE OF RUNAWAY POPULATION GROWTH." Very right! But the Catholic Church, Marie and the CBCP don't think this way. They invoke erroneous theology to political and economic issues versus irresponsible parenthood and over population. The irresponsible parents of these kids blindly caused the miserable life of these kids. These sanamagan, sanamabit parents must be penalized for their misdeeds or caponized.
---
Name: tonyO
City/State/Country: pinas
IP Address: 114.108.192.12

Comments
These criminal minors are the runaway children of irresponsible parents who produced unmanageable number of children that they cannot feed and raise towards a responsible citizenry. Pinas does not only need the RH BILL. Dapat mandatory family control that limits a maximum of two children per married couple. Unemployed should be barred from from getting married.
---
Name: JRH
City/State/Country: Montreal, Canada
IP Address: 173.178.226.201

Comments
There's 94 million reasons why the gov't, church, corporations, companies, the entire citizenry must work together to solve & improve the lives of these poor kids in the Phils. This challenge has never been so great cuz we must provide food, energy, & safety needs of this growing youth population. They're at a disadvantage cuz they can't afford to go to school, thus, less employable. On the other hand, a large amount of funds must be provided to help them. It's a dilemma for our govt & the onus is on these poor, hungry, sick, neglected & desperate people. It might take a lifetime for these people to see the day. It's sad & tragic.
---
Name: WILLIE MALOLES
City/State/Country: ANAHEIM, CA
IP Address: 99.108.249.176

Comments
There should be more "tuloy sa Don Bosco" in the Philippines. It would be nice if pres. Noynoy (an Atenean) will lead a crusade to have it on every city, town, barrios, barangays of the Philippines and the Bosconians around the world I'm pretty sure will donate for this good cause, by following the teachings of our father and teacher of youth, Don Bosco- help the poorest of the poor and marginalized youth of today. Long live fr. Rocky Marciano Evangelista, SDB of tuloy sa Don Bosco in Alabang.
---
Name: JPM
City/State/Country: NYC
IP Address: 76.117.33.169

Comments
I would like to have the mayor of Davao and Zamboanga be raped and tortured. This the best way for them to feel the injustice being done to the Filipinos.
---
Name: kanada
City/State/Country: kanada
IP Address: 99.226.123.71

Comments
From the picture of this editorial it's so sad and I feel really so sorry about the children and that little girl in the picture. I imagine my little daughter if she suffered the same fate. I feel so mad about the arrogant greedy corrupt and immoral people in the Philippines. They exploit these helpless children. I wish there would be more kind generous people who will help these poor children. It's a shame that society is so greedy and they have no SHAME. Nagsisimba pa yung iba sa kanila as if they are proud of themselves by going to church. If they believe in GOD, maawa naman sila sa mga batang ito. I did my part, I adopted a little girl already
---
Name: 1 UP
City/State/Country: GOTHAM CITY
IP Address: 108.14.177.130

Comments
In the US, Children who are abused or neglected by their parents are taken away from their parents and become wards of the state or sent to foster homes. The parents may be incarcerated for neglect or endangering the lives of their children. The opposite is true in the Philippines, the children end up being incarcerated. If we are a Catholic nation (AS WE PROFESS WE ARE) where is compassion here? The nation has lost this virtue and sanity as well.
---
Name: Cupid
City/State/Country: Loveland
IP Address: 166.137.139.132

Comments
MCD: These children have lost a lot. They have been abandoned by their parents, neglected by their government, and penalized by society. They lost their innocence, their self-esteem, and human dignity as well. If they succeed in life, it is by sheer luck.
---
Name: Spiderman
City/State/Country: Manila
IP Address: 112.205.9.141

Comments
These kids are just kids today but criminals tomorrow. Society sees with blind eyes, just waiting and doing nothing,...Brazil also has this juveniles running around the streets and the police have been left to kill them like rats. Are we going to let them do the same to these poor children?
---
Name: 1 UP
City/State/Country: GOTHAM CITY
IP Address: 108.14.177.130

Comments
Children become easy victims of poverty. They are ill-fed, uneducated, misguided, and badly nurtured. They lose their innocence very early on and they are involuntarily brought to a world in which survival is more important than observing society's moral standards (that they are totally unaware of)
---
Name: Phil Researcher
City/State/Country: LA County, Ca SA
IP Address: 98.119.17.19

Comments
Re: Article of Fr. Shay Cullen.. The article of Fr. Shay mentions what happened 10 years ago.. In other words nothing has been done which would minimize if not eradicate youth criminal behavior...There are civic org. in each locality.. They can initiate programs to give incentive to youthful offenders to be on the side of law and order... The crimes that these children commit are usually crime of desperation.. They have no one to turn to so they commit crimes most of the time in order to eat...This is what happens when very few people care.. the others just turn away an refuse to acknowledge the problem.. The Gov't has lots of money imagine Pork barrel for 1 senator is $200 million. Is that per year? Yes. it is.
---
Name: JRH
City/State/Country: Montreal, Canada
IP Address: 173.178.233.37

Comments
These poor & destitute children is a generation in waiting. They are waiting for good education. They are waiting for good jobs. They are all waiting for an opportunity to be a part of our society. However, they are excluded & suffering unemployment rates nearly twice Asia's average. Metro Manila is a city of contrast & sorrows. The ultra-rich live in mansions & gated residences, while nearly a quarter of dirt-poor Filipinos live below the poverty line..in poor health, hungry, in poor dwellings with no electricity, proper sanitation, water supply, etc & chronic shortages of houses, clothing, & food. Pnoy's many promises for a better Phils must include them.
---
Name: WDC
City/State/Country: California
IP Address: 64.160.201.106

Comments
How the children live reflect the kind of people in that country. Pres Aquino wants to invite Obama to come to the Philippines. If he comes, don't take Obama to Malacañang Palace. Take him to the area where these kids live so that he can decide for himself what kind of people we are.
---
Name: Concerned Pinoy
City/State/Country: SFO, CA, USA
IP Address: 67.188.147.188

Comments
Shouldn't this be a wake-up call to those who oppose the control of population growth? To those who oppose the RH bill, that is, ayaw bigyan ng choice ang couples to regulate their number of children, kayo ba ang magpapakain at magdidisiplina sa mga batang ito para hindi mapariwara sa ating lipunan? Just a penny for my thoughts
---
Name: boy vegas
City/State/Country: las vegas, nv
IP Address: 199.36.244.19

Comments
Show this to Gloria Macpagal Arroyo and her husband who's busy finding expensive stem-cell treatments for themselves of course paying for it with their looted billions. What kind of evil people can stomach stealing from these street children! May their souls burn to hell!!!
---
Name: GFJBHEDF
City/State/Country: Hercules
IP Address: 67.188.19.40

Comments
If a picture is worth a thousand words, how much is a video worth. Here then, please let us meet Fr Shay Cullen. > LINK
Thanks GFJBHEDF for pointing this video out for your fellow PHILNEWS.COM readers.
---
Name: cmd
City/State/Country: san diego, californi
IP Address: 159.71.254.248

Comments
I just hope the gov't will do something to help these poor children. I felt sorry for them when I saw them on the street in Manila doing what they were doing because they have nothing to eat.
---
Name: Concerned Visitor
City/State/Country: Canada
IP Address: 210.248.172.193

Comments
Can't the police enforce that if they are of school age they have to be in school? No school...no education...no chance for a job...and the pyramid of despair gets wider and wider
---
Name: emymaranca
City/State/Country: USA
IP Address: 71.164.206.40

Comments
It's really sad that our children in Phil. are suffering as a result of graft and corruption. Government officers who rule and have been in the government service are busy working only for their pockets. It is really sad commentary. Yes, your observation that neglected children are taken by a government agency in USA is correct. In Phil., non-profit organizations have no money because most of the funds go to administrative services, or to politicians. There is no more money available for needy children. Rumar
---
Name: Maria
City/State/Country: Canada
IP Address: 207.102.90.235

Comments
I hope the DSWD must do their parts. Look at those rugby children, homeless family, children being abused. The participation of the Church, Government, Charitable Institution must be the first one to response to this kind of situations. Especially the children who are victimized by their own family, or because of poverty. Where are the World Vision? Where are the Christian organizations who are supported by members of the church, philanthropist? I am an ordinary citizen in my own little way are helping. I hope this people will open their eyes wide and see what is really happening around them. Many are hypocrites. Do not condemned this children, they themselves are the victims. They need help.
---
Name: Steve R
City/State/Country: California
IP Address: 98.234.19.64

Comments
"Mother nature created the wrath of typhon Pedring. PNoy is helpless in controlling the strength of typhoon - causing deaths, flooding, hunger and family displacements but he can order DSWD Sec Soliman to put in place her emergency response to the 1.7 million street children in Manila area & other cities. PNoy, the most noble legacy that you can give to Filipinos is to give that specific order to Sec Soliman that will surely make the PH a different country when you step down from Malacañang in 2016.
---
Name: JRH
City/State/Country: Montreal, Canada
IP Address: 70.80.150.155

Comments
These poor kids are like nomads & gypsies. They constantly wander around looking for handouts or at times are scavengers of whatever is available including left-over food in garbage bins. In desperate moments they might resort to petty crimes to survive. Fragmented by their class, the poorest of the poor are mainly ignored by our own people. They have a few benefits from gov't social welfare. Most of them are clustered in slums & ghettos. They are united by a history of poverty & exclusion from Phil society which is the biggest human crisis ever in our country. If we have 9 billion pesos surplus, then, use part of it to help the poor. Why not?
---
Name: JRH
City/State/Country: Montreal, Canada
IP Address: 70.80.150.155

Comments
The poor conditions of these destitute children are reflection of what our learned leaders have managed to ruin. The sad part is we can't treat somebody like GMA if she doesn't know that she is sick. She's the worst leader we ever had. A gross expenditure of close to 1 billion pesos in foreign travels. That amount alone plus a billion spent on PAGCOR's coffee could have helped the poor & the destitute in our country. You don't have to be a scientist nor a mathematician to figure it out. 2 billion pesos is a lot of money. The previous administration could have put it into good use instead of the useless travel junkets by GMA all over the world & her insatiable greed for money. God bless her soul for screwing the Filipinos.
---
Name: jessie
City/State/Country: honolulu
IP Address: 98.155.249.118

Comments
The editor's report about killing ang extermination of street children is absolutely intolerable. We have the proper authority dealing with this kind of problem. Local governments, police officers, DSWD, and CHR. Either agencies should protect and defend our children's right. If either one of them cannot handle the job or violates the law, they should be removed or brought to justice. Incompetence and dishonest officials have no room for public office. I know it takes guts to fight these worthless people. The only thing the editor can do is to inform Pnoy and prove the allegation.
---
Name: Juan de la Cruz
City/State/Country: Pasig
IP Address: 112.205.9.141

Comments
It is heart warming to note that there are quite a few individuals remaining that are concerned with our children's plight. They turn to crime because the see crime being done by even our cops all around. These are the cancer of our country when even the lawmakers are in the game of cheating, lying, killing, stealing and what not. Re-educate these hooligans now and rid the Department of the cancer within it's ranks.
---
Name: Vanessa Lee
City/State/Country: Kuwait
IP Address: 62.215.228.249

Comments
Parents of these poor kids are first to be blamed majority of these cases failed to fulfill their responsibilities. Children are deprived tio live decent life, proper education, good foods, etc. that forced them to engage in illegal activities. Many of them are selling foods struggling themselves to enter inside buses ignoring the risk and even in the late hours of the night they are virtually an easy prey. DSWD should have a greater role in this regard, they can justify have fund to subsidize education for these poor kids. (please refer Cont. 2)
---
Name: Vanessa Lee
City/State/Country: Kuwait
IP Address: 62.215.228.249

Comments
Cont.2 These kids are also meant to be taken care of just like those rich public servants who are having rich pork barrel, they also have right to be given corresponding graces to alleviate their plights – a permanent Special Financial Assistance Program for the poor kids. Mr. President with due respect could you do something in this aspect?
---
Name: Joe Reyno
City/State/Country: USA
IP Address: 98.207.190.69

Comments
Poverty in the Philippines and the inadequacy to provide for her citizens stems from lack of social services funds. Like parents, the government have the responsibility to nurture their children. Failure of citizens to pay just taxes and corruption within the government, I think, are major problems that exacerbate the situation. When individuals steal from the gov't, its citizens ultimately suffer.
---
Name: DONALD S.
City/State/Country: DUBLIN, IRELAND
IP Address: 137.191.244.11

Comments
Another way of misleading MEDIA....destroying the society instead of exposing the main roots child abuse...they instead accuse the helpless kids. They deserve a second chance even a third chance. We must all take our part. Our society just really gone wrong. We must act to improve quality of FAMILY LIFE....LET'S DEFEND LIFE. Save A LIFE! DO NOT CONDEMN The street kids.....MEDIA Do not turn your back! hunt for those abusive individuals..those who abuse the rights of the children...
---
Name: Helen Villanueva
City/State/Country: Hawaii, USA
IP Address: 75.95.234.132

Comments
"Children are one third of our population and all of our FUTURE." Children should be loved even though if they dont deserve it because thats when they needed most.. Their parents are never to blame.. But the Officials who HURT them... Government doesn't act like real politician but more like Celebrities using money for their LUXURY.. It really sad but very True...
---
Name: As I See It
City/State/Country: Cebu City/SD,CA
IP Address: 70.181.236.127

Comments
If only our priests as well as our political leaders are like Fr. Shay Cullen - the kind of attitude that he has, his enthusiasm and dedication to uplifting the lives of children I could already imagine how far and how wide our country would have progressed not only in this area in particular but as well as in other areas in general. Every Pinoy who has seen his works, or has known what he is doing in our country (actual or through video) owes him in no small measure a gratitude. A priest from faraway Ireland choosing the Philippines as his adopted country for his 'mission' is already an awesome thing; and for about 37 yrs has been doing this! He is a hero.
---
Name: Lorna
City/State/Country: California
IP Address: 72.28.213.211

Comments
Street children has been an existing problem in the Philippines and other poor countries. It is so sad to see these children suffer with no relief from the government since their own family failed to provide them with basic need. I only hope that the head of the Philippine government will do something, but what do you expect?
---
Name: plaza188
City/State/Country: manila
IP Address: 110.93.70.66

Comments
If the parents had been educated, inform of family planning, would there be as many children? who is to blame? schools? church? the mothers, fathers? elected officials? if less unwanted or unplanned babies was born there would be less of this.
---
Name: WDC
City/State/Country: California
IP Address: 64.160.96.230

Comments
Anybody thinks that our country, the Philippines is OK, he/she needs to have their heads examined. It is not only these children who are homeless are the issues, go to any city in the Philippines, you will see these young girls, I mean very young girls selling sex. Even the US ambassador claimed that our country is a sex tourists place. You are a fool if you don't admit that Philippines is not used to be-Philippines is a corrupt country now and not going anywhere because people like you are in denial.
---
Name: kanada
City/State/Country: kanada
IP Address: 99.226.123.71

Comments
RE: "The editor's report about killing and extermination of street children is absolutely intolerable" I agree. Hitler attempted to the same thing to European Jews. Saddam Hussein did the same thing to the Iraqi Kurds, Bosnia Serb Forces did the same to Bosnian Muslims. Syrian Forces shoot their own people. Enough is enough. We should change those in positions of power and bring them down for their atrocious ideas. Imagine? The thought of killing innocent children who are just trying to survive? Do these rich people have no shame?
---