And with criminal charges piling up against the former President, seeking asylum in a foreign country might seem an increasingly attractive option. One after another, former Arroyo operatives are turning state witnesses and agreeing to testify against them. From questionable government transactions such as the recent PNP helicopter sales to the alleged rigging of the 2004 and 2007 elections, the Arroyos now have a lot on their legal plate to worry about.
To inoculate herself from the slew of court cases that she knew would be headed her way once she stepped down from office, Arroyo made sure she stacked the high court with people she could count on. In an unusual private swearing-in just weeks before her term ended, Arroyo appointed her former Executive Secretary, Renato Corona as Chief Justice of the Supreme Court.
After she had her people in place in the Judiciary and the Ombudsman's office, Arroyo ran for congress in her home province of Pampanga—an election she knew she could not lose. Arroyo could then use use her powerful Lakas coalition party which held a comfortable majority in the Batasan Pambansa to ram through a constitutional change to a parliamentary form of government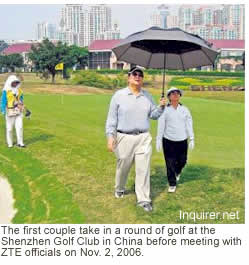 and get herself voted in as Prime Minister. But alas "the best laid plans of mice and men often go awry" as the old saying goes. Although she handily won her congressional seat, her powerful coalition in Congress had lost its steam as well as many of its members.
With Arroyo's plan to become prime minister looking more remote by the day, and the continuing onslaught of lawsuits and allegations of corruption leveled against her and her family, Arroyo might now see a quick dash to a friendly country as the only viable alternative to possible incarceration. The ex-President and her husband can continue playing their "pobresita" and "pobresito" card feigning one serious illness after another to gain public sympathy, but that will only buy them a bit of time.
And with the present Administration's prosecutors closing in on them, the thought of playing golf everafter with the Alps or possibly the Pyrenees mountains for a backdrop might seem like a darn good alternative to a life behind bars. Published 10/28/2011
Saved Comments from Our Readers
Name: Cupid
City/State/Country: Loveland
IP Address: 166.137.137.60

Comments
If the Arroyos are allowed to leave the country on a lame excuse that a foreign doctor has to look at their ailments it is almost certain they will never come back and face the music. Moreover it makes the local doctors really look like third world physicians. People's attitude locally will never change when it comes to the administration of justice . Everything is a big joke. These Arroyos really have all the money to spend for medical care in a foreign country. My insurance provider had to pay my 2 day confinement without surgery $11,000 plus without surgery.
---
Name: GFJBHEDF
City/State/Country: Hercules
IP Address: 67.188.19.40

Comments
DOJ secretary de Lima is experience wary, that is why she issued WLO, just not to single out GMA, on a slew of supposedly former election nincompoops. Even at the onset of GMA's 3 letters to her, if anything goes wrong, she won't bear the brunt of responsibility alone, de Lima tossed the decision on the lap of Health secretary Enrique Ona..."If it's okay with Sec Ona, it's OK with me." Of course freedom of travel is constitution OK, and SC has not objected?
---
Name: Phil Researhcer
City/State/Country: La County, Ca USA
IP Address: 98.119.17.19

Comments
RE: your question of GMA going to skip town? Hell no. They are not.. The analysis is very simple.. They may have committed some violations of laws.. using her power as Pres. to win the 2004 election..But then she has placed enough people in the SC-- the ultimate arbiter.. Whatever happens in the Sandiganbayan will be appealed to the SC.. The SC as it is constituted at this time would not convict her of any crime.. May mga utang na loob sila kay GMA.. If the family of FM was able to get away with 12 years of dictatorship.. GMA only cheated FPJ and he is dead, of course they(with FG and children unduly enriched themselves at the expense of the Filipino people..but except for very few people in government most of them have unduly enriched themselves.
---
Name: Gene
City/State/Country: Ontario, Canada
IP Address: 174.93.115.84

Comments
Gen. Ligot & wife cannot be found. Warrant of arrest was issued but the Gov't. was really stupid for failing to keep Ligot within their reach despite the Senate probe about his corruption in the AFP. Lack of insight & concern by Gov't. officials are the causes for corrupt people to live the country. Now, why would De Lima and Belmonte allow Gloria to leave the country when she is under investigation for several corruptions? Her medical condition of hypoparathyroidism can be treated in the Phil. by endocrinologists. She wouldn't die ASAP & it is not even a medical emergency. It's time for Filipinos to be decent & follow the Rule of Law. Get rid of the old ways & stupid culture.
---
Name: GFJBHEDF
City/State/Country: Hercules
IP Address: 67.188.19.40

Comments
Where would you seek help if you are afflicted with endocrinology disorder such as GMA has? You would want specialists that the Philippines is deficient of. you will go to.. > LINK GMA is suffering from what might have been caused by the series of neck operations she underwent at St Lukes hospital in the Philippines. It is called hypoparathyroidism. > LINK
---
Name: WDC
City/State/Country: California
IP Address: 69.110.193.171

Comments
Don't let the B#tch Gloria Arroyo leaves the country. Put her and her thief husband in prison until they are rotten!
---
Name: James
City/State/Country: Philippines
IP Address: 112.198.79.31

Comments
The Aquino Adm., must be reminded that Marcos allowed Ninoy to go abroad for medical treatment; Whatever Ninoy did after that is now history; They should allow GMA to seek medical treatment abroad; The Aquino Adm. however, must file whatever cases they could file to Court. The bottom line here is file the cases against GMA while she is still ALIVE! Don't bash GMA if she is already DEAD; Give her a chance to defend herself in Court!
---
Name: Vanessa Lee
City/State/Country: Kuwait
IP Address: 62.215.228.249

Comments
Not to single out GMA and her husband I refer it to any public servants who violated his oath should pay the price. It is high time for the Administration to prosecute GMA from start to finish. Veracity of the proof of crime against her is already in front of you people. There is Mr. Bedol, and the Ampatuans to name a few. The Administration should not delay to take legal action against GMA. The idea that she is planning to go to those countries, Austria, Singapore and Germany that are having no extradition treaty with our country only shows us that she really is guilty. Hope this time it is contrary to her episode of luck. Not that easy GMA!
---
Name: Snookyboy
City/State/Country: Pinas
IP Address: 64.114.129.230

Comments
We have very good doctors in the Philippines. They can be compared to doctors abroad including those in North America. Remember our hero Jose Rizal and other Filipino Doctors now practicing in the USA. We have doctors in Amsterdam and other parts of Europe including the UK. Masyado lang itong iba colonial mentality. Why do we always see the white monkeys doing better than the brown monkeys. Sorry if pronta na itong sinasabi ko. Magising na kayo!!!!
---
Name: Manuel C. Diaz
City/State/Country: Montnclair CA USA
IP Address: 76.174.219.92

Comments
Do you really believe in this crap about jailing the Arroyos? The Indios cannot even jail Imelda and Marcos' cronies who have only Estelito Mendoza. How much more now when GMA has majority justices in the Supreme Court plus the Chief Justice the "Crown of Thorns" All those plunder cases filed are only good soundbytes nothing will happen to the Arroyos both ex FG and Ex President will die of old age enjoying their loot.
---
Name: margarita lopez
City/State/Country: los angeles, ca, usa
IP Address: 72.207.69.196

Comments
There are a lot of excellent Filipino doctors, bakit kailangan pang pumunta sa ibang bansa? Kung wala siyang tiwala sa mga Filipino doctors, papuntahin na lang niya yung foreign doctor(s) sa Pilipinas. Sa dami ng pera niyang iba-ibang pinanggalingan, kayang-kayang bayaran nila, hindi ba? Hindi ba obvious kung ano ang binabalak niya? What a coincidence na kailangang magpagamut abroad! Maiisahan na naman ang Philippine government. Ganoon na lang ba? Wala nang katapusang panloloko sa taong bayan?
---
Name: JRH
City/State/Country: Montreal, Canada
IP Address: 70.80.16.192

Comments
If 15 former & current electoral officers from various municipalities in the south are most willing to testify against Mrs. Arroyo that they tampered the election in 2007, chances are, one or two might prove that there was actually massive electoral sabotage that violated the Omnibus Election Code, Revised Penal Code, Anti-graft Law, & Falsification of official documents, etc. No matter how you figure it...it's just statistically improbable to win a 12-Zero electoral sweep. Surely, they tampered with the result officially ordered from the top. So, if the chances of evading this is very slim, then, the time for Mrs Arroyo to go is now..or never.
---
Name: Steve R
City/State/Country: California
IP Address: 98.234.19.64

Comments
A condition to Rep G.M. Arroyo's request for passports should be for her to voluntarily plead guilty to all charges of plunder against her & her husband, and for both to return all funds tied with plunder cases to the government. Dream again Steve, but dreams are free. But if it happens, what a wonderful day it would it be for all concerned including the accused.
---
Name: Gene
City/State/Country: Ontario, Canada
IP Address: 174.93.115.84

Comments
The news about Gloria being booked to appear for her corruptions, Iggy (itchy) Arroyo without a blink suggested that her sister in-law shd. seek medical tx abroad. Hypoparathyroidism is rare but it can be managed & treated in the Phil. by endocrinologist. These are specialists & most of them have post-graduate training in U.S. or elsewhere. By saying that Gloria's condition is untreatable in the Phil. is a stupid doctor. Besides, why would she be allowed to visit 5 countries? Is she going to update her bank acct. in Germany or Spain? Could it be that during her neck surgery, the parathyroid glands were damaged? GLORIA MUST NOT BE ALLOWED TO LEAVE THE COUNTRY.
---
Name: Gene
City/State/Country: Ontario, Canada
IP Address: 174.93.115.84

Comments
Accdg. to Sen. Drilon, Gloria's right is violated by not granting her to travel for medical tx. Did Sen. Drilon say something about Erap's plight when the latter was seeking surgical procedure for his hip to the U.S.? NUNCA MR. DRILON bec. you were a "tuta" of Gloria & as a member of the Board of Canvasser, you denied Filipinos the right to know whether those election returns were genuine by not allowing the opening of the disputed returns. And together with Sen. Pangilinan, JDV, Raul Gonzalez all of you committed an injustice to your country.
---
Name: Martin
City/State/Country: Saudi Arabia
IP Address: 166.87.190.140

Comments
The Arroyos will "face the music" and in the end be total exonerated of all charges....mainly because all evidence appears only hearsay and rumor based evidence, with no documentation to the crimes. Without documentary evidence, these cases would never even make it into US or European courts. I have a strictly neutral viewpoint when it comes to Arroyo, and see so far in the vote fraud case, its all rumor and hearsay evidence. Case dismissed!
---
Name: blumentritt
City/State/Country: Mnl
IP Address: 69.115.160.11

Comments
Gloria advice ko sayo tapalan mo na lang nang salompas yang leeg mo, so you don't have to travel abroad to look for a specialist. The head is getting heavier maybe because of the problems you're facing. Two or three letters to delima won't do – try the brown bag you used to give out, if not your boy Corona is the last resort, he might be able to help return the favor.
---
Name: Cupid
City/State/Country: Loveland
IP Address: 166.137.136.69

Comments
The argument of Senator Drlllon that Gloria's right to travel is being violated is garbage . Gloria and family are flight risk. Didn't this senator know that some names in the US and Canada are in the no fly list without their knowledge. Were their rights violated?
---
Name: HMS
City/State/Country: New York
IP Address: 67.241.96.149

Comments
One thing the Philippines can do, if it really has to for whatever reason, is to allow Gloria to seek treatment for 2 months BUT NOT her husband who also happens to be facing various cases. They are banking on the Filipinos' naïveté and sense of decency to escape their liability. Then there are those stupid, idiotic, bleeding-heart politicians parroting their lines. This is one golden chance for the government to show it's serious against corruption. If they allow these thieves to leave then they blow it.
---
Name: Tomas Decena
City/State/Country: Dammam, Saudi Arabia
IP Address: 91.230.125.119

Comments
Cong Dado must be flipping over in his grave. He married off his daughter Gloria to a rapacious man Mike Arroyo and would flip over again to learn his grandson Mikey inherited his father's insatiable greed.
---
Name: Oruasor
City/State/Country: Zamboanga City
IP Address: 178.53.135.175

Comments
Not to skip town but to skip being investigated. Her lawyer has groomed her to be an actress
---
Name: Edward
City/State/Country: Angeles City
IP Address: 98.160.174.84

Comments
Diaz said, Gloria won't be going to jail. Correct, and you know who else knows she won't be going to jail, Gloria. She is have a good laugh at everyone.
---
Name: JRH
City/State/Country: Montreal, Canada
IP Address: 70.80.16.192

Comments
Why the hell not? There are only a few options left for GMA & the FG. If I'm in their shoes, I'll go somewhere & hide (ala Ligots) to save my neck (no pun intended) from the indignity & humiliation of going to jail. But there are just too many witnesses willing to testify against them. If 10 out of 30 will eventually prove their guilt, it will be an insurmountable odd against them & not in their favor at all. To resettle to a neutral country is a better alternative. Go for it Mrs. Arroyo & good riddance. Better to reign in a safe sanctuary than serve hell in the Phils. Pack the bags, transfer your retirement funds & just go..sing 'don't cry for me Philippines'.
---
Name: Oruasor
City/State/Country: Zamboanga City
IP Address: 178.53.135.175

Comments
In our country there is an easy sure way to avoid investigation. After you ransack the national treasury or earn money to support your immediate family and relatives to go on tour around the world through illegal ways, just go to the hospital and spend millions to diagnose you as you need to undergo stomach operation or knee surgery so the agents of the law will spare you from being investigated or worse you will be advised by lawyers to be acting like actors and actresses pretending that they really need to go abroad for medical necessity. This is how money can change lives of people.
---
Name: JRH
City/State/Country: Montreal, Canada
IP Address: 70.80.16.192

Comments
Okay, what are the options for GMA? 1. To stay & possibly be found guilty of all those damaging charges, 2. Hope to prolong the cases (ala Ampatuan massacre case), 3. Claim health reason that the weather in the Phils is not conducive to her recuperation, 4. Lie her teeth off (as usual) to return & skip town eventually. Once gone out of the country, she'll be untouchable & free as a bird. The smart & practical way is to go where it's totally safe & devoid of any further pressure. With that scenario, we can safely say that given the option to seek medical attention outside the Phils & finally bail out, it's the most reasonable thing to do..they will take the risk. Liars will promise or say anything just to save their asses. Hell awaits them wherever they go.
---
Name: hms
City/State/Country: New York
IP Address: 67.241.96.149

Comments
No Doubt About It. Those Arroyos are the biggest, most shameless CROOKS who ever walked the earth. Their history of crookedness is so well documented that they do not deserve to be given the benefit of the doubt. They should be jailed instead. That Gloria Macapagal Arroyo, she makes the Marcoses look like saints.
---
Name: Mike M. Moreno
City/State/Country: Richmond BC. Canada
IP Address: 174.6.119.168

Comments
Cielo Macapagal-Salgado, half sister of fmr. Philippine President Gloria Macapagal-Arroyo, after spending two hrs. praying and talking with Gloria in her Quezon City mansion said, Gloria is okay except her brace. She can talk and walk just like a healthy person can and her hair is "jet black" contrary to Glorias "caregivers" Raul Lambino and Elena Bautista-Horn press releases that, Gloria has grown thin, weak with hair turning white are all lies.. GMA said, I SHALL RETURN" to face series of unbailable crimes such as plunder, election sabotage in the 2004 and 2007 polls. This writer believes she will, but only after P'Noy's term ends in 2016 and with the power of her billions safely deposited in countries with no extradition treaty to the Philippines, the Arroyos will be free again.
---
Name: Politiko
City/State/Country: Dumaguete City
IP Address: 180.190.166.15

Comments
For humanitarian reasons (if deemed necessary) let Gloria have her medical treatment abroad but let somebody else accompany her not her husband for goodness sake. Mike should not be allowed to go out of the country.
---
Name: Rollie Cruz
City/State/Country: Chicago, Illioniois
IP Address: 74.100.160.48

Comments
Our country is known to have a very corrupt government for many years. With Imelda Marcos, Joseph Estrada and many being out of jail despite their convictions, I am not sure whether the current President/administration has the guts to put the Arroyos in jail. Gloria Arroyo stole the Presidency in blatant disregard for decency. And while in power, stole millions, if not billions. Just hope the government will not allow the Arroyos to leave the country as they will just merely ignore our laws and render their eventual convictions moot. They do not deserve mercy and this is our chance to show the world, that after all, we are a society of laws, not of men.
---
Name: LATEPOCA
City/State/Country: SOMEWHERE IIN MIDDLE
IP Address: 121.1.30.222

Comments
CGMA will definitely not be going back to PH once she can get out form PH. All efforts to put CGMA in jail will be in vain.....PNOY should not allow CGMA to go abroad. Her present predicament is a form of disguise to evade her guilt.
---
Name: LPiF
City/State/Country: LosAngeles/Mla
IP Address: 121.1.11.38

Comments
If Pandak Arroyo is really sick, why did she wait this long to seek medical attention? She could have done this during her term. Didn't bigote Estrada use the same excuse? It is endemic it seems only in the Philippines, ha ha...Her tuta supporters claim her rights are being violated for not being allowed to leave the country. Isn't it obvious that she is trying to escape indictment? Bakit kailangang pumayag na lansihin ang mga Pilipino ng isang pandak na magnanakaw? Sobrang tanga na lang ang maniniwala, ha ha..
---
Name: JRH
City/State/Country: Montreal, Canada
IP Address: 70.80.16.192

Comments
Corruption charges will be filed against former Pres. Arroyo by November. It's a bit of a paradox that the gov't lacked concrete evidence yet. They are only relying on credible citizens to come forward with the damaging information if any. Those who will come forward will be placed in a Witness Protection Program & be accorded immunity from any criminal charges. Question. Why late November? She might soon go for expert medical consultation abroad. Why not bring all the charges lump sum & immediately start the court proceedings right away? Postpone the trip & put it on hold. Her condition is not life-threatening anyway.
---
Name: Rollie Cruz
City/State/Country: Chicago, Illioniois
IP Address: 74.100.160.48

Comments
Even without the money people claim the Arroyos stole, I believe they've got the money to bring competent doctors (if they believe, we have none in the Philippines) from abroad to treat her "illness." Let us not be fooled by the Arroyos. If they can steal the Presidency, the can steal their freedom as well and mock our country from abroad.
---
Name: Edward
City/State/Country: Angeles City
IP Address: 98.160.174.84

Comments
The president you have now is not really a "president". With all these investigations he started tying to catch and prove thieves stole monies, he's like a chief detective of the FBI. His problem is he knows, I know, WDC knows, we all know who stole the money. His problem is he's all alone, how many honest people are around him. ZIP, ZERO. Gloria will never spend one day in jail. So you people who are hoping that Gloria receives punishment, my advice don't lose any sleep hoping for a miracle.
---
Name: Bembol Roco
City/State/Country: Philippines
IP Address: 173.63.226.61

Comments
Phil Gov't should stop the practice of having the medical condition as an excuse not to face the charges. This is unfair to those in prison or being tried who can't afford to hire these corrupt doctors.. Why don't we send the medical team to her jail or to her house? Why does she has to go abroad? If we keep on doing this, Filipinos will never be reformed. Corruption will always be there. She has to pay for all her sins.
---
Name: GFJBHEDF
City/State/Country: Hercules
IP Address: 67.188.19.40

Comments
The series of operations incurred by GMA by Philippines foremost hospital, St. Lukes, is the primary cause of her hypoparathyroidism suffering, which St. Lukes is not capable of fixing for lack of endocrinology specialists, which Germany can provide. It's much cheaper for GMA to seek medical treatment and rehabilitation there, and cost prohibitive for the PHL Gov't to have the specialized facility moved to the PHL just for GMA, I imagine. It turns out GMA may opt not to go, as she is very much geared up and ready to face her legal assailants.
---
Name: pinaskongmahal
City/State/Country: usa
IP Address: 70.249.80.107

Comments
Wangwang PNoy & Sec Delima, this is for you: GMA is a notorious liar. Can you recall when she announced she's not running for another term? When challenged if she ever called Abalos about her standing (toe to toe with FPJ) so she can perform a dagdag-bawas scheme by her insider supporters (Ampatuans, Abalos, Garci, Esperon, etc) for a win-win election in Mindanao, all she said, "I'm sorry". FPJ obtained zero votes in areas in Mindanao where he's believed to be very popular. Wangwang PNoy, indict GMA now so she can't leave. This is more than treason and a heinous crime. She cheated FPJ.
---
Name: WDC
City/State/Country: California
IP Address: 75.38.67.230

Comments
I believed Gloria is lying. Have her neck brace removed, you will find a lot of money stacked in there. This is how greedy this #1 P#ta is!
---
Name: 1 UP
City/State/Country: GOTHAM CITY
IP Address: 108.14.177.130

Comments
Unless the government confiscates all passports (regular or diplomatic), travel documents, and visas, it would make things difficult for the Arroyos to have that freedom of movement (travel or mobility) outside of the Philippines. The way it stands they are a flight risk because of trial they are getting from the media and probably orchestrated by the administration. If the Arroyos could really afford the cost of medical care, they should import or bring foreign medical specialists to the country. Then it bolsters the public perception they really have amassed a lot of ill-gotten wealth.
---
Name: mockingmaya
City/State/Country: taft avenue, manila
IP Address: 67.181.111.76

Comments
It's a blistering reality that former President G. Arroyo had packed the Supreme Court with corrupt justices who will put private or self-interests ahead of public interests. It is the duty of every Filipino voter to restore the health of his country. And elected officials must be held morally responsible if they failed to do so. Any society that fails to achieve justice is diseased & doomed. How can you address the greatest sufferings of the Filipino people if your appointed justices or judges are soft on crimes?
---
Name: 7gtg
City/State/Country: regnsk
IP Address: 24.89.83.99

Comments
It is a waste of money going after Gloria just as it would have been a big waste of money keeping ERAP in Jail. These so called 'Call for justice' does not serve the ordinary Filipino citizen. This so called call for justice is nothing but to satisfy the ego seeking filams/filcans who sees only the negative about the home country. The Citizenry elected a President to serve the people. He has only a few years left in his term and you whining filams/filcans want to waste his time going after GMA? That is bad business decision. Let the president focus on the Economy. Puro kayo revenge ng revenge palibhasa ang sarap na ng buhay ninyo sa America at sa Canada.
---
Name: Edward
City/State/Country: Angeles City
IP Address: 98.160.174.84

Comments
Hitler always gave verbal orders, never put one down on paper. Even to this day there is nothing in writing ordering the death of millions. Gloria took his advice, your government will find nothing with her signature on it giving an order to steal an election or the taking of monies. All you people have is now a bunch of people who are trying to save themselves. Someone on this site said go after these people and I agree.
---
Name: Ali Aslam
City/State/Country: Cotabato City
IP Address: 107.45.150.187

Comments
Singapore, Austria, and Germany? What has it to do with her cervical spine condition? So far US has the best medical treatment; but full recovery is not 100%. I am a medical person. Gloria Arroyo seems to be recovering well. Any wrong with the past surgeries could have been life threatening at this time. No surgery is needed at this point in abroad. Using Medical reason to travel abroad for avoiding facing the criminal investigation has been known to many world leader. Most Filipino people are weak (soft heart) or ignorant and submissive (being brain wash by the colonization religion ). Many are not really patriotic. Given any chance they could steal from the government. The fact of many squatters is a strong indication of the shameless behavior of those people.
---
Name: As I See It
City/State/Country: Cebu City/SD,CA
IP Address: 68.107.62.96

Comments
Of course puppet De Lima is only dependent on her master Wangwang Aquino's order whether to issue hold order against GMA & her husband. If and when PNoy has already decided to bar the Arroyos from going out of the country then it's up for them to contest it before the SC. So far, no arraignment yet for the Arroyos. Me-thinks it's GMA's legal right to seek the best medical care possible she can get anywhere. Santo Ninoy got right away from Imelda the go signal to go abroad to seek the best care for his heart ailment, snubbing the Phil Heart Center for Asia. But sadly for Ate Glo, wrong timing, she is under the claw of NoyP's avenging wrath!
---
Name: JRH
City/State/Country: Montreal, Canada
IP Address: 70.80.103.228

Comments
The question is.."how serious is the pinched nerve in her neck now?" There are conflicting reports that she's improving remarkably & others say it's much too serious. So, why don't DOJ have her examined by expert govt doctors. Let's say..a dozen specialists for a 1st opinion, 2nd opinion, etc. to examine her & give their clear & precise assessments of her present condition. The watch list will expire Nov. 5th. Chief State Counsel Ricardo Paras III must act now. Give the order & just do it. No more yada yada.
---
Name: 1 UP
City/State/Country: GOTHAM CITY
IP Address: 108.14.177.130

Comments
The medical condition affecting Gloria is not life threatening. I repeat : not life threatening which could not be managed by therapeutic means. Even if the parathyroid has been harmed during an operation or excised that person will live. There is no need to seek medical care outside of the country. The claim by some that there is not enough endocrinologist in the Philippines is an egregious conclusion. They are just medically ignorant of the facts who do not even bother to Google and expand their knowledge. SHAMEFUL
---
Name: JRH
City/State/Country: Montreal, Canada
IP Address: 70.80.103.228

Comments
Think about it. Maybe the pinched nerve in her neck is perhaps caused by her big head. A multilevel cervical enlargement of her cranium. If DOJ will have her examined by govt doctors kindly include a psychologist & an expert brain surgeon just in case. After all & maybe the real problem is in having a big head in the first place that can't be supported by her tiny neck. DOJ must publish the medical abstract certified by St. Luke's Hospital. People are beginning to think that there's a cover-up of what the real problem is or was. Just a thought.
---
Name: salina
City/State/Country: california
IP Address: 66.215.41.242

Comments
If she's trying to skip town you can't blame her, After all she knows is she's guilty to the core! But, Knowing her she will get away with anything. Even murder. May God have mercy on her soul....
---
Name: Snookyboy
City/State/Country: Pinas
IP Address: 96.49.79.48

Comments
Gloria just stay home including her family and her husband. Marami tayong maga magaling na doctor dito sa atin. We can also top the our Filipino doctors from abroad that we can invite to asst. It will save our dollar reserve na pinadadala nang ating OFW all time. Maawa naman tayo sa kanila. This funds that she corrupted belongs to all Filipinos. lets save our dollars.
---
Name: LPiF
City/State/Country: LosAngeles/Mla
IP Address: 121.1.11.38

Comments
The Macapal Arroyos supporters are resorting to circumlocution to camouflage her past clandestine activities in the attempt of avoiding conviction of any malfeasance. The fact that she tactfully staffed the supreme court with malleable dishonest unqualified morons make her feel preeminent and for that reason she can weave her furtive attempt to skip town. It's undeniably obvious that she is orchestrating her way to political asylum elsewhere. If De Lima is being blinded and fettered by her total ignorance of the Arroyos intentions then this will undoubtedly be the GEATEST ESCAPE of all time! I hope the voice of this forum is strong enough to reverberate the message!
---
Name: JRH
City/State/Country: Montreal, Canada
IP Address: 70.80.103.228

Comments
Something is not kosher in GMA's request to go abroad. It's not for medical reasons alone but ot participate also in world conferences. Likewise, there's also a big guessing game of what actual countries she'll go. 3 letters sent to Sec. De Lima mentioned different destinations in the message sent. So what kind of hide-and-seek game is Gloria playing now? If I have a multilevel cervical spondylosis radiculopathy with kyphosis (which scares the living daylight in me) I'll go for immediate check-up or albularyo & not bother attend world conferences in my itinerary. If she can do that, then, it proves that her condition is not serious enough. Conclusion: deny exit visa & answer first all the allegations & accusations first here in the Phils. Period.
---
Name: HMS
City/State/Country: New York, NY
IP Address: 67.241.96.149

Comments
TALAGANG MGA WALANGHIYA! Now that The DOJ has opined that Gloria Macapal is healing well what other conclusion is there but for these avaricious, thieving, shameless crooks to skip town and hide until the heat is off. From whichever hole they hide abroad they will manipulate things in the Philippines until their glorious return. Sayang lang yong pagod namin sa tatay nito nuong '60s. Ganito lang pala tong mga hayop na to! Now it's the husband's turn to do his song & dance routine and "get" sick" too, for treatment abroad of course.
---