Foreword: Like US presidential candidate Rick Santorum, the MILF has a "Google problem" in that a web search reveals that the most popular usage of that acronym online has an indecent sexual underpinning. For purposes of this article MILF stands for Moro Islamic Liberation Front.

or Filipinos living in North America, Western Europe, or other developed countries around the world,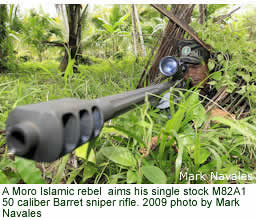 it is difficult to understand how the Philippine government can tolerate and—even worse—give funds to an organization like the Moro Islamic Liberation Front (MILF). On the 18th of October, the MILF killed 19 soldiers and wounded 14 more during a firefight in Al-Barka, Basilan. The soldiers were only there to serve a warrant for several MILF rebels wanted for various crimes including the beheading of Philippine Marines in 2007. As of this writing a total of 34 soldiers and police officers have been killed in clashes with the MILF since the Al-Barka incident.
On October 26, the Philippine press discovered that President Benigno Aquino 3rd had given MILF Chairman Al Haj Murad Ibrahim P5 million when the two met secretly at a Tokyo hotel during the President's recent state visit to Japan. Since then more revelations have surfaced about the government funneling tens of millions of pesos annually to various rebel organizations.
It would almost be like the American Government giving money to Al Qaida sleeper cells in the US, or the British Government funding Sinn Féin during the 1980s. As absurd as either of those would be, the Philippine Government has been at it for several years now. The funds are given to Muslim rebel groups ostensibly for use in education,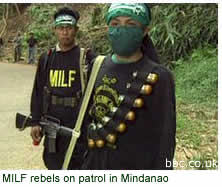 training and livelihood projects. But even assuming that not a single centavo of those funds is diverted to armed endeavors, the substantial monetary help these rebel groups get from the government means that they can in turn allot a greater percentage of their own funds for their armed initiatives.
On the first of November, an MILF spokesperson informed the Philippine Government that it would not surrender any of its members involved in the Basilan incident. It is clear that the MILF and other Muslim rebel groups are not intent on giving up their armed struggle or reintegrating with the rest of Philippine society.
In light of all that has transpired the government has to reassess its own policies towards the MILF and all other rebel groups in the Philippines. Although these groups may have started out as movements to address legitimate concerns, most have through the years deteriorated into nothing more than bands of terrorists, and gangs of hoodlums masked as ideologues.
Rather than hand them money, the Philippine government should take over and directly fund all civic projects and initiatives in Mindanao. That way it will be the government that gets the credit, not the groups that shoot and kill Filipino soldiers. Published 11/6/2011
Join our poll on this topic. CLICK HERE