n a country where on most days all one has to do is step outside the house to find all sorts of violations being committed,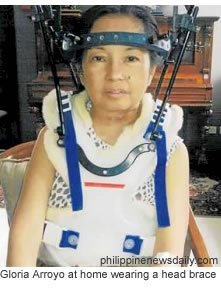 the Philippines suddenly becomes a stickler for correctness when the rich and powerful are apprehended. At that point every pundit and his cousin weighs in to force the government to bend over backward and jump thru hoops for the sake of justice and fairness.
Case in point is the cacophony of voices now decrying the Aquino Administration for preventing former President and now Congresswoman Gloria Macapagal-Arroyo from leaving the country. So what if the ever-changing list of countries she plans on visiting have no extradition treaties with the Philippines; so what if the medical association already stated that there are hundreds of doctors right here who are capable of treating her; so what if the number of cases filed against the former president continue to increase—we must all respect her right to leave and possibly never come back.
Some of those "bleeding hearts" who are quite vocal in insisting that Arroyo be allowed to leave, were around during the seventies when dictator Ferdinand Marcos disallowed all Filipinos from leaving the country—unless you were one of his cronies. Senator Edgardo Angara who now voices his strong opposition to the actions of the Aquino Administration was uncharacteristically silent during those Martial Law years. Perhaps it was because he was too busy setting up his ACCRA law firm with fellow fraternity brother Juan Ponce Enrile, the late strongman's Defense Secretary.
There's also Joaquin Bernas a Jesuit priest and constitutional expert who asks "in what way will the travel of Gloria Macapagal-Arroyo be a threat to national security, public safety, or public health?"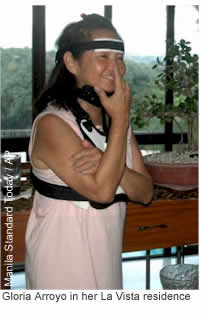 Bernas who turns 80 in 2012 completely side-steps the crux of the matter that Arroyo is a "flight risk" not a national security or public safety threat—a flight risk!
A handful of Senators and Congressmen not normally allied with Arroyo have also come forward in support of her right to leave the country. In all likelihood they are doing it not because they sincerely believe she will return but because their stand makes them appear kind-hearted and compassionate—qualities that resonate well with Filipino voters.
If the President gives in to their demands and allows Arroyo and her husband to leave—and they don't come back, the Philippines will again have egg on its face, the way it has so many times before: like when the Marcoses and their cronies fled to the US; or when Communist leader Jose Maria Sison sought asylum in the Netherlands; or when Senators Gringo Honasan and Panfilo Lacson seemingly vanished "into thin air." As the old saying goes: fool me once—shame on you; fool me twice—shame on me. The nation have been fooled time and again by fast talking lawyers and slick politicians who impose their views on an easily swayed public.
President Aquino must put his foot down and stick to his decision on this issue. He will no doubt get flak from the Arroyo camp as well as from the likes of Angara and Bernas who prefer arguing arcane legal interpretations of law rather than push for what's best for the country. We say prevent to Arroyo and those accused with her from leaving the country! Published 11/13/2011
Postscript: Tuesday, 9:30 p.m. 11/15/2011 — Former President Gloria Arroyo, seated on a wheelchair wearing a neck brace similar to those she is wearing in the photos below, along with her husband Mike Arroyo and their son Mikey Arroyo, tried to leave the country as a great many Filipinos had expected they would do, but were prevented from departing by the Bureau of Immigration. The Philippine Supreme Court also as many had expected, issued a Temporary Restraining Order (TRO) allowing the Arroyo's to leave. The Aquino Administration put its foot down and prevented them from leaving. Kudos to the President and Justice Secretary de Lima, the Philippines needs more leaders of your caliber.
Join our poll on this topic. CLICK HERE