f you are poor or indigent and happen to run afoul of the law in the Philippines there is a strong chance that you will be manhandled during your arrest,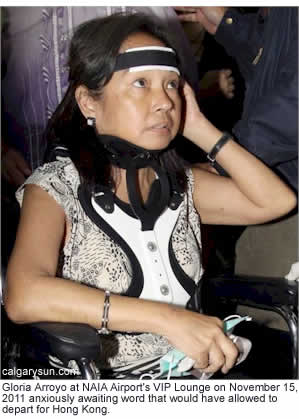 shaken down for what little money your family has and then thrown in a dirty, overcrowded, roach-infested jail. However, if you are rich and powerful you will most likely be handled with kid gloves by the police and given nothing more than a slap on the wrist by a judge.

For decades, that is the way the Philippine criminal justice system operated. Filipinos have grown so used to seeing the wealthy and influential get the VIP treatment when arrested that many are now genuinely shocked at the process that former President and now Rep. Gloria Macapagal-Arroyo is being made to go through.

In the United States, a country not without its shortcomings, people around the world cannot help but admire the fairness with which justice is dispensed. For example, a billionaire investment tycoon like Bernie Madoff was treated no better or worse than any other accused would be and meted out a punishment commensurate to his crime. A similarly rich and powerful investment banker would likely be able to beat the rap if he committed such a crime in the Philippines.

Arroyo and her followers say she is being unfairly persecuted by the Aquino administration. Although the charges against her are quite serious Arroyo still expects preferential treatment because of who she is. In effect Arroyo is saying that the rules that should apply to every other Filipino do not apply to her.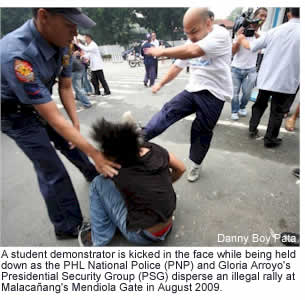 And that attitude by those with money and authority goes to the crux of what is wrong with the country's justice system—there is no equal justice under the law in the Philippines. There is a benign, tolerant and accommodating system for the rich, and a harsh, cruel, intolerant, and unfair one for the poor.

The Administration of President Benigno Aquino III is correct in standing firm yet treating Arroyo with fairness despite her protestations to the contrary. In fact if only Aquino's mother, former President Corazon Aquino had treated Ferdinand and Imelda Marcos and their cronies with the same firmness as well as fairness, they would have been tried, convicted and most likely sent to jail. Instead they weren't and have since served as shining examples of how to plunder the Philippines and get away with it.
Published 11/30/2011
Join our poll on this topic. CLICK HERE
Selected Comments from our Readers


Name: Phil Researcher
City/State/Country: LA County, Ca USA
IP Address: 98.119.17.19

Comments
Re: Headlines in Filipino newspapers in Los Angeles, CA over the weekend .. Arroyo (GMA) arrested; Son Flees "Mrs. Arroyo's oldest son, party list Rep. Mickey Arroyo suddenly left the country and is believed to be hiding out in California".. He is facing a tax evasion charge now pending with the BIR and the courts. Also the Ph Supreme Court did not issue any TRO on the cases filed against Attorney Miguel Arroyo and disgraced former Comelec chief Judge Abalos both of whom are involved in the ZTE-NBN case..Mug shots of GMA were also reproduced in these Filipino newspapers in LA. Like the last name "Marcos", Arroyo now is not a good name to have if you are Filipino..
---
Name: mockingmaya
City/State/Country: taft avenue, manila
IP Address: 67.181.111.76

Comments
The Filipino people have a right to educate Supreme Court Chief Justice Corona: How to think about the Philippine "Republic." It is worth to pause for a moment why Philippines is a republican form of government. One possible answer is that when Juan dela Cruz talks about republican government, he is not only talking about "government for the people, but government by the people." The Filipino people in a representative democracy have a right to choose the best men in public office. Moreover, they have also a right to reject & put behind bars all corrupt elected politicians & corrupt appointed justices & judges who committed plunder, electoral fraud & other high crimes.
---
Name: Manuel C. Diaz
City/State/Country: Montnclair CA USA
IP Address: 76.174.219.92

Comments
To Deo of New York you ask why GMA became so corrupted the answer is go back to the time when her father was defeated by Marcos the kleptocrat. President Diosdado Macapagal left Malacañang without a penny, left Malacañang without a house. It took four kapangpangan millionaires to pool together their resources and bought the Forbes Park house one of those millionaires who was Valencia of Valgoson who was in logging in Mindanao and car distribution. GMA was traumatized when the family left Malacañang penniless.
---
Name: Phil Researcher
City/State/Country: LA County, CA USA
IP Address: 98.119.17.19

Comments
RE: Headline "Two Senators warn against jailing of GMA"..Sen. Defensor Santiago & Sen. Honasan under what law are you invoking that a Former President can't be placed in a police facility.. The Philippines is a democracy.. It is not a monarchy or an oligarchy... Every person should be treated equally under the law. If there is not provision of law which exempts any official from being put in jail why are you inventing one now. Sen. Defensor-Santiago & Honasan are you also exempt from being jailed under what law is that if you are convicted and sentenced you should go to jail period. Considering that you as legislators wrote a law that plunder is non-bailable.. that does not need to be interpreted that she can apply for bail.
---
Name: pepe
City/State/Country: bolingbrook, IL
IP Address: 203.87.139.40

Comments
Ano itong "gantihan system in our politics" na sinasabi ni A. Poli? Kanino ba nagkasala si GMA? Di ba sa taongbayan? Nagnakaw ng elections 2004 & 2007, nagnakaw ng pera sa bayan. Kung kakalimutan lahat ito (move on) bakit pa nagkaroon ng batas? Sino ba ang namudmod ng brown bag money (minimum of PHP 500,000, kung hindi ka malapit kay GMA, PHP 1,000,000-PHP10,000,000, depende sa pagka-tuta) sa loyalty meetings sa Malacanang (governors, mayors, tongressmen). Ganyan ang presidential management ni GMA, pera-pera. SC and some loyal senators niya meron din. Kaya kailangang magnakaw ng malaki. Kawawa naman tayong maliliit.
---
Name: Phil Researcher
City/State/Country: LA County, Ca USA
IP Address: 98.119.17.19

Comments
RE: Sen Defensor _Santiago "The Action of the present Adm. weakens democracy"... If GMA were able to leave then all these allegations on the cheating in 2007 & 2004 would never be investigated because GMA would stay abroad until Dec. 2015. ,or six months before the elections on 2016.. by that time their abuses would have been forgotten.. Look what the Marcoses did, they all came back at the end of the Admin. of Cory Aquino.. The Arroyo's are in trouble not because of Pnoy, GMA created her own problems when she abused her power, disregarded the laws. (spending Fertilizer money for for reelection, diverting OFW funs for election purposes..
---
Name: 1 UP
City/State/Country: GOTHAM CITY
IP Address: 108.14.177.130

Comments
One troubling aspect with regards to the granting of the TRO is not only the haste in issuing the order but also the immediate decision of the Supreme Court to deny DOJ and the Solicitor General the motion of reconsideration. These actions create the impression in the minds of many (but not with my friend Tony0) that the highest court of the land has engaged in partisanship. The highest court has ceased to be the servant of the people but beholden to the appointing power. In this case, Corona's (and 8 other justices) debt of gratitude to Goyang is too obvious. Taksiyapo abe!
---
Name: JRH
City/State/Country: Montreal, Canada
IP Address: 70.82.85.30

Comments
Just in case you missed it. Kindly click on the ABS-CBN News titled.."Filipino endocrinologist calls GMA (Ms Horn) spokeswoman "funny." The interesting article was written by Raissa Robles. She explained in details what hypoparathyrodism is. Followed by extracts from the Mayo-Clinic website in the U.S. You'll have a bird's eye view of what GMA's sickness is. There a few surprises that you'll read. You can't blame Filipinos for treating GMA as a demon. Evil deeds or corruption is a crime against our people. To sympathize to whoever committed them is illogical if not insane. We, as a people, want justice, fairness, & accountability.
---
Name: juan domingo
City/State/Country: T.I.
IP Address: 24.182.40.162

Comments
This former president entered the wrong field, she should be in the entertainment industry instead. It is obvious that if she is really sick according to their claim, why did her eldest son leave her to go to attend a FUND RAISING event instead of staying beside her at her hospital bed? So they are giving us some hints about the whole scenario are they not?
---
Name: JRH
City/State/Country: Montreal, Canada
IP Address: 70.82.85.30

Comments
It's high time that our country found the courage to stand up to despots. It's clear that GMA abused her unlimited & unopposed authority, absolute powers, & was able to brutally plundered the nation's treasury. She believed herself untouchable, thus, losing all sense of what's right & what's wrong. However, her bullying tactics, intimidations, & outright bribery do not work anymore. Those days are over. The national outcry has reached the zenith & it's irreversible in its fury. People are just fed-up of the BS. All the whistle-blowers & bell-ringers are ready to testify against her & all her cohorts (partners in crime). Filipinos want to see results & a possible quick conviction. File the other 20 cases NOW. Why wait?
---
Name: Vanessa Lee
City/State/Country: Kuwait
IP Address: 62.215.228.249

Comments
Manila Standard today's news – "The fate of former President Gloria Macapagal-Arroyo will fall once again on the Supreme Court". I believe the proof regarding electoral sabotage case against GMA is strong enough for the Administration and people to triumph. SC cannot by all means reverse the case and give GMA her liberty. If and when SC muddles the process then impeachment for these 8 justices is inevitable.
---
Name: joe
City/State/Country: louisiana, USA
IP Address: 74.193.241.247

Comments
Thanks to the new President Benigno, at least we are given justices equally, I want to see these past president (Arroyo) to go to jail and her allies (corrupt), this is another good sample that the world can see, like former president Joseph Estrada who went to jail (good for him). To my kapwa Pinoys piliin niyo kuing sino ang inyong iboto. Salamat po at mabuhay tayonh lahat.
---
Name: JRH
City/State/Country: Montreal, Canada
IP Address: 70.82.85.30

Comments
Dumadaan sa butas nang karayum si Gloria Arroyo ngayon. What a contrast now. She use to be a jet-setting globe-trotting first lady & today, a lowly dejected, & sickly patient. To say that this is not stressful & painful for her might not be true. It's an accumulation of events & she's beginning to realize the gravity & possible consequences that she'll be facing. Not only that, there are 20 more cases to be filed against her. Jesus Murphy. These humiliating developments might take a toll on her failing health..anorexia, colic bacteria. etc. It's better to keep her in the hospital where she gets medical attention 24/7 which she desperate needs. It's not karma..she is sick.
---
Name: sbejar
City/State/Country: chicago
IP Address: 99.105.68.41

Comments
If Aling Gloria Arroyo would be found guilty by the court who is hearing her case and make an appeal to the supreme court, which most of it are appointed by her, I am almost sure that they will give her a favorable outcome because if they don't, the verdict is final, that means to say that all those sitting supreme court justices she appointed are illegal, null and void. Think about it. So if this happens (supreme court giving her a favorable verdict) the whole world will again just be laughing at us, so people of the Philippines be vigilant and keep a close eye on these Arroyo appointees and be ready to do another EDSA 3. if this happens.
---
Name: Manuel C. Diaz
City/State/Country: Montnclair CA USA
IP Address: 76.174.219.92

Comments
The big problem of Islas de ladrones all government officials are expert in the "railroad" business. Had the Supreme Islas de ladrones allowed oral arguments before these "railroad expert" issued a TRO ex-parte there could have been less opposition to what ever TRO was issued. Then comes the haste in filing the election sabotage case in Pasay also at the speed of light issued a warrant of arrest. The circus again will be repeated this warrant of arrest will be elevated to the Supreme Court railroad experts and 8 of theses railroad expert including the chief railroad expert were appointed by no other than GMA. The circus goes on the Indios will starve.
---
Name: Marie
City/State/Country: Batangas
IP Address: 194.166.24.141

Comments
I admire Pres. Aquino for his courageous effort to bring all the corrupt officials who did perished all the poor people of our country. Hail to our president who is fair and sincere to our country!. This is the first time in history having the corrupt officials being castigated and jailed. As I thought so before, Arroyos will not have a lasting power because it's Satan who rules them.
---
Name: Phil Researcher
City/State/Country: La County, Ca USA
IP Address: 98.119.17.19

Comments
Re: GMA & Warrant of Arrest from RTC-- I believe the next move of GMA's lawyers is to go straight to the SC . Estilito Mendoza & Topacio would probably file a Certiorari case against the RTC which ordered the arrest of Arroyo.. exactly the same case filed by Sen. P. Lacson to Quash the warrant of Arrest.. When the SC orders the Quashing of the arrest warrant then GMA is ready to leave again.. Of course the Pnoy Admin is already preparing another arrest warrant for another case in another RTC so when the first arrest warrant is quashed there is another one to Quash.. Ad infinitum.. GMA won't be able to leave the PH.
---
Name: 1 UP
City/State/Country: GOTHAM CITY
IP Address: 108.14.177.130

Comments
This whole issue about GMA seeking medical treatment abroad, the hold departure order, the quick intervention of the SC and the warrant of arrest against the ex-president, are all but part of a big drama. Both parties played their hands well. Gloria had already calculated that when she leaves office she will be charged; so she stacked up the courts with justices who will take her side. DOJ anticipates that Corona will challenge the hold departure order by issuing a TRO. So, DOJ played the last card of charging Gloria with a non-bailable felony that renders the indefinite TRO favoring Gloria useless and impotent.
---
Name: 1 UP
City/State/Country: GOTHAM CITY
IP Address: 108.14.177.130

Comments
continue ... Gloria was embarrassed (at the airport) and publicly humiliated and Corona looked stupid by acting in haste and in a biased manner. Corona played well into the hands of the magnificent duo_ PNoy and De Lima!
---
Name: Blumntrit
City/State/Country: mnl/usa
IP Address: 68.193.77.99

Comments
So much cases against the Arroyos. Lawyers will be feasting non-stop. Employment will be good for legal secretaries, court filing clerks, etc. They also will need to have more prosecutors and judges. Gloria will be hiring nurses and doctors with different illness specialties. Both sides will also require spokespersons for damage control.
---
Name: Rose
City/State/Country: Palmdale, CA, USA
IP Address: 76.173.78.138

Comments
Filipinos let us all unite that in case these SC justices favor GMA and reverse all the charges, LET US UNITE TO IMPEACH AND KICK ALL THOSE JUSTICES OF THE SC. These Justices should be loyal to the Constitution and the Filipino people and not TO ONE PERSON WHO PUT THEM IN THAT HIGHEST BENCH. These Justices are answerable to all the Filipino people in the PH and all over the world.
---
Name: banzuki
City/State/Country: illinois
IP Address: 71.239.74.156

Comments
Mabuhay ang Pilipinas! Mabuhay ang Presidente! Mabuhay si Sec. De Lima! Mabuhay ang tuwid na daan!
---
Name: 1 UP
City/State/Country: GOTHAM CITY
IP Address: 108.14.177.130

Comments
I don't buy the legal argument that the indefinite TRO issued by Corona's court, with all other 8 justices conniving to grant Gloria a free pass to travel, carries the weight of a law and its execution is immediate. What if the execution of the order was delayed to give way for Gloria's warrant of arrest and a serious non-bailable charge of election rigging? Now the TRO is relegated to the back burner and the warrant of arrest takes precedence. What is SC's recourse now? Challenge it ? Invalidate the warrant of arrest?
---
Name: 1 UP
City/State/Country: GOTHAM CITY
IP Address: 108.14.177.130

Comments
This time I admire the actions of PNoy and De Lima to stand up against the Supreme Court. I don't believe that this court led by Corona carries the admiration of the public with its wisdom and fairness. It is tone def. It is arrogant and defiant, to say the least. I give to them the CROWN OF STUPIDITY to wear both in public and in private.
---
Name: 1 UP
City/State/Country: GOTHAM CITY
IP Address: 108.14.177.130

Comments
The issue here goes beyond the TRO. It is about the SC's haste in granting Gloria a free pass to travel that carries a very light conditions. It is about the interest of the state over personal liberty or freedom. If Gloria is allowed to travel fails to return, one law school dean opined" the expectations of the people not really to convict her but the process of law to pursue...to make her account for perceived faults will be defeated.."We all need to read the transcripts of the oral arguments of Gloria's lawyers in their petition to lift the hold departure order and the SC's opinion to agree. Was DOJ invited to air its side before issuing the TRO? Was this decision of the court done in the middle of the night? RESPOND TO ME NOW JUSTICE TONY0!
---
Name: lee of buyagan
City/State/Country: ksa
IP Address: 146.251.15.219

Comments
What is 50,000 a day in St. Luke's hospital expense compared to her loot worth millions or even billions of pesos. It is so embarrassing and frustrating to World leaders for her status now, well my thought, Mr. Angelo Reyes is missing her now.
---
Name: Manuel C. Diaz
City/State/Country: Montnclair CA USA
IP Address: 76.174.219.92

Comments
To 1UP did the people really win in this circus? The answer is a big fat no. The people are the losers in this case. All institutions are prostituted. The executive the Judiciary and the Legislatives are all prostitutes. What if this enormous power of the state will be unleashed upon you ordinary citizen? Go to the Supreme Court for habeas Corpus what if the Executive will ignore such decision of the Supreme Court? what now. GMA prostituted the Supreme Court, GMA bought Congress now she is the victim of her own folly. I want GMA to be prosecuted but you have to follow the Constitution prosecute her properly not this all railroading activities of both the executive and the Supreme Court for to continue with this charade Islas de ladrones will end up like Somalia.
---
Name: JRH
City/State/Country: Montreal, Canada
IP Address: 70.82.85.30

Comments
A GMA Report: P50,000 a night to stay at St. Luke's Hospital. That's P150,000 a month not including doctors' fee, consultations, tests, hospital care, etc. Don't you think that this is obscene & extremely luxurious VIP treatment & yet Mike Arroyo is still claiming they are being persecuted. What does Mike expect? What a travesty & parody. Time to give the booty chubby. You & Gloria are 'it.' No more BS please.
---
Name: WDC
City/State/Country: California
IP Address: 67.123.18.174

Comments
If Gloria Arroyo aided the Amputuans to commit murder is true, then she does not deserve to stay in the hospital for treatment. Put these #1 P#ta and murderer the same cells with these Pig Amputuans, this is where she belongs.
---
Name: WDC
City/State/Country: California
IP Address: 75.38.71.61

Comments
Gloria Arroyo is tired and depressed? Just give her a rope to hang herself; her sins to the Filipino people are unforgivable.
---
Name: JRH
City/State/Country: Montreal, Canada
IP Address: 70.82.85.30

Comments
Philippine social behavior is dominated by a complex series of customs that have a profound determining influence on behavior & interaction with others. One important custom is 'utang na loob' (debt of gratitude) or a pressing obligation to repay 'favors.' It has a determining influence on social, economic, & political life in the Phils. GMA appointed 12 of the 15 sitting justices. That's a record. PNL stated that GMA is now relying on her appointees or mythological protectors to bail her out in her desperate bid to escape but the DOJ & Comelec closed the gates on her & the SC wasn't able to do anything. The gov't should conduct a national referendum to vote for or appoint our justices in the SC.
---
Name: Phil Researcher
City/State/Country: LA County, Ca USA
IP Address: 98.119.17.19

Comments
Re: GMA and Family---9 years in power almost half the time of FM which was a total of 20 years..Why are the Filipino people upset with GMA..Remember she was VP of Erap when EDSA II happened. In 9 years the Arroyos accumulated wealth way beyond their declared wealth based on their Statements of Assets and Liabilities (SAL) supposed to have been filed at the start of her term. If you watch Congressman Mickey Arroyo in his TV interview with Prof. Monsod of UP.. Just watch it yourself and make your own conclusions.
---
Name: LPiF
City/State/Country: LosAngeles/Mla
IP Address: 121.1.11.38

Comments
For as long as there is the PADRINO, SCRATCH MY BACK I'LL SCRATCH YOURS, KABARILAN, KAKLASE, KAESKWELA, UTANG NA LOOB, LAGAY, etc SYSTEM, I can guaranty, political imbroglio will remain to torment this country regardless of who is going to lead. I can't understand the people who seem to condone GMA's wrong doings and questioning PNoy's leadership. What do Filipinos really want? Tsk tsk tsk...
---
Name: Manuel C. Diaz
City/State/Country: Montnclair CA USA
IP Address: 76.174.219.92

Comments
Corona should inhibit himself from cases against GMA, Senator Drilon why limit to Corona all appointees of GMA should also inhibit and also all appointees of President BS Aquino should also inhibit to prevent bias. The present Supreme Court of Islas de ladrones becomes dysfunctional once cases against GMA filed by President Aquino goes to it for deliberation it becomes a partisan court.
---
Name: Al Karrer
City/State/Country: San Francisco
IP Address: 139.142.194.38

Comments
Serves you right Arroyo for where you are now. Being greedy in power and money will not last forever. Justice is always be there and I salute to President Aquino. Your dignity and your inner character is now tinted forever as well as your whole clan.
---
Name: Newt for President
City/State/Country: Blumntrit
IP Address: 68.193.77.99

Comments
Why do these corrupt people need to travel? Do they have to show up in person at those banks to transfer some of their loot? Make arrangement to ask some of their trusted friends to take care of their questionable assets? Mikey's excuse to travel is to raise funds is a disguise maybe as fund raising for a stupid cause? A couple of dummies can be use to look like they donated something. The money now is converted as though it didn't came from the actual illegal loot. Tsk..tsk.tsk!
---
Name: El Vibora
City/State/Country: Toronto
IP Address: 206.130.173.59

Comments
The Queen of corruption and death finally has come down to earth with the interference of the ALMIGHTY. 99.999999% of Filipinos know she's guilty of all the charges, the other .ooooo1% are either her friends or bishops or justices of Supreme Court of the Philippines. MABUHAY si Pnoy!!!!!!!!
---
Name: Vanessa Lee
City/State/Country: Kuwait
IP Address: 62.215.228.249

Comments
Inquirer.net Today's News: SC Ruling on 'Luisita' due for Release SC mentioned Hacienda Luisita this time? Is it co-incidence? Justice Corona and his group of think tank created this show to alarm President Noy. By all means they have to fight back and this is it. How can they maneuver release the TRO in favour of GMA's case, police is excluded in their power. This is clash of the titans – there's a saying "hampas sa kabayo sa kalabaw ang tama". It is obvious SC can save GMA from her multiple cases. Granting GMA survives the electoral sabotage case (I am certain this is next to impossible) how about the Broadband issue? The Fertilizer Scam? The bottom line is, their Camelot will lose the battle and end up in jail.
---
Name: Dwarding
City/State/Country: Jamunda, Afr
IP Address: 70.162.239.254

Comments
Palagay ko pag na-preso si GMA, maraming mai-stroke dito sa forum. IMHO, she deserves what is happening to her now, (except her being sick, if she's really that sick. Nobody deserves to be that sick, except Edward). And watsyu talking about, Willis? Edward only a "bit" harsh in his language to describe us Pinoys and our race? He is a bigot, a racist. But that's not my topic. My question is, "Why is every case from the Arroyo camp always brought directly to the SC and not the appeals court first?" Or am I being very naive? TonyO has the answer, I know.
---
Name: Dwarding
City/State/Country: Jamunda, Afr
IP Address: 70.162.239.254

Comments
-cont'n.- What I meant in my first post was, why do the Arroyo camp bring their appeals directly to the final arbiter? The answer might be obvious, but don't they have rules in these things? I'm probably exposing my ignorance, but I'm not like some of us here. And know what, they say it's not so much the things we don't know that get us into trouble. It's the things we know that isn't so. So people, careful now. Don't just mouth whatever comes to mind. Think, think!
---
Name: 1 UP
City/State/Country: GOTHAM CITY
IP Address: 108.14.177.130

Comments
I am amazed how the judicial system works in the Philippines. For instance what is the business of the Supreme Court intervening in the travel plans of the ex-president when they issued a TRO instead of the appellate court as in the usual judicial hierarchy? If the petition for a writ of certiorari will again be issued by Corona's court, we might as well abolish appellate courts and inferior courts; the country will then save a lot of money. This Supreme Court is indeed supremely insane!
---
Name: JRH
City/State/Country: Montreal, Canada
IP Address: 70.82.85.30

Comments
So what's the big deal in releasing the mug-shots of GMA? Her image is everywhere now..newpapers, magazines, to TV programs, & the internet world-wide. This is good business for the media cuz it's front-page material. The Arroyo camp can't isolate, condemn, or control the news. No one can censor what's posted in the internet. Today, a strictly censored media will not hold much weight anymore. We call it 'global press freedom.' Freedom of expression is guaranteed for every citizen. All of us can express our opinion freely or post pictures in the internet like FaceBook, etc. Bottom line..Filipinos are now saying *buti nga* instead of *kaawaawa naman.*
---
Name: LPiF
City/State/Country: LosAngeles/Mla
IP Address: 121.1.11.38

Comments
Was De Lima wrong when she insisted that the government should first be allowed to file a motion for reconsideration before being ordered to comply with the TRO? It seems like the SC was not in compliance with the rule of law. Aren't these justices suppose to be the pundits of our judicial system? These bright boys are after all human too who succumbed to peer pressure when power and money is at stake. As the saying goes about the golden rule; "HE WHO HAS THE MOST GOLD MAKES THE RULE" Tsk tsk tsk...
---
Name: deo
City/State/Country: flour city
IP Address: 66.66.175.86

Comments
"Gloria Arroyo, Former Champion Of Medical Tourism", so says an article in the Inquirer. Now after maligning the Philippines' medical field, either she was lying to her bones in championing the Philippine medicine then or she's really trying to escape justice. You see, if she's really sick, so she's sick.
---
Name: Phil Researcher
City/State/Country: LA County, Ca USA
IP Address: 98.119.17.19

Comments
RE: GMA & humiliation.. The spectacle of GMA & her husband Attorney Miguel Arroyo of trying to leave the PH but stopped at the NAIA was seen on TV in places where there are TFC and other Filipino programs via satellite broadcast... Why is this happening? Because she abused her power when she was Pres..imagine her entourage spent over 1 million pesos in on dinner at an exclusive restaurant in NY..that is only one abuse on dinner.. Remember she left the PH over 80 times in her official capacity as Pres. If you abuse you'll pay for it somehow in this world.
---
Name: Manuel C. Diaz
City/State/Country: Montnclair CA USA
IP Address: 76.174.219.92

Comments
Hey GMA haters rein in your emotions. I am not an admirer of GMA or the Arroyos in general but let us look at the basis of this election sabotage. The case is solely based on the testimony of a certain Unas a man of the Amapatuans who is involve in the Maguindanao massacre. Now make your own conclusion a case based on this person will not prosper in the court of laws unless President BS Pinoy will convene a kangaroo court. As I said the result of this railroaded case will be a train wreck and the train is the Republic of Islas de ladrones.
---
Name: Blumntrit
City/State/Country: jokwengusa
IP Address: 68.193.77.99

Comments
Sotto: indecent haste daw. Bong Marcos: selective justice daw. Blumntrit: pag untugin ko kaya ulo nyo. Ano bang gusto nang mga gotong ito, dahan dahan para tumatagal pa? No worry Bong, Pnoy didn't select who's first to face the wrath of justice. They prefer your family to be the finale, kaya siguro di pa nalilibing tatay mo baka ipatawag pa nang supreme court.
---
Name: 1 UP
City/State/Country: GOTHAM CITY
IP Address: 108.14.177.130

Comments
I have read that SC is asking the physicians attending to the needs of the ex-president to provide confidential medical information regarding the true medical condition of Gloria. The public is interested to know if the life of Gloria was put in jeopardy when DOJ stopped her from leaving the country and be treated in Singapore. The public is equally interested in knowing if she is suffering from a very rare medical condition that local doctors are unable to treat or manage; nurse Gloria to health. All that people crave is to see her live and face justice - no mas!
---
Name: Susan
City/State/Country: Manila
IP Address: 61.18.186.135

Comments
Alisin na ang Pilipino style na utang na loob para wala ng corruption. Kunting tulong kasi may utang na loob ka na, alisin na yan para lahat tayo may batas na susundin hindi iyong utang na loob. Dapat may matino tayong batas na sinusunod, at dapat mga mayaman ng Pilipinas sila ang dapat unang matino at modelo sa iba, alisin nila ang power ng yaman nila at huwag ipagyabang, dahil kung talagang mayaman sila makikilala rin lalot gumagawa ng maganda sa bayan. Mga mayayaman na maraming kabit kadalasan natutukso sa corruption kasi lahat ng kabit kailanganng payamanin rin.
---
Name: KALI
City/State/Country: HAWAII
IP Address: 72.130.247.17

Comments
In the news; PNoy vowed to triple the speed in prosecuting GMA. Right on Mr. President! But wait a minute; you seem to forget that there are 90 million Filipinos whose welfare depends on you. What is your plan for them? Even if you put GMA in jail, the Filipino people don't get any centavo or benefit from your victory if it does happen, and what about the other thousand corrupt people in your government? If your triple speed prosecution process don't lead you to victory, which means you trip over for being too fast, and feel down, I hope the 90 million people you ignored will not trample you for neglecting them. Think it over Mr. President.
---
Name: Gena
City/State/Country: Manila
IP Address: 61.18.186.135

Comments
Bakit mga maka-Arroyo alam maghabol ng batas ngayon, bakit hindi nila lingunin ang nakaraang gawain ni Arroyo hindi sya sumunod sa batas, sya ang batas kaya ginawa nya lahat ang gusto nya. Bakit kayo nagreklamo kung nagmamadali si PNoy na habulin si Arroyo, e' two years na ang nakaraan matagal na nga yon e', alam na naman natin ang ginawa nya bago pa matapos ang kangyang termino. Alam nyo bruha talaga iyang arroyo ninyo, dahil sa sobrang talino hindi nya alam na masira ang kanyang leeg. hahaha, may kasabihan sa bisaya (ang gaba di magsaba), iyan na yan ginabaan.
---
Name: Paco Sa Cruz
City/State/Country: Vietnam
IP Address: 113.170.217.176

Comments
The fact that Gloria Arroyo had her way in appointing people to key positions in the justice system shows the kind of politicians we have in this country. When Ate Glo was in power, majority of senators and congressmen blindly supported her. Now that she descended from the throne, many of her blind supporters have transferred their allegiance to the new administration. While Pnoy tries to clean-up corruption, many of his so-called allies are ex-Arroyo supporters who changed their color to be with the winning team. Sad to say, while this kind of politicians remain in the system, the process of eradicating corruption will always be a never ending story.
---
Name: Blumntrit
City/State/Country: mnl/usa
IP Address: 68.193.77.99

Comments
Ataboy Corona and the seven stooges, let the public hear your voices before people totally run or drag you over to the gutter. Take out those black robes and let see what really is underneath those ninja pajamas. What a big mockery of justice. Supreme court naging pizza supreme ni Gloria …. Halleluyah DOJ
---