n an interview he gave on December 6, 2011 Fr. Joaquin Bernas likened President Benigno Aquino III to Fidel Castro, Cuba's former dictator.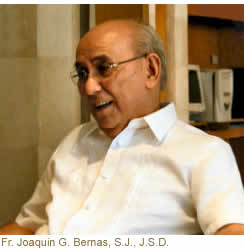 Although he did not elaborate further on the comparison, it was in reaction to Aquino's speech during the First National Criminal Justice Summit the day before where the president questioned the legitimacy as well as the impartiality of Chief Justice Renato Corona who was seated just a few feet away from the president's podium. Bernas may not have liked Aquino dressing-down the chief justice, but back in January of 2010, when Gloria Arroyo was still the sitting president and Corona was still an associate justice of the high court, Bernas himself was of the opinion then that the next president should be the one to appoint a new chief justice. He told an interviewer that "In my mind, the justices of the Supreme Court should nominate among themselves the acting chief justice," until one is appointed by the new president.

The lawyer/priest was even right on the mark when he pointed out back then that anyone who accepted the position of chief justice from then President Arroyo would open themselves to impeachment by the next Congress. Corona accepted that position and now almost 2 years after Bernas made that statement, he was impeached by the Lower House.

As Justice Secretary Leila De Lima has so aptly put it, "Corona is a walking constitutional violation." And the only way he is able to get away with it is because the Arroyo appointees who make up the majority of the high court's justices banded together to allow him to get away with it. These Arroyo appointees have become a law unto themselves and brazenly believe they can overrule anyone or any other branch of government.

But what is so exasperating, is that just when the country and its new president are finally on the verge of rendering justice so long denied to generations of Filipinos, we have so-called experts like Bernas who insert themselves into these fragile situations with nuanced opinions that only serve to obfuscate what are otherwise clear and straightforward issues. Pundits like Bernas are like barnacles on a ship's rudder that jam the hinges and keep our ship of state from heading in the right direction.

In the first place Catholic priests really have no business sticking their noses in politics especially as overtly as Bernas has been doing all these years. It is the height of duplicity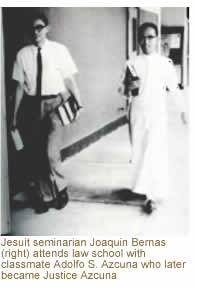 to use the esteemed standing the public accords to ministers of God in order to unfairly enhance one's purely personal pursuits. Priests and nuns have taken a sacred vow and they should stick to it for life…or renounce their vow and be free to delve headlong into politics, or business, or entertainment, or whatever their heart desires.

Our poorly crafted 1987 Constitution, which Bernas helped frame, nonetheless acknowledges the separation of Church and State. And while today's Catholic majority may have no qualms about priests involving themselves in politics or commenting on legal issues, that level of acceptance would likely not be there if it were a Muslim imam doing the meddling instead of a priest. If you want to see what happens when a religious group is given free reign in a country, just look at Iran where the Ayatollahs control the government—religion and politics should never mix because when they do, democracy dies.

So our advice to Bernas is this: you'll be turning 80 soon, its time you practice a bit of self-discipline and refrain from sticking your nose in politics. Instead remain true to your holy vows—it was the Jesuits after all who sent you to law school. Dedicate what years you have left to training young men and women to be honest and upright citizens who stand for freedom and justice—they more than anything else will be your lasting legacy. And in all humility realize that despite your many accolades, you will never have all the answers. For in the end we all are nothing more than footnotes in our nation's history. Published 12/16/2011
Saved Comments


Name: Rich T
City/State/Country: California
IP Address: 148.87.19.222

Comments
Instead of meddling with the affairs of the State, I fully agree that Fr. Bernas should instead focus on cleaning up the moral fabric of ADM of which he was once a president of. One wonders why a lot of the corrupt politicians graduated from this supposedly prestigious Jesuit university. Something is deeply wrong with this scenario. My prayer goes out to them. It's not too late.
---
Name: HMS
City/State/Country: New York
IP Address: 67.241.96.149

Comments
Is it true that the favorite nephew of Bernas married Luli Arroyo? Is that why this formerly well respected priest is giving all sorts of negative opinions on Aquino? If so then this is another nail on the coffin of the Catholic Church in the Philippines. These holier-than-thou priests and bishops are fast becoming irrelevant that very soon they will look like carnival barkers in sideshows when they deliver their hypocritical sermons. They act like they are the strongest pillars of society but in truth they have the same feet of clay just like everyone else.
---
Name: Aiota Capli
City/State/Country: Inland Empire
IP Address: 165.235.174.72

Comments
My feelings exactly. Fr. Bernas has lost his credibility by flip-flopping his position on the Corona appointment and impeachment. The country will be better served by Fr. Bernas if he and his flock would help the poor, feed them or educate them on family planning or something, or plain Catholicism so that the poor may vote wisely if they understand that the poor have long been taken for a ride by most politicans...instead of him belching trash talk.
---
Name: R. Dumont
City/State/Country: Vancouver, Canada
IP Address: 70.78.166.24

Comments
I agree that Catholic priests should not interfere with politics. They should stick to their vow instead of thinking that they are higher up than the government. PRAY for our nation, would be much better.
---
Name: boy vegas
City/State/Country: las vegas, nv
IP Address: 199.36.244.11

Comments
Tunay bang nakakausap ni Bernas ang Diyos bilang pari? Kasi imbis na tulungan niya si P-Noy na isa ring Katoliko na ayusin ang Pilipinas, doon siya pumapanig sa kadiliman. Hindi kaya si Satanas ang nakakausap ni Bernas sa buong buhay niya bilang pari?
---
Name: JRH
City/State/Country: Montreal, Canada
IP Address: 70.80.103.46

Comments
In my former post, I mentioned that Fr. J. Bernas has become just a big mouth & out of reality. He's fast his prime & in my estimation developing the first symptoms of advanced senility or puppet kiko mouthpiece. We are all reminded of the antics of Mr. Gonzalez of the old court. This member of the old institution has bacome counter-productive & useless cuz they are dwelling of a Utopian ideals that's not applicable in the present situation in the Phils. Call Pres. Aquino a dictator but to me He's the ultimate terminator of corruption & corrupt govt officials. Fr. Bernas sir, don't mess up things with your unreasonable & misguided assumptions. Just enjoy your retirement & please butt out. In Christ we trust.
---
Name: John
City/State/Country: Cebu
IP Address: 24.253.66.68

Comments
Jesuits have a history of secretly overturning gov'ts. They were kicked out fr countries 4 instigating unrest. Loyola claimed 2 have seen apparitions w/c induced him 2 persecute those not subservient 2 the pope. The Bible warns us to test the spirits. 1 Jn 4:1. W/ the internet, they could no longer keep it secret. Note Jesuits advise our leaders. The meddling of the order is a violation of separation of church & st. That's why RP has a Jesuit member of Const'l Comm. They're responsible 4 inserting supposed altruistic "Social Justice" w/c in reality is a tool 2 take prop. away fr middle class & weaken those who have means 2 oppose them. Hitler said Nazi was patterned after the order. "Nazi" is short 4 Nat'l Socialism. Main vehicle is Socialism & endgame is world control under d Anti-Christ.
---
Name: nebur yamski
City/State/Country: toronto canada
IP Address: 99.228.213.78

Comments
For my own view the priest except the good ones are the one adding to much problem in Pinas. They think they are perfect cuz they are serving god?? But they are ones the making problem in Pinas for the accept bribe?? Hope u priests just mind ur own business!
---
Name: Cupid
City/State/Country: Loveland
IP Address: 166.137.139.42

Comments
The comment made by Fr Bernas that BS Aquino is a dictator and compares the former to Fidel Castro is unfortunate and not a fair comparison. In a revolutionary government the leader dictates how things should be run or managed. The dictator is the government; he is GOD.
---
Name: blumntrit
City/State/Country: ph/usa
IP Address: 68.193.64.144

Comments
Pareng Joaquin, isang pang nuisance sa daang matuwid. To reach that age of 80 dapat tapos na ang hirit mo sa politika. Give the new generations a chance. You and Fidel Castro should just fade away and retire for good. Kinakalawang na din yang utak mo gaya ni Edward.
---
Name: sconcern
City/State/Country: Philippines
IP Address: 96.51.223.169

Comments
If you think Pnoy is Fidel Castro, I will say you (Fr. Bernas) are Fr. Damaso. Between the two, I would choose Castro because he protected his people against a bully, which gained him respect among intelligent countries eg. Canada. He gave his people a better education and health system, comparable to the bully, USA. While Fr. Damaso exploited the Pilipino weakness, by cheating and stealing. Bernas shut-up and stick to your religious vow. The Philippine State is not Rome.
---
Name: Phil Researcher
City/State/Country: LA County, Ca USA
IP Address: 98.119.17.19

Comments
RE: Fr. Bernas .. Fr. Bernas is very happy that you are putting him as one of the topics to be discussed in this forum.. Yes he was among the experts who made conflicting constitutional provisions ..Whereas there is a provision prohibiting the appointment after a certain period before the pres. elections.. they have another provisions which states that the CJ can't be vacant for more than 90 days.. At any rate , notwithstanding that conflict you only need to understand basic English to know that Corona's appointment was in violation of the Constitution. Corona has to leave in order for the SC to be cleansed of GMA rubbish.. Chief of Staff Corona never transitioned to become Chief Justice.
---
Name: jessie
City/State/Country: honolulu
IP Address: 98.155.193.62

Comments
A statement given by J. Bernas comparing Pnoy to F. Castro of Cuba is surreal particularly from a person like him. He is a priest but he cannot put a good man down because Pnoy is doing everything he can do to clean the government from corruption which is the root of evil and suffering in the Philippines. May be he wants to continue having corrupt people like CJ Corona and continue keeping the Philippines as a corrupt country. He knows exactly A7,S15 of the PhilConst bcoz he's one of those who drafted it. A7,S15 is one of many that CJ Corona violated.
---
Name: WDC
City/State/Country: California
IP Address: 66.126.39.183

Comments
Padre Bernas could use his remaining years educating other catholic Bishops to put their time more on the poor rather than with corrupt Filipino politicians.
---
Name: Vanessa Lee
City/State/Country: Kuwait
IP Address: 62.215.228.249

Comments
Religion and politics should never mix. It is more dignified if Fr. Bernas can use his remaining days for something which can be beneficial to his holy vow instead of hounding the Administration. If from his heart he can not have a good vision toward the present Administration's system at least he should refrain from bringing out his emotional garbage it is unbecoming of an ordained priest like him.
---
Name: EJ Flores
City/State/Country: Las Pinas City, MM
IP Address: 112.203.53.24

Comments
I used to like Fr. Bernas. I still believe he has one of the brightest minds as far as the constitution is concerned. He declared then that the SC decision favoring the midnight appointments of GMA is more unconstitutional than not, meaning the SC might have really erred on this one. Thereafter, he urges the members of the judiciary to hold their grounds against the attack of Malacañang, referring to the impeachment of CJ Corona. Then a report came out that in a way, he is even related to Corona. Fr. Bernas, what ever happened to the blindfolded lady with balance and sword in hand? Where is she right now in your sight?
---
Name: Steve R
City/State/Country: California
IP Address: 98.234.19.64

Comments
Fr. Bernas supports CGMA who was reported by journalists to have allegedly committed: Rig 2004 & 2007 elections in which a statistical impossibility of 12-0 in favor of GMA's senatorial slate. GMA was accused of being the female voice in the GARCI tapes, P330 & P728 millions scams, 15 relatives of massacred journalists filed a $340,000 civil suit naming GMA as enabler of Ampatuans, CGMA gave four top positions such as chairperson, president, CEO & Chief Operating Officer at Camp John Hay to CJ Corona's wife. Did all the journalists just wake up one day in their life & write these reports? Without journalists, Democracy will not thrive.
---
Name: Jose Reno
City/State/Country: Edmonton, Alberta
IP Address: 75.156.163.164

Comments
I believe Fr. Bernas has already lost his credibility because he has shown his partiality esp. when it comes to GMA & her tutas. I agree he should stick to moral issues and to social justice. May he find inner peace and constructive PHL governance solutions on the last leg of his last trip to the sunset! God bless you, Fr. Bernas!
---
Name: Matanovic Klundt
City/State/Country: Kamloops, BC
IP Address: 199.247.253.43

Comments
1) Kudos to your editorial about Bernas PNL. I like your advise stated in the last paragraph. In addition, here is another constitutional expert (sic) who is flip flopping. That's why, Philippines never progresses. In my opinion, Filipinos were very disappointed after they booted out Marcos in a peaceful revolution. However, no one was put in jail, including Estelito Mendoza. I was informed that he also left the Philippines for a while after the 1986 revolution. And then went back when the revolutionary gov't was weak.
---
Name: Matanovic Klundt
City/State/Country: Kamloops, BC
IP Address: 199.247.253.43

Comments
2) Now, here is a president who is bent of eradicating corruption and putting officials in jail who are violators of constitution, corrupt, etc. and yet Bernas and some quarters seem not to appreciate nor support Pnoy. Don't listen to them Pnoy, just put everyone who is facing charges right now in jail including Estelito Mendoza.
---
Name: JRH
City/State/Country: Montreal, Canada
IP Address: 70.80.103.46

Comments
Fr. J. Bernas is hopelessly conservative. He might be a constitutional expert but he's stubbornly stuck to the status quo & has become irrelevant in so many ways. He is bold & daring enough to label Pres. Aquino as Fidel-Castro-like. Where is the civility & sensibility in that stupid statement? Filipinos know that Pnoy did not violate the requirements of justice. GMA, hospital arrest, CJ Corona, impeached, & Abalos, arrested. Our president knows that our country was misruled & brutalized by corrupt politicians for such a long time. Progress to work necessarily requires change (landas na matuwid) & the complete overthrow of the past system. This new ideas & ways must now triumph over the old & non-working ways...not the old views of Fr. Bernas, S.J., old fart.
---
Name: Mokalid B. Diagao
City/State/Country: Saudi Arabia
IP Address: 176.45.43.88

Comments
I wish to extend my greeting to Father Bernas, A happy Birthday. Before whenever I heard the name Father Bernas, immediately will come to mind his uprightness and probity as looked upon by every Filipino being a noted personality and primer of the constitution. But lately I was little bit surprised that there seems to be about a 90 degree turn on his character, only to find out from the above comments that the daughter of GMA is married to his nephew and currently they are related by affinity. No wonder.
---
Name: WDC
City/State/Country: California
IP Address: 75.38.65.30

Comments
Padre Bernas has all the rights to invoke his own opinions, but before he criticizes how the Aquino runs the government he needs to first to clean-up his own closets (the Catholic Church). The Bishops and priests are in cahoots with all these corrupt and dubious politicians and this is one of the main reasons why the Philippines is not stable.
---
Name: 1 UP
City/State/Country: GOTHAM CITY
IP Address: 74.101.61.3

Comments
President Aquino is being accused of being dictatorial and was maliciously and unfairly compared to Fidel Castro (Fr. Bernas' point of view) if not with Marcos. In fact, it is the reverse. The Supreme Court is more dictatorial than the office of the president. The court had flip-flopped or reversed its decision many times over (for example the PAL case and the case of the 16 cities); res judicata was invoked. SC rushed the defective TRO (Corona signed on it) allowing Gloria to leave the country (The Arroyos were at the airport several hours later after the TRO was issued). The court was silent when Agra wrote those guidelines for HDOs and WLOs that De Lima applied.
---
Name: mockingmaya
City/State/Country: taft avenue, manila
IP Address: 67.182.75.243

Comments
Father Bernas should revisit his notes: History of Atiquity (when faith treated intellectual curiosity as dangerous, subordinated to religion, that the Church is not bound by eternal rational truth.) Father Bernas should not consider elected President Aquino as enemy of democracy. The symbol of Church is love, not hate: "Hatred is an element of struggle; relentless hatred of the enemy that impels men over beyond the limitations of men & transforms them into effective, violent, selective, & cold killing machines..."
---
Name: mockingmaya
City/State/Country: taft avenue, manila
IP Address: 67.182.75.243

Comments
I think Father Bernas would like to have it both ways: a democratically elected President or government kept in check by the Church, or politics of Theology. Filipino intellectuals are not stupid like Gloria Arroyo & Justice Corona. They know the the lessons of Haiti's radical politics, see "Damming the Flood," Beggars Opera: "What is the stealing of thousands..., or robbing of the bank compared to the founding of the bank?" Father Bernas should give the less fortunate Filipino students a chance to achieve authentic, legitimate, & strong democracy: quality education, state-of-the-art libraries and schools, economic prosperity, a decent livelihood, & so forth by supporting a democratically elected government under President Aquino's presidency.
---
Name: Sally I.
City/State/Country: South Pasadena, CA
IP Address: 76.173.78.138

Comments
All you priest and bishops, do not meddle with politics. Stay in the church. Because you profited from GMA all of you are defending GMA. Stay away all of you did you hear that?????? or else we will start a movement to get out of Catholics and charge all these priests and we will petition the Vatican to EXCOMMUNICATE these bishops and priests. Leave the politics to the people and you just take care of the Catholic Church. GMA is the worst sinner, murderer, corrupt and evil. So if you ALL OF YOU PRIESTS SIDE WITH GMA you ARE ALL EVIL TOO.
---
Name: mockingmaya
City/State/Country: taft avenue, manila
IP Address: 67.182.75.243

Comments
Father Bernas & Justice Corona are trying to beat the dead horse by destroying the public policies of a legitimately elected, honest & decent president (Noynoy Aquino) of the Philippine Republic. I think Father Bernas & Justice Corona have failed the Professional or Lawyer's Ethics section in the Bar Examination (na-voodo or nahilot ni tandang impong na may suot na black robe sa pamamagitan ng usok or lagay). It is not too late for Justice Corona to resign from the bench, if he really passed the Legal Ethics or ethos (Greek word ethos, meaning character or custom) section in the Bar Examination. Ethics & morality go together: morality refers to a person or group's standard of right & wrong or good & bad, & ethics refers to assessment of those standards.
---
Name: James
City/State/Country: Philippines
IP Address: 112.198.82.57

Comments
Fr Bernas is entitled to his own opinion, his opinion does not necessarily represent the Catholic Official Statement. On the other hand, Noynoy has been close to Evangelical Christian Leaders even praying for him inside Malacañang. I support the impeachment on Corona, SC Justices aren't that perfect, they also commit errors! Kung sino pa yong mataas and pinagaralan at nagtapos pa sa sikat na Unibersidad, sila pa yong mga CORRUPT kuno!
---
Name: Myrna
City/State/Country: canada
IP Address: 70.30.53.98

Comments
When you surrender yourself to God, a servants of the Lord, this means you are locked and no need to pay attention to anyone else but all for God. You were sent to school to learn about the law, not on earth but the law of God, to expand more to protect the kingdom of God. Pay attention to those followers or servants of the Lord who are abusing it, involved in child abuse, rape, having affairs outside the church. This is your role. Fr. Bernas. What punishment will you give to them.
---
Name: Gene
City/State/Country: Ontario, Canada
IP Address: 115.147.78.165

Comments
If the editorial of PNL is right, Father Bernas in my opinion is suffering from short term memory loss or maybe an early sign of Alzheimer Disease is setting in. Comparing Pres. Benigno Aquino III to Castro is incomparable because there are discrepancies in their personality and behavior. Fr. Bernas must realize that P-Noy is not Castro and Castro is not P-Noy. When 65-70% of Filipinos support P-Noy, the opinion and views of Fr. Bernas have become irrelevant because those 65-70% heads are better than Fr. Bernas. Pres. P-Noy is trying his best to fulfill what he has promised during the election and he is showing to be an honorable man. I don't see him to be another FM but a man who is hungry to wipe out corruption.
---
Name: A Serafica
City/State/Country: Melbourne, Australia
IP Address: 115.130.5.162

Comments
As an Atenean from grade school to high school then as a UP college grad, I feel that to bunch all Ateneans as a product of a skewed education is I think unfair. To say Ateneo only only produces corrupt officials is an insult to us Ateneo alumni. PNoy is a graduate and so are a lot of the members of his cabinet. I totally agree though that the church should stop meddling in the affairs of the state as stated in the constitution. It's very clear. I appreciate the fact that the church was instrumental in the EDSA revolution but I've always questioned why it took them (the Catholic Church) so long to do something about the injustices that Marcos and his cronies inflicted on the country. Its time for the church and its leaders to let the government do what it was mandated to do.
---
Name: Boo Boo
City/State/Country: Elmhursty
IP Address: 207.237.54.3

Comments
Priests have a spiritual and not political responsibility. I know for a fact that the leader of the church doesn't speak or comment on how political leaders run the affairs of their state. But I am surprised that priests and nuns have become political activists. I guess priests and nuns spend less time on the Bible but more time watching political debates and protesting. The world has really changed.
---
Name: Perry
City/State/Country: Valencia, California
IP Address: 121.1.55.90

Comments
Is the bias of Fr. Bernas because the Arroyos studied in Ateneo or is it because the daughter of Mike Arroyo married a Bernas?
---
Name: Beau
City/State/Country: California
IP Address: 98.176.144.172

Comments
Fr Bernas, just shut up. Do not attack PNoy. You are adding to the problems of the Catholic Church, especially during these dark moments of our religious faith, wherein Priests are being branded as corrupt, accepting bribes from GMA and the child molesters around the world. You are not helping at all. Worst, you are making it very hard for us to defend our faith to the non believers.
---
Name: lee buyagan
City/State/Country: ksa
IP Address: 94.96.112.56

Comments
Father Bernas: Hindi katanggap tanggap sa madla na kung kailan tumanda ang isang katulad mo ay punong puno ng pagkakasuklam ng karamihan sa mga mamamayang Pilipino. Bilang isang pari, ito ay nakapaghihinayang sa nalalabi mo pang araw sa ibabaw ng lupa. Huwag mo nang pakialaman ang magandang hangarin ng iba, kundi ipagpatuloy ang mga magandang gawain na iyong nagampanan kung meron man.
---
Name: Snookyboy
City/State/Country: PH Na Mahal Natin
IP Address: 96.49.79.48

Comments
To Sen. Joker Arroyo, Though no relation to the Arroyo's maybe yes or maybe no. You said that Pres. Noynoy cannot even come close to what his mother had done. I tell you to your face: This President can delver what his mother or even his late father Senator Ninoy could not even come close. The people of the Philippines are giving him the full support to once and for all eradicate corruption once and for all. Former Pres. Marcos failed and I am very positive that this president will deliver. No more negative talk talk talk cause you will eat your own words. I am sure you will read this or one of your halalay might bring it to your attention. We all stand beside him all the way, ok?
---
Name: Manuel C. Diaz
City/State/Country: Montnclair CA USA
IP Address: 76.174.219.92

Comments
Let Fr. Bernas talk his head off. That is the only way to expose the fact that the experts we rely on are morons and idiots.
---
Name: mockingmaya
City/State/Country: taft avenue, manila
IP Address: 67.182.75.243

Comments
Father Bernas, Senator Santiago, Senator Enrile & other apologists of Arroyo & Corona should turn away from promoting & supporting any form of corruption, which violates constitutionalism itself. Non-violent movements of Filipino students follow the golden rule, but politicians following the path of corrupt Arroyo's regime are violating public or political morality, which constitutes violence per se. How can Senator Santiago defend human rights around the world if she can't defend the rights of the Filipino people & constitutionalism in her own country?
---
Name: 1 UP
City/State/Country: GOTHAM CITY
IP Address: 74.101.61.3

Comments
Maligaya of Canada: The issue here is about the separation of the church and the state but never the freedom of speech or the first amendment in the US Constitution. Presidents do not criticize or speak ill of the Pope and Popes never say anything negative against a country's leader. Pope Pius XII never denounced Hitler's the Final Solution. But ordinary Catholic priests do not follow the lead from the Vicar of Christ on earth. Who are these priests following?
---
Name: mockingmaya
City/State/Country: taft avenue, manila
IP Address: 67.182.75.243

Comments
I do believe that Filipino critics around the world are also conscious of the moral responsibility of the Church. A modern moral critique on the history of Religion is essential to determine if it is a curious product of man's imagination or man's reason. Father Bernas may be an erudite legal & religious scholar, but I think for the sake of reason itself, every critic has a right to know the proper truth: the accursed fruits of oppression & fanaticism.
---
Name: mockingmaya
City/State/Country: taft avenue, manila
IP Address: 67.182.75.243

Comments
Father Bernas, Justice Corona, Senator Santiago, & Atty. Juana (who believes that all criminals like Arroyo should go on 15-30 days holiday furlough) should stop demonizing the Office of the Presidency. Father Bernas can't use the name of religion or the Church to destroy an honest elected President of the Philippines. Father Bernas should condemn the perpetuators of Maguindanao massacre, instead, & educate himself if genocide or slaughter or massacre is not really a matter of poverty, Theo-political fanaticism, or lack of education.
---
Name: tonyO
City/State/Country: pinas
IP Address: 114.108.243.107

Comments
PNL is absolutely right to speak of Fr, Joaquin Bernas because he was the key supporter of former President Cory Aquino in the EDSA I REVOLUTION who drafted the Cory Constitutions. He very well knows the intent of the Constitution, In fact he has a book on this which is the only leading text book in the study and practice of law. Fr. Bernas knows what is a dictatorship and a dictator. He fought the Marcos dictatorship along side with Cory Aquino.
---
Name: mockingmaya
City/State/Country: taft avenue, manjila
IP Address: 67.182.75.243

Comments
Father Bernas must remember that Gloria Arroyo's regime failed to demonstrate successfully the elimination of corruption, extra-judicial killing, declining educational standard, deteriorating urban structures, coup d'état, modern slavery, drug trafficking, human trafficking, plunder, electoral sabotage, cronyism, Mindanao massacre & prostitution of democratic principles. How can Father Bernas, Gloria Arroyo, Justice Corona, Senator Santiago, Senator Enrile, & other corrupt officials defend their country against extremist ideologies? Only a strong, legitimate, honest, motivated President Aquino can defend the Philippine Republic against its enemies. Of course, the criminals must be put behind bars first.
---
Name: 1 UP
City/State/Country: GOTHAM CITY
IP Address: 74.101.61.3

Comments
I thought it would be best for Fr. Bernas to refrain from commenting on people but on legal matters. He loses his objectivity as a legal analyst. He transforms himself to a political commentator in the likes of Rush Limbaugh, Glen Beck or John Hannity (all of Fox News)
---
Name: letlet
City/State/Country: uk
IP Address: 86.26.26.229

Comments
Is Fr. Bernas on the Planet Earth? To any Filipino intellectuals, it is not rocket science to deduce that indeed there's no parallelism between Castro and PNoy. Did Ateneo check Fr. Bernas credentials when he became dean of law--his political and religious precepts and ideologies? With due respect to him, it seems he has an unsound mind, as if he didn't know what he was talking about. F. Castro's rule was entirely and wholly different from PNoy in terms of political precepts and ideologies.
---
Name: Ballong
City/State/Country: Chicago, U.S.A.
IP Address: 75.26.247.18

Comments
Pakiwari ko, iba na ang mga pare ngayon at hindi na kagaya nung araw na they are only after the teachings of the Catholic Church. Nakikialam na sila sa state affairs at ang iba diyan tumatanggap na rin ng pera. Ang dapat sa mga Obispo at mga pare na yan ay magbitiw na sa kanilang tungkulin dahil nakakapababa ng moralidad ng kristiyanismo at dignidad ng simbahang katoliko. These are signs that the end of times is within reach....
---
Name: mockingmaya
City/State/Country: taft avenue, manila
IP Address: 67.182.75.243

Comments
Father Bernas doesn't realize the outcome of his blind loyalty to corrupt politicians & partial jurists: the slum dwellers along Pasig River, Quiapo, Binondo, and so forth are the living dead in the eyes of decent & conscientious majority of the Filipinos at home & around the world. A man of God & a follower of our Lord Jesus Christ will not ignore those Filipino people who have fallen into the dungeon of humiliating poverty or beggary, human dignity & oppression. In fact, these are the very human beings who are not afraid to tell the greatest lie of leaders, who're also products of Father Berna's academia.
---
Name: deo
City/State/Country: flour city
IP Address: 74.65.3.64

Comments
If Bernas' nephew is married to the daughter of Arroyo, as what some posters reported here, then there is no surprise that he attacked Aquino. "Blood is thicker than urine, you know". But that's not my issue with Bernas. He is reported to be one of the framers of the 1987 Constitution, malas na lang ng 'Pinas! This Bernas should be the first to respect the presidency (calling Aquino names and likening him to infamous people is a no-no from a framer). They gave that power to the Executive Branch; exercising them does not make the president a dictator. Or Bernas doesn't really understand what he was doing when he joined the framers of the Constitution. Baka naman saling-pusa lang siya.
---
Name: Nelly Andal
City/State/Country: Makati city
IP Address: 202.128.42.175

Comments
It is not surprising that Fr Bernas had a 360 degrees turn around on his previous opinion coz I have read before that he is the uncle of the husband of Luli Arroyo Bernas. Before he had no links to GMA, now he has.
---
Name: bill
City/State/Country: manila
IP Address: 112.198.79.101

Comments
He should mind his own business. The catholic church r money hungry greedy hypocrites. Do something about the child molesters in ur church. Feed the poor and starving instead of talking. Phil needs birth control to stop the misery. Good on you Noynoy u are doing a good job ridding us of the lying cheats the ones who are objecting know they have corrupt past and present put them all in jail. Don't be the laughing stock of the world anymore
---
Name: CHARLES DUQUE
City/State/Country: LOS ANGELES, CALIF.
IP Address: 68.8.110.215

Comments
Father Bernas seems to be the mouthpiece of the Roman Catholic Church in the Philippines. Meddling the affair of the State may not be what God wants him to do while still alive. Fr Bermas is attempting to influence legislation and is trying to participate in or intervene a political campaign on behalf of his Catholic Religion. He is deliberately and knowingly breaking the Tax Exemption Status of the Church. Congress may want to look at his co-mingling activities and recommend limitations of his activities. The Bureau of Internal Revenue Service may want to look at this very closely. Let the current administration try to make public officials a little bit more matured in the strictest sense of the word. Philippines needs a leader who has a vision of a clean government.
---
Name: JRH
City/State/Country: Montreal, Canada
IP Address: 70.80.56.162

Comments
After the dust settles & our court found GMA guilty as charged, Filipinos will ask about his (FR. Bernas) comment on Pres. Aquino. Most Filipinos only want due process to work, the rule of law to finally prevail, & equality & justice prevail. It's a very simple hope. So, if done accordingly, we can see the whole truth behind the graft & corruption committed by GMA. We can then ask Fr. Bernas if Pres. Aquino why he compared the president acting like Fidel Castro; a devout communist, anti-progress die-hard, etc. It was only a year ago that he finally allowed Cubans to own computers, cell phones, microwave or toasters, etc. Does this comparison hold water? Fr. Bernas is living in another dreamland planet. So just shut up Padre.
---
Name: mockingmaya
City/State/Country: taft avenue, manila
IP Address: 67.182.75.243

Comments
The Filipino people have a right to educate Father Bernas & Renato Corona that their loyalty is to the Constitution. Father Bernas bad comment on President Aquino's statesmanship is a sign of ignorance. It represents Father Bernas allegiance to the "sons of the old order---corruption, elitism & arrogance." The Filipino people must learn from the lesson of State of California: "the voters of California voted out of office three State Supreme Court Justices in 1986." The Phil. Senate must execute its duty to uphold the Constitution. Rotten Senators not even deserve to be recycled into the bin of history. Don't re-elect rotten mangoes.
---
Name: 1 UP
City/State/Country: GOTHAM CITY
IP Address: 74.101.61.3

Comments
Deo: Gloria Arroyo is related to a Bernas by affinity. The facts: Evangeline Lourdes "Luli" Arroyo, age 37 a daughter of FG married a Bernas - J Aloysisu "Luigi" Bernas (investment banker and ex-director of Ayala Foundation) in Highlands, Tagaytay on November 05, 2008. As to the degree of sanguinity the son-in-law has with the good father Bernas, I have no clue.
---
Name: ReyOfBatoCatPhil
City/State/Country: Reno, Nevada, USA
IP Address: 99.46.25.26

Comments
It is time for the govt. to tax the churches. HAHA kaya pala against the people or Pilipinos ay isa palang related to Gloria.
---
Name: HMS
City/State/Country: New York
IP Address: 67.241.96.149

Comments
How sad the Philippines has become! Democracy advocates who supposedly fought Marcos and Martial Law and were once hailed as "heroes" are now the most greedy and despicable people populating the land. Look at the newspaper columnists. They flip-flop like beach sandals. Professional malcontents called newsmen and newspaper publishers hitting and bad-mouthing everything about the present after they have savaged the past administration. Why can't these people just find work in Saudi Arabia or go with Miriam "Brenda" Santiago wherever she may be going. Absent these people the country may start moving forward.
---
Name: mockingmaya
City/State/Country: taft avenue, manila
IP Address: 67.182.75.243

Comments
Father Bernas should apologize to President N. Aquino for calling him a dictator, which is a reflection of a stereotypical thinking of "ageism." A scholar's argue that "ageism" will lead to a distorted view that an older dislikes innovations & is not disposed to new ideas. Father Bernas may be tied to his personal traditions (or his Church traditions) & growing conservatism. Father Bernas is a scholar; he should not enter "a second childhood." A creative scholar is not bound to himself; he is a defender of change, active learning or the life of the mind & a passionate defender of liberty, freedom, democratic institutions, & values.
---
Name: pinaskongmahal
City/State/Country: usa
IP Address: 70.243.123.23

Comments
This Fr Bernas, to me, is the reincarnation of Fr Damaso in the Noli Me Tangere novel of Rizal. Fr Damaso fathered Maria Clara, a violation of celibacy and a rapist that ignited deep anger by the katipuneros culminating to the revolution of June 12, 1896. Aguinaldo declared the Phil a free nation (a farce declaration). The Phil was never an independent nation recognized by other nations on this date. True independence of the Phil is July 4, 1946. Back then and today, the Phil is embroiled with deceit, lies, tainted patronage and questionable loyalties personified by Fr Bernas (a cultist follower of Fr Damaso, the rapist).
---
Name: GFJBHEDF
City/State/Country: Hercules
IP Address: 67.188.19.40

Comments
In EDSA I, individual nuns prostrated themselves in front of advancing tanks to be run over, stopping the line of tanks on their tracks. Were it not for the act of these meddling/courageous/self sacrificing nuns, EDSA I may not have been bloodless as it were.
---
Name: el re
City/State/Country: los angeles, ca
IP Address: 68.181.185.119

Comments
Priests have the right to put their nose in politics. That's is why they are there to voice their opinions according to the gospel of our Lord Jesus Christ. Everybody had their gifts given by the Lord, and a lot of priest or Holy people are given gifts to say or to do something when things are wrong. That is the duty of of every Christian not only priest, to do the right thing. You cannot just close your eyes if somebody is doing wrong knowing it will affect other people.
---
Name: mockingmaya
City/State/Country: taft avenue, manila
IP Address: 67.182.75.243

Comments
I think Father Bernas wants to be the last interpreter of the gods as theologian par exellence "Sacer interpresque deorum," & Constitutional expert. Father Bernas comment on President Aquino is intended to preserve the rosy image of Gloria Arroyo, which is akin to "charming the beast with his lyre." Even scholars argue that religious fundamentalism is a form of dictatorship. I do believe that a respected priest & scholar, Father Bernas, should not wound any conscience.
---
Name: tops santino
City/State/Country: Manila
IP Address: 116.50.216.2

Comments
How convenient for many posters here to comment on Fr. Bernas when his ideas do not coincide with their own. Many of the posters here were singing praises for Fr. Bernas when they were on the same side of the fence. How ironic! We can never let anarchy from the howling mob destroy what is left of this country.
---
Name: Kalabog
City/State/Country: Libog Daraga, Albay
IP Address: 64.40.183.70

Comments
So many in this forum came out swinging against the Jesuit. I for one is not religious- but many of the post here are so out in the left field I can't help but wonder the mental caliber of those that includes the familial lineage of the Bernas, his age and his personal background. The issue is about his opinion and thoughts -- discuss it/argue against it /side with it- whatever. BUT do not cloud the forum with "bakya" issues.
---
Name: marty
City/State/Country: dHAHRAN, ksa
IP Address: 166.87.190.201

Comments
While nearly everyone one this website seems to be complaining about Fr. Bernas, which is a useless and meaningless dialogue.....while over a 1200 kabayans have died in Mindanao. Why are you all debating Bernas or Corona or GMA while a real catastrophe has hit our country? No help or assistance so far from Manila....
---
Name: Carltak
City/State/Country: Guam
IP Address: 101.99.142.242

Comments
What hypocrite of the editor!! When the nuns and priests came out in full force for people power, they were applauded as hero for risking their life. Now you say, they should shut up and not criticize Nenoy? Although they are nuns and priests, they are still citizens of the Philippines with the right to freedom of speech!!!
---
Name: GFJBHEDF
City/State/Country: Hercules
IP Address: 67.188.19.40

Comments
I too am for the separation of church and state. When priests/nuns/church laymen opine publicly, they are expressing their individual opinion, as citizen, just like you and me, and not that of the church. Individually, they are as much entitled to what you and me are entitled. What makes us think that we have the right to suffocate their voices, just because we are pro P'Noy, and they are of a different persuasion? Are we then not worse, transcending democracy, in favor of pawn for P'Noy's autonomy?
---
Name: Joan Abad
City/State/Country: Malabon
IP Address: 121.54.42.151

Comments
Let him do what he wants! Don't mind other's business! pakialamero!
---
Name: Ford
City/State/Country: Canada
IP Address: 64.247.128.14

Comments
So, what's wrong for turning 80? It is now a crime to be old? I have the same perception Bernas had about Aquino. You people saw how Aquino behaved, and acted on the question of Arroyo family and friends! First, he violated the right of ALL citizen as guaranteed under the Constitution to travel freely, and then defied the TRO issued by the Supreme Court. Next, he berated Corona in public, an act only immature kids would do to a perceived enemy, shove into the throat of members of the house to endorse impeachment of Corona because of HLI! The truth commission was a garbage because it was set up to singularly target Arroyo. The law is supposed to be applied EQUALLY to every citizen of the country! So, how do you perceived Aquino on this? A saint?
---
Name: A. Poli
City/State/Country: Anywhere
IP Address: 184.148.77.193

Comments
Lambasting Fr. Bernas if the opinion is against your belief. You guys are a big large joke. :-) ...one is innocent until proven guilty.
---
Name: LATEPOCA
City/State/Country: SOMEWHERE IN TIME
IP Address: 121.1.30.222

Comments
Father Bernas is as old as what we perceive to be old. His style of interpreting the LAWS is not as sharp as it was to be. So, PNOY, do what is RIGHT no matter who gets hurt BUT, think also your other KKK some are CORRUPT.
---
Name: 7gtg
City/State/Country: regnsk
IP Address: 24.89.83.99

Comments
As a priest he should not meddle. But as a Filipino citizen maybe he has the right to take the side that we don't like him to take. The right to express his opinions that may or may not appeal to us whiners of the forum.. lol. The problem with you people is that anyone who does not join your choir, you label as anti-Pnoy , or pro GMA. That is poor salesmanship. don't give up too easy. Convince viewers and posters to jump into your side? di ba? elementary lang.
---
Name: Daniel B. Laurente
City/State/Country: Bislig City
IP Address: 217.164.55.162

Comments
Many Filipinos are just envious of Father Bernas immense intellect. Like other Filipinos he has all the right to say what he want to say particularly the Laws of the Land, the Philippines Constitution when violated.
---
Name: tonyO
City/State/Country: pinas
IP Address: 114.108.243.107

Comments
Justice Oliver Wendell Holmes, Jr. was born on March 8, 1841 and served in the Supreme Court until Jan. 12, 1932 when he was already 91 years old. Our Justices in Pinas must retire from the service at age 70. Yet, Justice Holmes is a respected jurist and remembered as a learned jurist of all times. What's wrong with Fr. Bernas reaching age 80 by next year. Fr. Bernas is authoritative in the Constitution of Pinas and respected opinion writer of the PDI newspaper. Whoever wrote this PNL Editorial needs his head examined. Great philosophers were also old but excellent in their performance and accomplishment, like Deo hehehe.
---
Name: marty
City/State/Country: Khobar, KSA
IP Address: 166.87.190.201

Comments
So what is the big deal about Fr. Bernas giving his opinion? Is not an 80 year old man allowed to give his opinion in a Democracy? The only reason you attack Fr. Bernas is that his opinion disagrees from yours...so rather than show proper democratic ideals...you turn a dictator and crucify the poor guy in public. In fact I also think Aquino has gone far beyond his requirements as President to eliminate the Supreme Court. I hope PNOY succedes with GMA but fails with the Supreme court.
---
Name: Isabelle
City/State/Country: Culi Culi
IP Address: 70.31.1.221

Comments
Editorial quip--- "So our advice to Bernas is this: you'll be turning 80 soon, its time you practice a bit of self-discipline and refrain from sticking your nose in politics" - is an assinine staement! What has age got to do with having an opinion about politics? BAKYA MO NAMAN EDITOR!!
---
Name: Aris
City/State/Country: Cabuyao
IP Address: 124.6.181.199

Comments
Your view point is a narrow one, one that assumes that what the Constitution calls as separation of Church and State automatically means that the Church can not be involved in nation building. Your stand that the clergy should not engage in the debate because they are men of the cloth is illogical since these same clergy are still Filipinos. I find your view completely irrational.
---