When you live abroad, you broaden your perspective. You see firsthand how other countries operate—how they do things compared to how we Filipinos do things. You also see the good as well as the bad, the effective as well as the ineffective, the positives and the negatives of both cultures. More importantly, after some time, you assimilate that foreign culture becoming less Filipino and more American, or Canadian, or Australian, and so on. And we think that's good because you provide us with the kind of global perspective the country needs to move forward.
Our website has often been accused of dwelling on the negative and not acknowledging the many positive things about the Philippines. There are numerous other websites out there that can give you that "feel good" fix. We on the other hand believe that the Philippines did not go from 'leader of the pack' in Southeast Asia during the fifties, to the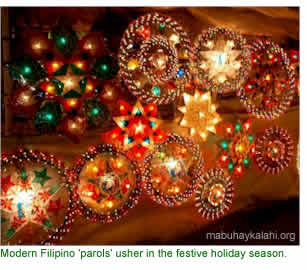 laggard it is today purely by accident. We believe that as a society, there is a lot we still need to work on, and the longer we delay, the harder it will be to fix. This website is here to highlight problems so they can be addressed.
At the end of the day, the Philippines needs the outside-the-box thinking that our global readers provide. And we would like to take this opportunity to thank all of you who follow us and send us your comments. We believe we are at the threshold of a new age of globalization where Filipinos outside the country will have a greater impact on what happens inside the Philippines than ever before. So all the best for the Holidays, and expect more from us in the coming year. Published 12/24/2011
Saved Comments
Name: Adel Reyes
City/State/Country: Fairfax, VA USA
IP Address: 76.17.243.18

Comments
Your outstanding service to the Filipinos living abroad is very much appreciated. Spread across he world, it connects their varied voices in so many ways- be it in social, political, religious and economic fields, which helps (hopefully) in solving problems in their homeland. Merry Christmas and Happy New Year.
---
Name: Mike M. Moreno
City/State/Country: Richmond, BC. Canada
IP Address: 174.6.120.197

Comments
Truly, we are now Americans, Canadians and Australians but, we are still Filipino deep within. As former Filipino, we thought it is best if we share how things are being done up here where we are for information and additional knowledge for our "kabayan's" out there hoping it will be helpful in developing new and modern day out look for a new Philippines. Thank you for giving us a chance to share.
---
Name: 1 UP
City/State/Country: GOTHAM CITY
IP Address: 74.101.61.3

Comments
Here is a beautiful quotations from Oren Arnold I would like to share; "To your enemy, forgiveness. To an opponent, tolerance. To a friend, your heart. To a customer, service. To all, charity. To every child, a good example. To yourself, respect." MERRY CHRISTMAS TO EVERYONE.
---
Name: GFJBHEDF
City/State/Country: Hercules
IP Address: 67.188.19.40

Comments
LIKEWISE PNL. MERRY CHRISTMAS. thanks for everything, and thanks for putting up with everything. Thanks for 15 Years of dedication. Thanks for continually providing and updating all the subject materials on time b4 they stale. There is no other school like this school. I like it. I think I'll stick around here for as long as my Lord is willing... if y'all don't mind.
---
Name: LEE
City/State/Country: KSA
IP Address: 2.91.236.217

Comments
I strongly believe that 99% of our commenters are truly desiring a major change towards the best Philippines. I do hope that these good comments will find its way to augment the effort of the President of the Republic for all his good plans. In this regard, I congratulate my fellow commenters, please don't lose your hope that thru our positive comments will lead the way to a brighter future. Happy New Year.
---
Name: JRH
City/State/Country: Montreal, Canada
IP Address: 70.80.56.162

Comments
'If there's a will, there's a way.' The new PNL editorial stated it clearly..our country needs the outside-the-box thinking from all Filipinos here & abroad. PNL-Global is very unique in a sense that it welcomes all comments & it has no fear in exposing the evil that exists in the Phils. We, Filipinos from abroad love the Phils, for it's the home of our people, the seat of our affection & dreams. To see to it that stays that way is every Filipinos primary duty. We must care for we are a part of Phil society to which we owe definite responsibilities. Merry Christmas.
---
Name: Aiota Capli
City/State/Country: Inland Empire
IP Address: 98.112.207.138

Comments
Thank you Philnews.com for providing this link to the global Filipinos. With you around we are able to read about our beloved birth country's goings on as we live and work far away from home. The debates and exchanges of opinions here were all heated but informative. We learn from one another. In the coming years I hope that someday no one in the Phils. will be hungry anymore. That they will all have a house to live at away from dangerous areas, and have a job to go to. Everything else will follow from there on. Happy Holidays, Merry Christmas and Mabuhay!
---
Name: Carrie
City/State/Country: Manila
IP Address: 61.18.186.135

Comments
(To Manuel C.Diaz) Tama ka ayaw kong magpakatanga at ayaw kong iboto ang taong ito. English grammar at Tagalog grammar mali paano na kaya ang pagiging Presidente nya. Siguradong sunodsunoran lang sya sa mga taong naglagay sa kanya. To all PNL panel Merry Christmass Guys.
---
Name: Edward
City/State/Country: Angeles City
IP Address: 98.160.174.84

Comments
Merry Christmas to all good Filipinos.
---
Name: lydia
City/State/Country: usa
IP Address: 208.38.241.200

Comments
Thanks Inquirer. I really like to read your newspaper specially the opinion portion. It always fits to how I thought on issues about the government. I wish each and every Filipino the joy, peace and love that Christmas brings. Merry Christmas and a blessed New Year to all!
---
Name: JRH
City/State/Country: Montreal, Canada
IP Address: 70.80.56.162

Comments
Holiday topic: most Filipinos in North America will miss this christmas..eating lechon, keso de bola, & hamon. Likewise our favorite San Miguel beer. Off course we can always substitute them with our own local versions of roasted pork from Chinatown, Edam cheese from Holland & prosiutto (Italian ham). Also, simbang gabi & puto bongbong with grated coconut, & white sugar. Yummy. In a way, most Filipinos abroad have adopted North American lifestyle & in essence become health fanatics. We go to the gym on a regular basis & conscious of limiting salt-intake, ajinomoto, sugar & fat (cholesterol). We, however, enjoy watching news segments highlighting Phil. cuisine & Filipinos enjoying them. Maligayang Pasko sa inyong lahat.
---
Name: 1 UP
City/State/Country: GOTHAM CITY
IP Address: 74.101.61.3

Comments
Whoever is elected to become the president has to the country and its citizens. That president has to protect its citizens from renegade soldiers and generals from whacking them; plunderers from emptying the nation's coffers; from famine and diseases; from employers that exploit and mistreat them; and for himself ability to resist the powerful seduction of gold at the expense of the country and its people. But in spite of all these negativities : "Good news from heaven the angels bring, Glad tidings to the earth they sing: To us this day a child is given, To crown us with the joy of heaven." Martin Luther MERRY CHRISTMAS
---
Name: Phil Researcher
City/State/Country: LA County, Ca USA
IP Address: 98.119.17.19

Comments
RE: Dear Editor: There is a Christmas and New Year Coming, I believe it is your job to exclude from this forum comments that are patently false on its face.. I am referring to an American with IP Address 41.35. 80.226 I believe he he as just been victimized by a Filipino Woman and his is so bitter in describing himself as an old American who married a Filipino Woman for Green Card.. led him to generalize that all Filipino Women are prostitutes and whores. and he wishes that the Ph should just vanish.. These kinds of comments have no redeeming value please don't publish it again.. Merry Christmas and a Happy New Year to all.
---
Name: Kanada
City/State/Country: Kanada
IP Address: 159.18.94.65

Comments
Merry Christmas and a Happy New Year to PNL and all readers. I hope that the Philippines moves forward and becomes a prosperous nation with better futures for everyone.
---
Name: Vanessa Lee
City/State/Country: Kuwait
IP Address: 62.215.228.249

Comments
I am very thankful also for giving us chance to express our opinions in this Forum. It's such wonderful through this it updates us about the day-to-day events occurred in our country which is very important. It broadens one's knowledge and many things that serve as food for thought. Sharing ideas to fix whatever is to be corrected and appraise positively the good one. I wish and pray people will be more united and help our President to achieve its TUWID NA DAAN thus, no more people to get hungry if not all at least to have in minimum. Looking forward to share meaningful ideas / comments not only this new year alone but more years to come. MERRY CHRISTMAS AND A VERY PROSPEROUS NEW YEAR!
---
Name: Matinde
City/State/Country: San Juan/Vancouver
IP Address: 121.54.29.6

Comments
Maligayang Pasko sa lahat ng Filipino at dating Filipino sa buong mundo! Nabawasan na nga ang pagka-Filipino ko pero nag-dual-Filipino at Canadian - para maging halos Filipino muli.
---
Name: Steve R
City/State/Country: California
IP Address: 98.234.19.64

Comments
PNL, I post short comments at the end of other news items but Philnews.com is my home port. One of the issue presented was the Bataan Nuclear Plant that never produced one killowat power but at the end of the project, the Philippines was basically flushing money (in millions) down the toilet every day for about 5 years or more to pay the loan interest. Issues here are news worthy & digs at the Maka-Pilipino in me. Merry Christmas and a Happy New Year.
---
Name: LATEPOCA
City/State/Country: SOMEWHERE IN TIME
IP Address: 121.1.30.222

Comments
Since time immemorial Filipinos wished was always for a better year to come. WHY NOT WISH FOR " A GOOD GOVERNMENT TO COME AND JAIL THOSE CORRUPT OFFICIALS HIDING IN WHITE ROBES"??????
---
Name: Manila
City/State/Country: California USA
IP Address: 71.109.145.103

Comments
Merry Christmas to you all and Have a very Healthy New Years. This year Dec 2011, I was planning to go back home but because the airfares are so high that I could not see paying that much of money when economy is so hard. Maybe Pres Aquino can do something to help bring down the cost of airfares so many of us Filipinos who would like to go home do not have to pay that much $1600-$1800 per person. Anyways, hope all the people who fought the typhoon Sendong will still see the light and continue to have Faith in God. God be with all of us! 12-24-2011 @1100p. Take care!
---
Name: LPiF
City/State/Country: LosAngeles/Mla
IP Address: 121.1.11.38

Comments
MERRY CHRISTMAS...HAPPY NEW YEAR! to everyone! GOD BLESS!...
---
Name: EASTERN RIZALKID
City/State/Country: Eastern Rizal, Phils
IP Address: 121.54.46.9

Comments
May I please rephrase that Oren Arnold quotation? "To your enemy, forgiveness. To an opponent, tolerance. To a friend, your heart. To a customer, service. To all, charity. To every child, a good example. To yourself, respect.... to Palparan, HANDCUFFS!" MERRY CHRISTMAS TO EVERYONE.
---
Name: Todo
City/State/Country: Lanao del Norte
IP Address: 121.54.47.69

Comments
Merry x'mas to all posters and readers here! Kita kits tayo after the season!
---
Name: James
City/State/Country: Philippines
IP Address: 112.198.82.196

Comments
The Philippines in-spite of both constructive and destructive criticism thrown by posters, is still doing good compared to the Human Right violations in Middle East countries such as Syria, Iraq, Iran, Palestine, Yemen and even KSA; and the economic/debt situation of USA, and other European Nations, as well as African Nations. Next time you criticize Phil. please look around the World on what's going on and compare it with Phil situation. God Bless The Philippines! it survived disasters, strong earthquakes, typhoons, scandals, corruptions, etc...
---
Name: deo
City/State/Country: flour city
IP Address: 74.65.3.64

Comments
I will not greet Pinoys starting this year for the holiday season until I see improvements in their lives. I've been tracking first hand through PNL for the last 15 years times and lives of Pinoys in RP. They are sinking farther down the shit hole. It would be sarcastic on my part greeting them, specially since we are in the same hole.
---
Name: deo
City/State/Country: flour city
IP Address: 74.65.3.64

Comments
JRH: Pinoy habits really hard to die, right? You said "...eating lechon, keso de bola, hamon and ...San Miguel beer..." You reminded me again of Pinoy guests in a party hosted by a Pinoy. With all those goodies on the table, one of the Pinoy guest had to asked the host "mayroon ka bang kanin?". hehehe. What the...? Anyway, Merry Christmas and a Prosperous New Year to you.
---
Name: Myrna
City/State/Country: Canada
IP Address: 70.27.131.232

Comments
Merry Christmas to all of you our Kababayan. More power to Philippines. No matter what happen God is watching us, and knows what is for us and what is happening to us everyday in our life. A happy and best New year to come to your country Philippines. Peace throughout the world.
---
Name: slbejar
City/State/Country: chicago
IP Address: 99.105.68.41

Comments
Dear Philippine Newslink, Merry Xmas and a peaceful and prosperous new year to you all . Thank you for putting up this web site. You were absolutely right that, as we spend our lives in the country where we have chosen to live, we kind of picked up some of the good governance, and as a result that makes us more sensitive to the bad governance the Philippine is doing. For example, Jovito Palparan, Jr. Knowing that he is the person of interest in the murder of a few Pinoys, he disappeared and the military don't know where he was. How could they let him disappear just like that. People know for a long time that there are idiots and corrupt people in the rank and file in the military and Palparan"s disappearance could be an inside job.
---
Name: MEL PEREIRA
City/State/Country: LAS VEGAS
IP Address: 96.26.191.227

Comments
Your Christmas message is great and quite truthful. Let us all continue to our destination for a global Philippines.
---
Name: atif
City/State/Country: pakistan
IP Address: 139.190.149.188

Comments
I pray that 1 day the Philippines will glow like a star on the map, I pray for all Filipinos that they are happy, Merry Christmas to all. My best wishes & regards to all Filipinos. I pray all Filipinos always smiling.
---
Name: Dwarding
City/State/Country: Jamunda, Afr
IP Address: 70.162.239.254

Comments
Jingambel, jingambel, jingal ol de wey. owat panitis to ride inawan horsopens ley... merry xmas to all! sa halent nite, ho uli nite, hol is deep, hol is wide, bright... hapi new year to all! hapi blogging!
---
Name: Tess
City/State/Country: Michigan,usa
IP Address: 98.243.111.233

Comments
When u get a chance to live in diff. country you see diff. system and knowing that system is working then you will wonder why is it Pinas is not a progressing then you will realize that there's a lot of issues that should be dealt with rather than to much politics and bureaucracy .I loved Pinas so much but it hurts to see my country and my people suffers bec. majority of the our government officials focus more about their own interest rather than to be a true servants and leaders to the Filipino people. Happy holiday to everyone.
---
Name: Gene
City/State/Country: Ontario, Canada
IP Address: 115.147.86.218

Comments
How many of you did say that the Philippines is a hopeless country? In desperation, you call the country & fellow Filipinos demeaning & despicable words & yet you claim to be learned & educated. There is always hope for as long as we live & it needs ceaseless, constant & persistent effort to make a humongous leap to change. Some of you I recall explicitly stated our views & opinions will not matter & will fall only on deaf ears & now, some changes has had happened. We have to continue & double our efforts to make politicians change their attitudes governing the country. What is bad & detrimental to the country, we have to criticize & attack politicians who are underperforming & corrupt. A New Year's resolution to everyone concerned in eradicating wicked trapos.
---
Name: Mateo Dollentas
City/State/Country: Carson City Nevada
IP Address: 75.141.192.246

Comments
Mabuhay ang ating bayan. Mabuhay ang Pilipinas. Maligayang Pasko at Manigong Bagong Taon sa lahat
---
Name: Sven
City/State/Country: EU
IP Address: 57.124.221.39

Comments
I visit this page every so often and enjoy reading all the comments that are sent in. Being part Filipino, I am glad that there are many out there who care enough about their country to take the time to send their thoughts, comments, suggestions, etc. Keep it up. Maligayang Pasko!!!! Happy New Year!!!
---
Name: JRH
City/State/Country: Montreal, Canada
IP Address: 70.80.56.162

Comments
PNL online media. At the dawn of this digital age, more & more Filipinos, majority of which are literate & liberated, can openly express their current views, opinions, & comments via this latest communications technology. PNL is free, lively, & instant. Thank you that the Phils being a democratic country has a free press, free media, & free internet. Filipinos world-wide can post, comment, or blog without pressure from anyone or the govt. Most posters here at PNL are concerned citizens who only want to end the endemic corruption in the Phils. We must change the old system for the better. PNL helps by exposing the perceived arrogance & autocratic attitude of our elected officials who are expert swindlers & thieves.
---
Name: Ding
City/State/Country: Illinois,USA
IP Address: 98.253.126.66

Comments
Thank you so much PNL for giving opportunities and venue to many Pinoys in different parts of the world to express their views and feelings about important issues in the Philippines. For those who made positive and negative comments keep on going and exercising your freedom of speech.." God Bless the Philippines"
---
Name: mockingmaya
City/State/Country: taft avenue, manila
IP Address: 67.182.75.243

Comments
Re: "PNOY gives gifts to poor & street children." President Aquino reminds me of a peace-loving & global citizen, who had spent his life going to secluded & lowly places: "All I did was simply share my food, but they granted me their love in return...I went on to plant seeds & cultivate forests, & these trees were used to build schools. Together, we caught fish to feed hungry children...I was happy because I could see the shadows of despair disappear from the faces of my neighbor." Why did Gloria Arroyo fail to learn from a peace loving citizen she met many years ago? One rational answer is that "a foolish person (or a leader) will throw away his future for the sake of immediate happiness (or self-interest)." Mabuhay ka Pres. Aquino!
---
Name: Lord Gago
City/State/Country: Hidalgo
IP Address: 166.250.71.69

Comments
A wish for a better Pinas is an everlasting wish made every year ever since we can remember; so I suppose this year's old wish is just a reminder that this wish still holds. but it seems that this wish is ongoing, never to come true. if ever it comes true, perhaps we all wish for the best Pinas, not only a better Pinas. So let just keep wishing, with a wishing well, if it helps, till our wish becomes a dream; a dream that will never die.
---
Name: mockingmaya
City/State/Country: taft avenue, manila
IP Address: 67.182.75.243

Comments
I think it's not easy for some Filipino people "to wipe their tears & welcome with a smile those who betrayed & deceived them." This forum (PNL) provides a justification to influence & even persuade citizens of the world, the free use of public opinion or the free use of an independent reason itself in questions about democracy, authority, ethical-morality, justice, constitution, accountability, and so forth. But there're negative paradigms or values that are not easy to justify, for instance, the Maguindanao massacre, "the Nazi race laws," the legitimacy of plunder during the regimes of Marcos & Arroyo. Maligayang Pasko at Manigong Bagong Taon sa lahat!
---
Name: Phil researcher
City/State/Country: LA County, Ca USA
IP Address: 98.119.17.19

Comments
RE: PNL Posters-- Greetings to all posters merry Christmas , Happy hannuka, etc., etc. First of all I do believe by and large the posters here are positive except for some you can count on the fingers of your hands who start their comments with "all of you Filipinos don't have ... or. no dignity, etc etc. I recommend if you see those posters...just ignore them otherwise he continues to post things that on its face are untrue.. We post to help improve the livelihood of those Filipinos who in the 21st century are still struggling to put food on the table for their children to eat 3 square meals a day..To those politicians who continue to take "lagay" money.. I hope this 2012 you reform yourself and think that even the most powerful person 1 1/2 years ago is now in detention.