s of this writing we have an almost statistical dead heat with OFWs edging out PNoy by just a few votes. So we've decided to feature both as persons of the year.
The OFWs
As we stated in our previous editorial, Overseas Filipino Workers or OFWs have become the lifeblood of the country.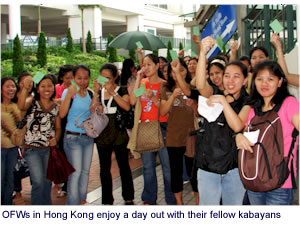 And the majority of our readers chose them as PhilNews.Com's Person of the Year for 2011. It is hard to deny the tremendous impact that the approximately 10 million Filipinos who work abroad and send home most if not all of their paycheck, have on the country's economy. For 2011, total remittances are expected to top 16.5 billion Dollars—a 6.5% increase over last year, despite weak economic conditions globally.
However, though the country as a whole is certainly pleased there is a dark side to this windfall. And the ones who pay the steepest price are the OFWs who are repatriated home in a box. many of them are young girls, abused and oftentimes brutalized by their foreign employers who have no notion of human rights and have no respect for anyone outside their race. Some are killed while others take their own lives. Those strong enough or simply lucky enough to return home alive nonetheless carry the scars of such trauma for life.
In many other instances, families are split apart when one or both parents work abroad. The children are placed in the care of relatives who may or may not have their best interests at heart. There are also stories of wives who toil away abroad to send money to their husbands back home who spend it on booze and chase after younger women.
On the whole however, the money that OFWs remit back to the Philippines is truly a blessing. As many of our readers point out, OFWs are what keeps the country's economy afloat. With all the graft, corruption, theft and plunder as well as incompetence or abject neglect by leaders in both the public and private sectors, the Philippine economy would very likely have collapsed long ago were it not for OFWs toiling away throughout the globe.
Without a doubt, they are Philippine heroes, every bit as much as Rizal, Bonifacio, and the Katipuneros are our heroes. And the best way the country can honor them is to make sure that their children do not have to endure the same fate they are forced to endure. The Philippine government cannot simply rest on its current good fortune and continue doing nothing but ship more young Filipinos out to distant shores. They need to start creating good, stable and decent paying jobs right here in the Philippines so that there will come a time in the not too distant future when our children and grandchildren will not be forced to go abroad to just find a decent paying job.
PNoy
President Benigno "PNoy" Aquino, III came in a close second in our person of the year poll. The president is like a breath of fresh air to the stale Philippine politics of lies and corruption that has characterized previous administrations. Since the dictator Ferdinand Marcos declared martial law almost four decades ago,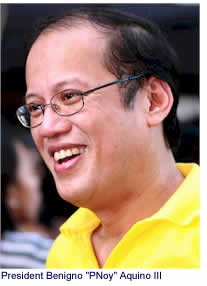 Filipinos have been systematically lied to, cheated, deprived of what is rightfully theirs, and forced to bow to those in authority who continue to rob them blind.
It is therefore not surprising that the level of cynicism Filipinos have towards government officials is exceedingly high. They simply cannot trust them or believe anything they are told. As far as most Filipinos are concerned, politicians are scum—they were in the past, and they will be in the future.
Unfortunately, this cynicism is a hurdle that President Aquino must overcome if he is to succeed. His honest efforts at cleaning up government and bringing the corrupt to justice are still received with distrust and skepticism. Aquino has made great strides nonetheless: Former President Gloria Arroyo is currently under arrest, as is former COMELEC Commissioner Benjamin Abalos. The former First Gentleman Mike Arroyo and ex-Transportation Secretary Leandro Mendoza have also been charged and may soon be arrested, while Chief Justice Renato Corona has been impeached by the House and is now awaiting trial by the Senate.
The Philippines must clean up its government but with corruption ingrained as the way of doing business for nearly four decades, change will not come easily. It is therefore incumbent on every Filipino to least give this president a fair chance. It is truly rare to have an elected politician who is not just looking after his own pocketbook and trying to make as much money as possible, as fast as possible. At long last, we now have a president who can pull the country out of the deep hole past leaders have dropped it in. We Filipinos must now see this rare opportunity for what it is and give the president our wholehearted support. Published 12/31/2011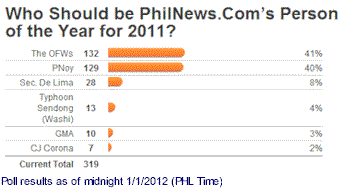 Saved Comments
Name: Myrna Perez-Rosales
City/State/Country: Ottawa, Canada
IP Address: 99.246.92.59

Comments
So beautiful & profound, as has always been! Thank you for ending 2011 on a high & spirited Editorial! Mabuhay po kayo Philnews and please continue using your gifts! You may not realize how you are making a difference. May God Bless Us All!
---
Name: Tess
City/State/Country: Michigan,USA
IP Address: 72.37.171.180

Comments
Of course no doubt the Person/people of the year are the OFW, As ex OFW our tremendous sacrifices couldn't compare to anything we sacrifices so that we can sustain our family needs and our country. In return I am hoping that every OFW in times of in need eg. legal matters, can have our government assist them as they are supposed to do. Kung walang OFW nasan na kaya ang Pilipinas?
---
Name: GFJBHEDF
City/State/Country: Hercules
IP Address: 67.188.19.40

Comments
HUSH! From Marcos to P'Noy, OFW remittances year in year out has kept the Philippines afloat, otherwise the Philippines would sink to the bottom of Mindanao deep. This is the shame presidents would like hidden from view. "Wag bang-gitin. nakakahiya sa ibang bansa. Hush!"
---
Name: JRH
City/State/Country: Montreal, Canada
IP Address: 70.80.56.162

Comments
Actually, the OFWs are the 'modern heroes' of the Phils. Their remittances are great economic booster for our country. This year it will hit a record of P15.9 billion & more, adding significant contributions to our country's gross national product. These record remittances year in & year out have been mostly used or spent for excessive consumption by lucky families receiving them. It keeps afloat our economy. Good & dandy. However, it's high time to remind them that they can also transform these contributions as sources for capital development. Perhaps, our gov't should initiate more economic programs to divert these huge capital to be invested on behalf of the OFWs. Let's all have a prosperous 2012.
---
Name: mockingmaya
City/State/Country: taft avenue, manila
IP Address: 67.182.75.243

Comments
A second place as philnews.com of the year is good enough for President Aquino because his power emanates from the people. There is an old saying that "the cure for the ills of democracy is more democracy." I do admire & respect Toqueville's scholarship on "Democracy." But I think the ailments of democracy can't be remedied by electing more corrupt politicians & introducing more brutal political machines in modern politics. The perception of the world must be changed: Filipinos are not instruments of modern slavery in economic globalization. This is an insult to the ideas of Dr. Jose Rizal & Filipino intellectuals.
---
Name: J. Morales
City/State/Country: Manila
IP Address: 212.123.144.170

Comments
We should have great respect for all the OFW's. But having to pick them as the person of the year 2011. Is a national shame that proof only one thing: That our ruling elite that run the country the pass 40th years where totally incompetent. Cos a ruling elite that, respect themselves and are proud Filipinos, provide these jobs in Philippines for 90% the Philippine people. The fact that the OFW's had to keep the country alive and up running the past 40th years. Is the biggest shame of everyone who call themselves the ruling elite. Where are the real Filipinos?
---
Name: A. Poli
City/State/Country: Anywhere
IP Address: 184.148.76.162

Comments
Re: "Rizal descendant wants memorabilia preserved" - ........"From most accounts, Rizal's medical practice thrived in Hong Kong and he was joined there by most of his family who had been banished from their estate in Calamba by angry Spanish administrators." ....so Dr. Jose Rizal himself is an early OFW working in Hong Kong. A real hero. No wonder OFWs are called modern day heroes.
---
Name: 1 UP
City/State/Country: GOTHAM CITY
IP Address: 74.101.61.3

Comments
The OFW remittances simply pass the government' hands and after the latter tax them (and collect fees); they go straight to the hands of the families of these migrant workers. In any economy, the driver of that economy is consumer spending. It is these families of OFW that are the equivalent of a middle class family because they don't miss a meal, they send their children to school and they have a roof over their heads. OFWs still keep strong ties with families at home like the Mexicans, Chinese, and Indians that export large migrant workers. MCD 7GTG, Pipit and others belong to that category. They should be proud!
---
Name: A. Poli
City/State/Country: Anywhere
IP Address: 184.148.76.162

Comments
Honestly, myself as an OFW have never blamed any government for my being an OFW. I choose this myself and I have enjoyed every bit of my career overseas. If anything, I even thank the government for giving me the opportunity and the freedom to work in any place local or overseas. I have learned so much to look at different perspective. Unlike being in only one place where you are part of the picture. Being outside looking at the whole picture is sometimes much more interesting. You can see the beauty or ugliness of the landscape. Of the whole picture.
---
Name: Manuel C. Diaz
City/State/Country: Montclair CA USA
IP Address: 76.174.219.92

Comments
POEA is a pain in the neck for OFW this office should be abolished. Protection for OFW should be the responsibility of the Consular office in the country where the OFW is deployed. POEA is a big racket. Just ask any OFW departing from the worst International airport in the world.
---
Name: Taong Bayan
City/State/Country: City of Sydney
IP Address: 115.64.66.109

Comments
If Pnoy cannot put anyone in prison penalized due to crime of plunder then there is no justice at all...then he failed to fight against corruption. How many politicians (Local & National), public servants, police & military officers out there who have ill-gotten wealth in their hands. It took more than 20 years for Lee Kaun Yew to clean up Singapore, this country doesn't have natural resources, no water supply but look at Singapore today.
---
Name: 220 Lange
City/State/Country: NY
IP Address: 207.237.54.3

Comments
To all those who take their time and contribute their two cents worth of opinion and a million worth of ideas, happy 2012. To MCD, the ladrones will still be around and pipit will continue to tweet. TonyO will still continue to remain as political pundit and Deo will prognosticate that the world will end on 2012.
---
Name: peter
City/State/Country: uk
IP Address: 109.156.49.156

Comments
I love what Pnoy is doing to try to punish those responsible for their crimes against the Philippine people but I'm getting worried as he has already stated if gma shows remorse for her crimes he will consider pardoning her. That itself I think is also corruption. Show compassion to the thousands of Filipinas who are punished for stealing to feed their families not to the people who rape pillage & plunder all the riches of the Philippines & leave the scraps for the rest. Execution is a more apt punishment for her crimes not a pardon & if Pnoy looks to pardon her he should also be charged for committing a crime against the Philippine people. Keep up the good work
---
Name: 1 UP
City/State/Country: GOTHAM CITY
IP Address: 74.101.61.3

Comments
There are Haitian immigrants (OFWs ) everywhere but unfortunately they are not as many as Pinoys. They do remit money to their home country too. They are not like China, India, Mexico and PH with so many migrant workers. BTW, your French is terrible. The correct way of saying if I speak English is : Parlez-vous anglais? Dili bisaya man gyud. He he he. Did I make you happy?
---
Name: E. Joson-G.
City/State/Country: USA
IP Address: 71.137.224.220

Comments
I have never been as proud of being Filipino as I am now. President Benigno Aquino III has been instrumental in changing the image of Filipino politics - from the most corrupt in Asia to one that puts the plight of the Filipino people first. It might take a long time to clean all the "dirt" accumulated over the years starting from the Marcos Regime, but if all Filipinos rally behind and support PNoy, it can be done.
---
Name: Isabelle
City/State/Country: Culi culi
IP Address: 70.51.27.110

Comments
JMorales made a good point with his posting regarding honoring OFW and shame for our leadership. However to sort of putting things in perspective- economic globalization also has a role in this phenomenon. It is not only RP that send out its people to seek employment somewhere else. Small comfort but it is reality.
---
Name: jokjok
City/State/Country: kanada
IP Address: 74.14.112.199

Comments
P-NOY, no way Santa banana---how could the wang-wang pang-gulo be acclaimed as person of d year. What has he done to merit that honor. He's an idiot, inutile, tanga and does not listen to the voices of the poor. He only listens to his yellow mob. His only accomplishments daw kuno wasto prosecute GMA, CJ, Abalos etc, but let us see if these crooks could ever be sentenced guilty come kingdom time given the kind of advisers he has around---all student leaders, bootlickers and cockroaches from the former regime. Why not the change the republic into REPUBLIC OF HACIENDA LUISITA.
---
Name: GFJBHEDF
City/State/Country: Hercules
IP Address: 67.188.19.40

Comments
IT IS WHAT IT IS. The close result of PNL poll is final arbiter. OFW based on productivity, application and positive result, followed by P'Noy based on idology and concentrated personalized vendetta to lynch or burn corruption on a pyre, oblivious corruption is national and international in varying degrees, application, mode, style, etc. Man is a born sinner.
---
Name: GFJBHEDF
City/State/Country: Hercules
IP Address: 67.188.19.40

Comments
Philippines has three major industries. They are, OFWs, which keeps the country above water. CORRUPTION, which permeates the entire Philippines, public and private, and POLITICS, which is why TRAPOS and their families prefer to stay in the Philippines, because name recognition is big political business in PH. It translate to tons of money. How far do you think the Aquinos, Marcoses, Arroyos, Enriles, Defensors, Santiagos, to name a few, would get in US business and politics? Not near as good as staying home in the Philippines, as they have done. Only wage earners are OFW. Trapos will always be political crooks. They know nothing else but...
---
Name: 7gtg
City/State/Country: regnsk
IP Address: 24.89.83.99

Comments
MCD: "POEA is a big racket. Just ask any OFW departing from the worst International airport in the world.".. I agree with you. But I was was an ocw. The money POEA collects? we consider as 'balato' na lang hindi rin naman kalakihan. If overseas work is a business endeavor, fees to POEA are cost of doing business. Tutal exempt naman kami sa income tax for earnings abroad. Whatever it takes to keep the home country secure and stable, is fine by the ocws. The airport does not bother me, maybe it bothers the visiting immigrants and filams.. but not the ocws. Kayo lang mga non-ocws ang mga reklamador.. but go ahead, help clean up the system.. but for us ocws, we have work to do. overseas. We can't be bothered by such inconveniences as airport washrooms.. etc..
---
Name: Manuel C. Diaz
City/State/Country: Montclair CA USA
IP Address: 76.174.219.92

Comments
The OFW should really need representation in both House of Representatives as a party list and in the Senate. Just look at the obscene situation the movie what is the contribution of the movie industry into the country gross income negligible but they are represented by two Senators Bong Revilla and Lito Lapid. OFW contributes 13% to the GDP no representation being harassed and milked by Immigration, POEA and police when these hardworking group goes out of the country.
---
Name: 1 UP
City/State/Country: GOTHAM CITY
IP Address: 74.101.61.3

Comments
PNL: It is sad that the search for the "Person of the Year" was limited to local events and people. There is one event that made news in 2011 (USA) but never caught your editors' attention. It is about the case of a Pulitzer Prize writer, Jose Antonio Vargas, who thought he was a US citizen ("An American without papers") His life story is amazing. He is now involved as an advocate/ activist of the Dream Act pending in Congress. California had its own Dream Act for children of illegal immigrant parents. I believe it passed California's legislature. I hope MCD will not claim that it was railroaded and approved in the middle of the night.
---
Name: Mikaela
City/State/Country: san francisco
IP Address: 67.169.123.113

Comments
Happy 2012 everyone! Well, it's really bad to start the new year with negativities already, but I guess I had to go with the flow in this forum. PNL would always create various intriguing topics for us posters to argue/debate about so what difference does it make? Like this one- Best person(s) of 2011. I have no qualms about OFW but P-noy? Omg! Give me a break! Indeed, daming BRAINWASHED dito even surveys were obviously manipulated to favor p-noy. He has/had done nothing but trouble for the country! Please, open your eyes people. Pnoy has only one agenda - to get corona & gma by hook or by crook! It's all about Hacienda Luisita nothing else period. Kuha ninyo?
---
Name: 7gtg
City/State/Country: regnsk
IP Address: 69.11.78.86

Comments
Jokjok: "P-NOY, no way Santa banana---how could the wang-wang pang-gulo be acclaimed as person of d year. What has he done to merit that honor." He is popular. As to weather he is effective.. mukhang malabo.
---
Name: 1 UP
City/State/Country: GOTHAM CITY
IP Address: 74.101.61.3

Comments
There were only some 400 respondents who voted for OFW as PNL's "Person the Year". Where are those PNL readers? Reminds me of Philippine elections: the few determines the faith of the majority. And highlights the kawawang silent majority.
---
Name: ReyOfBatoCatPhil
City/State/Country: Reno, Nevada, USA
IP Address: 99.46.25.26

Comments
Hi guys, E. Joson-G is specifically right. Let us not stall this effort by the existing President. Let us support him 100%. Give him a try. What he is doing is the start point to make everything right. We have to start from the top to get the bottom. We wanted to do it all from top to bottom at the same time but we can't do at the same time. Let's get rid first of the big bad fishes and afterwards small bad fishes will follow easily because their conscience will be guilty where the saying goes "if they could catch the big bad fishes how much more for the small ones?". Why not just support him. ok? God Bless everybody. Thanks
---
Name: Rocky
City/State/Country: Edmonton
IP Address: 67.226.134.177

Comments
Why do a survey if you are going to change the results? To the editor of Philnews.com, it doesn't matter if the lead shows a point or a million. Majority did not vote Aquino as your Person of the Year. Sana nag declare na lang kayo na ang choice n'yo ay si Aquino, without doing a survey.
You're right. We just felt that the gap was so small that PNoy deserved to share in the limelight too. - PNL
---
Name: Chox
City/State/Country: Philippines
IP Address: 121.54.58.157

Comments
Great PNoy! He is the man we are waiting for so long. Now we see how he works for the Filipino people. Maybe its now time to ask ourselves "How can I be of help to my country?
---
Name: EJ Flores
City/State/Country: Calgary, Canada
IP Address: 112.203.28.240

Comments
I still wonder why the names of Arroyo, Corona and Sendong were lumped together with PNoy and OFWs. I just assume that the one we are looking is a person or persons or something that created much impact to the lives of the Filipinos. In such case I assume positive impact would put PNoy and the OFWs in one cluster and Sendong, Corona and GMA on another group as considered as negative impact.
---
Name: GFJBHEDF
City/State/Country: Hercules
IP Address: 67.188.19.40

Comments
Dear Manuel Diaz, I am with you, and for sure, a large segment of Philippines are also, that OFW, 11 million in Diaspora, remitting $$$$$$$$$billions, keeping Philippines economically afloat year after year, should be represented in both lower and upper house of congress. Let us keep knocking until the whole country pick up and run with it.
---
Name: jenny
City/State/Country: Philippines
IP Address: 203.177.239.108

Comments
OFW? Yes. Pnoy? No. All form, no substance. I should know. I am in government.
---
Name: Manuel C. Diaz
City/State/Country: Montclair CA USA
IP Address: 76.174.219.92

Comments
Yes President BS Aquino should also share the lime light .The OFW earn the money, President BS Aquino spend the money and the OFW get screwed at the airport.
---