t is time to end this madness. Each year hundreds are injured,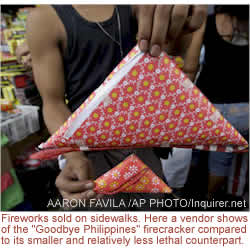 limbs are blown off, eyesight lost. The vast majority of these injuries happen to the youth. It truly makes no sense, and is too high a price to pay just to greet the new year with a lot of noise. Sure it is a tradition, but we say so what! Traditions change and this is one change that is long overdue.
The following day, Metro Manila was blanketed by a thick layer of soot. Visibility was next to zero so flights in and out of NAIA (Ninoy Aquino International Airport) had to be rerouted or delayed.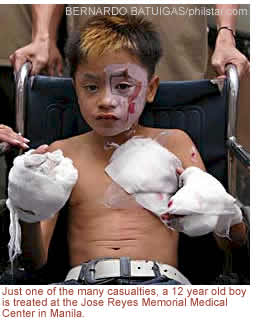 According to the Department of Health particulate matter in the air reached ten times it normal level on January 1st.
There is a price to pay for this dreadful habit of ours, and it is borne not only the children who are injured, maimed, or even killed, it is borne by everyone who has to breath in that dirty air. It is ultimately also borne by the taxpayers who pay for the treatment, and medical expenses of those injured.
Kids and young people don't know any better. They would rather play with firecrackers given the choice. It is up to the adults to lead this crusade and end this harmful tradition once and for all. Most other countries outlaw individual use of firecrackers. Instead they have safe, well planned fireworks displays to ring in the New Year.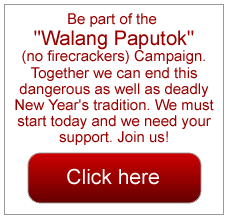 This is also what the Philippines should have. If we want to have an effective fireworks ban in place for next year's eve, then we must start today. The Aquino government appears to be "on board" on this issue as well, so with effective public-private cooperation, we might actually succeed where others have failed.
We are thus launching the "Walang Paputok" (no firecrackers) Campaign and urge you all to be part of it. Let us end this dangerous and costly tradition once and for all. Click the red button on the right to join the campaign. Published 1/4/2012
Saved Comments
Name: Steve R
City/State/Country: California
IP Address: 98.234.19.64

Comments
Parents who are suspected of allowing their children to play with firecrackers must be arrested, tried in court & be given mandatory jail time if found guilty. This is a must & no trapos should give undue influence to remove the mandatory jail time.
---
Name: DR. ARMELI QUEZON
City/State/Country: Quezon City/NM, USA
IP Address: 50.130.130.16

Comments
Ban the manufacture/sell/use of fireworks and firearms during the Christmas Season/New Year Designate a place where public will see fireworks c/o the City/Provincial Government Levy imprisonment of manufacturers/sellers/users of fireworks and firing of firearms...in 1990, I was in Makati and found a rifle bullet cartridge in my restroom, still warm! Mabuhay ang Pilipinas! Alisin ang pangit na kinamihasnan na nagdudulot ng lagim sa buhay!
---
Name: JRH
City/State/Country: Montreal, Canada
IP Address: 70.80.56.162

Comments
Our gov't must impose immediately a total ban on all fireworks, firecrackers, & other deadly explosives bought by majority of Filipinos during the annual festivities. The only way to end it is to make laws against the sale of these deadly products in the open market. Make it a criminal act the production, distribution, a sale of these deadly miniature TNTs or mini-grenades. Aside from the cheap thrill of hearing explosives, whistling bombs, etc. it has no purpose & people get hurt for nothing. We must rethink the way we welcome the new year cuz it doesn't make sense. Why? People get hurt. Why keep this insane & stupid tradition?
---
Name: 1 UP
City/State/Country: GOTHAM CITY
IP Address: 74.101.61.3

Comments
The injuries caused by firecrackers on the New Year's have been going year after year. The firecrackers are getting bigger and more powerful. I would not be surprised if in a couple of more years, firecrackers would have the same deadly force as an IED. This firecracker called Goodbye Philippines is already saying sayonara (Au revoir Philippines, in French) by hurting children with physical injuries and the environment with their smog.
---
Name: GFJBHEDF
City/State/Country: Hercules
IP Address: 67.188.19.40

Comments
It's been banned in Davao City since 2001, & Olongapo City since 2001. Due to similar injuries, it's banned in many countries. My granddaughter & friends traveled to San Francisco water front via BART to watch at close hand the spectacular display, staged by professional licensed pyrothecnicians, hired by the city. Except for an occasional "BANG," far in between, our neighborhood was dead quiet. Hardly a car on the street. Like me, they were probably watching the display around the Orb from the confy of their home, downing Champagne. >
LINK
---
Name: WJGBalderama
City/State/Country: Oceanside, CA
IP Address: 68.111.244.236

Comments
Ban fireworks? In PI? Ano sila, naloloko? Seriously, that is stupid. It seems to me that the issue here is one of SAFETY, and it can best be instilled through consistent parental or adult supervision. A ban is straight out of the mentality that since kids are going to have sex anyway, why don't we just give them condoms and be done with it. That is a stupid reason, and just as stupid as the rationale for a ban on fireworks.
---
Name: deo
City/State/Country: flour city
IP Address: 74.65.12.32

Comments
I have posted my stakes on this firecracker issue. Check this out: When the most States "followed" the Fed "recommendations" to adapt a 55 MPH speed limit, some retained the 65 limit, like (I believe Kentucky & some of the States in the South). I tried to stick to the limit (65) when I drove down to Florida when a lot of motorists made me like "I was standing still", including a State trooper. When I caught up with the trooper in a gas station I quipped to him; "I saw those motorists race with you". His answer: "...if I will stop them, I will only delay their trips". And he added "it's their lives, anyway!". Yes, it's the health and (lives) of the "Goodbye Philippines" players anyway. Let them play with fire! Children should stay away from 'crackers. Growing up, that's what I did.
---
Name: eugene
City/State/Country: elsewhere
IP Address: 93.190.188.27

Comments
Laud the former Mayor Rodrigo Duterte's to be first in the country to implement the total firecracker's ban in Davao City. Costumes and Traditions plus believers Equals BUSINESS. Don't believe the Chinese if they say it will take away evil spirits when we lit up firecrackers. They accustomed us to it way back before just to promote their business =). God made mankind...but everything else now is made in china =).
---
Name: Edward
City/State/Country: Angeles City
IP Address: 98.160.174.84

Comments
This little kid that is all bandaged up in this picture, I have to tell you, he has the look of a politician in the PI who has just been charged with plunder. You know what I mean, that look that says I'm a dumba*s but now I want pity. You guys can always brighten my day. Please and I mean this from the bottom of my heart, Filipinos never change. I laugh my a*s off everyday reading your news.
---
Name: vic asetre
City/State/Country: toronto, canada
IP Address: 198.96.223.190

Comments
Another quick solution is for the government to not pay for the hospital bills of firecracker victims. Sounds good?
---
Name: meg
City/State/Country: uk
IP Address: 86.26.26.229

Comments
Discipline should be imposed from all walks of life which should start at home, then school (university) and last the work environment. No matter how the government bans the production and sale of fireworks, but if the people ignore the banning, what's the point of it. It really boils down to discipline, how the parents discipline their children (from toddlers to teenagers) speak the direction they would lead in life. Children who follow the rules imposed by their parents, will follow the school's rules and regulations and then the government's rules/ laws. How the children would become law- abiding citizens of the country largely depends on how the house rules are observed and followed
---
Name: Vanessa Lee
City/State/Country: Kuwait
IP Address: 94.128.73.138

Comments
The government should have the campaign to order closure of the manufacturers' firecracker plants and strictly ban producing of the same. There should be no leniency toward violators instead, steep penalty should be imposed thus, minimizing the risk of getting hurt if not lost of lives.
---
Name: GFJBHEDF
City/State/Country: Hercules
IP Address: 67.188.19.40

Comments
Olongapo City, that followed Davao City, banning pyrotechnics in 2008, suffered only 3 injuries. 3 villages (barangays) in Makati city also banned firecrackers, but not the rest of Makati city. On Nov 10, 2011, Zamboanga City also banned firecrackers. Slowly and on the move, the firecracker ban is spreading.
---
Name: 1 UP
City/State/Country: GOTHAM CITY
IP Address: 74.101.61.3

Comments
The country should enact an Explosives Act similar to what Canada has. I am surprised that HK, Singapore and Taiwan, where there are higher concentration of Chinese than in the Philippines, ban firecrackers. Why must Pinoys outdo their Chinese brothers by manufacturing and selling powerful firecrackers in welcoming a new year and by driving away evil spirits. I guess a powerful firecracker is needed to drive those evil spirits that have become too many and too powerful. With a population nearing 100 million Pinoys are by nature "big bangers. I AM SCRATCHING MY HEAD
---
Name: GFJBHEDF
City/State/Country: Hercules
IP Address: 67.188.19.40

Comments
There were "kanya-kanya" small pyrotechnic display in Makati and Manila, showcasing the self serving/individualistic quality of Pinoys. Also, the nickle and dime mentality prohibit the use of Gov't funds financing a world quality city pyrotechnics New Year display to defuse "kanya-kanya pasikatan" pyrotechnics.
---
Name: JRH
City/State/Country: Montreal, Canada
IP Address: 70.80.56.162

Comments
Over 1,000 plus were injured in welcoming the year 2012; 970 were fireworks related, 29 by stray bullets. &n 5 of different variety like swallowing the stuff. It seems that the louder the firework the better for Filipinos. Most of them sold legally or illegally. The parents should be responsible in monitoring the activities of the small children..but most parents allow & at times encourage them to handle these deadly explosives. It was mentioned in one of the headlines that it's one of the deadliest year ever for fatalities. To this I say..that it's one of the stupidest year in the Phils. The easiest way to win is to stop making yourself lose. It's as simple as that. Stop the horror now. Make laws to combat this deadly accident-prone stupid practice.
---
Name: 222 Lange
City/State/Country: NY
IP Address: 166.137.139.94

Comments
Firecrackers are banned in Indonesia, HK, Singapore, and even in Taiwan, why can't we ban them too? We could welcome the new year and drive evil spirits away in some other ways. Besides we are not Chinese except PNoy.
---
Name: Phil Researcher
City/State/Country: LA county, Ca USA
IP Address: 98.119.17.19

Comments
Re Firecrackers unlimited...what is happening now is a free for all as far as fireworks is concerned. There are regulations but no one is implementing except in very few cities,, e.g (Davao city).. The people themselves in every city must decide through their city council and mayor to limit and regulate the wild wild west attitude resulting children losing their limbs sometimes eyesight. The governed must act otherwise they deserve the consequence of their inaction.
---
Name: 7gtg
City/State/Country: regnsk
IP Address: 24.89.83.99

Comments
I handed my little kid years ago a small rebentador (the kind that's harmless the ones you see in Chinese celebrations). He held it out towards somebody's sparklers.. and waited.. 'bang!'. The smile in his face = Priceless!!. The girls would spread 'watuzi' on the cement sidewalk and stomp on them and run like crazy.. the smile in there faces = priceless. You don't ban fire crackers in new year's eve. You regulate them their size and impose adult supervision. Frankly I don't want a new year's eve similar to that in Canada or even USofA. Our new years eve in Riyadh was more lively. As we grow older in a 1st world country, we become constipated.. as we enter a life that's devoid of joy.
---
Name: Douglas G. Chanco
City/State/Country: Dagupan City
IP Address: 115.147.96.97

Comments
Not only do they causes many tragedies, but it also disrupts Church Worship Services. We could not have a Watch-Night Service where we kneel in prayer to say thanks to God for the old year and Welcome the New year because the members are afraid of the firecracker throwing crowd and the noise is deafening and hurts the ears, just to say a few problems.
---
Name: andy bote
City/State/Country: las vegas, usa
IP Address: 70.170.110.249

Comments
Here in the U.S. not a single soul was hurt despite the huge number of people that celebrated the new year. 315,000 in Vegas, 1 million in New York rang in the new year, but no firecrackers, much more no firearms discharged (it is a crime to fire a gun unless absolutely necessary) a lot of merry making, alcohol is virtually flowing in the strip, and a lot of kissing occurred. We should learn to tame our wild ways to prevent accidents. Laws should be enacted before the next victim is maimed.
---
Name: deo
City/State/Country: flour city
IP Address: 66.66.170.165

Comments
Seriously, banning completely firecrackers is "cruelty" to humans. What should be banned are the likes of "goodbye Earth", "goodbye Philippines" or even the triangulo and bawang. But keep the traditional small ones. Just enforce the sale and exploding of the big ones by punishing the makers, sellers and users with death upon convictions. Cruel and unusually punishment? But that's exactly the aims of ordinances and laws. To scare people from doing the prohibited.
---
Name: LPiF
City/State/Country: LosAngeles/Mla
IP Address: 121.1.11.38

Comments
"Walang Paputok" (no firecrackers) Campaign! Will only work on paper. Filipinos are too clever to completely obey and follow the law. You can pass an ordinance all you can but I guaranty it will be a FAILURE! I believe it can be minimized but to ban it entirely is FUTILE. The gentleman from Oceanside, CA has just hit the nail in the head!
---
Name: Ricky
City/State/Country: USA
IP Address: 71.139.3.30

Comments
This is all fault of this crazy government all talk and talk non-stop talking, only in the Philippines during this new year, look the other nations enjoying the celebration,
---
Name: 1 UP
City/State/Country: GOTHAM CITY
IP Address: 74.101.61.3

Comments
Vic Aseter of Toronto: "Another quick solution is for the government to not pay for the hospital bills of firecracker victims. Sounds good? " Makes perfect sense to me but the government will not be able to collect overtime if the hospital bill will be written off.
---
Name: Kalabog
City/State/Country: Libog Daraga, Albay
IP Address: 64.40.183.70

Comments
How do you legislate against stupidity? I am not talking about legislating an anti-firecracker ban even kwitis during fiestas. I am referring to the stupidity of careless handling, use, playing and improper care in igniting those rebentador and kwitis. I grew up in Manila and always had rebentador as a "tradition" during new year (in fact looking forward to it too!) but never did I play with it in total abandon (like- holding it on a dare to explode on my hand or gingerly between my thumb and forefinger! OR throw an ignited rebentador in the direction of other people as a JOKE!!).
---
Name: deo
City/State/Country: flour city
IP Address: 66.66.170.165

Comments
Seriously, I suffered less-serious injuries caused by the 'crackers. But I made the fingerprint technicians frustrated when they have to made several tries to get my right thumb and index fingers prints. You see, I burnt it when I was 7 or 8 holding the "pasirit". The burn erased the prints from my fingers.
---
Name: Edward
City/State/Country: Angeles City
IP Address: 98.160.174.84

Comments
Something I saw in the PI that most children do, step on frogs and when the mouth is open put a firecracker in it. And than "boom", no more frog. I hate frogs so I would allow children to use these explosive devices for this purpose. But only for this, WAIT, I hate cats too. You Filipinos, your a joy to watch. This child in the picture who taught him to play with fire crackers, that's right DAD. The same one that taught him to pee and spit and throw trash everywhere. And let's not forget to make babies. One more thing to be a crook.
---
Name: Kalabog
City/State/Country: Libog Daraga, Albay
IP Address: 64.40.183.70

Comments
Ban the New Year firework? AND then promote the annual international firework competition at Luneta? Might as well ban the firework at the Mall of Asia and those kwitis during fiestas for good measure! AND to be really fair-- ban also those government sponsored firework displays during independence day! On second thought WHY be selective-- ban them all!
---
Name: GFJBHEDF
City/State/Country: Hercules
IP Address: 67.188.19.40

Comments
I may not agree with the brand of strong arm local law enforcement in Davao City by the Dutertes, most appalling when mayor Sara Duterte smacked that sheriff for going against her will, and midnight disappearances/murder of druggies and other criminals, but I am elated by the 100% follow through enforcement of the ban, crowned by a 0 INJURY & 0 CASUALTY 2012 NEW YEAR in Davao City. Have U heard of any tourist/vacationers/balikbayan victimized in Davao city in the last few years? I haven't. Safest city in the Philippines.
---
Name: GFJBHEDF
City/State/Country: Hercules
IP Address: 67.188.19.40

Comments
The list is growing, with gradual effectiveness. Davao City banned pyrotechnics in 2001, and enjoyed free injury/casualty last 3 years. Olongapo City followed in 2008 and had 3 minor injuries this New Year. Muntinlupa City banned fireworks in 2010, and had 13 injuries. The latest in PHL to ban is Zamboanga City, November 2011. The list is growing, and effectiveness commensurate with time. The last time I recall seeing firecrackers being sold here in the bay area, Ca, USA, was 2000?
---
Name: Manuel C. Diaz
City/State/Country: Montclair CA USA
IP Address: 76.174.219.92

Comments
No matter how you legislate firecrackers will always be there. The big problem with these fire crackers they are manufactured in backyards with no quality control. This problem occurs only once a year after New year's day the rest of the year it is in hibernation. Banning fire crackers will just be like banning jueting, it will never happen.
---
Name: Thomas K
City/State/Country: Davao
IP Address: 84.181.82.58

Comments
The problem is not to use firecrackers and fireworks on new year's eve, but quality and power of the products. High safety - high price - strict prohibition of low quality imports, this is the way. But what about the power of the government and the police against the importers or their connections???
---
Name: 1 UP
City/State/Country: GOTHAM CITY
IP Address: 74.101.61.3

Comments
I am not so sure if firecracker burns of yesteryears are so strong that will wipe out a person's fingerprint. The burn must be real real bad in the category of 2nd to 3rd degree to mutilate epidermal ridges called fingerprints. I am skeptical of any claim of fingerprints being seriously altered by ordinary gun powder (black powder) burns unless there is excessive scaring or keloid.
---
Name: WDC
City/State/Country: California
IP Address: 69.229.249.154

Comments
Give hefty fine and imprisonment for those people who sell illegal fireworks.
---
Name: MARNY V
City/State/Country: Ghost of the past
IP Address: 76.117.48.33

Comments
Our future is at stake re goodbye PHL/Buga parang bula na naglaho: A thousand injuries, 4 deaths, 29 gunshot victims reported for 2012 celebration. A new device called 'shot spotter' introduced at Palo Alto, CA is an effective way of determining the location where gunfire occurred. Indiscriminate firing of guns during New Year's celebration would discourage, if not minimize casualties by senseless trigger-happy individuals. Meanwhile, a gun enthusiast who surrendered his firearms for safekeeping while abroad found out later that one of his collections of 22 cal. pocket size silver plated gun was sold for $10,000 by custodian after realizing that it was a classic/antique collectible item. Clearly, a remnant of the past, still haunting the present !
---
Name: Kanada
City/State/Country: Kanada
IP Address: 159.18.94.65

Comments
Sari saring mga paputok ngayon. They have names like "goodbye Philippines" "Goodbye Pinoy" "Goodbye Bading" <--?? "Goodbye Corrupt" "Goodbye Magnanakaw" etc etc. Dapat limited ang paputok. Only the safe firecrackers should be allowed and not the highly dangerous explosive ones that can cause serious injuries. Fireworks are allowed in Canada and the United States but the type of firecrackers available to the public for purchase is considered safe and are not very loud high explosives like the ones allowed in the Philippines.
---
Name: tonyO
City/State/Country: pinas
IP Address: 114.108.243.107

Comments
Too many victims died and maimed for life by firecrackers during New Year's eve. Though I enjoyed playing with firecrackers in my youth, I came to realize that it must not be freely allowed. Public fireworks and regulated display is OK.
---