The fat lady has finally sung and Chief Justice Renato Corona is now out of a job.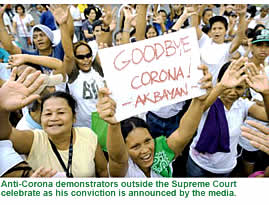 The best laid plans of former President Gloria Arroyo is now teetering at the brink of collapse and may soon come crashing down on her and her cabal of former "high fliers" who thought themselves invincible just a few years back. If this were a chess game, it would seem Arroyo just gave up her "queen."
Arroyo lost her "rook" Ombudswoman Merceditas Gutierrez in May of 2011, when she abruptly resigned shortly after being impeached by Congress. Arroyo however she still had her powerful and strategically positioned queen ready to thwart any moves might make. Corona was that "queen," and because of his age, was set to remain as Chief Justice beyond Aquino's six-year term as president.
But even the best laid strategy sometimes goes awry. Arroyo gravely miscalculated the dogged determination of her successor President Noynoy Aquino, as well as the pent-up public outrage towards corruption in general and her in particular.
So what seemed a quixotic quest just a few years ago has now actually come to pass. The Arroyo gang is quickly running out of options. But a defeat for one side means a victory for the opposing side; and on Tuesday, May 29, 2012 the Filipino people won big!
And it's about time the people took back their judiciary. Ever since Justice Andres Narvasa issued his decidedly unconstitutional 1992 En Banc resolution that made the SALN (Statements of Assets, Liabilities and Net Worth) of all judges and justices "private" (click here to read our article on it), judges could amass as much wealth as they wanted (legally or otherwise), declare it in their SALN (as required by the Constitution), and then rest assured that those documents would never be disclosed to the public.
And it was only by sheer serendipity that the impeachment court secured a copy of Corona's SALN—The Clerk of the High Court brought the file with her when she was subpoenaed as a witness.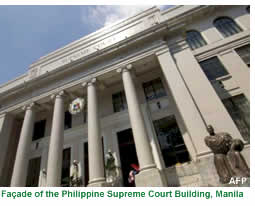 But it was only after a lengthy debate that she even acknowledged she had the file, and then it took a lot more arm-twisting and threats by the Senator-judges before she turned them over to the court.
Now that the Filipino people have had their first taste of victory in what undoubtedly will be the long process of taking their courts back, they must from here on demand complete transparency—especially from the Judiciary. The perception has always been that most judges are on the take and the only way to keep everybody honest is to strictly enforce the full disclosure of a judge's SALN…no exceptions.
The old boy network of "companeros" covering up for one another's "shortcomings" with a nod and a wink must also end. Only those who can stay on the straight and narrow path should be allowed to be part of the judiciary.
This is only the beginning; there is a lot more work to be done. Let us pat ourselves in the back and say "well done." Then it is back to the task at hand which is cleaning up and fixing our broken government so that our children and grandchildren will inherit a Philippines we can only dream about at this time. Published 5/31/2012