With President Aquino on a state visit to Washington this week, the issue regarding the return of the Balangiga bells has once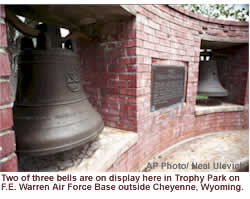 again resurfaced. In 1901, three bells were taken from the church belfry in Balangiga, a town in Eastern Samar by responding American troops after 48 of their soldiers were killed by the townspeople. The bells' tolling was used by the Filipinos to signal the surprise attack on the 75-man US garrison in the town.
Two of those bells are on permanent display in Trophy Park on F.E. Warren Air Force Base outside Cheyenne, Wyoming. The third bell is in South Korea where the 9th US Infantry Regiment is stationed.
As Filipino-Americans we are naturally torn on this issue. The Filipino in us naturally would like to get back what we believe is ours, but the American in us is saying "hey wait a minute; those bells belong to America now. They're the spoils of battle—'war booty' if you will." The bells are now memorials to honor the 48 soldiers from Company C who were killed in battle the morning of September 28, 1901.
And in all honesty, we believe there are more compelling reasons for the bells to stay where they are, then to return them to the Philippines. First and foremost, Americans have developed a greater attachment to the bells over the past hundred years than have Filipinos. For Americans, the bells are now part of their military history. They hold a place of honor for their men and women in uniform.
For Filipinos, that level of importance and reverence is lacking. If ever the bells are returned, the plan is to put them back on the church belfry from whence they were taken. They hold little significance to most Filipinos, they're just a set of old church bells. If the Americans had not taken them, they could in all likelihood have melted down or sold as scrap metal a long time ago—just like many of the old church bells around the country.
Here's something that we Filipinos might not be aware of: During New York's Fleet Week celebration last month,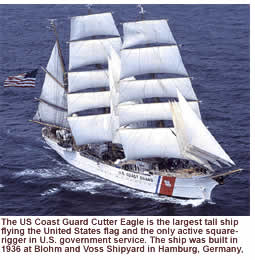 many New Yorkers got the chance to see the grandest of America's tall ships; the Eagle—a three-masted barque which was docked on Pier 90 on 42nd Street and open to the public. The Eagle serves as an international goodwill ambassador for the United States and is near and dear to the hearts of many Americans.

The Eagle however, was not built in the United States. It was built in Nazi Germany! Adolf Hitler was even present during her christening in 1936. But after Germany lost WWII, America took the ship and renamed her the Eagle. The ship is one of the "spoils" of that war, and "to the victor go the spoils."

Filipinos need to wake up and face reality. Be thankful that it was only three bells that were taken and not a three-masted tall ship. Forget the bells, they're really no longer ours. It is time to move on. Follow Germany's lead and look instead to bigger and better things.

If we were negotiating this issue for the Philippines, we'd tell the U.S. "keep the bells!" They hold more value for Americans than they do for Filipinos. In their place, hmm…maybe another Coast Guard Cutter would be nice—not the Eagle of course. Published 6/9/2012

PHILNEWS POLL: Should the United States return the bells of Balangiga to the Philippines?

Also, read our 2005 interview with British author Bob Couttie about the Balangiga Massacre