With President Aquino on a state visit to Washington this week, the issue regarding the return of the Balangiga bells has once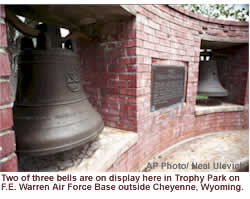 again resurfaced. In 1901, three bells were taken from the church belfry in Balangiga, a town in Eastern Samar by responding American troops after 48 of their soldiers were killed by the townspeople. The bells' tolling was used by the Filipinos to signal the surprise attack on the 75-man US garrison in the town.
Two of those bells are on permanent display in Trophy Park on F.E. Warren Air Force Base outside Cheyenne, Wyoming. The third bell is in South Korea where the 9th US Infantry Regiment is stationed.
As Filipino-Americans we are naturally torn on this issue. The Filipino in us naturally would like to get back what we believe is ours, but the American in us is saying "hey wait a minute; those bells belong to America now. They're the spoils of battle—'war booty' if you will." The bells are now memorials to honor the 48 soldiers from Company C who were killed in battle the morning of September 28, 1901.
And in all honesty, we believe there are more compelling reasons for the bells to stay where they are, then to return them to the Philippines. First and foremost, Americans have developed a greater attachment to the bells over the past hundred years than have Filipinos. For Americans, the bells are now part of their military history. They hold a place of honor for their men and women in uniform.
For Filipinos, that level of importance and reverence is lacking. If ever the bells are returned, the plan is to put them back on the church belfry from whence they were taken. They hold little significance to most Filipinos, they're just a set of old church bells. If the Americans had not taken them, they could in all likelihood have melted down or sold as scrap metal a long time ago—just like many of the old church bells around the country.
Here's something that we Filipinos might not be aware of: During New York's Fleet Week celebration last month,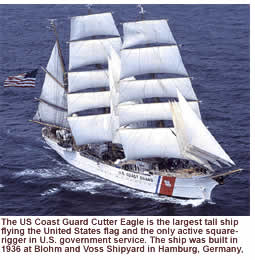 many New Yorkers got the chance to see the grandest of America's tall ships; the Eagle—a three-masted barque which was docked on Pier 90 on 42nd Street and open to the public. The Eagle serves as an international goodwill ambassador for the United States and is near and dear to the hearts of many Americans.

The Eagle however, was not built in the United States. It was built in Nazi Germany! Adolf Hitler was even present during her christening in 1936. But after Germany lost WWII, America took the ship and renamed her the Eagle. The ship is one of the "spoils" of that war, and "to the victor go the spoils."

Filipinos need to wake up and face reality. Be thankful that it was only three bells that were taken and not a three-masted tall ship. Forget the bells, they're really no longer ours. It is time to move on. Follow Germany's lead and look instead to bigger and better things.

If we were negotiating this issue for the Philippines, we'd tell the U.S. "keep the bells!" They hold more value for Americans than they do for Filipinos. In their place, hmm…maybe another Coast Guard Cutter would be nice—not the Eagle of course. Published 6/9/2012

PHILNEWS POLL: Should the United States return the bells of Balangiga to the Philippines?

Also, read our 2005 interview with British author Bob Couttie about the Balangiga Massacre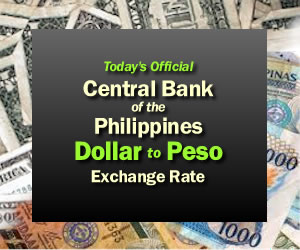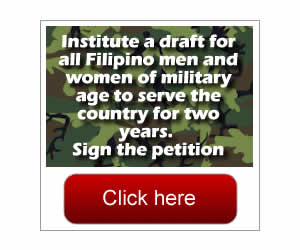 PREVIOUS EDITORIALS
Political Dynasties Are Destroying the Philippines



With midterm elections just days away, it bears repeating that from our perspective, Philippine elected officials leave so much to be desired. And one reason why we seem to have such a dearth of top-rate individuals is because political dynasties are pervasive throughout the archipelago. Political dynasties from a Philippine context are in some ways akin to the fiefdoms that existed in Europe during the middle ages. Published 05/12/2013
---
Voting Wisely Is So Important for the Philippines

With elections a little over a week away, Filipinos need to take a long and hard look at who they are choosing to lead them for the next three to six years—for the Philippines is a country sorely lacking in leadership. For decades we have been electing celebrities, entertainers, and relatives of past and present politicians who are totally unfit for public service. They have neither the training, the experience, nor the intellect needed to properly do the job voters elected them to do. Published 05/03/2013
---
Swift Justice in Boston, Something You Hardly Ever See in the Philippines

You have to give it to American law enforcement; they really seem to have their act together. When the horrific explosions occurred during the Boston Marathon it appeared almost impossible that whoever did it would be apprehended. But just a few days after that bombing incident, authorities seem to have cracked the case. One suspect is dead and another is now apprehended. Large swaths of the greater Boston area were on lockdown and door-to-door searches were conducted in the suburb of Watertown. Published 04/20/2013
---
Will the PCGG go after Imee Marcos's Offshore Trust Account?

The Philippine Center for Investigative Journalism (PCIJ), cooperating with Washington DC-based International Consortium of Investigative Journalists (ICIJ) recently published a two-part report that revealed that Ilocos Norte Gov. Imee Marcos Manotoc, eldest daughter of the late dictator Ferdinand E. Marcos is the beneficiary of a secret trust account held in the British Virgin Islands. Published 03/25/2013
---
Crucifixions, They're More Fun in the Philippines

During this Holy Week like others in the past, for as long as this author can remember, a small minority of Filipinos have been whipping themselves raw or nailing themselves to crosses in a supposed show of atonement and piety. This odd spectacle now draws worldwide interest with curious tourists flying in from all over to witness firsthand flagellants who whip themselves to down to raw flesh or penitents who are nailed to wooden crosses on Good Friday. Published 3/30/2013
---
With a Simple and Humble New Pope, What Should Happen to the Philippine Catholic Hierarchy?

Celebrating his first mass as Pontiff a day after being elected, 76-year-old Pope Francis told the assembled cardinals to guard against "the worldliness of the Devil." Here was a man who made it an annual practice to celebrate Holy Thursday by washing the feet of the poor, and the downtrodden of his native Argentina. Here too was a man who took the bus to and from his work despite having chauffeured vehicles available to him. He preferred living in a modest apartment, cooking his own meals despite access to the well staffed bishop's mansion in the ritzy the suburb of Olivos where no less than the Argentine president has his summer residence. Published 03/25/2013
---
Will We Ever See a Filipino Pope? Not with the Way the Philippine Catholic Church is Run Today

Reeling from the resounding victory of the Reproductive Health (RH) Bill, the Philippine Catholic Church has decidedly jumped in the electoral fray (despite the constitutional separation of church and state) to influence the outcome of the country's 2013 elections. The church recently launched a "Team Buhay/Team Patay" (Team Life/Team Death) campaign that identifies legislators running for re-election who voted against or for the RH Bill. Those who voted against the bill are part of Team Life, while those who voted for the bill are part of Team Death—at least as far as the Church is concerned. Published 03/13/2013
---