ill the Philippines Ever Become a Developed Country? The short answer to that is no—at least not in our lifetime. While the country has of late improved it credit ratings as evidenced by upgrades from Moody's, Fitch, and Standard & Poor's all that perceived progress is illusory. In the Fifties and Sixties, when the Philippines was undeniably the country at the top of the heap in Southeast Asia, people said it would always be the most industrialized country in the region. In those days, not only did the Filipinos believe that, even those from neighboring countries admitted that the Philippines was well ahead of everyone else. But where is the Philippines today? Towards the bottom of the heap, competing with Cambodia and Myanmar for last place. How can that be, one might ask. We had an almost insurmountable lead back then.
Global corporations that once placed their bets on the Philippines have been mostly disappointed. Ford, Federal Express, Procter & Gamble, Intel, to name just a few no longer see the Philippines as their central base of operations in Southeast Asia. Corruption is rampant, superstitious beliefs are widespread, while math and science aptitudes remain dismally low for the majority of the population.
And why would any foreigner want to live here? The air is polluted by the millions of poorly maintained diesel engines used by the ubiquitous jeepneys and buses. Rivers and streams are open sewers emitting nauseating odors. Traffic in parts of Metro Manila moves at a snail's pace no matter the time of day or night. And it is not just Manila that can be described as the "gates of hell" as author Dan Brown notes in his novel "Inferno." Most major cities in the Philippines fit that description as well.
The bottom line is we Filipinos are solely to blame for our predicament. Why? Because we are lazy (or "indolent" as noted by our national hero Dr. Jose Rizal). We prefer to get something for nothing, be it wages or dole-outs. We have no sense of nationhood—our commitment, our loyalty and our trust extends out only to members of our extended family. Our ningas-cogon trait forces us into all manner of get-rich-quick schemes because we're never in anything for the long haul. And we bend the rules and look the other way whenever doing that suits us. In short we are a people with very big problems that will likely take several generations to fix.
Education is the key
Again in his 1890 essay "Sobre la Indolencia de los Filipinos" Rizal noted that the limited training and education we Filipinos were receiving back then was a major factor for our indolence. Sadly the education system that exists in the Philippines today is little improved from the one Rizal was complaining about. In fact a well designed and properly executed education system could have "fixed" most of our problems a long time ago, had there been the political will to do so. Instead the entire Philippine education system continues being used as a means to perpetuate the status quo, keeping the oligarchy in power, while keeping the masses sorely under-educated, easily manipulated and easily controlled. A long procession of Secretaries of Education have sat behind their fancy desks warming their seats while doing nothing to bring about an educational system that could have moved Filipinos out of the dark ages and into the twenty-first century.
In most cities, the government has effectively handed over the task of "education" over to the Catholic Church. A move that has perpetuated the problems Rizal noted more than a century ago. The church's end game in education after all is different from the government's. The church's aim first and foremost is to indoctrinate its students in order to guarantee its future survival. As far as the church is concerned; if in the process, their students somehow manage to learn math, science, civics, and history, well and good—but those are still only secondary to the church's aim of indoctrination.
Our improper education has thus kept us backwards. And we are falling further behind in today's highly technological world. In his latest book "Asia's Cauldron: The South China Sea and the End of a Stable Pacific" author Robert D. Kaplan notes that the United States military planners "had thought of selling the Filipinos a late-1980s frigate, but with a turbine engine it was judged to be too complex for them to maintain. Thus Washington was encouraging Manila to invest in less sophisticated frigates from Italy, and in small patrol boats from Japan (which the Filipinos have received)."
If US military officials think a 1980s turbine engine is too complex for Filipinos today, how much more the sophisticated high-tech weaponry needed in today's battlefield? In short, it appears that we don't have a ghost of a chance fighting off any adversary other than the NPA or the Abu Sayyaf—and even with those two we can't seem to get a leg up in the fight no matter how hard we try.
The bottom line is: as a people, we're in bad shape...really bad shape. And unless we do something drastic to properly "educate" ourselves, we'll be stuck this way forever. Rizal already told us over a hundred and twenty years ago what needs to be done. The solution is nothing mysterious or complex; neither is it impossible to achieve—as a nation, we just need to have the political will to see to it that each and every Filipino child receives a proper math and science-based education from kindergarten through college. If we don't do what needs to be done, we'll be stuck in the dark ages forever—while other nations laugh at us and continue to take unfair advantage of us. Published 08/2/2014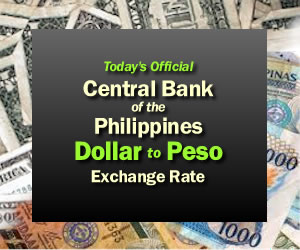 RECENT EDITORIALS
President Aquino Should Fly to Saudi Arabia and Pay His Last Respects to King Abdullah



Presidents and prime ministers, kings and queens; from Prince Charles and Prime Minister David Cameron of Britain, President Francois Hollande of France, President Abdel Fattah el-Sissi of Egypt, President Recep Tayyip Erdogan of Turkey and many other heads of state from all corners of the globe have gone or are headed to Riyadh to pay their respects to the late King Abdullah. Even U.S. President Barack Obama cut short his state visit to India to fly to Saudi Arabia. Published 1/27/2015
---
After the Pope's Visit: What We Filipinos Now Must Do
We put on a good show for Pope Francis. He loved it; we loved it; the world loved it. Now the long and painful task of bringing about the changes the pope asked for begins. Start with the Philippine Catholic Church. It should refocus its efforts towards the poor. As we wrote in previous editorials, many priests and bishops see themselves as members of the rich and privileged class. They feel more at home in country clubs and dining in expensive restaurants, than they do helping the poor who live in the squatter communities that dot most cities in the Philippines. Published 1/22/2015
---
Pope Francis Admonishes Pinoys to End Scandalous Inequalities

We had a feeling this was coming. In his first major speech in the Philippines, Pope Francis called for an end to 'scandalous inequalities' in the country. And what better example of a scandalous inequality is there than that a preposterously ridiculous wedding of Dingdong Dantes and Marian Rivera which was officiated by 8 bishops and 7 priests. In addition, this crass wedding featured a 12-foot high wedding cake, a 2-million-peso wedding gown with an exaggeratedly long train that seemed to go on forever...you get the picture. Published 1/16/2015
---
An Open Letter to Pope Francis; Please Read It Before Coming to the Philippines

Dear Pope Francis, your much anticipated visit to the Philippines is just a few days away. We expect that you will have been adequately briefed about the Philippines by the time you arrive. However, there might be a few things your Vatican handlers might have missed—or intentionally "forgot" to mention to you so we hope this letter reaches you in time for your historic visit. Before anything else, welcome! Published 1/9/2015
---
A Dingdong Fancy Wedding for a Third World Country

What is it with us Filipinos? We are a country of "all flash and no substance." Case in point: This ridiculously lavish wedding between two so-so movie stars that sought to outdo even the most "royal" of royal weddings. What was the whole point of this crassly extravagant display? Lest anyone forget, the Philippines is still a Third World country. And many, many squatter's homes (if you can call them "homes") do not have running water or even a toilet! Published 1/4/2015
---
Vice President Jejomar Binay's Aguinaldo

Money received from benefactors during Christmas in the Philippines is called "aguinaldo", a term and practice imported from Mexico during the Spanish colonial period where it now refers to the annual Christmas bonus given to employees. In the Philippines, it is now generally used to describe monetary gifts given by all benefactors, including godparents and employers. Published 12/25/2014
---
Do Filipinos Want America on Their Side or Not?

Given the Filipino penchant for "dramatics," not to mention the circus atmosphere that inevitably encompasses any event of even minor significance, one can hardly blame American government officials for refusing to hand over US Marine Lance Corporal Joseph Scott Pemberton over to Philippine authorities. The intriguing question in all this however is why some Filipinos are so insistent on having custody over the accused. Published 12/19/2014
---