Since our last editorial, more witnesses have come forward with more allegations against the embattled Vice President. But our decision not to support Binay's presidential bid is based on irrefutable public acts that in our opinion disqualify him from the presidency.
First and foremost, Binay skirted around the country's term-limits law by having his wife run for mayor after his third term in office—the maximum allowed by law—came to an end. That three-year gap out of office while his wife was mayor allowed him another three consecutive terms as mayor. An opportunity he seized till he maxed-out once more in 2010. At that point his son Jejomar Binay Jr. was old enough to run for mayor and did so, thus keeping the office "in the family."
To outsiders not accustomed to Filipino-style politics what Binay did is simply outrageous and totally unacceptable. The term-limits bill was signed into law to prevent any individual from monopolizing a public office. Sadly that is what Binay and many other mayors and governors all over the country are doing. But the fact that so many unscrupulous politicos do it does not make it right. We must point out that what Binay did is technically not against the law, but it certainly goes against the spirit of the law.
Secondly, Binay made a mockery of the Philippine Senate when he allowed his daughter Nancy who was so obviously unqualified, to run for senator.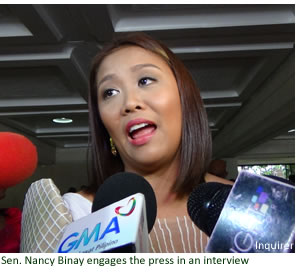 The fact that she was a likely winner—given an easily manipulated electorate—did not mean she deserved to become a senator. Long gone are the days when only statesmen with years of experience became senators. The fact that Binay saw nothing wrong with his daughter Nancy running for the Senate speaks volumes about Binay's true character. It appears he cares only about himself and his family. The fact that the Philippines now has an unqualified senator is not a matter of concern to Binay. What matters is that his daughter Nancy is now a senator and in place to protect and expand the family's dynastic interests.
And like an astute chess player, Binay has his pieces in place. Aside from Nancy, his other daughter Abigale is currently a congresswoman, while his son Jejomar Jr. is now the mayor of Makati City.
Binay made a name for himself in the early Eighties as a staunch critic or Ferdinand Marcos and his martial law regime. Cory Aquino who became president after the EDSA revolution saw Binay as a loyal ally and appointed him mayor of Makati shortly after she took office.
His actions since assuming public office however show Binay as a power-hungry politico who like Marcos puts himself and his family above country. Like Marcos, Binay also seems to have the same cynical attitude towards the average Filipino voter who he sees as gullible and easily manipulated.
Given the disastrous presidencies of Ferdinand Marcos, Joseph Estrada, and Gloria Arroyo, it is high time Filipinos begin raising the standards for those vying for the office. While Binay's acts, as we mention above, are not against the law, they do not pass the "moral ascendancy" test—to borrow a phrase bandied about by Filipino Bishops. It appears that Binay is bent on creating a political dynasty for his clan and has no qualms about bending the rules to keep himself in power. And those are very dangerous traits for a Filipino president to have. Published 09/16/2014
---
Archived Comments
Name: Jorge Villanueva
City/State/Country: Canada
IP Address: 142.134.110.56

Comments
This article is not only timely but aptly described what the Binays represent and most especially their main banner, the Maestro of the family and currently the Vice-President of the Philippines. They represent the unabashed picture of corruption at its highest. seeking more glory, power, influence in the pursuit of the ultimate in greed. Now is the critical test for how the country will respond to this unadulterated challenge to rules, regulations and moral decency.
---
Name: HMSomeone
City/State/Country: USA
IP Address: 74.77.36.177

Comments
KNOW THIS. Once this guy is elected President he will consider the office as another one of his acquisitions. HE WILL OWN IT AND HE WILL NEVER LET GO! Even another People Power will NOT be enough to dislodge him. Binay is a classic case of a man fighting evil then succumbing to its will. Somewhere along the way he discovered that evil and greed are more agreeable and appealing than goodness and duty. The man he was fighting, Marcos, became his perfect model. This man personifies the tragedy that is the PHL.
---
Name: Mandirigma
City/State/Country: Canada
IP Address: 209.89.253.53

Comments
Thank you for your editorial of VP Binay whom I think is the most unqualified person to become the president of the Philippines next to Estrada. I did not know of Mr. Binay, until I heard so many unpleasant commentaries about him. 1. Around 1989, I was visiting my friend in Manila and his son told us a story of how Binay came aboard a bus at Edsa after the driver overtook him and cut him off. He said " Hindi mo ba ako kilala? Ako si Binay ang mayor ng Makati" What an arrogant man who would not let a little issue go by. 2. When Bill Clinton visited Manila, at the Manila Hotel, the security told Binay to clear the area. Binay said, I happened to be the vice president of the PHL. Why do you think the security mistook him for a bystander?
---
Name: Sam "Juan" Hill
City/State/Country: Hilo Hilo Panay
IP Address: 38.88.177.203

Comments
" It appears that Binay is bent on creating a political dynasty for his clan and has no qualms about bending the rules to keep himself in power. " ONLY BECAUSE the voting people allow it! This should be more of an indictment against the Filipino electorates than the "unqualified" candidates!!!
---
Name: HMSomeone
City/State/Country: USA
IP Address: 74.77.36.177

Comments
Makati is composed of 2 worlds - the Haves and Have nots. The Haves live in Forbes, San Lorenzo and Dasmariñas. They want nothing to do with anyone not equal to them in financial standing. Theirs is an exclusive, cloistered universe where they play, play and play. Which is why they ignored Binay thru the decades. They also ignored the hordes of squatters that littered Makati. Binay, to them is just a peasant wannabe. And so they tolerated him. Binay, meanwhile bided his time and built his empire. Suddenly the man is no longer a wannabe. Suddenly he is a big player. The biggest Player in fact. And the roles have changed. Binay has become so rich that he is now the one IGNORING the cloistered Villagers. There lies the Poetic Justice.
---
Name: Laurrie
City/State/Country: Cebu
IP Address: 98.193.242.170

Comments
We can't blame the Binays. We blame the Filipino people who voted for them. The voters should be punished. And the punishment is to put these people into public office. The Filipino voters have a very weird and unique way of choosing their leaders. They don't like good and descent leaders, they like crooked wicked leaders and they way they chose their leaders represent their City/Country. The Philippines as a nation needs a lot of prayers, Holy Masses, vigils, discernments, incense, et al, to cast out these wicked voters and leaders to somewhere else. Very depressing indeed!!!
---
Name: HMSomeone
City/State/Country: USA
IP Address: 74.77.36.177

Comments
Just do the MATH. From ZERO to BILLIONS. How did Binay do that? Where did he get the wherewithal to acquire that? Without owning any industry, lands, patents, authorship, or any other high income generating business he zoomed to the top of the moneyed hierarchy. So without thinking hard what conclusion could one get? That his wealth is the result of Plunder. And Plunder is a crime. Therefore this guy, as well as his ENTIRE family are crooks and thieves no better than a Mafia Crime family. If that is the valid premise, the valid question is why even consider this guy for any office, let alone the Presidency?
---
Name: dusty
City/State/Country: dasmarinas
IP Address: 49.145.141.59

Comments
At last the media is helping people work out who is good for this country. I think Binay is a lying calculating thief. He will say & do anything to remain in power & to get all the spoils, legal or illegal that go with it. You are right in saying he puts his family above his country & that should show the people not to vote for him. Not only does he have his unqualified daughter in office he also wants to have unqualified Manny Pacquiao alongside him. Vote for him at your peril. But he knows the gullability of the Filipino & will exploit that always.
---
Name: EJ Flores
City/State/Country: Calgary, Canada
IP Address: 112.209.219.53

Comments
Back in 1986, I remember Binay as just an ordinary lawyer on Mabini Street, without a personal car and belonging only to below the mid income group. Today he and his family are millionaires with mansions and a fleet of cars. This family is best example of "dynasty" with Jojo as VP, and the siblings as Mayor, Congresswoman and senator. Elenita was also once a Mayor replacing Jojo in order that power in Makati would not slip from their hands. How then did they accumulate such wealth in such a short period of time? He is no better than Gloria, maybe worse.
---
Name: Hit&Run
City/State/Country: ONTHEROAD
IP Address: 98.91.3.185

Comments
When ed suggested, "it is high time for Filipinos to raise the standards of (politicians) vying for office," it was asking for something Filipinos don't understand. Either that or it is not possible. After the ouster of Apo Ferdie the system has gone awry in that all politicians, trapos and newbies alike, got hold of the old oligarch's "mein kampf" and learned how to circumvent every law holding the country's decency together. Now it's every man for himself'
---
Name: pet laroza
City/State/Country: aurora province
IP Address: 49.144.225.2

Comments
Binay is popular among class CDE citizens,\suggest that articles like this be translated in Tagalog, and other dialects. ABC fully know the true color of Binay, except for those who have the same motive as his. Binay is popular among class CDE citizens, so I suggest that articles like this be translated to Tagalog and other dialects. Class ABC know fully the color of Binay. And people in these classes who are supporting Binay, for sure have the same motive as his.
---
Name: HMSomeone
City/State/Country: USA
IP Address: 74.77.36.177

Comments
An Investigative source named Binay Properties, to wit: 1) 66 Hectare Farm in Rosario, Batangas which is twice the size of the Ayala Commercial Center. Reported value: P23 Million; 2) Two Units in the Hidalgo Towers of the Upscale Rockwell Center in Makati. Reported Value: P28 Million; 3) A mini-Mall named JOBIM that had been in operation for sometime. The Investigator then asked how Binay could justify the acquisition of such properties on a Mayor's salary. Does Binay avoid testifying in the Senate because things like this might be asked of him to explain?
---
Name: Rmy
City/State/Country: Dubai
IP Address: 2.49.53.95

Comments
This is the kind of person really who doesn't have the moral ascendancy to become the next Phil pres. No explanation needed. The editorial said it all. The problem is the kind of electorate the country has. No amount of educating the average Filipino will ever change him. Also, while this existing family dynasties the political climate will forever be the same. We are the sick man of Asia. Vietnam, Shri Lanka and the rest of SEA are continually re-inventing their economies hence they are magnets for business ventures. Let's stop being so nationalistic in protecting our economy. Let's be realistic and sensible.
---
Name: Phil Researcher
City/State/Country: LA County, CA USA
IP Address: 98.112.130.24

Comments
Re: The ethics of becoming President of the Philippines..Before FM, I have no proof but I'm certain some Presidents would get "balato''from some government contracts, but it was FM who institutionalized making real money .Just recall that during martial law the late Kokoy Romualdez might have been a member of the Board of Meralco. Remember Kokoy was Ambassador to the USA at the same time held the position of Governor of Leyte and he owned a law office whose only large client was, who else Meralco. Kokoy was not even a lawyer, he was a bar flunker. If the Filipinos want to elect Binay President notwithstanding his record please watch testimony of Ernesto Mercado on YouTube. It is their country I'm only a former Filipino citizen.
---
Name: JRH
City/State/Country: Montreal, Quebec
IP Address: 70.82.143.154

Comments
There's something terribly wrong when even VP Binay's own disciples are turning hostile toward him. The shocking revelations of the former Vice-Mayor are very damaging. It's a system of collusion & outright corruption, bag-full of money delivered to the place of abode of the Binay family. People around them knew about the corrupt system in the city of Makati in which companies allegedly gave 13% cut from rigged municipal contracts to then Mayor Binay. Fraud & conspiracy charges are in order. As far as we know, there were no open public tenders done but instead contracts were awarded in favor of firms who agreed on under-the-table deals.
---
Name: Nory Cabanilla
City/State/Country: Los Angeles, CA 9002
IP Address: 75.50.103.180

Comments
I agree with your editorial that Jejomar Binay should not be elected president of the Philippines. The reasons you stated are very relevant and powerful to defeat his candidacy. If he is president, how can we eliminate family dynasties? He is not setting a good example for an honest leader.
---
Name: Rizalde
City/State/Country: Fullerton, Ca.
IP Address: 76.168.137.166

Comments
Hindi ba may law against pa-epal. Why was Binay giving T-shirts with his name printed on it when he visited Isabela just like what he did in the Yolanda relief goods. Is it his own money or the money of from the VP budget which is from the government that he is using in his political campaign two years before an election? His ambition to become president is as ferocious as the Marcoses. This is a dangerous man. He is the only candidate for president be it on the past or present who has a pending case in the Ombudsman. Magsama-sama tayong pigilan ang kahibangang ito.
---
Name: blumntrit
City/State/Country: Nogpollspiralingdown
IP Address: 173.2.35.44

Comments
Binay lied! - I'd like to see someone throw a shoe/bakyâ to his face while he's in the podium, more better if it's a smelly dirty wet underwear. He should not be in the cabinet of Pnoy using the position only to attain his personal goal. As Nancy sez kulang na lang markahan ang kanilang nuo nang M (tumpak! - meaning magnanakaw) remember when Ash Wednesday comes bahala na si padre maglagay nyan.
---
Name: PHIL ESGUERRA
City/State/Country: USA
IP Address: 76.21.71.244

Comments
Binay's family may be the most reprehensible in the Philippines, perhaps, the same level as the Marcoses. However, that does not stop the masses from loving him. He provides gifts and "cake" on their birthdays using tax money it's common in Philippine politics: give the voter one kilo of rice, while the politician steals billions of pesos. The voter thinks he wins. The challenge is how to get the voters see the truth. If the FOI bill is passed & bank/dollar secrecy laws repealed, there may be a better chance of bringing Binay's thievery to light. Since its not priority for Pinoy, the people may never see the truth. The newspapers need to make passing of the FOI & repeal of the bank/dollar secrecy laws a priority. If not, Pnoy's "daang matuwid" leads to nowhere.
---
Name: IGNO RAMOS
City/State/Country: Greek St,
IP Address: 50.75.245.90

Comments
There are two things BINAY will never do. First, he will never face the Blue Ribbon Committee and swear under oath. Second, he will take no questions on any press conference he would call. As a lawyer he knows the consequences of lying under oath. He will take no questions in press conferences because whatever he says will be fact checked by the media. He has to have the media on his journey to Malacanang. Bad publicity is never good for business.
---
Name: Mercedita
City/State/Country: Dobbs
IP Address: 204.174.224.196

Comments
I guess that if I no kind words could be given to Binay except by his blind and loyal followers from Makati, they are indicative that he his unpopular. No presidential aspirant could win an election if the popularity is only known in Makati. If the media turns against him and his coalition of mayors outside of Metro Manila (provincial cities) does not work, his chance of winning is nil. If he faces the Blue Ribbon Committee and takes the oath that everything he says are nothing but the truth, then he is safe. But if he says, are all lies, he is finished (done). His march to Malacanang stops abruptly. It is dead on its tracks. Binay is not a shoo-in as others would like to think. NOT ME.
---
Name: Phil Researcher
City/State/Country: LA County, CA USA
IP Address: 98.112.130.24

Comments
Re. The VP's denial. . In his speech he said that the accusation against him would not stand in court because there is no evidence that he received a kickback. He is just saying that as a clever attorney, he did not make the mistake that JPE made with a paper trace..Well the VP didn't really deny that he received a kickback, he is saying there is no evidence of any. However Mr. VP the biggest evidence is the parking structure. Res ipsa loquitor. The thing speaks for itself.
---
Name: DING DONG
City/State/Country: DONGON, SAMAR
IP Address: 67.250.86.169

Comments
The July 8, 2014 SWS satisfaction SURVEY showed Binay at +73% net satisfaction which means 82% are satisfied and 9% were not. It is difficult to rely on this kind of survey which was basically subjective in nature. If Binay faces his accusers and answers questions from the media on his role in the over-priced building, people will know more about him. It is most likely his satisfaction rating would go south.The 11- storey parking facility over-price which all started when Binay was still a mayor has not yet come to the full knowledge of people in the provincial areas. The media must keep this scandal alive to get enough traction and national attention.
---
Name: HMSomeone
City/State/Country: USA
IP Address: 74.77.36.177

Comments
TELL ME WHO YOUR FRIENDS ARE…is a saying that would apply squarely to Binay. Notice the people on his side. They are like a who's who of corruption past and present. Browse at the column of Ernesto Maceda ("So Young, so Corrupt") going out all the way to praise Binay's speech the other day. Those corrupt Columnists in the payroll of Binay hardly speak of the other side except to discredit them. For the thinking Filipino there is really no need to talk of Binay's crookedness over and over again. Just look at who his friends are and you could tell who he is.
---
Name: Jorge Villanueva
City/State/Country: Canada
IP Address: 142.134.138.211

Comments
What is startling here is not that the Vice-President is accused of corruption or that he is impotent or unable to debunk the accusations but it is the frequency of the crime and its infectious spread from all sectors and levels of the government. It seems nobody or nothing is free from its corroding influence and you wonder if the people becomes totally immune desensitized to it and reacts no more.
---
Name: Raffy
City/State/Country: Rosemead, Ca.
IP Address: 162.205.68.86

Comments
Binay and CJ Corona have so many similarities. Both are excellent lawyers. Both delivered a prepared speech to defend their case and both were afraid to face the hard and piercing questions from senator-lawyers. And both of them are guilty beyond doubt. The former Ombudsman Gutierrez was realistic knowing her case was indefensible she quit. And don't fall for this poor man story, our Mayor was as poor as Binay and only finished grade 2 but because of excellent exploitation of poor voters remained mayor for 20 years despite his being corrupt that he was generally believed to have intentionally burned the Municipal buliding to destroy incriminating evidence when COA was about to look at the municipal records. Binay just resign.
---
Name: Abdullah Habib
City/State/Country: Basilan
IP Address: 63.151.158.2

Comments
If there are a lot of legislators who are greedy and corrupt you could say the same thing (metaphysical certainty) about law enforcers and men and women who wear black robes. We, as a nation and as a people, have not been really serious about the moral degeneration of legislators, law enforcers, and administrators of justice.
---
Name: Magikero
City/State/Country: Long Beach, Ca. USA
IP Address: 75.142.127.68

Comments
All these corrupted ways enumerated on this article should be grounds enough not to vote for this man and his clan! The Filipino people should have learned their lesson by now. And I quote the article...Given the disastrous presidencies of Ferdinand Marcos, Joseph Estrada, and Gloria Arroyo, it is high time Filipinos begin raising the standards for those vying for the office. Stupid politicians is not the problem, stupid people voting for them is!!
---
Name: DING DONG
City/State/Country: DONGON, SAMAR
IP Address: 67.250.86.169

Comments
On Binay, someone said: "If you don't want Binay to be president, firstly, you have to work that he doesn't get to be a candidate." Binay is running as UNA's presidential candidate for 2016 unless this over-pricing scandal is being played with no let down in the media and the senate inquisitors continue to give Binay a headache by putting IED's in the road to halt Binay's march to Malacanang. If Binay steps down, Erap, another corrupt person, grabs the torch. SUGOD MGA KAPATID!
---
Name: Steve R
City/State/Country: California
IP Address: 98.234.22.41

Comments
These are reports in 2001 by Miriam Go of Rappler. As mayor, Binay's salary was P32,000 and as MMDA chairman, his monthly pay was P46,000. After serving 12 years as mayor, Binay's accumulated wealth that include the following: P80 million worth of real estate properties in Makati and Batangas, with wife and daughter Nancy, P79 million worth of properties located in the posh Rockwell Center and "P12 million in declared investments, as well as other businesses that he and his friends reportedly control through dummy corporations."
---
Name: tonyO
City/State/Country: pinas
IP Address: 114.108.222.190

Comments
Binay can't surely explain this issue on how he accumulated his wealth with his meager salaries. "The next thing that the Senate or Ombudsman should do is to make him explain how he acquired his wealth because, not having any business, his family income comes only from their salaries as public servants. How did he become so rich? If he is not able to explain satisfactorily, that is unexplained wealth and should be forfeited to the government."
---
Name: Sam Juan Hill
City/State/Country: Hilo Hilo, Panay
IP Address: 38.88.177.203

Comments
"The 11-storey parking facility over-price which all started when..." What else is new? Isn't that an SOP in the Philippines-- just one of the many techniques available to "earn back" their investment in campaigning for a government "power" position? Let's not pretend to be that naïve-- believing politicians spend so much money to get elected and pretending that they do it for love of country. The trouble with the Binays--- became too sloppy in covering up their tracks (in street lingo- garapal) . That's all folks!
---
Name: Lala
City/State/Country: Ojai, Ca.
IP Address: 216.70.166.176

Comments
Listening to dzbb I heared that Sen. Nancy Binay is sponsoring a bill that would give house arrest a status as the regular jail as an option when incarcerating criminals. Is this a preparation just in case Father and Brother are convicted by the ombudsman and Sandiganbayan? Is this an inadvertent admission of guilt? Tama ang kasabihang" ang isda ay nabibingwit sa labi".
---
Name: Jorge Villanueva
City/State/Country: Canada
IP Address: 142.134.178.66

Comments
Vice-President Binay decided to use a smoke screen instead of responding to the direct testimony against him for corruption. If the testimonies were blatant lies then he could unravel the lie or expose the fabrication by smart questioning: when were the bags delivered (time of day), what was he wearing, where was the place, who were present... Questions that would eventually catch the lie. Being a smart lawyer he should be able to trip the witnesses if the circumstances were concocted. However, if the bribe actually occurred then perhaps, that's the reason he had difficulty in responding to the charge. He is left with a mere blanket denial or non-sequitur responses which doesn't help his cause.
---
Name: ANTIPOLO ANTi
City/State/Country: Antipolo City
IP Address: 121.54.46.24

Comments
In a statement issued today Sept 24, 2015, Binay revealed that he has a big piggery business that netted him more than P44,000,000 in 20 yrs, same time as he was Makati mayor. So he said his wealth came from Pork... Anak ng porkta, oo! Sinong lolokohin niya! Ilang milyong kulig ang inaalagaan niya noon!!!
---
Name: DING DONG
City/State/Country: DONGON, SAMAR
IP Address: 67.250.86.169

Comments
[Someone]: The electorate has never learned a good lesson. Kunckleheads, if I may say. Voters are driven essentially by emotion and hero worship more than reason. They thought that the person they had elected has the skills to lead and manage the country. Instead of being a SOLUTION to the country's ills, they end up being a huge PROBLEM (making it even worse) ! This had been the situation since we were allowed to govern by ourselves. In the words of Quezon: "a country run like hell! "
---
Name: Emilia
City/State/Country: Century City, Ca.
IP Address: 76.168.137.166

Comments
What is this Binay saying "testimony without cross is just allegations"? He and his son and his cohort employees have been invited to appear to the Senate to be able to cross-examine and face the accusers eye to eye but refuses to do so. Sino pa ba ang maloloko nila? Even a first year high school student can discern that they are guilty because of this pagtatago. Para siyang si Mayweather proclaiming he is the best boxer in the world pero maraming dahilan para makaiwas ki Pacquiao. Sinungaling na, makapal pa. Ito ba ang papalit ki Noynoy? Dios ko kaawaan tayo.
---
Name: IGNO RAMOS
City/State/Country: Greek St,
IP Address: 50.75.245.90

Comments
Lawyers of Binay want the Supreme Court to step in and intervene in the senate investigation of over- pricing. Doesn't Binay, as a lawyer, know that SC has no business telling a co-equal branch of government how to run its own house? What a bunch of retards!
---
Name: Adriano
City/State/Country: New York, USA
IP Address: 172.254.74.138

Comments
Corruption in any project in the Philippines is done all the time starting from the highest official of any branch of government or any public offices. Before you can bid for any project if you are a contractor, you have to give monetary gift to the officials from the highest to the lowest employee of the office so that somebody will give you an edge and will push your bid. If you'll win the bidding then you have to pay those officials 10% advance or your paperwork will have problems. So Mayor Binay is afraid to face the Senate investigation because he knows that he and his family got rich with all the money coming from the 13 or 10% commission he got from a lot of projects of Makati. That's hard to explain that with all businesses losing all over the world only the Binay's earned a lot.
---
Name: DING DONG
City/State/Country: DONGON, SAMAR
IP Address: 67.250.86.169

Comments
I have to fault Cory for choosing Binay and not bringing closure to the assassination of her husband. I blame her too for her lackaidiscal or languid approach in handling the business of the nation. She did not lay a solid foundation where men of good intention will rule the country with fidelity and honesty. Just like her son she did not complete her unwritten mission as president. Pnoy did not finish what he started. He started with wang wang but ended with BAWANG (bali walang aksiyon). Lalong sumikip ang daan sa mahihirap- bako bakong landas for everyone! Now he wants a term extension? HOY MAHIYA KA NAMAN. Huwag mong swapangin.
---
Name: Phil Researcher
City/State/Country: LA County, CA USA
IP Address: 98.112.130.24

Comments
Re: Government employees elected or appointed..If you are an elected member especially a Congressman or Senator the money is pork barrel. Their salary is very low our elected officials could not live on their salaries..As the former Vice mayor of Makati testified..I did not sign any contract but I received money how much more for the officials who signed the contracts. 13% flat fee please watch the Vice mayor's testimony on youtube. You can decide if he made up those detailed stories.
---
Name: IGNO RAMOS
City/State/Country: Greek St,
IP Address: 50.75.245.90

Comments
A man's declared assets must match his income unless he prints his own money and puts them in circulation that no one notices.. In suspicion of plunder or graft, no waiver is necessary to release bank records. The interest of the nation is higher than the depositor! This rule should apply to Binay , Purisima, Enrile, Estrada, etc.
---
Name: Armando
City/State/Country: Pomona, Ca.
IP Address: 76.168.137.166

Comments
Even if Supreme Court stops the Senate hearing on Binay two inconvertible facts have already come out that the Binays are corrupt and these are: 1. The fact that a bidder they have used for two separate structures and occasions is not qualified to be a bidder. The owner denying that he did not bid may still be open to discussion but not their being unqualified. Sa pagmamadali nina Binay nakalimutan ito. 2. That Linlingan's (Binay's fixer) name and signature is all over transactions on the supposed Army lot where he is not supposed to be there. Binay's should resign.
---
Name: Shiloh
City/State/Country: Geneva
IP Address: 58.167.16.202

Comments
On Binay as president, I agree he should not be president and this mockery of a leader out of government, as he represent contemptible greed. The whole family smells of hypocrisy and use manipulation as an art, like the Marcoses. Show of donations of cakes, sister cities, improvement to a city that is already on the scale of foreign investors. they have the nerve to tell their constituents, that it is "THE FAMILIES" ability to govern etc. However, the real blame is on the voters, who need to wake up, show integrity on who they vote, not line their pockets short term. THINK OF YOUR CHILDREN!
---
Name: DING DONG
City/State/Country: DONGON SAMAR
IP Address: 67.250.86.169

Comments
The Binays through their lawyers are claiming that the public hearings being conducted by the Blue Ribbon Committee with the regards to the overpriced 11 storey building office - parking facillty are ABUSIVE and not an aid to legislation. The hearings per se are "inquisitional" in nature where the committee's objective is to get to the facts of the case. As the saying goes TRUTH HURTS. The committee is simply exercising its oversight function. WHY BE AFRAID IF THERE IS NOTHING TO HIDE, VP AND SON?! Your behavior is telling us there are many skeletons hidden your closet.
---