n the evening of September 23, 1972, two days after it had taken effect,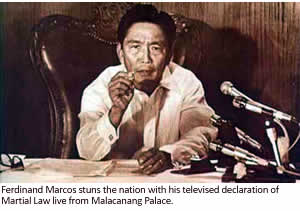 Ferdinand Marcos announced via live television from Malacañang Palace that he had placed the Philippines under Martial Law. It was a calculated move by a devious politician to keep himself in power beyond what the Constitution allowed. A staged ambush attempt against his Defense Secretary Juan Ponce Enrile was the main excuse Marcos (or "Macoy" as he was deridingly referred to back then) used to strip Filipinos of all their constitutional rights. With that, the diminutive Ilocano from the backwaters of Batac, Ilocos Norte became the despotic dictator for over a decade.
Although little is known about his childhood years, Marcos appears to have been a cunning, manipulative individual early on. On September 20, 1935 a day after beating Mariano Marcos (his father) in the race for the office of representative for the second district of Ilocos Norte, Julio Nalundasan was killed by a sniper's bullet. Marcos and his brother-in-law Quirino Lizardo were accused and convicted by a Philippine court for Nalundasan's murder. But as luck would have it, the conviction was overturned by the Philippine Supreme Court in a decision penned by then Associate Justice Jose P. Laurel. And because of that, no member of the Laurel clan was ever harassed during the Martial Law years.
During the WWII years that followed, Marcos told the public that those years were spent bravely fighting the Japanese as a guerrillero. Unfortunately, his guerilla unit called "Ang Mga Maharlika" was blacklisted by the United States Veterans Administration after an investigation in 1950 showed that many of its members were actually Japanese collaborators "trafficking in the sale of critical war materials to the brutal enemy."
After the war ended Marcos filed a claim for over half a million dollars in war reparations. He claimed he had lost 2,000 head of Brahmin cattle, which he said the US Army commandeered, from his family's farm in Mindanao. The Americans of course rejected his preposterous claim.
While Marcos never stopped trying to fool the Americans, he saved his greatest deception for the Filipino people. He pretended to be a statesman interested in uplifting the lives of his countrymen, when all he wanted to do was enrich himself and acquire as much power as he could. In 1971 Marcos suspended the writ of habeas corpus and in 1972 declared Martial Law. With the people's rights taken away, Marcos and his henchmen brutally crushed his opponents, torturing and killing anyone who stood in their way. Colonel Rolando "Rolly" Abadilla, was a fellow Ilocano and trusted Marcos "thug" who headed the Metrocom Intelligence Unit. He reported directly to AFP Chief of Staff General Fabian Ver and stood out because of his sadism and brutality. His torture victims describe him as pure evil. But Abadilla was just one of the hundreds, if not thousands of Marcos henchmen who spread terror throughout the country during those dark days.
In many ways the tyrant Ferdinand Marcos seems to have single-handedly changed Philippine culture. Since Marcos, Filipinos have become exceedingly cynical of their national government—thus the "every man for himself" attitude is today widespread. And because we are no longer pulling together as a nation, we are being left further and further behind by other countries.
Another debilitating legacy that Marcos left us with is our distrust of the military. The years of arbitrary arrests, detention in military stockades, and brutal torture and "salvaging" (killing) by "beasts" in military uniform have left a lasting mark on our collective psyche. So that now, 42 years after martial law was declared and a quarter century since his death, the country is still being tormented by this very evil man. How so you ask? Because the armed forces as an institution has been so diminished in the eyes of Filipinos, that it has been relegated to the sidelines as far as funding and new equipment are concerned. After all, what sane society would give soldiers shiny new state-of-the-art weapons when they know those weapons could be easily turned against them—as they have in the past.
Since martial law, the Armed Forces of the Philippines (AFP) has been kept at arms-length by the general populace. Its importance as well as its funding steadily reduced over the years. And the military does not elicit from Filipinos that pride and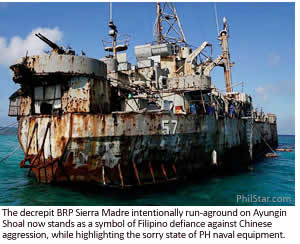 admiration for their men and women in uniform that is so evident in many other countries. The way they behaved during martial law is forever etched in the public's mind.
So today we have next to nothing to counter Chinese aggression in the West Philippine Sea (South China Sea). We have a navy with mostly old rusting ships; an ill-trained army with a handful of old tanks, and an air force without a single supersonic jet fighter. Should China decide to grab all our islands in the West Philippine Sea, we will only have "Macoy" to thank…or blame. While he may be long dead, his evil deeds continue to torment Filipinos to this day. Published 09/23/2014