verseas Filipino Workers (OFWs) are up in arms with regards to all these bullets showing up on airport x-ray machines inside luggage and bags of unsuspecting passengers. Philippine laws make it a serious offence to bring even a single bullet on an airplane—a situation that scam artists in an around Philippine airport terminals have quickly exploited to the hilt.
The scam is called "tanim bala" (planted bullet) or "laglag bala" (dropped bullet) and occurs this way: a single bullet is slipped into a passenger's luggage or bag sometime before it goes through an airport's x-ray machine. The bullet is then detected by the x-ray device and the owner is detained for questioning. At some point money can be offered in exchange for charges being dropped.
Recently, departing or arriving passengers from a young American missionary, to a 65-year-old Filipina grandmother have been found with bullets hidden in their bags. So far this year there have been a total of 84 incidents of ammunition found in luggage and bags of airline travelers; up from just 12 incidents for the same period in 2014.
Obviously, some wily Filipinos have figured out how to make already harried travelers part with some or all of the money they have on them. Aside from all the stress normally involved with travel, people flying to, or from, the Philippines must now also guard against bullets being planted inside their bags.
This is first and foremost a major national embarrassment. The Philippines spends billions of pesos promoting the country, but that money might just as well have been flushed down the toilet because scams like this will surely scare tourists away. Even overseas Filipinos will think twice about flying home for a visit.
There have been calls for Manila International Airport Authority General Manager Jose Angel Honrado to step down, but as of this writing he has refused and instead points to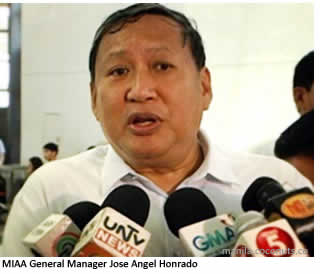 the Department of Transportation and Communications' Office of Transport Security (DOTC-OTS) as the agency that should be handling this matter. Never mind that one of his duties as airport general manager is to: "Monitor all activities at the Authority's terminal and to initiate preemptive action to keep these from escalating into crisis situations."
Honrado appears to be the typical Filipino political appointee who refuses to accept blame and will refuse to step down despite widespread clamor for his removal from office. There is however, no denying the fact that as airport chief, he is ultimately responsible for setting the tone and creating the atmosphere where such shady schemes like "tanim bala' or "laglag bala" are allowed to spread and even thrive.
President Benigno Aquino III has so far refused to fire Honrado, or even acknowledge the grave repercussions the scam will have on the economy and on the perception foreigners have of the country. Many Aquino critics have begun questioning the sincerity of his commitment to the "tuwid na daan" (straight path) campaign now that just a few months are left in his presidency.
OFWs who for decades felt left-out and disenfranchised, have of late found their power and their ability to influence events in the Philippines. they are threatening to stop sending their monetary remittances unless this issue is solved to their liking. And with the billions of dollars sent home to the Philippines by these overseas workers each year, local leaders cannot afford to turn a deaf ear to their complaints. Published 11/03/2015