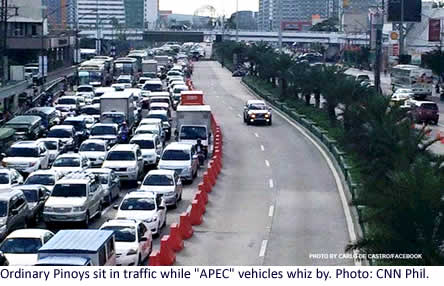 id Philippine President Benigno Aquino III ever consult his bosses (the Filipino people) instead of listening to the bad advice of his mostly clueless advisers. Even on the best of days, just getting from point-A to point-B in this smog-choked metropolis is already a herculean task. The well-off in their air-conditioned SUVs crawl at a snail's pace through narrow streets—their mostly diesel-powered behemoths spewing a deadly cocktail of pollutants into the atmosphere. For the rest who are forced to take what passes for public transportation in the Philippines, the task is beyond herculean. Getting from one point in Metro Manila to another in one piece is almost a miracle. There are just too many vehicles, too many people, too narrow roadways, too many undisciplined drivers, and too many traffic cops who don't know how to do their jobs.

Now overlay that scenario with road closures, rerouted traffic, dedicated lanes exclusively for APEC vehicles, and last but not least, 21 heads of state and their entourages, and you come close to an apt description of what "Commuter Hell" is like for the 12 million souls who inhabit Metro Manila.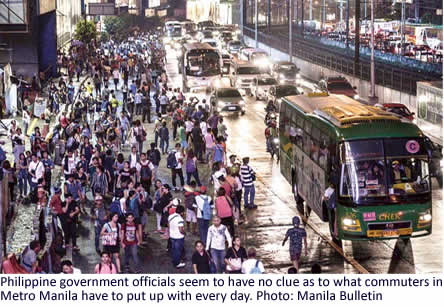 The sad thing is, none of this had to be. As former President Fidel V. Ramos pointed out, the APEC summit could have been held in Clark, Pampanga like it had been in 1996. Clark is less crowded; it has the necessary facilities; and there's a major airport right in the middle of it all (the fact that the airport is named after jailed former president Gloria Arroyo's father, hopefully was not the reason Aquino and his advisers rejected Clark). It indeed would have been the ideal summit location. The disruption to Clark's day-to-day commerce would have been negligible compared to that of Metro Manila—not to mention the public holidays Aquino declared in order to keep people off the streets. The country easily lost untold billions of dollars during those few days when everything in the city ground to a halt for the summit.

That is no way to run a country. It is almost like a time-warp back to the days of Martial Law when Marcos and his cronies ran roughshod over the Filipino people, doing as they well pleased, without an iota of concern about how their decisions would affect ordinary Filipinos. As far as they were concerned they were in power, so "tough luck for everyone else—get used to it."

If Aquino and his clueless band of advisers think this APEC summit will be a feather in their collective cap—it won't. To top it all, the event was overshadowed by ISIS and their horrific terrorist attack in Paris. News coverage of the summit was quickly relegated to the sidelines as events in Paris took center stage. Secondly, hosting an APEC summit is not like hosting the Summer Olympics. You don't get the boost in tourism that you do when you host the Olympics games.
Thus, a word of advice for this administration, and future ones as well: Just because you can do it does not mean you should. We find ourselves harping on this point all the time. Be transparent and find out what the people think before ramming things down their throats. Have your snotty advisers get off their high horses and consider how their advise will affect ordinary men and women who have a hard time just putting food on the table. If you say the Filipino people are your true bosses, then mean it. Published 11/20/2015