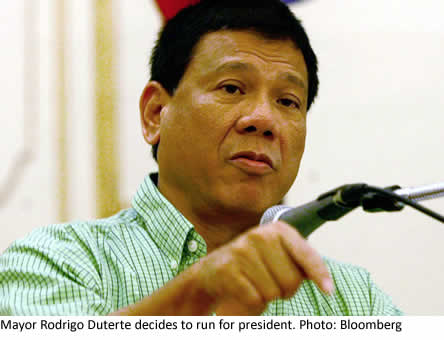 avao Mayor Rodrigo Duterte has finally thrown his hat into the ring and run for president. Hi s loyal supporters plus many voters dissatisfied with the current crop of candidates are quite elated. Duterte's urong-sulong (on-again-off-again) presidential bid caused many to suspect that the Davao Mayor really didn't have his heart in the race. Some of his detractors on the other hand said he was hiding something that might be exposed if he ran.
The pros
Duterte has rid Davao City of numerous lawless elements that plague most Philippine cities. He is rabidly against illegal drugs and made his mark early on as mayor by going after drug dealers and pushers with a vengeance. The result is that over the years, drug use in Davao has all but disappeared.
Other criminal elements such as swindlers, racketeers, cat burglars, and scam artists have received personal dressing-downs by Duterte after they are apprehended, sometimes accompanied by public ridiculing to make sure they got the mayor's message loud and clear.
No offense is too small for Duterte who this year personally confronted a visitor to Davao who insisted on smoking inside a restaurant despite repeated warnings. Duterte showed up, and in typical fashion made the man swallow his unfinished cigarette.
Duterte appears prepared to go head-to-head with powerful criminal syndicates who have local politicians and police in their pockets. Corrupt government officials will likely find life difficult under a Duterte administration. He appears to be the iron-handed, yet honest leader, that many Filipinos want.
The cons
Duterte appears to have little patience for the law and appears more willing to take matters into his own hands to achieve his own ends, noble though they may be.
He is rumored to have connections to vigilante groups in Davao responsible for the spate of killings of those involved with illegal drugs. Some of those killed were barely in their teens. Ties to vigilante groups should be a big red flag to any law-abiding citizen. At best it shows a cavalier attitude towards the law and at worst a complete disregard for it.
Like Vice President Jejomar Binay, Duterte has skirted the country's term limits law by having a relative serve as a "placeholder" for a single term, thereby allowing him to run again for three consecutive terms. It is not against the law to do that but it certainly violates the spirit of the law. If you're a mayor or governor in the Philippines, you might get away with it, but if you aspire for the highest office in the land, that kind of sly behavior should be totally unacceptable. There is a lack of statesmanship and fair play from politicians who resort to this underhanded tactic.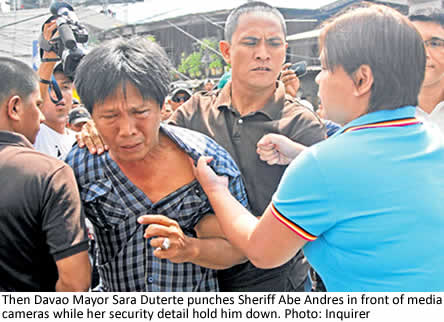 Lastly, It's not just Duterte but the people around him that voters must also take into account. in 2011 Duterte's daughter Sara who was Davao's "placeholder" mayor at the time, had the temerity to punch Sheriff Abe Andres several times in the face for doing his job and enforcing a lawful court order. If Duterte becomes president will his daughter and those vigilante groups close to him feel they now have the blessing to run roughshod all over the country. During Martial Law, it was those around Ferdinand Marcos, like his wife Imelda, his relatives, his in-laws, and members of his trusted inner circle who often abused their power. They were thus responsible for many of the excesses during martial law. With Duterte likely to rule with an iron hand like Marcos, there is a danger that similar abuses may reoccur in his administration.
Whether Duterte's advantages outweigh his disadvantages or vice versa, it will ultimately be up to the Filipino voters to decide. Published 11/28/2015