alk down any big city in the Philippines and you feel the excitement gripping everyone; men and women, boxing aficionados or not. Sunday's match (Manila-time) between Manny Pacquiao and Floyd Mayweather will have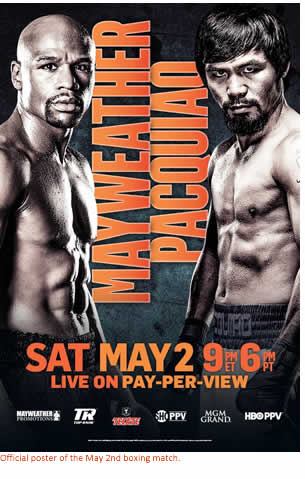 the country, glued to screens, large and small in major metropolitan areas as well as far-flung rural barrios. In fact, it is not just the Philippines, but the entire world that will be watching this long-awaited duel between two of today's biggest boxing giants. In Mexico home to boxing greats like Érik Morales, Marco Antonio Barrera, Juan Manuel Márquez, and Oscar De La Hoya to name a few, the fight will be aired live for free on Mexico City television.
In Las Vegas, the city is all giddy about the super-duper boxing event that will take place on their "strip." Billboards with Pacquiao and Mayweather herald the fight, while souvenir shops do brisk sales on T-shirts, caps, and all manner of fight memorabilia.
It is truly amazing that a Filipino has attained such global status. Manny Pacquiao is now a household name around the world. He has proven beyond any doubt that he is among the best of the best.
And who knows when another truly amazing Filipino will come along? We are exceedingly lucky that for this generation of Pinoys, we were blessed with a Manny Pacquiao. So whatever the outcome of this weekend's super-fight. Let us all just celebrate the fact that we have someone who lifts our collective spirits and shows the world that Pinoys can mix it up with the best of them.
Good luck Manny. Win or lose, what you have achieved is now part of our heritage, and will remain so for generations to come. Published 4/29/2015