---
---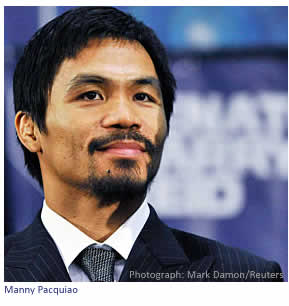 he world now knows that while training for his May 2 "Fight of the Century" with undefeated world welterweight boxing champion Floyd Mayweather, Manny "Pacman" Pacquiao suffered a shoulder injury. According to his trainer, Freddie Roach, this mishap occurred on April 4 in a sparring session when he threw a right hook and his arm "got entangled with those of his sparring partner".

The injury was subsequently examined by a medical specialist on April 6 who diagnosed it to be a torn rotator cuff which would require surgery that may sideline Pacquiao for up to 9 months of recovery time.

Dashon Johnson, a super middleweight boxer who had been hired by Roach to spar with Pacquiao, posted on his Facebook page after the May 2 fight that he and the other sparring partners were sent home after the April 4 injury. "We were asked not to mention anything to anyone but yes Manny got hurt during this camp with his right shoulder and it was messed up pretty bad! So bad his sparring partners including myself were asked to go home a few weeks out before the actual fight, which means a lot of work he could have put in for this fight was brought to a halt due to the fact that he could not spar really anymore and didn't want to mess it up more than he already had".

What should Pacman have done?

Should Pacquiao have publicly disclosed his injury and sought a postponement of the fight that he and the boxing universe had waited five years for? Would Mayweather still have been willing to fight him if he had to wait another year for the fight?

To decide on what to do, Pacquiao must have huddled with his closest advisers which include promoter Bob Arum, trainer Roach, adviser Michael Koncz and his BFF (best friend forever) Luis "Chavit" Singson.

Roach has already disclosed that he recommended that Pacquiao postpone the fight so that he can be physically fit to fight Mayweather. But Arum downplayed the injury and described it as similar to the one suffered by Kobe Bryant last January. (You mean the same one that caused Kobe to be out of the NBA for the rest of the season?)

We will know the details of their huddle soon enough in the course of the litigation that has been filed and more that will be filed. Already, 5 federal lawsuits against Pacquiao and Arum have been filed in California, Illinois, Nevada and Texas. This doesn't even include the suit sure to be filed by the sucker who bet $500,000 at the MGM Grand sports book on Pacquiao.

The federal lawsuit filed in Chicago alleged that Pacquiao and Arum "deceptively and fraudulently promoted, produced and sold the fight as one between two healthy fighters … expressly misrepresenting the health of Manny Pacquiao to the Nevada State Athletic Commission, all in an effort to maximize and collect pay-per-view revenue."

The suckers who bet on Pacman

I personally bet $100 on the Pacman with my friend, Rudy Asercion. Rudy didn't feel good about accepting the "tainted" money so he asked me to donate it to his favorite charity. That's better than Cambodian Prime Minister Hun Sen who refused to fork over the $5,000 he lost betting on Pacquiao.

A few days after the fight, I had dinner in San Francisco with a friend from the Philippines who flew in to Las Vegas with his group to watch the fight. He said that while at the MGM Grand six hours before the fight, he and his group learned of Pacquiao's shoulder injury and they all immediately changed their bets. They said they were sure that if they knew about it before the fight, the casinos also knew.

It seems everyone knew about it except the Cambodian prime minister and me and the millions of other suckers who bet on Pacquiao.

The Associated Press must have been referring to us when it reported on May 6 that "they all thought they were getting the Fight of the Century. Two fighters who, if not in their prime, were at least in peak condition for the fight of their lives. What they got instead was a one-armed Pacquiao chasing Mayweather around the ring for 12 rounds. The Filipino who normally is a punching machine landed only 18 right jabs and didn't even throw as many punches as the defensive-minded Mayweather."

At the press conference after the fight, Pacquiao admitted that it was difficult to win with only one good hand to fight with.

Why didn't he follow his trainer's advice?

So why did Pacquiao not heed the advice of Freddy Roach?

The cynical answer is that he had 120 million reasons not to do so. That is the amount of money in dollars he expects to earn from the fight making him the highest paid athlete not only in boxing history but in the history of any sport but second only to Floyd Mayweather who is expected to receive at least $180 million for the fight.

But there is also the politics to consider. Pacquiao had earlier announced that he had been asked by his close friend and political ally, Vice President Jejomar Binay, to head his senatorial ticket in the 2016 national elections. Under the banner of Binay's United Nationalist Alliance (UNA), Pacquiao was expected to draw millions of his fans to their campaign rallies all over the Philippines where he would urge them all to vote for Binay.

Once he wins as senator and Binay is elected president, Pacquiao will then be in line to succeed Binay and be elected president of the Philippines in 2022. But if he had to wait nine months for his injury to heal and then spend another three months training for the fight, then it would be held in May of 2016 at around the same time as the national elections in the Philippines. This means he couldn't run for senator. He couldn't campaign for Binay. And he couldn't succeed Binay as president in 2022.

So much was riding for Pacquiao to fight as scheduled on May 2. He had to gamble that the public wouldn't know about his injury before the fight and that he could beat the undefeated champion on May 2.

The odds were decidedly against him. How could he keep his injury a secret for almost a month? Wouldn't reporters be suspicious that he was not scheduling any sparring sessions as he has always done in all the fights he has been in especially in the last 10 years? Isn't sparring essential to any training regimen for a fight?

How could Mayweather not know?

At the press conference held the day after the fight, Pacquaio said that he was certain Mayweather knew about his injury before the fight through a leak.

"You saw he was pulling my hand. He was doing that because he knew. He was pulling it. He was holding me, then he was targeting this. I'm sure he found out. Somebody leaked it to him. They knew," he said.

How could Mayweather not know? Las Vegas is his hometown. He knows all the sparring fighters.

But Pacquiao was still confident that if he took a painkiller shot before the fight, he would be able to put up a good fight and possibly knock out Mayweather. In order to obtain permission from the Nevada State Athletic Commission to take this nonsteroidal drug, Torodol, Pacquiao had to fill out a form.

One of the questions in the form asked: 'Have you had any injury to your shoulders, elbows, or hands that needed evaluation or examination?"

The penalty for perjury

Pacquaio checked the "No" box and signed his name after the words 'I hereby swear under penalty of perjury, that the above information is true and correct to the best of my knowledge'.

His adviser, Michael Koncz, would later claim that he was the one who filled out the form. Arum would later explain that Koncz "inadvertently" checked the wrong box. Unfortunately for Pacquaio, Koncz's willingness to fall on the sword for him will not work. If that was a viable defense, no one could ever be prosecuted for cheating on their tax returns if they claimed the forms were filled out by their tax preparers.

The irony is that the answer on the form was not a factor in the Nevada State Athletic Comission's decision to reject Pacquiao's request to be injected with Torodol because the request came too close to the fight. As Cisco Aguilar, the Nevada Athletic Commission chairman, explained it to the press, "You don't want them to be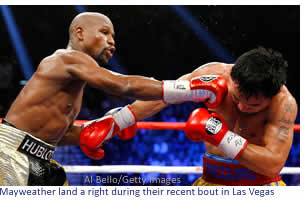 masking the pain. If they're masking the pain, they are potentially going to have some long-term damage that they may not have had."

The Nevada Attorney General is now reviewing the facts to determine whether to charge Pacquaio with a criminal offense. Under chapter 199 of the law of Nevada (NRS), 'A person who, in a declaration made under penalty of perjury, makes a willful and false statement in a matter material to the issue or point in question is guilty of perjury or subornation of perjury, as the case may be, which is a category D felony and shall be punished.'

The punishment for a crime of this nature is between one and four years in prison and a fine of up to $5,000.

Pacquiao could also be fined, suspended or banned by the Nevada State Athletic Commission from ever boxing in Nevada.

Pacquaio has faced worst odds before in his storied life from having been raised in poverty in the streets of General Santos City to winning boxing titles in 8 weight divisions from 98 pounds when he was only 16 all the way up to 152 pounds at age 36.

The best one-armed boxer pound for pound

When asked after the "fight of the century" about what happened in the ring, Pacquiao smiled and repeated a line he had used before when he lost by a KO to Juan Manuel Marquez: "I did my best but I guess my best wasn't good enough."

He smiled because he learned the line from one of the karaoke songs he loved to sing. Unfortunately, the reason his "best wasn't good enough" was because he was fighting with only one good hand.

The Pacman gambled and lost big time. Aside from all the serious legal and political consequences of his failure to come clean in a dirty sport, he will also be the butt of a new derogatory term: the poor suckers who lose money betting on a fighter with an undisclosed injury are "Pacq'd", man. A cautionary tale for our time. Published 5/17/2015

(Send comments to Rodel50@gmail.com or mail them to the Law Offices of Rodel Rodis at 2429 Ocean Avenue, San Francisco, CA 94127 or call 415.334.7800).


---
---
---