fter consistently maintaining that he had no intentions to seek higher office, Davao Mayor Rodrigo Duterte hinted that he might actually make a run for the presidency.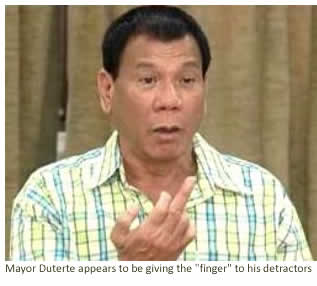 There was no mention of those lofty intentions that most candidates for president "parrot" when they make that fateful announcement. Nothing about God, or country or making life better for future generations. Instead Duterte said he "might" run for president simply because we was annoyed by the criticisms being leveled against him by Justice Secretary Leila de Lima and former Commission on Human Rights chairperson Etta Rosales.
Both Ladies denounced Duterte for his recent admission that he was in some ways connected with the vigilante group known as the "Davao Death Squad." Human Rights Watch has strongly denounced that group and attributes more than 1,000 vigilante-style killings since the late 1990s to it. Duterte backpedaled a few days after making his admission saying he was actually referring to the "Davao Development System."
The fact remains that most of the killings in Davao City attributed to the death squad occurred in the 1990s during Duterte's term as mayor. Duterte is often described by as a bully. He may appear to be on the right side of the law, but the tactics he is often said to employ border on coercion, and intimidation at best.
Understandably, vast numbers of Filipinos are sick and tired of the pervasive corruption and lawlessness in the Philippines today. And they think that a leader who will rule with an "iron hand" is the answer.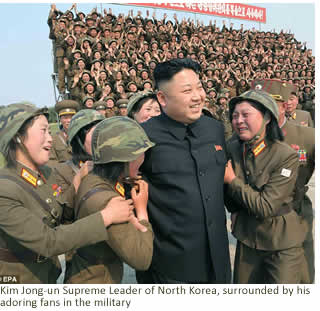 We say be careful what you wish for. In our perspective Duterte is not far removed from tyrants who choose expediency over the rule of law. Filipinos were forced to give up their freedom during the dictatorial rule of Ferdinand Marcos. Even today, there are Filipinos living in regions of the country ruled by despots. They do not have true freedom. While governor of Maguindanao in 2009, Andal Ampatuan Sr. is accused of ordering the killing of 58 people. The victims were ambushed and killed in order to prevent Ampatuan's political opponent from filing his certificate of candidacy thus preventing him from running for governor.
But despots and tyrants are now an anachronism and have no place in 21st century democracies. Citizens ruled by such individuals often display overt devotion to their tyrannical leaders (e.g. Germans to Adolf Hitler and North Koreans to Kim Jong-un), but in the end, the people are worse-off because of them. The Philippines does not need another tyrant in Malacañang. Published 5/29/2015