ope Francis is about to issue an encyclical on climate change.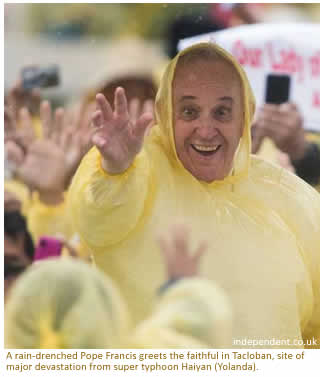 The 200-page papal letter to Catholic bishops worldwide warns of "unprecedented destruction of the ecosystem" by the end of this century unless drastic changes are made to avert it. This encyclical could not have come any sooner for the Philippines.
The country lies on the path of numerous tropical storms each year. And as evidenced by super storms Haiyan (Yolanda) in 2013 and Hagupit (Ruby) in 2014, these typhoons have become more powerful and more frequent over the last decade alone.
Unfortunately, notwithstanding the dramatics of Filipino delegate Naderev Saño at the COP18 climate talks in Doha, tearfully pleading that industrialized countries do more to save the environment, his country is actually doing distressingly little to get its environmental house in order.
Drive around Metro Manila and you quickly realize what a dirty, unsanitary place it has become. The Spanish-built esteros (estuaries) that are a thing of beauty in other countries, are a reeking, nauseating eyesore in the Philippines. While many countries have banned the extremely high polluting, noisy two-stroke gasoline engine, it is alive and well (thriving in fact) in cities and towns all over the country, as it is the engine of choice for the ubiquitous Philippine tricycle.
Not to be outdone, local buses and jeepneys run on older discarded diesel engines from other parts of Asia. Japan for instance has been doing brisk business selling their dirty, no-longer-legal, diesel engines to Filipinos who mount them on jeepneys, trucks, and buses all across the archipelago.
Even supposedly respectable business leaders make it a point to get into the pollution business.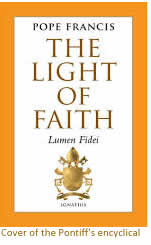 Companies regularly dump their waste into rivers, streams, and fragile coastlines. Once lush forests have now been almost completely denuded by irresponsible landowners as well as illegal loggers. And the plants and animals that for millions of years survived in those habitats are silently vanishing.
The bottom line is that the typical Filipino (sad to say) whether dirt poor or filthy rich, has little to no respect for the environment. He or she will trash their surroundings whenever it become more expedient to do so.
The only saving grace of this predominantly Catholic country is the fact that it is Catholic. And being devout Catholics maybe Filipinos will take the pope's encyclical to heart and start to change their destructive ways. The Philippines was once a lush and beautiful country … it no longer is. And unless Filipinos, along with the rest of the world, clean up their act—literally, the country will continue to deteriorate.
Maybe this activist pontiff through his encyclical will be able to steer Filipinos away from the path of environmental self-destruction they appear headed for. Let's hope and pray he succeeds. Published 6/18/2015

---
You can post your comments below
via DISQUS