n an earlier editorial we highlighted the pollution problem created by diesel and 2-stroke engines in Philippine cities. Here we highlight the deleterious effects Metro Manila's horrendous traffic problem has on the country's economy.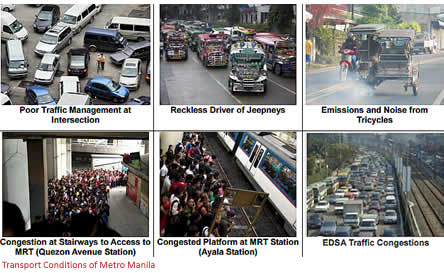 Traffic moves around Metro Manila in a god-awfully slow pace. And as people and vehicles in this mega-metropolis increase that pace slows down even further.
At one point in the not too distant past, a slow pace was easier to tolerate. After all Filipinos are not too fixated with time the way westerners seem to be. "We'll get there when we get there" emblemized the typical Pinoy's approach top the issue. But that was then. And traffic moved much faster "then" than it does today.
Workers typically get up hours before dawn just to make it to the workplace by eight o'clock. In the process, battle for space in overcrowded buses and jeepneys, (and for those unlucky enough to be riding non-air-conditioned vehicles), expose their lungs to all kinds of toxic fumes as their ride crawls, through rush-hour traffic over dilapidated roads.
In a recent speech, Sen. Paolo Benigno "Bam'' Aquino IV cited a joint study by the National Economic Development Authority (NEDA) and the Japan International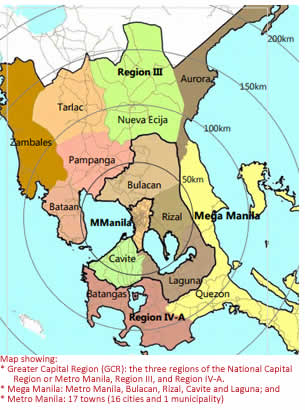 Cooperation Agency (JICA) which warned that if Metro Manila's traffic problems are left uncorrected, economic losses would likely increase 150 percent – from today's P2.4 billion per day to P6 billion per day by 2030.
The study pointed out that the Greater Capital Region (GCR) which is made up of Metro Manila, Central Luzon, and Calabarzon had the fastest population growth in the entire country; going from 15.4 million in 1980, 20.6 million in 1990, and 34.6 million in 2010.
The population density for Metro Manila alone stood at 191 persons per hectare that year. If you think that's high (and it is), Manila and Mandaluyong today have population densities that surpass 650 persons per hectare.
The NEDA-JICA study direly predicts that " If nothing is done, the situation in 2030 will become a nightmare. All roads will be saturated. Negative impact on economic, social and environmental aspects will be so large deterring the function and livability of Metro Manila."
What must be done
We believe that first and foremost, driver's education courses must be mandatory for all Filipino high school students. The emphasis should be on strict adherence to the rules of the road as well as road courtesy. Today's Filipinos are skilled drivers but lack both courtesy behind the wheel and knowledge of driving rules. The study makes no mention of driver education, but in a densely populated area like Metro Manila, every person must know and follow the same set of rules so that order and harmony are maintained. A properly implemented "driver's ed" program will insure that all Filipino drivers know the rules of the road.
We agree with the study's other suggestions some of which are:
• Promote urbanization in areas adjoining Metro Manila to help decongest it. And link these adjoining urban centers with efficient transport systems (roads and/or rail) to efficiently move people and goods between them.
• Invest massively –as much as 5% of GDP - on infrastructure projects in the transport sector.
• Clear backlogs of un-implemented (but still valid) road projects. For Metro Manila, this means completing the missing links of C-2, C-3, C-4, and C-5, as well as building the flyovers/interchanges on or before 2016.
• Expand the mass transit network – to handle as much as 9.1 million person trips per day compared to the today's level of just 1.5 million.
Senator Aquino rightly points out that steps must be taken today if we are to prevent traffic in Metro Manila from eventually grinding to a halt. We owe it to our kids, and their kids to make this most important of regions clean, livable, and efficient once again, with traffic moving at a brisk steady pace anytime in the day or night. Published 8/26/2015