he woman is ambitious. We should all admire her for that. But as they say in politics, just because you can win does not mean you should (run for office). Remember Cory Aquino? We made her president, even though she admitted she was just a plain housewife and knew nothing about running a country. Well, after six years as president, she stepped down having accomplished next to nothing.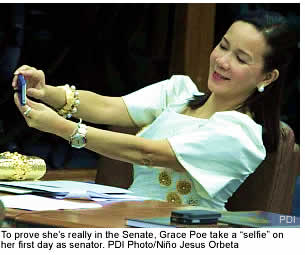 And forever gave away the only real opportunity to turn this country around and correct the wrongs of the past. In fact many of the problems we face today continue to linger because of what she didn't do as president. But she was the grieving widow of our beloved hero Benigno Aquino Jr., and well … she had a sweet face and a really kind heart, and that was good enough for us Pinoys.

But today, nearly 30 years later, Filipinos cannot afford to make the same mistake again. In the upcoming election, we have the ambitious newcomer, neophyte Senator Grace Poe—an untested, "unknown quantity" in Philippine politics. Poe is currently riding a wave of popularity and is flirting with the idea of running for President not because she has a long record of achievements to run on—she has none. She is doing it simply because she knows she can win.

So we ask again as we have done several times in the past editorials: What exactly has Grace Poe done that qualifies her to lead the country as its president? In her latest speech she argued for the rights of adoptees … like her. Well, that's wonderful but we'd also like to hear her talk about more substantive issues like our national defense. What is her stand regarding China's aggressive moves in the West Philippine Sea? How does she plan on dealing with the multitude of rebel groups in the country? What about foreign policy? What are her views on ASEAN integration? Where does she stand on taxes? Does she have a comprehensive plan to curb pollution especially in our large cities? What about our exploding population? How does she plan on dealing with that? What guiding principles and beliefs will she follow as president? Nobody knows, and she's not saying!

As we've said about Cory Aquino, a sweet face and a kind heart is not enough. The Philippines is beset with serious problems and is lagging behind most of its Asian neighbors; the last thing it needs is another sweet faced know-nothing in Malacañang, who is out of her league and unable to come up with the right decisions to move the country forward.

In an interview with Bandila on ABS-CBN a few days ago Leni Robredo, the widow of the late Secretary Jessie Robredo, was asked if she planned to run for vice president in 2016.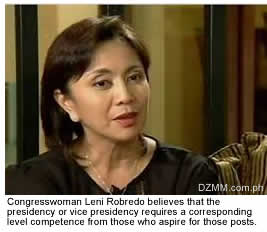 Her thoughtful reply in Pilipino was: "Sa palagay ko, 'yung VP, masyado siyang mahalagang posisyon; masyado siyang malaki. Masyado siyang malaki para sa katulad ko na nagsisimula pa lamang. Dalawang taon pa lang naman akong public servant (I think the position of VP is very important, and very big a position. It is too big for someone like me who is just starting out in politics. I've been a public servant for only two years).

With her statement, Robredo not only displayed her humility, admitting that she still had much to learn in politics, but she also took a swipe at Poe who, though obviously unqualified, is considering a run for the presidency. Before becoming senator, Poe's only other public service job was with the MTRBC, a quasi government censorship board for movies and television.

Our advise to Poe, stay in the senate for another decade and prove yourself first before aspiring for higher office. Why? Because at this stage, you're not even fully qualified as a senator. Published 9/3/2015