ell it's official; neophyte Senator Grace Poe is running for president. To reiterate, our stand on her qualifications remains the same: she is nowhere near qualified to become president. She has no track record and no experience under her belt. It is good that she chose Senator Chiz Escudero for her vice presidential running mate. He's had far more experience in government and can offer her guidance should she become president.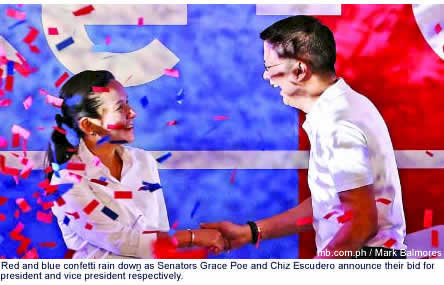 The fact remains—and we've stated this in previous editorials—just because you can win does not mean you should run. In fact, this is the same argument Donald Trump's detractors are using to argue against his becoming president of the United States. He may have the money, and he may have the support of Republican Primary voters, but many Republicans still do not see him as a serious or viable candidate for the presidency.
And while we're on the topic of U.S. elections, from a Filipino perspective, it was thoroughly refreshing to watch the Republican debate where the sharpest minds that have lead the country as governors, senators, and business and professional leaders, battle it out for the right to run for president.
There's nothing similar in the Philippine presidential elections. What you have instead in this country is an "anointing." Someone is anointed to lead the country as president. It does not matter how qualified or unqualified that person is. Our current president, Benigno Aquino III was the "anointed one" for the 2010 elections. He was a mediocre congressman and later a mediocre senator, a non-achiever with a reputation as one of the "dullest knives in the drawer." Yet he was "anointed" president by the Filipino people because his mother, former President Cory Aquino serendipitously passed away a few months before the elections.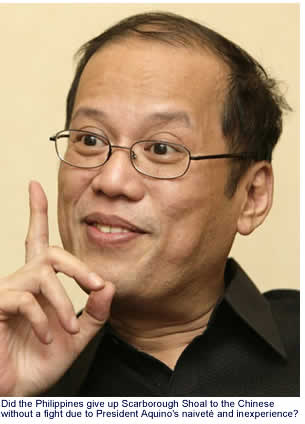 Cory Aquino herself had no business becoming president as she personally admitted that she was just a plain housewife and knew nothing about running the country—she then spent six years proving that fact to the nation.
China's leaders have run circles around our current president—they conned him into believing they would leave Scarborough Shoal in mid-June 2012 as a storm approached the area. In anticipation of the Chinese ships departing, Aquino recalled the two Philippine Coast Guard vessels guarding the shoal and ordered them back to port. To his surprise the Chinese never left and have since cordoned off the area preventing Filipinos from returning to the shoal. As kids, we had a name for someone like Aquino. It was "utu-uto"or "sucker" in English.
Unfortunately, that is the kind of leadership one can expect from leaders "anointed" to their positions. Grace Poe, should she win, will be no different. She will be an unqualified president bungling through one blunder after another—or at best she would fail to seize the opportunities that could turn the country around. It is no wonder that Philippine leaders are not taken seriously by other world leaders. They have nothing in their resume that passes for notable accomplishments. And the whole world knows this.
On Election Day, Filipino voters, will have to take a deep breath, pinch their noses and vote for Mar Roxas. He might be "Mr. Boring," but he'll be the most qualified presidential candidate—by a wide margin. Published 9/19/2015