n September 28, 2015 Chinese President Xi Jinping addressed the world body during the 70th session of the United Nations General Assembly, in New York. In his speech Xi committed his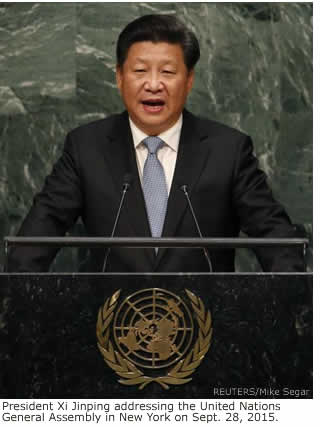 country to various laudable endeavors such as a reinvigorated effort to curb greenhouse gasses and combat climate change; a $100 million aid fund for Africa; and $1 billion for U.N. development projects across the globe.

The recurrent theme of the Chinese president's speech was that China was prepared to play a larger—and leading—role in the United Nations going forward. "We should renew our commitment to the progresses and principles of the U.N. Charter," Xi said. He went on to note that international relations should be characterized by "win-win cooperation" between nations and a "shared future for mankind."

Quite notable for Filipinos listening to Xi's address was his admonition that "Big countries should treat small countries as equals and take a right approach to justice and interests by putting justice before interests." He further stressed that a country's sovereignty and territorial integrity should not be violated, warning that countries that resort to the use of force "will find that they are only lifting a rock to drop on their own feet."

While Xi's speech was generally well received and drew the occasional applause from the assembly, it is contradicted by China's extremely aggressive acts in the West Philippine Sea (South China Sea). As a signatory to the United Nations Convention on the Law of the Sea (UNCLOS)—which among other things codifies the responsibilities as well as the rights of countries with respect to their use of the world's oceans, and the management of marine natural resources—China demands that its neighbors respect its 200 nautical mile Exclusive Economic Zone (EEZ). Unfortunately, China shows little respect for the Philippine's EEZ. In instance after instance China has used its large maritime vessels and naval warships to intimidate Filipino fishermen and deny them access to fishing grounds, shoals, and reefs, that lie well within the Philippine EEZ as defined by UNCLOS. As far as China is concerned: "what's mine is mine" and "what you think is yours is actually mine as well."

So China, it appears, is not what Xi portrays it to be. After decades of relative peace in the region, China by its hostile acts towards the Philippines—a weak, and militarily insignificant country—is showing the world that it is in reality an aggressor nation. A nation willing to openly assert itself through military force on neighboring states that do not have the wherewithal to stand up to it or fight back.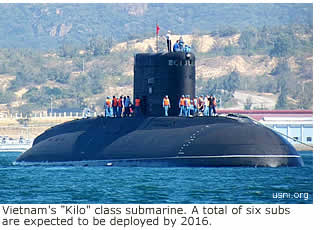 Already, Asian nations like Japan, Taiwan, South Korea, Vietnam, the Philippines and even India have begun to beef-up their militaries in anticipation of China's ever-increasing bullying tactics. Billions of dollars that could be used for alleviating global poverty or reversing climate change—endeavors that Xi says he wants to tackle—are instead being used to buy bigger, more powerful, weapons of war.
The 21st Century could be the century of global enlightenment, peace, and prosperity, but China appears to be singlehandedly pushing mankind back to the dark ages of global strife and wars of aggression; a world where "might is right" and the phrase "rule of law" holds no meaning.
As Xi noted in his speech, those nations that resort to the use of force "will find that they are only lifting a rock to drop on their own feet." The question is: will it be Xi's feet crushed by that heavy rock? Published 9/29/2015