onchita Carpio-Morales, Three words that should make all Filipinos a bit more proud of themselves today. In a country where nothing ever seems to gets done; where court cases just hang in the air unresolved for decades; where the very rich see themselves as above the law and the very poor believe they have the right to simply get what they want because—well, they're poor; Ombudsman Conchita Carpio-Morales, has served notice to Filipinos one and all that she is one individual who will not play by the twisted rules of Philippine politics.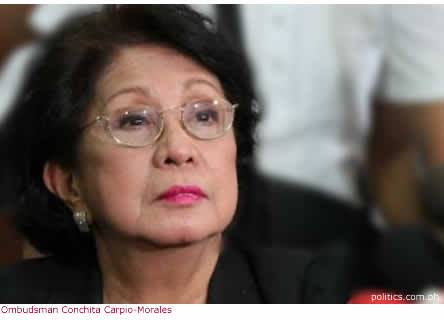 Yesterday, Morales dismissed from service suspended Makati City Mayor Jejomar Erwin "Junjun" Binay Jr. for "grave misconduct and dishonesty." Aside from his dismissal from office, Binay is forever disqualified from holding public office and has to forfeit all the retirement benefits due him.
Morales decision takes effect immediately. Along with Binay, his co-accused, Marjorie De Veyra, Pio Kenneth Dasal, Lorenza Amores, Virginia Hernandez, Line Dela Peña, Mario Badillo, Leonila Querijero, Raydes Pestaño, Nelia Barlis, Cecilio Lim III, Arnel Cadangan, Emerito Magat, Connie Consulta, Ulysses Orienza, Giovanni Condes, Manolito Uyaco, Gerardo San Gabriel, Eleno Mendoza Jr., and Rodel Nayve, have all been dismissed as well.
For Morales, the anomalies surrounding the Makati parking building were simply too blatant and glaring to overlook. From the building's design phase, all the way through to its completion, Morales found numerous violations such as: bidding irregularities, violations of government procurement laws, and falsification of public documents.
Critics of the Makati Parking Building say it is significantly overpriced and that the former mayor along with his co-respondents, as well as the companies involved in its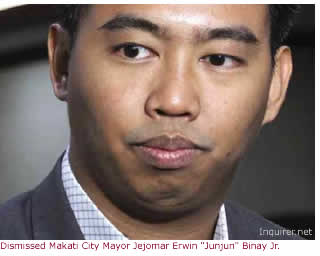 construction may have illegally benefited from such overpricing.
It is time Filipinos everywhere stand up and support public officials like Morales. In the past, there have been other brave souls who have stood up for truth and honesty—at great personal risk to themselves, only to find an apathetic, disinterested public unwilling to support them.
For the Philippines which has now become a fully-entrenched third-world country, as well as one of the poorest in Southeast Asia, Filipinos no longer have the luxury to remain apathetic or disengaged. Everyone should now rise and stand by those who are trying to move this country forward. We hail the honorable ombudsman for her courageous decision and stand behind her all the way. Published 10/10/2015