very six years the crazies come out en force in a mad rush to file Certificates of Candidacy (COCs) for the Philippine Presidential Elections. The Commission on Elections (COMELEC) gives everyone only a four-day window within which to file their COCs. Thus the normally busy COMELEC offices in Intramuros turn into a madhouse of frenetic activity as who's-who politicos and their supporters parade in and out of that compound. So lets take a quick, less serious view of some of the more serious contenders for the Philippine Presidency and Vice Presidency. In random order they are: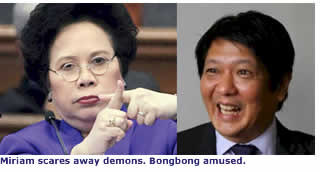 Miriam Defensor-Santiago - Ferdinand "Bongbong" Marcos Jr.
Santiago actually worked for Ferdinand Marcos, so while she doesn't paint herself as a Marcos-loyalist, her choice for VP is understandable. Having miraculously survived stage-four lung cancer, the feisty Ilonga legislator has her eyes once again on the presidency.
Here's what we like about her—she's determined, hardworking, and honestly looks like she wants to leave a positive legacy to the country. She's also had years of experience in government—very important as far as we're concerned.
Here's what we don't like about her—she's arrogant, flies of the handle too easily, and carries this enormous chip on her shoulder thinking she's smarter than anyone around her. And she's just too "crazy" to be president.
Having Marcos as her running mate will likely be a plus for her in the North, but the "Marcos" name still carries significant liabilities everywhere else.
Bottom line: at this stage it is hard to see the Santiago-Marcos tandem as a serious contender for either office.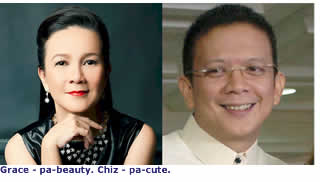 Grace Poe - Francis "Chiz" Escudero
Our bias may be showing but there is really nothing nice we can say about Poe (who actually should be running as "Grace Poe-Lamanzares' or simply "Grace Llamanzares" but she knows she won't get many votes if she did that).
If we have to find something we like about her—we guess it would be guts and ambition, because you have to have a lot of both to run for something you appear completely unqualified for (like Nancy Binay who became Senator ... but that's another editorial).
There's a lot we don't like about her—at this stage, Poe is simply a big question mark for most "thinking" voters (emphasis on the word "thinking" of course). No one really knows what she knows and what she doesn't. No one knows where she stands on the many serious issues confronting the country. How good is she at bargaining, or standing up to pushy foreign neighbors?
Having Escudero as her running mate will be a big plus for her. In fact he should be the one running for president and she for vice president. But if many Filipino doctors have been able to swallow their pride and work as nurses in the U.S., then we guess Escudero can do the same and play the role of VP in a (heaven-forbid) Poe administration.
Bottom line: Escudero "yes," Poe "definitely "no."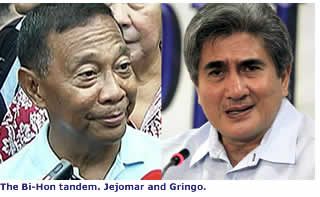 Jejomar Binay - Gringo Honasan
We realize we are showing our bias, snobbishness and political incorrectness when we say Binay is just too short, dark, and ugly to be president. He looks more like a jeepney driver than a statesman—but that's just our opinion. Nonetheless, we stand by it. When the assembled ASEAN heads of state hold hands and smile for the cameras, guess who'll be the shortest and least statesmanlike-looking in the group—if Binay becomes president? Filipinos have already suffered through almost six years of having to put up with a president who appears somewhat retarded in photographs.
What we like about Binay—nothing.
What we don't like about him—we already stated in a previous editorial. First and foremost (and Binay can never deny this) is the fact that he skirted the country's term limits law by having members of his family run for his office after he "termed-out" so that he could legally run for that office again and again. This is a blatant disregard for a law which says that after three consecutive terms—it's "thank you very much for your service now give someone else the chance to serve." Most local government officials are also guilty of this and they should all be booted out of office, as far as we're concerned. What is happening in the Philippines today is nothing short of a travesty. So Binay (and Rodrigo Duterte if he were to run) gets our thumbs down for this reason alone.
Will Honasan be a plus for Binay? Probably not. The "idol" of the EDSA-One revolution couldn't leave well enough alone. Instead Honasan thought he could continue doing one coup after another. His undistinguished career as senator affirms the theory that "Rambo" types have their brains located on their lower extremities instead of in their heads.
Bottom line: a big "no" for Bi-Hon (Binay and Honasan).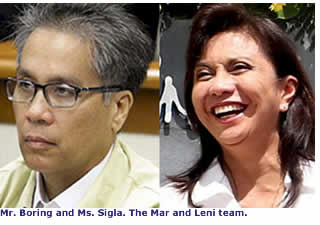 Manuel "Mar" Roxas - Maria Leonor "leni" Robredo
We saved this duo for last because we can't find much to critique or make fun of. Here's what we like about Roxas—he's a team player, not a prima donna like most Filipino politicians. He's also well educated, but most importantly for us, like Santiago, he's had years of experience in both the legislative and executive departments.

What we don't like about him—he's just too boring! Nothing about his entire persona excites us. Donald Trump described rival candidate Jeb Bush as a "low energy" person, well we see Roxas that way as well. Although he may have sterling credentials, if he cannot manage to "dial it up" a bit, he might never make it to Malacañang.

Though not Roxas' first choice for a running mate, Robredo might turn out to be a plus for him after all. She seems to have a lot more "spunk" than he does. And her husband, the late Jessie Robredo built a legacy of service to his constituents while shedding the trappings of power that accompany government posts. And Unlike Poe whom she has criticized, Robredo is fully aware of the enormous responsibility placed on her shoulders should she become vice president.

Bottom line: for now at least it has to be Mar and Leni. Published 10/16/2015