he future of Filipinos will be nothing like their past. Each and every Filipino must realize this. The proverbial lackadaisical "Juan Tamad" lying under a guava tree in an idyllic Amorsolo painting-like setting will no longer exist. Instead a new reality like that of ancient Sparta or modern-day Israel will pervade. China is growing stronger every day and they are quickly turning into an aggressive, tyrannical power.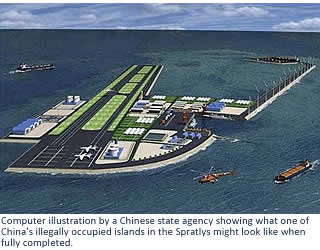 Like Sparta and Israel, the Philippines will be in a constant state of siege for the foreseeable future. If the Philippines is to survive as an independent country, it has to do something…now!
Gloria Arroyo's act of treason
As we noted in a previous editorial (LINK), the highly secret Joint Marine Seismic Undertaking (JMSU) entered into between then president Gloria Macapagal-Arroyo, and the China National Offshore Oil Corp. (CNOOC) allowed China to map vast portions of the South China Sea—even those located well within the Philippines' 200-mile exclusive economic zone—to locate oil and mineral deposits beneath the sea bed. The JMSU was not only unconstitutional, it was completely lopsided, giving China all the data it needed when it takes over all of the South China Sea, as it is now trying to do.
The Philippine military is nothing but a big joke
In this regard, Filipinos have another former president to thank: the infamous Ilocano from Batac, Ilocos Norte. Ferdinand Marcos used the military to terrorize and intimidate the population during his decades in power. Naturally, even today there is a lingering distrust of the military. To pay for its crimes during martial law, the Armed Forces of the Philippines (AFP) has been underfunded and left to "wither in the vine." After all, who would want to give "those bastards" shiny new military gear after what they did to unarmed civilians during the '70s and '80s? They might even point those weapons at the people once again. In the Philippines today, men in military uniform are not loved and respected like they are in other countries. It is a discredited institution that very few young Filipinos want to be part of. Given all the foregoing, the AFP is just completely undependable and has be crossed-off for now.
So how can Filipinos stand up to China?
The same way Filipinos gradually came to the realization that they could not depend on their inutile government institutions or their mediocre captains of industry to lift the Philippine economy out of the doldrums, they took matters into their own hands by traveling to the four corners of the globe, to work like crazy, and remit money back into the Philippine economy. In so doing, they gave themselves jobs that the Philippines could never have given them, and provided a future for themselves and their families, all the while lifting their country's economy into greater and greater heights.
What President Aquino should do but won't is travel the globe arm-twisting, cajoling, or begging world leaders to stand by the Philippines in its conflict with China. The country is in dire need of a world-class leader who can stand toe-to-toe with presidents, prime ministers, kings and queens and get them to understand the Philippine side in this crisis. Unfortunately, the great majority of the country's elected officials were elected not because of their ability to influence people and change minds, but simply because they had the right last name. President Aquino is no exception—nor are most Philippine senators and congressmen.
So all Filipinos, living abroad (as well as those in the Philippines) must pick up the slack and convince the world that it is in every country's best interest to stop China. For instance, many American legislators are now realizing that China is turning into a very dangerous bully;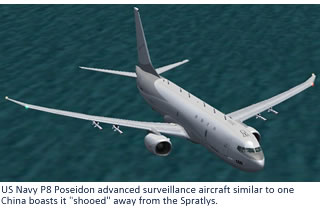 Filipino-Americans must support those legislators and help them push for a stronger U.S. stand against China. The Filipino-American vote can be crucial to legislators during elections. Fil-Ams should leverage that power to help the Philippines. This same strategy should be used by Filipinos in Canada, or Australia, or the UK, and so on. It won't be easy changing world opinion, but it can be done…and must be done. It is the only reasonable tract open to Filipinos. The military option as we stated earlier is not viable. The AFP will be crushed by the Chinese in a matter of days. But the Chinese will surely back down when they realize the whole world stands with the Philippines.

Millions of Filipinos all over the world can be a truly potent force for good. But they must make the effort and take up that challenge. It must be stressed that putting China in its place now will benefit all of mankind going forward. Filipinos are playing a crucial role as they have become the canaries in the coal mine. What they are going through now will be what many other countries will soon be going through unless China is stopped.

So are we Pinoys up to the challenge? We better be or we can kiss our freedom goodbye. Published 5/23/2015



Philnews.com reserves the right to select and edit comments for publication.