hat is it with us Filipinos? We are a country of "all flash and no substance." Case in point: This ridiculously lavish wedding between two so-so movie stars that sought to outdo even the most "royal" of royal weddings. What was the whole point of this crassly extravagant display? Lest anyone forget, the Philippines is still a Third World country. And many, many squatter's homes (if you can call them "homes") do not have running water or even a toilet!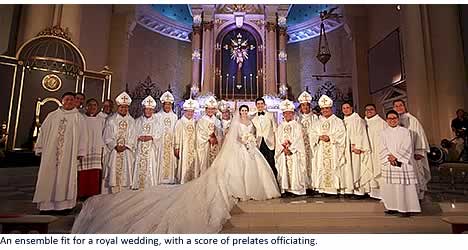 Some point to the average Filipino's diminutive stature and unimposing presence, that forces them to showoff in order to be noticed. And there may be some truth to such assertion. Try making small talk with a Filipino (or Filipina) and you're likely to get an earful of how great or successful they or their relatives are—all the while flashing their expensive jewelry and designer clothes that they expect you to take notice of. Take Vice President Jejomar Binay for instance. He wants to be president but he's short, dark, and looks like someone you expect to see sitting behind the wheel of a jeepney, than sitting behind the presidential desk in Malacañang. But if the allegations floating around are true, he owns a really fancy hacienda in Batangas with its very own English garden patterned after the Royal Gardens in England.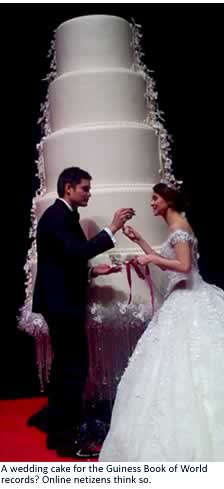 As if to tell the whole world, "yes people, I may look like this, but take a look at what I own."
Unfortunately, the sad truth is that most Filipinos, given the chance, would act exactly the same way—or even worse. Centuries of being put down by Western colonial powers has created a nation of insecure braggarts who see the need to constantly assert themselves by showing off. This is also likely one of the reasons there is so much corruption in the country. Everyone is trying to become filthy rich as quickly as possible so as to have the upper hand at bragging and showing off.
Going back to the Dingdong Dantes-Marian Rivera wedding, a blogger named Ilda wrote that the newlyweds may have violated the Philippine Civil Code against "thoughtless extravagance." It turns out that there actually is a law in the books that reads in part: "Thoughtless extravagance in expenses for pleasure or display during a period of acute public want or emergency may be stopped by order of the courts at the instance of any government or private charitable institutions." In addition, the Philippine Constitution in Sec. 1 Art. XI, as pointed out in the JLP-Law blog, mandates that: "government officers should live modest lives." It may be a bit of a stretch but one can argue that all the public officials—including President Aquino—who were present at that overly extravagant wedding were not only NOT living modest lives, but were also condoning and promoting, by there mere presence, ostentation and reckless extravagance.
The video of the wedding (click here) is a crass display of pointless spending. Juxtaposed against the grinding poverty in today's Third World Philippines: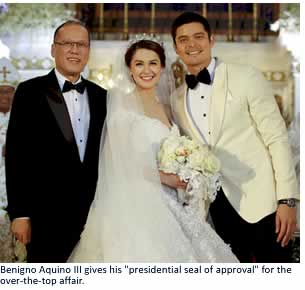 the high-end motorbike; the Rolex watch; and the 2 million peso bridal gown (not to mention the huge oversized cake that will likely make it to the Guinness Book of World Records) appear simply vulgar. Yet most Filipinos seem to find nothing wrong with any of it at all.
If things are to change—and they should, politicians, celebrities, and even the clergy (dozens of whom proudly officiated at the wedding) should decline any invitation or involvement in any event, be it a wedding, a party, or any occasion that is overly lavish or grandiose. First lift each and every Filipino out of poverty and make the Philippines a "first world" nation before you attend such events. Hopefully at that point in time, Filipinos would have also shed their inferiority complex and would see no need to try to impress anyone. Published 1/4/2015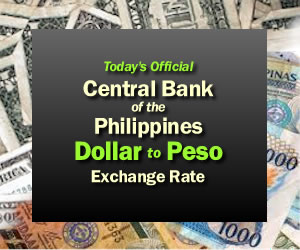 RECENT EDITORIALS
With Negotiators Like These on Our Team, Who Needs an Opposing Side?



What on earth happened to these two women—supposedly  handpicked by the president himself to argue on behalf of the Philippine government in peace negotiations with the Moro Islamic Liberation Front—who now seem to be mouthpieces for the Moros? Have Secretary Teresita Deles, Presidential Adviser on the Peace Process and Professor Miriam Coronel-Ferrer, chair of the negotiating panel become mesmerized by the tough "macho" image the rebels project? Published 2/27/2015
---
Why is the NBI Going After Those Who Uploaded the Sagonoy Video?

According to NBI Director Virgilio Mendez, they have identified the individuals who uploaded the video showing the coldblooded killing of PO2 Joseph Sagonoy. The cellphone video was purportedly taken by Muslim rebels during the Jan. 25, 2014 encounter between the Philippine National Police-Special Action Force and the Moro Islamic Liberation Front rebel group. The video shows a wounded Sagonoy who is shot twice in the head at close range. Published 2/21/2015
---
Twice the Heroes—the SAF 44 Who Lost Lives in Mamasapano

The 44 members of the Philippine National Police-Special Action Force (SAF) who were brutally killed in Mamasapano, Maguindanao on January 25, 2015 are heroes twice over: first, they paid the ultimate sacrifice while serving their country; second, they exposed for all to see, the dangers the country will face if the Bangsamoro Basic Law (BBL) is passed. Published 2/15/2015
---
No More Bangsamoro, Period!

With each passing day, it is becoming increasingly clear that the idea of a Bangsamoro is a bad idea. Just as the Memorandum of Agreement on Ancestral Domain (MOA-AD) spearheaded by former president Gloria Macapagal-Arroyo was a bad idea (and declared unconstitutional in 2008 by the Supreme Court). Just as the failed Autonomous Region for Muslim Mindanao (ARMM) during the 1990s was a bad idea. Published 2/8/2015
---
After the Mamasapano Massacre, Plans for a Bangsamoro Must Be Scrapped

What happened in Mamasapano, Maguindanao on January 25 is a "game changer"—make no mistake about it. Reality as we saw it before this event is not the reality we see now...everything is different; everything has "changed. When the Philippine National Police's (PNP) elite team known as the Special Action Force or SAF set out to arrest Zulkifli bin Hir alias Marwan, it had actionable intelligence that the Malaysian fugitive was hiding in the town of Mamasapano. Marwan, an expert bomb maker, is a core member of the terrorist group Jemaah Islamiyah. Published 1/31/2015
---
President Aquino Should Fly to Saudi Arabia and Pay His Last Respects to King Abdullah

Presidents and prime ministers, kings and queens; from Prince Charles and Prime Minister David Cameron of Britain, President Francois Hollande of France, President Abdel Fattah el-Sissi of Egypt, President Recep Tayyip Erdogan of Turkey and many other heads of state from all corners of the globe have gone or are headed to Riyadh to pay their respects to the late King Abdullah. Even U.S. President Barack Obama cut short his state visit to India to fly to Saudi Arabia. Published 1/27/2015
---
After the Pope's Visit: What We Filipinos Now Must Do
We put on a good show for Pope Francis. He loved it; we loved it; the world loved it. Now the long and painful task of bringing about the changes the pope asked for begins. Start with the Philippine Catholic Church. It should refocus its efforts towards the poor. As we wrote in previous editorials, many priests and bishops see themselves as members of the rich and privileged class. They feel more at home in country clubs and dining in expensive restaurants, than they do helping the poor who live in the squatter communities that dot most cities in the Philippines. Published 1/22/2015
---
Pope Francis Admonishes Pinoys to End Scandalous Inequalities

We had a feeling this was coming. In his first major speech in the Philippines, Pope Francis called for an end to 'scandalous inequalities' in the country. And what better example of a scandalous inequality is there than that a preposterously ridiculous wedding of Dingdong Dantes and Marian Rivera which was officiated by 8 bishops and 7 priests. In addition, this crass wedding featured a 12-foot high wedding cake, a 2-million-peso wedding gown with an exaggeratedly long train that seemed to go on forever...you get the picture. Published 1/16/2015
---
Read more articles from our archives